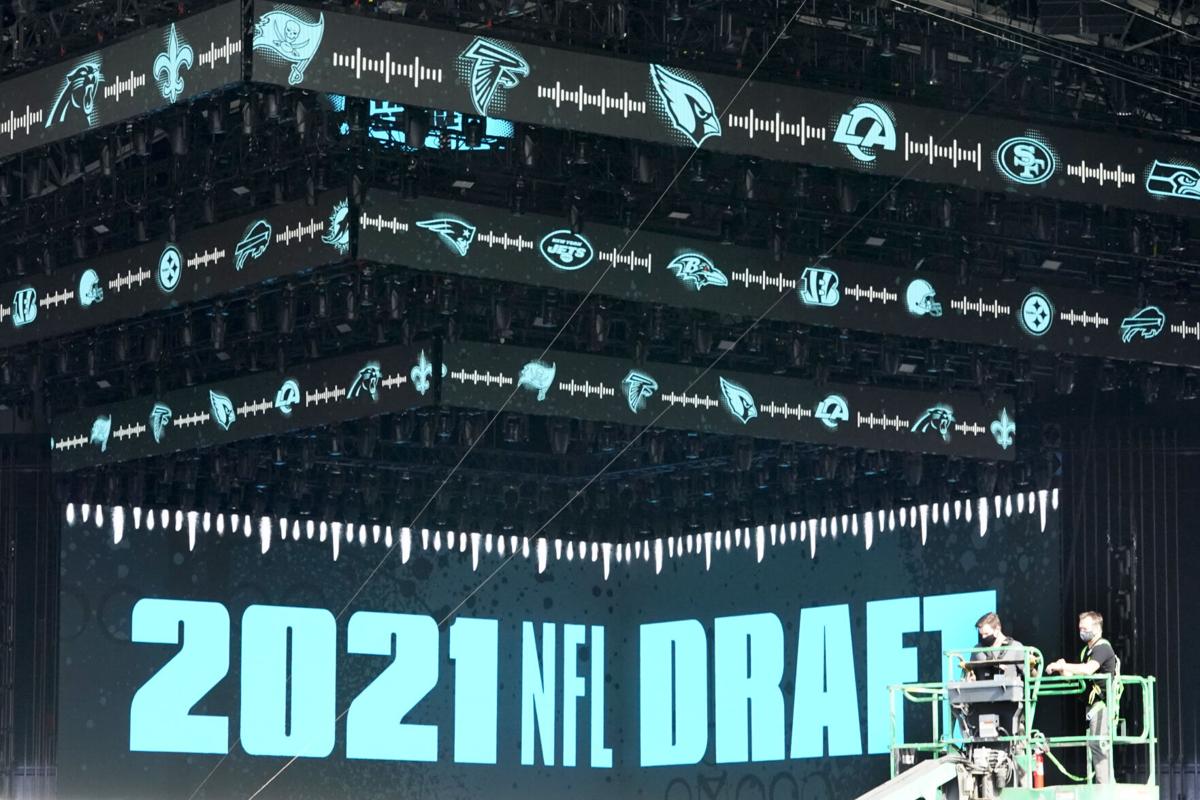 News' Bills' writers offer their grades for how the team performed in the 2021 NFL draft. 
It was easy to figure out what the Bills were thinking with this draft. With a roster already built for Super Bowl contention, they were thinking that they had no reason to force anything, to seek out specific positions of need. This was a classic case of saying, "We let the draft come to us," and truly meaning it.
What came to the Bills were players who aren't likely to make all that big of an impact as rookies. The first two picks, edge rushers Greg Rousseau and Carlos "Boogie" Basham Jr. could provide some help this season, though probably not as starters. The Bills' frequent rotation of defensive linemen has a chance of creating opportunities for them to contribute.
After that, this draft fell off a figurative cliff. The Bills virtually ignored cornerback. They ignored running back and tight end. Those two mammoth offensive tackles, Spencer Brown and Tommy Doyle, don't figure to see the field anytime soon. Everyone else might find their way into the mix on special teams.
Drafts rarely are remembered for those guys. For now, this one will largely be remembered more for a nickname, "Boogie," and a last name, Wildgoose. Grade: B-.
It's easy to roll your eyes when an NFL general manager says he's looking to draft the "best player available." In the case of Brandon Beane this weekend, though, there's little doubt that applied.
The Bills' general manager doubled down at edge rusher with his first two picks, selecting Miami's Greg Rousseau and Wake Forest's Boogie Basham. Then, he did it again with his next two picks, using those on offensive tackles Spencer Brown and Tommy Doyle.
In doing so at defensive end, Beane addressed a long-term need on his roster. Projected starting defensive ends Jerry Hughes and Mario Addison will be 33 and 34, respectively, at the start of the 2021 season. Rousseau and Basham, along with 2020 second-round pick A.J. Epenesa, represent the future. How much they'll contribute in the present, however, remains to be seen.
Their additions also create a roster crunch at the position. Yes, injuries happen and competition is never a bad thing, but how many players can the Bills realistically keep at defensive end?
The same question can be asked at offensive tackle. With Dion Dawkins and Daryl Williams signed for at least the next three seasons, Brown's ceiling in 2021 barring an injury is as the swing tackle.
It's entirely possible the Bills' biggest contributor to the 2021 season from this class might be sixth-round wide receiver Marquez Stevenson, if he can win the kick returner job.
Not drafting a running back or tight end or waiting until the sixth round to draft a cornerback didn't bother me. The pass-first offense should be able to get by with Devin Singletary, Zack Moss and Matt Breida as the top three running backs. Dawson Knox and Jacob Hollister are serviceable tight ends. The Bills have expressed faith in Levi Wallace at cornerback and have Dane Jackson to compete with him. There is also time to sign a veteran at the position.
Still, this draft puzzles me in one way: The Bills' championship window is open. How many of these players today figure to contribute to that pursuit in a meaningful way in 2021? Grade: C+.
Drafting big people is never – never – a bad idea. The Bills went meat and potatoes. As far as pass rushers go, the Jim Boeheim approach to recruiting big men applies. Bring 'em in by the bushel-load and see who pans out.
Greg Rousseau has to be viewed as a developmental prospect. Again, I'm choosing simply to trust the Bills' personnel department on him. The good news is, he has time to develop. But they need him to be a big factor in 2022. I love the Carlos Basham pick at No. 61. Brandon Beane & Co. should be respected for what so obviously was a stick-to-the-board, best-player-available selection. I think Basham is going to be better as a rookie than A.J. Epenesa was in 2020. Basham is a no-bust pick.
The next two picks, the offensive tackles, were head-scratchers. I liked Syracuse corner Ifeatu Melifonwu, who went eight picks after the Bills took Northern Iowa's Spencer Brown. The Bills know more about Melifonwu than we do. Brown is a right tackle. Daryl Williams is signed for three more years, although the Bills have an out after 2022. Maybe Brown takes over in 2023.
A few of the need-position guys so many fans liked – tight ends Tommy Tremble and John Bates, nose tackles Alim McNeill and Bobby Brown – were gobbled up well before the Bills had any shot at them. That's the price you pay for going 13-3.
Obviously, Rousseau is going to determine how this class is viewed. There's a lot of skepticism about him. My crystal ball isn't good enough to see what he's going to be in 2022 and 2023. Grade: C.
The Bills have faith in cornerback Levi Wallace, running backs Devin Singletary and Zack Moss and tight end Dawson Knox.
That's a major takeaway from the 2021 draft, in which Buffalo didn't select a cornerback until the sixth round or a running back or tight end at all, largely ignoring three of the team's greatest perceived needs.
General Manager Brandon Beane said he stuck with his philosophy of drafting the best player available, and it's difficult to argue with that approach, considering the team advanced to the AFC championship game last season and the roster has no glaring, immediate holes among its projected starters.
Buffalo drafted linemen with its first four picks, selecting Miami defensive end Greg Rousseau in the first round at No. 30 overall, Wake Forest defensive end Boogie Basham in the second round and a pair of 6-foot-8 offensive tackles in Northern Iowa's Spencer Brown and Miami (Ohio)'s Tommy Doyle in the third and fifth rounds, respectively.
The first two should be part of the defensive line rotation behind veteran starters Jerry Hughes and Mario Addison, who are entering the final year of their contracts, and should be in the mix for starting jobs in 2022, along with 2020 second-round pick A.J. Epenesa.
Brown is expected to serve as the team's swing tackle, replacing Ty Nsekhe, and Marquez Stevenson, a wide receiver drafted out of Houston in the sixth round, will be in the mix as a kick and punt returner.