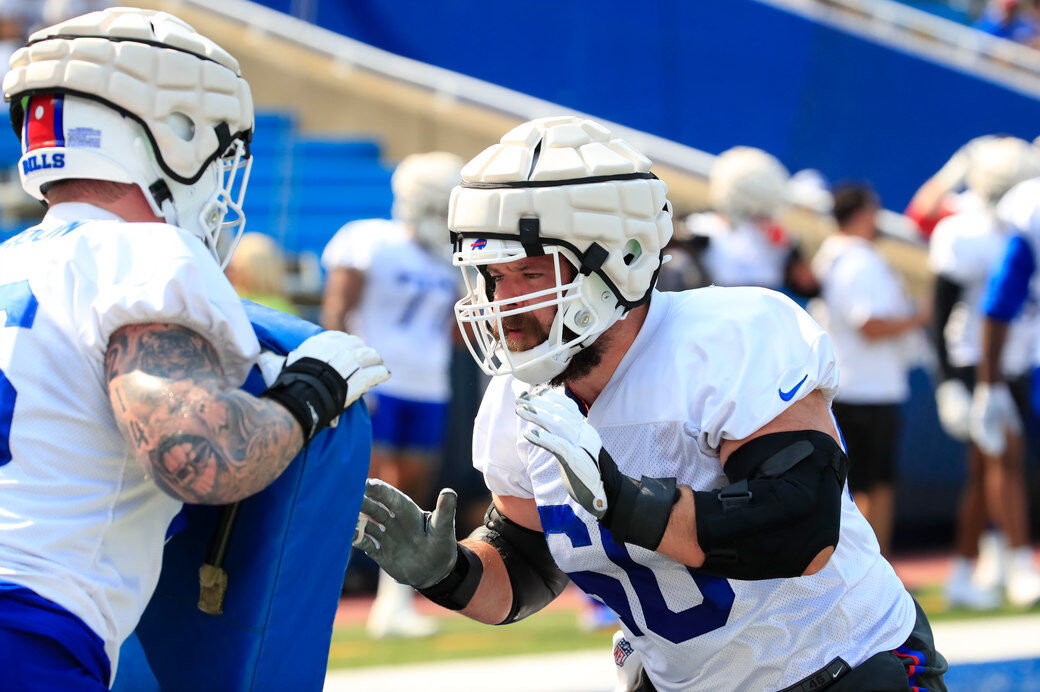 Mitch Morse chose not to play the role of recruiter.
The Buffalo Bills' center has been through free agency before, so he knows what a deeply personal decision it is for every NFL player.
The Bills were 20th in rushing last season, and now have to navigate what their 2021 run game will look like.
That's why Morse elected not to try and persuade two of his fellow starters along the Bills' offensive line, Daryl Williams and Jon Feliciano, into anything earlier this year when they hit the open market.
"This is a business in the end, and your lifespan in this league is so minimal," Morse said Monday following the Bills' fifth practice of training camp. "Both these guys had the opportunity to test themselves on the market. Of course, they are some of my best buddies and we love playing with them, so selfishly we wanted them back and it worked itself out like that.
"We couldn't have been happier, and I think it was a really fun text message group when all these guys re-signed. It just kind of showed the compassion we have for each other and the bond that we have. … It was something special on that offensive line last year and we're trying to keep that."
There are reasons to believe this is the year Edmunds and Oliver live up to the lofty expectations of their draft status.
Morse is a big believer in continuity up front. By re-signing Williams, Feliciano and Ike Boettger, the Bills have that. They also will get guard Cody Ford back from injury, which only adds to the familiarity.
"You definitely know who you've got. That's a big plus," Morse said. "Not to say that bringing other guys in is a negative. I think it just goes back to understanding that we did set a precedent last year, but that doesn't mean anything. We're going to be the hunted this year. With that comes a whole new set of challenges. That's exciting, but at the same time, you have to understand you need to put your best foot forward every practice, every rep and every game because your opponents are definitely doing that."
Analytics website Football Outsiders assigns a "continuity score" to every offensive line in the NFL based on three variables: number of starters used, number of week-to-week changes in starting lineups and the longest starting streak of any one five-man unit. If a team used the same five linemen in all 16 games, it would achieve a perfect score of 48. Last year, the Bills scored 27 points, which tied for ninth in the website's rankings. The team used eight different starters, which ranked as 19th most, made seven line changes (tied for 17th most) and went five straight weeks with the same five-man unit (tied for seventh longest).
Morse is aware that with continuity comes higher expectations.
"I think it's a sense of urgency," he said. "We know the possibility that we have. We know the pieces that we have, but just because we have it on paper doesn't mean anything. You can get beat by anyone badly in this league. For us, it's just a sense of urgency and understanding that we have a long way to go. That's exciting, but it's also daunting. We're just trying to not make anything too big and understanding that we can't take steps back."
Josh Allen and Stefon Diggs had their usual chemistry, but the play of the day was turned in by second-year receiver Isaiah Hodgins, who got behind the defense early in practice to haul in a bomb from backup quarterback Mitchell Trubisky.
Negotiations pause when season starts
Bills general manager Brandon Beane said Monday during an appearance on the team's flagship radio station WGR-550 AM that the team remains hopeful of working out a contract extension with quarterback Josh Allen, but that negotiations will not continue into the regular season.
"At the end of the day, we'll probably put a deadline on it at some point here in the preseason," Beane told hosts Howard Simon and Jeremy White. "I don't like to carry that stuff into the season. ... We haven't put a specific date on it."
Allen is signed through the 2023 season after the Bills picked up the fifth-year option on his rookie contract in May.
"We'll work with his reps. Hopefully we can get something done this year," Beane said. "Josh knows – he and I have had great conversations this spring and summer – about it. He'll play it out this year if we can't get something done. I promised him if we can't, that we'll pick it up as soon as we get to next offseason and we'll try again."