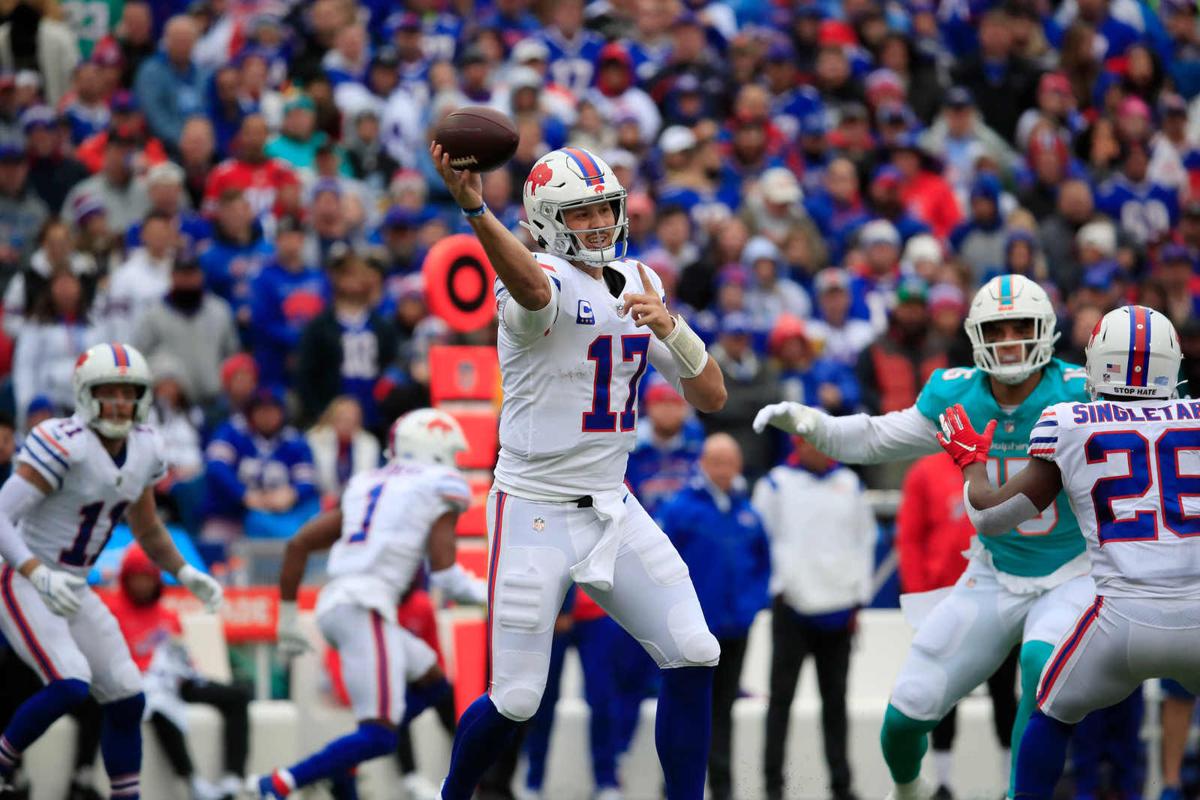 Technically, the official midway point of the Buffalo Bills' season comes at halftime Sunday against the New York Jets.
The NFL's expansion to a 17-game regular season takes away the symmetry that allows us to perfectly cut the season in half, as we could with a 16-game slate. Forgive us, then, for jumping ahead just a bit to provide a midseason report card for each player on the Buffalo Bills' offense through the team's 5-3 start.
Doing so felt especially apropos after the offense turned in its worst performance of the season in Week 9 against Jacksonville. We'll try to put that recency bias aside in grading each of the Bills' meaningful contributors through the season's first eight games. We'll define that as playing at least 10% of the offensive snaps, so sorry, Jake Kumerow, Ryan Bates, Mitchell Trubisky, Matt Breida, Tommy Doyle, Kahale Warring and Taiwan Jones.
The Bills rank eighth in yards per game (390.1) and dropped to fourth in points per game (29.4) after last week's showing against the Jaguars.
"I know the questions have been mainly about our offense. I'm confident in our offense," coach Sean McDermott said Wednesday. "I can promise you that adjustments are being made. Whether you see them or not, that's what good teams do. It's just every season, you've got to continue to adjust with the team you have. This team is running its own race. Last season was last season. That team ran its own race – 2017 ran its own race.
"So, the challenges this season may be a little bit different than the challenges last season. But as coaches, that's what we get paid to do is to adjust, try and stay out in front of things the best you can. And that's what my teammates, these players, these coaches look like to me and for me to do. And that's what we're doing."
With that, onto the grades …
Key stats: 209 of 319 (65.5%), 2,236 yards, 17 touchdowns, five interceptions, 7.0 yards per attempt, 97.1 quarterback rating, 57 carries, 319 yards, three touchdowns.
Analysis: Take a look at Allen's numbers above and compare them to these, his 2020 season through eight games: 67.2 completion percentage, 2,172 yards, 16 touchdowns, five interceptions, 7.8 yards per attempt, 102.4 quarterback rating, 58 carries, 227 yards, four touchdowns.
It's amazing what expectations will do to the perception of a player. Last year, Allen's emergence was one of the league's great stories. His numbers this year are comparable, but given the bar he set last year, it's not unfair to feel like he hasn't quite met it.
"I'm not trying to compare years to years," Allen said. "I'm just trying to be the best quarterback that I can be. We're 5-3, not where we want to be, so we got to turn our attention to this week and go one week at a time. … That's been our mindset since we stepped on the field in training camp."
Allen's drop in yards per attempt has been noticeable, but it's the lack of game-winning drives that really stands out. He had three last year, and has missed opportunities against Tennessee and Jacksonville in recent weeks to author his first of this season.
Because of that, it's hard not to feel as if there has been some regression, even if the statistics don't overwhelmingly show that.
Key stats: 48 catches, 588 yards, 12.3 yards per catch, 3 TDs
Analysis: Diggs is on pace for 155 targets over a 17-game schedule, which is 11 less than he received in 2020 over 16 games. In other words, you're right if you feel as if he hasn't been seeing the ball quite as much. Despite having just one drop this season, Diggs is catching only 65.8% of the balls thrown his way, the worst number since his rookie season with Minnesota in 2015 and a big decrease from his career-best 76.5% last year. For a number of different reasons, he and Allen haven't quite been on the same page as they were a year ago.
"The right throw is the open throw," Allen said. "Whether they're throwing a safety on top of him, or single high coverage, whatever it is, the guys that are open, I'm typically going to try to throw the ball to them. So he's been doing a good job and I know that we haven't gotten him as incorporated maybe as much as we want to, but that'll come with time. I got no doubt he's working his tail off, he's ready to go each and every day and I'm sure things will start clicking in the right direction here before too long, because, again, when you consistently do the right things like he does, you usually tend to make a lot more plays than you don't."
Key stats: 51 catches, 446 yards, 8.7 yards per catch, 1 TD
Analysis: Beasley has been as reliable as ever, with his 67 targets just six less than Diggs' team-leading 73. Beasley, however, has seen a big drop in his yards per catch, to just 8.7 from a career-best 11.8 a year ago. Part of the reason for that is an eight-catch game against Jacksonville that produced just 33 yards. Beasley played that game with a rib injury, so his toughness isn't in question. He did go through a two-game stretch in which he had just three catches for 21 yards, but he's racked up 25 catches in three games since then.
"Cole's a vet. He's been around this league for a long time," Allen said ahead of the Week 6 game at Tennessee. "He's a huge piece of our offense and he understands some games we're going to need him more than others. And I think everybody on this team understands that. But he's ready to go at all times. I've got no loss of faith or confidence in him."
Key stats: 28 catches, 478 yards, 17.1 yards per catch, 4 TDs
Analysis: Sanders has been an upgrade on the field and in the locker room as the team's No. 2 or 3 receiver (depending on how you classify Beasley). That's not a knock against John Brown, who held that job last year, but more of a statement about what Sanders has meant as a leader. Each week, his Thursday news conferences are must listen. Here's an example, from this week, after the loss to Jacksonville. "I've been fortunate enough and I've played on some good teams. I remember in '15 we started off 8-0 and next thing you know we laid an egg to a team I feel like we should of beat 35-0. But it's one of those things where you sit back and say, 'Do you lose or do you learn?' I feel like, yeah, we lost this game, but it's a learning experience for us all in terms of what we do best and how we can be at our best. I see the bigger picture of us going into the playoffs and the style of football we want to play. I feel like, hopefully, this loss right here we just had is a learning lesson for us in terms of the brand of football we want to play, and stay true to it."
The one disappointing stat for Sanders is that he's caught just 54.9% of his 51 targets, the lowest on the Bills among players with at least 10 targets.
Key stats: 10 catches, 133 yards, 13.3 yards per catch, 2 TDs
Analysis: Davis hasn't been able to build on his promising rookie season, in which he finished with 35 catches for 599 yards and seven touchdowns. Part of that is opportunity – Davis has been on the field for just 36.4% of the offensive snaps – with Sanders' arrival cutting into his expected playing time. Davis, however, has caught just 58.8% of his 17 targets, and he has two drops.
Key stats: Four catches, 14 yards, 3.5 yards per catch, three carries, 10 yards
Analysis: First things first – this grade only takes into account McKenzie's contributions on offense – not his work as the team's primary returner, which has been solid. Offensively, he's played just 15.9% of the snaps. For whatever reason, the Bills haven't found a way to involve McKenzie nearly as much as they did a season ago when he played 24.9% of the offensive snaps.
Key stats: 73 carries, 355 yards, 4.9 yards per attempt, 1 TD, 21 catches, 82 yards
Analysis: Singletary got off to a hot start, rushing for 154 yards and a touchdown in the first two weeks of the season. He's been on a pretty steady decline since, however, and has failed to top 30 rushing yards in four of the past five games. He's on pace to top 40 receptions this season, but so far is averaging just 3.9 yards per catch when the ball is thrown his way.
Key stats: 65 carries, 233 yards, 3 TDs, 18 catches, 166 yards, 1 TD
Analysis: Moss started the season as a healthy inactive, but bounced back nicely by scoring four touchdowns over the next three games. Like Singletary, however, it's also been downhill for Moss since then. He's rushed for 37, 24, 19 and 6 yards in the last four games. He also suffered a concussion against the Jaguars, and cleared the protocol Saturday. He is listed as questionable for Sunday's game. 
"Guys are running hard. We got to be better. We know that. It starts with me," Allen said of the running game overall. "Whether it's making the right checks at the line … just figuring out what we're best at and try to go out there and game plan for that. We're working on it, we're trying to get better at it and I got no doubt that these guys are putting in the time and effort to be better at it."
Key stats: Three carries, 3 yards, 1 catch, 8 yards
Analysis: Gilliam just barely made the cut to be graded. His 75 offensive snaps are 13% of the team's total. He hasn't been the answer in short yardage, as none of his three carries has produced a first down or touchdown.
Analysis: Dawkins ranks 41st among 83 graded offensive tackles who have played at least 139 snaps, according to analytics website Pro Football Focus. He's been penalized seven times. It's clear that Dawkins' scary bout with Covid-19 over the summer, which left him hospitalized for four days, had a negative impact on his play early in the season, although McDermott said he believes the left tackle's conditioning is back to where it needs to be.
As for his play … "At times," the coach said when asked if Dawkins has resembled the franchise left tackle he was signed to be. "Looking for more consistency – he knows that – down in and down out. So, listen, that's a tough position to play, right? I mean, you're usually going up against maybe the best pass rusher, you're the left tackle protecting the blind side of the quarterback. So there's going to be some plays where he gets them, there's going to be some plays where they get him – just being realistic about it. That said, he knows there's more in there and that's what we're looking for."
Analysis: Feliciano ranks 53rd out of 77 graded guards by PFF. In other words, he's exactly what he has been – a league-average player at his position. He's on injured reserve with a strained calf, so it's been a tough start to the season.
Analysis: Morse has given up 13 pressures, according to PFF, which ranks tied for ninth among 39 graded centers. Given the instability around him, however, Morse has at least been a steadying presence in the starting lineup. He's not quite lived up to the contract he signed in free agency that briefly made him the highest-paid center in the NFL, but the same can be said of a lot of free-agent signings. The Bills could certainly do worse at the position.
Analysis: Most of Boettger's playing time has come in three games – against Houston in Week 4 and the past two games. He's expected to continue to start while Feliciano remains out. As the first interior offensive lineman off the bench, Boettger has performed about as well as can be expected, although he had some glaring errors against the Jaguars. Those included missing a block on a first-and-goal run play and later taking a damaging false start penalty, turning fourth-and-2 into fourth-and-7 and leading to a punt instead of an attempted conversion.
Analysis: Ford's slide the wrong way on the depth chart was only stopped by injuries. He got another chance at Jacksonville, and proceeded to allow eight total pressures. For the season, Ford has allowed 22 total pressures, according to PFF. That's the 10th most in the NFL, but Ford has played just 292 snaps. Of the nine players who have given up more pressures, Indianapolis' Mark Glowinski is next in snaps played, with 451. The Bills have said all the right things about how Ford has responded to adversity, but at some point it becomes more about results on the field. He's not been able to come close to living up to his draft status as a high second-round pick.
Analysis: One of the more confusing developments during the first half of the 2021 season is how Williams has regressed so badly from the solid player he was during his first year with the Bills in 2020. Williams has looked slower at times, which has led to him being shifted inside to guard in favor of rookie Spencer Brown at right tackle. Williams has done a bit better at guard, but he's still given up 22 pressures and taken four penalties. That's not what the Bills were hoping for when they re-signed him for three years in the offseason.
Analysis: As mentioned above, the third-round rookie worked his way into the starting lineup within a month. Whether that says more about Williams' play or Brown's potential can be debated, but it's clear the Bills are high on the rookie from Northern Iowa. Unfortunately, a back injury suffered while working out after the bye week has meant Brown has missed the past two games. He's scheduled to make his return to the lineup against the Jets, and it can't come at a better time. Moving Williams inside and playing Brown at right tackle gives the Bills their best five offensive linemen on the field.
Analysis: Knox's season was cruising along with five touchdowns in the first give games, but a broken hand suffered against the Titans slowed his momentum. Like Brown, Knox is also scheduled to return to the lineup against the Jets. Knox has cleaned up his issue with drops, with just one so far, and has made four of his five contested-catch opportunities. He's a willing blocker who allows the Bills to play in their preferred 11 personnel package, which includes one tight end, one running back and three receivers on the field. His return will be welcome.
Analysis: Sweeney has topped 80% of the offensive snaps in each of the past two games in Knox's absence. He had three catches for 30 yards in the Week 8 win over Miami, include a couple of key grabs in the fourth quarter. He was not as impactful against the Jaguars in Week 9. Sweeney is a trusted backup who can fill in when needed, but he's not the same threat to defenses as Knox.