Sam Levy barely survived the Battle of Belleau Wood. He was hospitalized with mustard-gas poisoning and shrapnel wounds. His son is forever proud of how world history and family history came together in that pivotal battle of World War I.
"My father," Marv Levy says, "could have been one of those 'suckers' and 'losers.' "
These are the words attributed to President Trump about those who died at Belleau Wood, 50 miles outside Paris, in 1918. You don't often hear an inflection of anger in Levy's diction, but this is different. This is personal – and he spits out "suckers and losers" with particular pique.
Then his voice modulates, and he quickly adds, "If it's true."
The Atlantic magazine reported this month that President Trump said those things on a visit to France in 2018. Trump denies it.
"If it is true that he said those words, I'd be totally stunned and shocked and revolted," Levy says. "I'd be revolted if anyone said it, let alone a president of the United States."
Levy has a display case in his den filled with game balls and other keepsakes from a football life, including his halcyon days as coach of the Buffalo Bills. None of these mementos means more to him than the Purple Heart his father earned at that brutal battle in northern France, which raged for most of June 1918.
I spoke with Levy at length two years ago as the 100th anniversary of the battle approached. That was for a story in USA Today. We talked again by phone last week for this story. Levy is 95 and lives in his native Chicago, where his late father ran a wholesale produce business at the South Water Street Market.
"He was badly wounded in that battle," Levy says. "He survived, thank goodness, or we wouldn't be having this conversation."
The graves of 2,289 war dead are found at the Aisne-Marne American Cemetery and Memorial, which sits at the foot of Belleau Wood, near the Marne River. Levy has been there several times over the years for annual ceremonies commemorating the battle. He had wanted to be there for the 100th anniversary, but was having balance issues at the time and couldn't go.
Trump did travel to Paris, but his scheduled side trip to Aisne-Marne was canceled at the last minute because of light rain. The Atlantic reported Trump didn't go because he didn't want to get his hair wet. The White House said the reason was bad flying weather for Marine One.
The helicopter is operated by the United States Marine Corps – and, as it happens, the Battle of Belleau Wood has a storied place in the lore of the Corps.
"That battle was really the modern Marine Corps coming of age," says Marine Col. Jon M. Lauder, who accompanied Levy on a visit to the cemetery in 2012. "That was sort of the first iconic battle that brought the Marine Corps forward, beyond being just provisional shipboard Marines and infantry deployed across the globe supporting the Navy, but really as this modern, middleweight force, if you will."
German troops broke through French lines in late May 1918. U.S. Army General John J. Pershing, commander of the American Expeditionary Forces, sought to blunt the German advance by ordering U.S. troops to the front – including the 4th Marine Brigade.
"That was my father's unit," Levy says. "They had no way for them to get there from Paris, so they took taxis and borrowed trucks."
Pershing worried about the fighting mettle of the Marines, who didn't yet have a worldwide reputation for bravery in battle. That distinction would be forged in the crucible of Belleau Wood, amid shellfire and mustard gas and hand-to-hand combat with bayonets. Pershing would later say that "the deadliest weapon in the world is a Marine and his rifle," and that the victory at Belleau Wood was the most important for the United States since Appomattox.
Levy's father was just 17. He'd skipped his senior year of high school and lied about his age to enlist. Levy did something similar when he interviewed with the Bills. He said he was 58 when he was actually 61, figuring 60 might be a psychological barrier for getting hired as a head coach. He got the gig – which would yield four consecutive trips to the Super Bowl for the Bills, and a trip to the Pro Football Hall of Fame for him.
Levy was a high school football player when the Japanese bombed Pearl Harbor. He enlisted in the Army Air Corps at 18, one day after his graduation. He wanted to be a fighter pilot but couldn't because he had less than 20-20 vision. So he got training in military meteorology and served stateside at a glider base.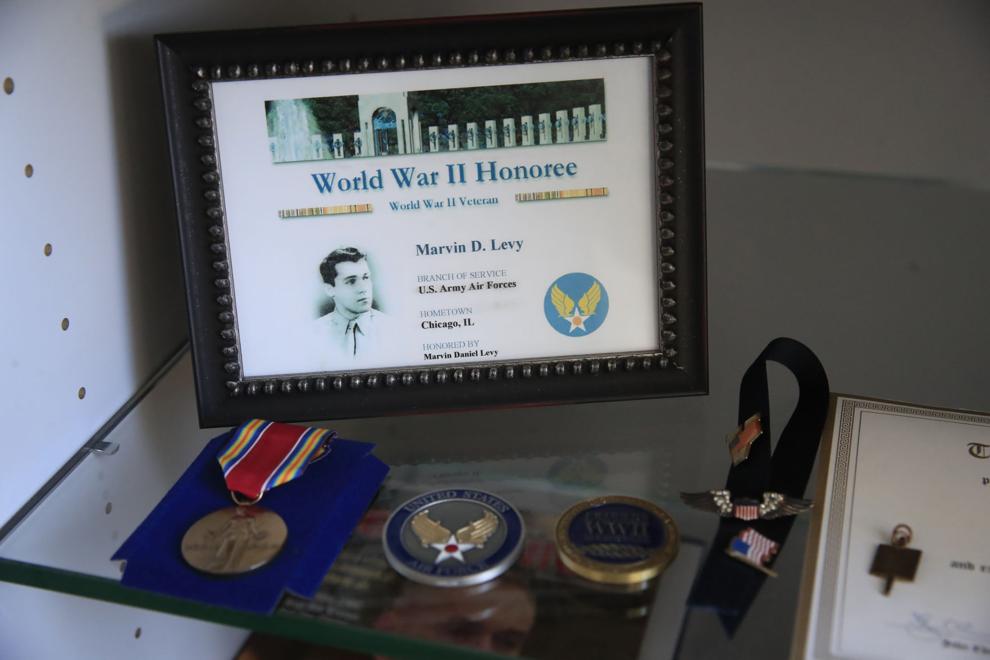 After the war, Levy played football at Coe College and then went to Harvard Law School on the GI Bill. Three weeks in, he switched to a master's program in English history. And then he called his father to say he planned to be a football coach instead of a lawyer.
"Thirty seconds of painful silence followed," Levy said in his Hall of Fame acceptance speech, "and then the old Marine said simply, 'Be a good one.' "
It is fair to say that he followed his father's advice. He thinks often of his father – and, especially of late, of his father's friends who rest in hallowed ground by Belleau Wood.
"To call them losers when he opted not to serve in Vietnam," Levy says. "Well, that would be revolting. But I have to say it again – if he said it. I can't say that he did. I didn't hear him say it."
Which calls to mind this admonition, one that Levy often told to his teams in Buffalo: "What you do should speak so loudly that no one will hear what you say."
That's a lesson, Levy says, that he learned from his father.