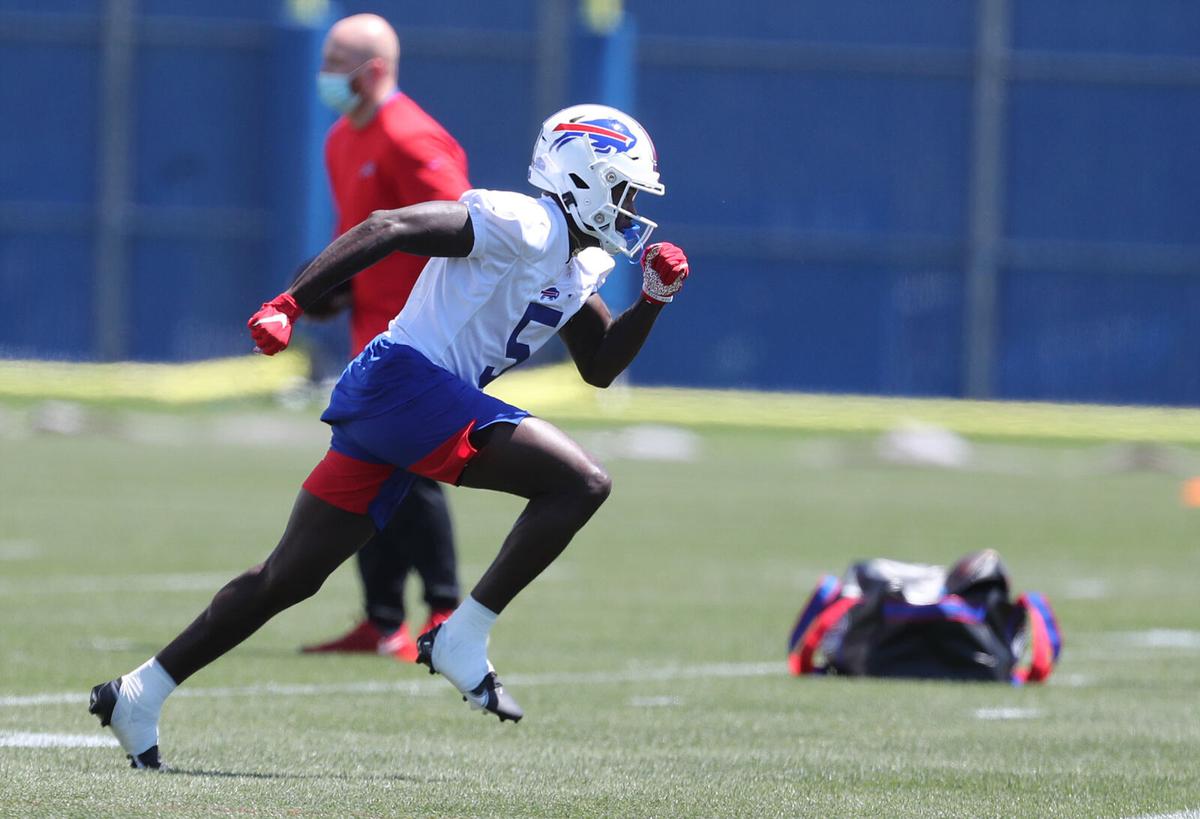 One thing is certain: rookie Buffalo Bills wide receiver Marquez Stevenson is fast. You don't get the nickname "Speedy" by being slow.
Exactly how fast, however, remains to be seen, and the answer to that question might very well determine whether Stevenson can earn a spot on the team's 53-man roster as a rookie sixth-round draft pick.
Stevenson, a sixth-round pick, ran the 40-yard dash at Houston's pro day in 4.45 seconds. A good time, to be sure, especially considering the windy, cool conditions, but not one that was up to his expectations.
"I don't like to make excuses, but I mean, leading up to that day I was in the low 4.3s the whole time," Stevenson said Friday after the Bills held their first practice of rookie minicamp. "I would say the weather kind of affected it, but I ran a 4.4 so I so have to live with it. I know my football skills and I know how fast I am on the field, for sure."
Stevenson says he tries to model his game after speed receivers, specifically mentioning Kansas City's Tyreek Hill and former Eagles receiver Desean Jackson.
"They ain't the biggest, but always playing up to momentum," he said.
That same description fits the 5-foot-10-inch, 180-pound Stevenson. His speed on film seems to rival, or even surpass, his timed speed. Last season, he went 97 yards on a kickoff return for a touchdown against Tulane, and later in the same game got behind the defense for a 41-yard touchdown reception. In 2019, he went 94 yards to the end zone on a kickoff return against Tulsa, one of two kickoffs he returned for touchdowns that year, which tied for second in the Football Bowl Subdivision. In his college career, Stevenson returned 34 kickoffs for 889 yards (an average of 26.1 yards per attempt), an important skill that will aid in his attempt to make the Bills out of training camp.
"Just getting to know everybody, first things first," Stevenson said. "Just getting the playbook down pat and just working on my technique and get better. Getting coached up by guys like" wide receivers coach Chad Hall and special teams coordinator Heath Farwell "and the special teams guys and things like that."
Stevenson worked mostly out of the slot for Houston, playing 88% of his snaps there in 2020, 93% in 2019 and 82% in 2018. Playing time out of the slot in Buffalo figures to be dominated by Cole Beasley, but the backup job at the position is up for grabs.
For Stevenson to earn it, his biggest competition will be veteran Isaiah McKenzie, who won't be easy to beat out.
Stevenson is a bit bigger than McKenzie, who is listed at 5 feet, 8 inches and 173 pounds. McKenzie ran a slightly faster 40 time coming out of Georgia (4.42), had a better vertical leap (36 inches to 33 for Stevenson), and had better times in the short shuttle (4.14 to 4.21) and three-cone shuttle (6.14 to 6.86). McKenzie is also a known commodity to offensive coordinator Brian Daboll and Farwell as both a receiver and return man.
The competition for the final receiver spots won't be just between those two, either. With Stefon Diggs, Beasley, Emmanuel Sanders and Gabriel Davis all but guaranteed to be the top four, two or, at most, three jobs are up for grabs among Stevenson, McKenzie and a large group that includes Jake Kumerow, Duke Williams, Isaiah Hodgins, Tanner Gentry and Brandon Powell.