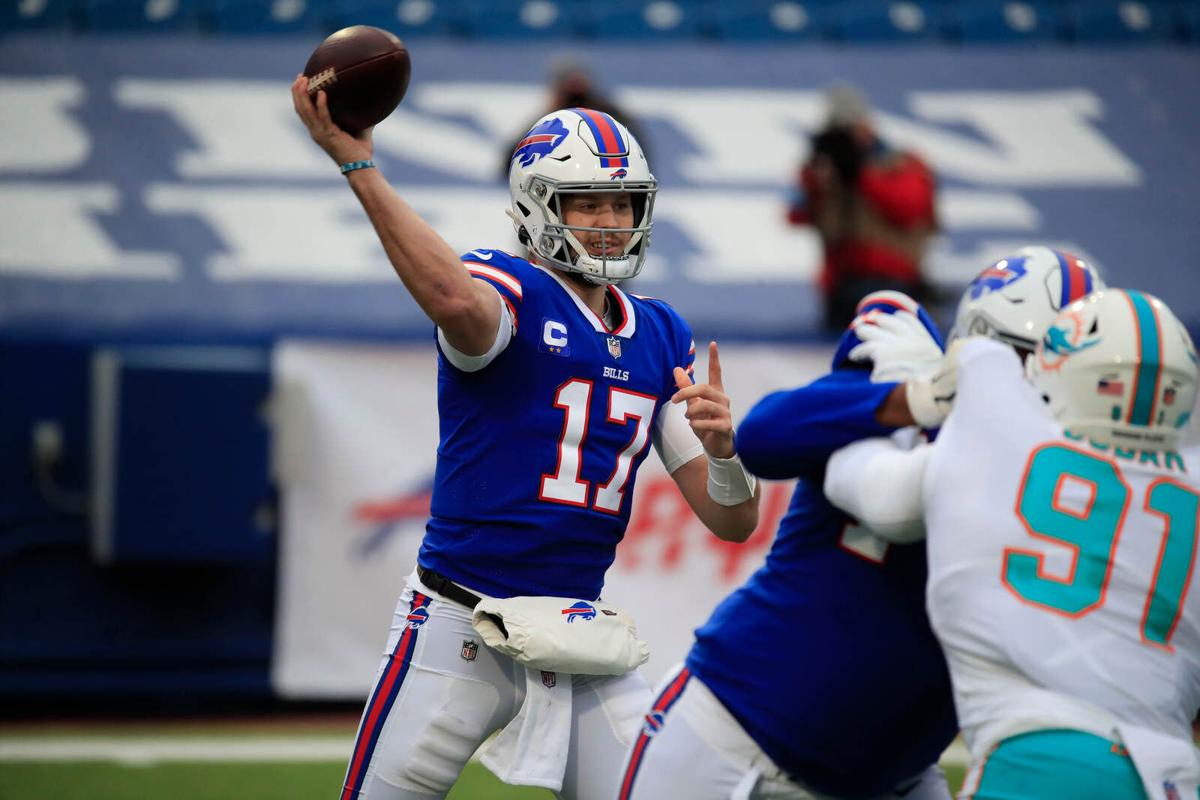 One of my favorite, underrated moments in Thurman Thomas' career came in a November game in South Florida in 1992.
The Buffalo Bills had been embarrassed by Miami at home in Week 5 that season. Six weeks later, they went on the road and scored a hard-fought, 26-20 win over the Dolphins to reestablish themselves as the beast of the AFC East.
Late in the game, Thomas broke off a good run, got chased into the Miami bench area and then spiked the ball into the Dolphins logo on the wall ringing the stands.
The Dolphins rivalry was red-hot those days, and Thomas brought the passion of all of Western New York into those games.
Here we are in 2021, and Bills-Dolphins is pretty hot again for a couple reasons.
It's hot in Western New York because Miami has built a good team over the past two years, and the Dolphins are a major threat to the Bills' AFC East title hopes.
It's especially hot in South Florida because of what Josh Allen has done to the Fins the past three seasons.
Allen is 5-1 vs. Miami, with five straight wins, and the Bills have averaged 39 points per game the last five games.
In his six games against the Dolphins, the Bills' quarterback has produced 20 touchdowns and four interceptions. He has passed for 259 yards a game, with a 62.3 completion percentage and a passer rating of 111.1.
That kind of domination is one reason the Miami-based "Locked on Dolphins" podcast is calling this "Bills Hate Week."
Oh yeah, and the fact the Bills spanked Miami, 56-26, in Week 17 last season while playing a ton of backups in a game the Dolphins needed to win to make the playoffs.
"I'm definitely not looking back but it's in my head, though – what they did last year," Miami cornerback Xavien Howard said. "But it's a new year. It's a new team. New personnel."
That's the company line on both sides of the battle. Sean McDermott was asked Wednesday: Do the Bills and Allen "have Miami's number?"
"I respect where you're coming from, but nah," McDermott said.
"That game has no bearing on this game," McDermott said of the last meeting. "And just like last season was last season, this season is this season."
True enough, but the pressure is on Miami to figure out a solution to its giant "Josh Allen problem."
"He really doesn't have many weaknesses so he presents a great challenge for us," said Miami defensive tackle Christian Wilkins.
In theory, the Dolphins have been built to contain a passing attack such as the Bills.
They have $38.5 million in salary cap space committed to the cornerback position, tops in the NFL. Byron Jones makes $16.5 million a year, and Howard makes $15 million a year. They're the sixth and seventh highest-paid cornerbacks in the NFL, and they each were No. 1 at the time their deals were signed.
Miami coach Brian Flores, like his mentor Bill Belichick, likes to play man coverage underneath. But Allen and the Bills' receivers skewered the scheme last season.
In the Week 2 win at Miami, the Dolphins blitzed 25%, a little below the NFL average. But when they did, Allen went 6 of 9 for 147 yards with two TDs and no interceptions, according to Buffalo News charts.
Miami got more desperate in the Week 17 meeting, blitzing Allen 52% in the first half. He went 11 of 13 for 139 yards and two TDs vs. rushes of five or more men. Then Allen sat out the second half.
"It's not like I get any more fired up for them than I do any other game," Allen said Wednesday. "But our coaches do a really good job of game-planning. And there's games where we executed really well. So we've got to have a team mindset of just going out there, and whatever coach calls, we've got to put forward our best effort."
The Dolphins have a deep group of veteran defensive backs. Their biggest issue vs. Allen has been not enough heat from the front four. They've had to rely on manufacturing the pass rush as opposed to winning one-on-one with defensive line superiority, which is what Pittsburgh did vs. the Bills on Sunday.
Miami's best defensive end, Emmanuel Ogbah, is pretty good. He had nine sacks last season, although none against the Bills. He played well in Miami's win over New England on Sunday.
Last year, Miami's No. 2 edge rusher was Shaq Lawson. As Bills fans know, Lawson is a good player but he's not an above-average pass rusher. This year, they drafted defensive end Jaelan Phillips from the University of Miami No. 18 overall. He and veteran Andrew Van Ginkel will get most of the chances rushing opposite Ogbah.
How much better is Miami's pass rush crew this year?
That will go a long way in determining if they can snap their losing streak against the Bills.
"It's not a grudge match or nothing like that," Wilkins told reporters Wednesday.
If you believe that, maybe you should go online and bid on some bargain real estate in South Florida.