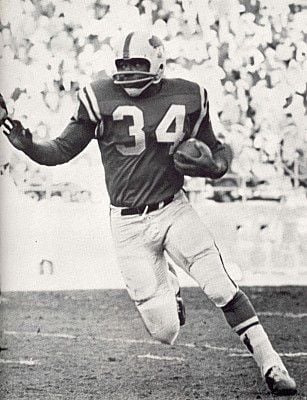 Fans of the Buffalo Bills' "original glory days" can rejoice.
The two long-standing oversights on the Bills' Wall of Fame now have been corrected with Wednesday's announcement that Cookie Gilchrist has been given the team's highest individual honor.
Cookie's name will go up on the wall on Oct. 29 and join that of great coach Lou Saban, who was inducted to the wall in 2015. Good for the Pegulas on both counts.
Gilchrist was the original superstar of Bills football. He was larger than life, a 1,000-watt personality. He captured the city's imagination by leading the AFL in rushing with 1,096 yards in 1962, his first Bills season. He set the pro football record for rushing yards in a game when he ran for 243 on the Jets in the Rockpile on Dec. 8, 1963.
At 6-foot-2 and 248 pounds, Cookie was a physical freak of nature who would have been great in any era. He was greatest at running between the tackles. However, he had more speed to get around the corner than most big backs -- better speed around the corner than Jerome Bettis, not as much as Earl Campbell. And Cookie ran like "a bad man."
"I have scars in my back now where someone would stalemate me and here comes Cookie," Bills Hall-of-Fame guard Billy Shaw once told me. "He didn't care what color jersey you had on, he was going forward."
The greatest Cookie anecdote ever, one which late News columnist Larry Felser loved to tell, came in the 1964 regular-season showdown in Fenway Park between the Bills at Boston Patriots. The Bills were 11-2, the Pats were 10-2-1.
The Pats had beaten the Bills in the first meeting, a game in which Gilchrist took himself out, mad that he wasn't getting enough carries. An irate Saban waived Gilchrist, then pulled him back off the waiver wire after quarterback Jack Kemp brokered a peace.
On the opening play from scrimmage of the rematch, Gilchrist ran around end and plowed over Pats safety Chuck Shonta, knocking him out cold. Then Gilchrist looked at the Pats sideline and said: "Which one of you (bleeps) is next?"
The Bills won, 24-14. Then Gilchrist rushed for 122 yards in the AFL title-game win over San Diego.
Felser called Gilchrist "pound for pound the greatest football player" he ever saw. Not better than Jim Brown as a running back but the best as an all-around player.
"Cookie Gilchrist to my way of thinking is one of the greatest professional football players who have ever played the game, either NFL or AFL," Kemp told me in a 1994 interview.
"Cookie was better than Jim Brown," Kemp said. "Jim Brown is a good friend of mine, but Cookie in my opinion was better all around. He could block. He could catch passes. He could tackle. He could kick field goals. He was really one of the greatest all-around football players. Jim Brown was the greatest runner."
This actually is the second time Gilchrist was named to a Bills "Hall of Fame." In 1970, owner Ralph Wilson brought Gilchrist back to Buffalo and presented him with a "hall-of-fame" plaque at a downtown luncheon.
But the Bills moved to a new stadium and the Wall of Fame idea was mothballed until 1980 when O.J. Simpson became the "first" honoree.
The real reason is the Bills knew that Gilchrist probably would not show up for the ceremony. It's a long story. But Gilchrist thought, with justification, he never was properly compensated by pro football owners, including Wilson. And this goes way back to 1954, when he got a raw deal from Browns owner Paul Brown, who signed him out of high school only to get the deal nixed. As a result, Gilchrist was barred from both the NFL and a college opportunity because he had violated his amateur status. He was banished to Canadian football until the Bills signed him in '62.
Gilchrist played with the Bills only three seasons. There had been some debate over the years whether that was enough tenure. There are no concrete guidelines for the Wall of Fame (although the Bills are working on that). But like the Pro Football Hall of Fame, the honor is about impact, not just numbers. Cookie didn't even start his AFL career until age 27 and he gained 4,293 yards in four and a half seasons. If he had played in his young prime, he would have gained 10,000 yards or more. Gilchrist died in January 2011.