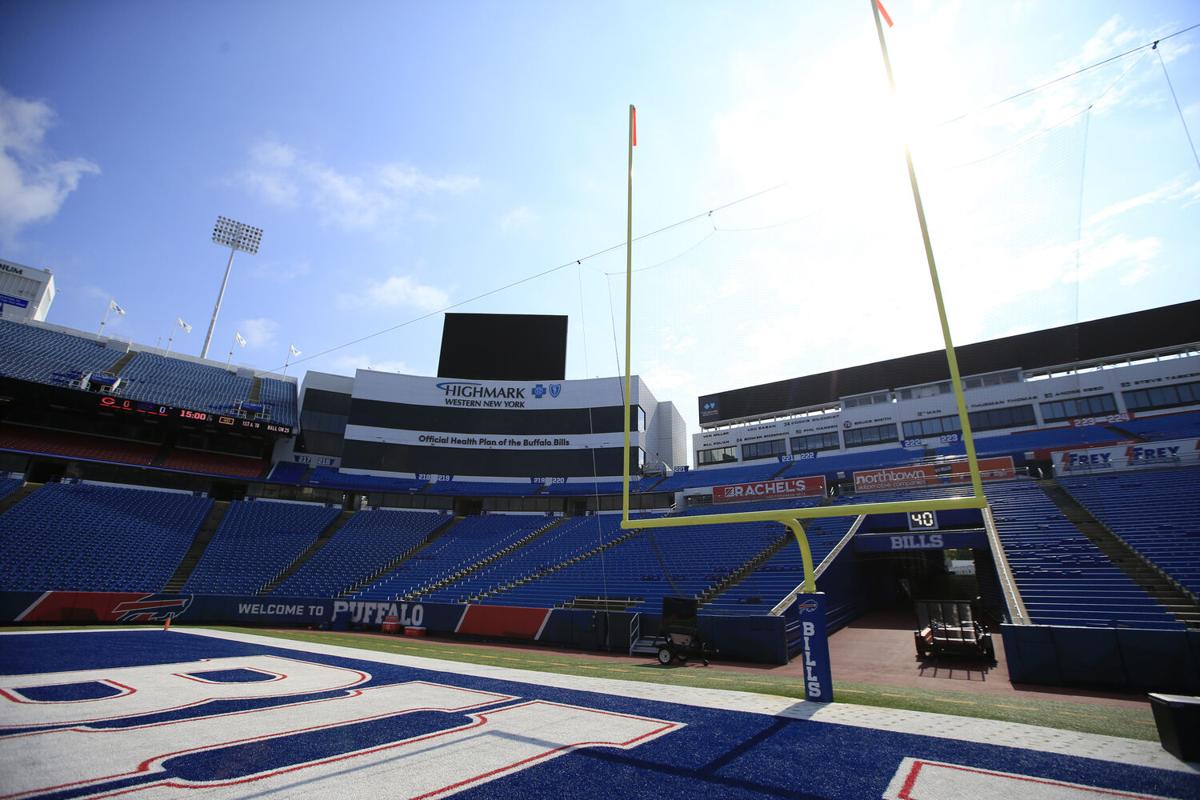 Observations from Wednesday's Buffalo Bills practice:
1. The news on the injury front was mostly excellent for the Bills as they held an hourlong open practice at Highmark Stadium.
Cornerbacks Levi Wallace, Taron Johnson and Dane Jackson – each of whom sat out the exhibition finale against Green Bay with minor injuries – were on the field practicing. Johnson and Jackson were wearing red, non-contact jerseys, but both were running around well. Their return to health was the obvious reason the Bills opted to keep just five cornerbacks on the active roster. Many teams keep six.
Also back practicing were defensive tackle Harrison Phillips, receiver Isaiah McKenzie, tackle Spencer Brown and tight end Tommy Sweeney, all of whom missed the Green Bay game.
Phillips' return from a knee injury is key because the Bills will want all their run-stoppers healthy for the season opener against a Pittsburgh team that drafted running back Najee Harris in the first round.
McKenzie, back from a shoulder injury, also was wearing a red jersey, but he was fielding punts and running around well with the offense.
McKenzie's return is critical because of his role as the primary return man and because his backup on returns, rookie Marquez Stevenson, is out with a foot injury. Stevenson was placed on the injured reserve list – putting him out for at least the first three games. Stevenson returned a punt 79 yards for a touchdown against Chicago two weeks ago.
"His foot has still been nagging him," General Manager Brandon Beane said. "He actually had re-hurt it before that punt return against the Bears, and believe it or not still took that thing back. And that's why he got shut down then. It's still nagging him. The best thing is to let it calm down, so we'll put him down."
Defensive end Jerry Hughes, who played in the exhibition game vs. Green Bay, was on the field but did not practice due to a veteran rest day.
Reserve safety Jaquan Johnson, who has been out with a knee injury, was on the field in his jersey but did not participate. Also out were defensive tackle Star Lotulelei (calf) and safety Micah Hyde (excused for personal reasons).
2. The Bills' quarterback cuts worked out just as the team hoped.
Backups Jake Fromm and Davis Webb were signed to the team's practice squad, giving the team four quarterbacks, with Josh Allen and Mitch Trubisky on the active roster.
Trubisky's status as arguably the best-credentialed backup in the league made it easier for the Bills to keep just two quarterbacks on the active roster. Trubisky is playing on a one-year contract. Thus, it's beneficial to have Fromm, the fifth-round draft pick from 2020, still in the organization. Webb, a third-round pick of the New York Giants in 2017, is particularly valued by the Bills for his intelligence and value to Allen in scouting and game planning.
Also signed to the practice squad were 13 others, all of whom spent training camp with Buffalo. They were: offensive linemen Jack Anderson and Jamil Douglas, running back Antonio Williams, receivers Isaiah Hodgins and Tanner Gentry, tight end Quintin Morris, linebacker Joe Giles-Harris, defensive end Mike Love, defensive tackle Brandin Bryant, safety Josh Thomas and cornerbacks Olaijah Griffin, Cam Lewis and Rachad Wildgoose.
Wildgoose was a sixth-round pick this year, and Anderson was a seventh-round pick.
The Bills have one opening remaining on the practice squad.
3. One cornerback was lost.
Cincinnati claimed undrafted rookie Nick McCloud, who got extensive preseason playing time – 100 snaps. McCloud, a 6-foot-1, 192-pounder from Notre Dame, had an interception in the game at Chicago.
Placing Stevenson on the injured reserve list opened up a spot to allow long snapper Reid Ferguson back onto the 53-man roster. After catching a long pass vs. Detroit and scoring on the long punt return in Chicago, the Bills did not think Stevenson would make it through waivers.
"The love I felt from BillsMafia after the last 24 hours didn't go unnoticed! See y'all on the 12th," Ferguson said in a tweet.
5. It was a quick practice.
The Bills worked for about an hour in the stadium before a crowd of just under 9,000, good for a mid-day, mid-week session.
Cody Ford took all the snaps with the starting unit at right guard. Ford split time with Ike Boettger in the Green Bay game.
There was a lot of work for the offense on quick throws against blitzes.
Linebacker Tremaine Edmunds picked off an Allen pass for a tight end that first was deflected by safety Jordan Poyer. Edmunds also got into a passing lane and deflected a pass over the middle for Dawson Knox.
Tyler Bass was 5 for 5 on field-goal attempts in the middle of the session then closed the practice by making a kick from 50 yards.
Cole Beasley signed autographs for 70 minutes after the practice ended along the wall that circles the field. He was the last player off the field by far. For the record, while the unvaccinated Beasley was outside and separated from the fans by the wall, he was not wearing a mask.