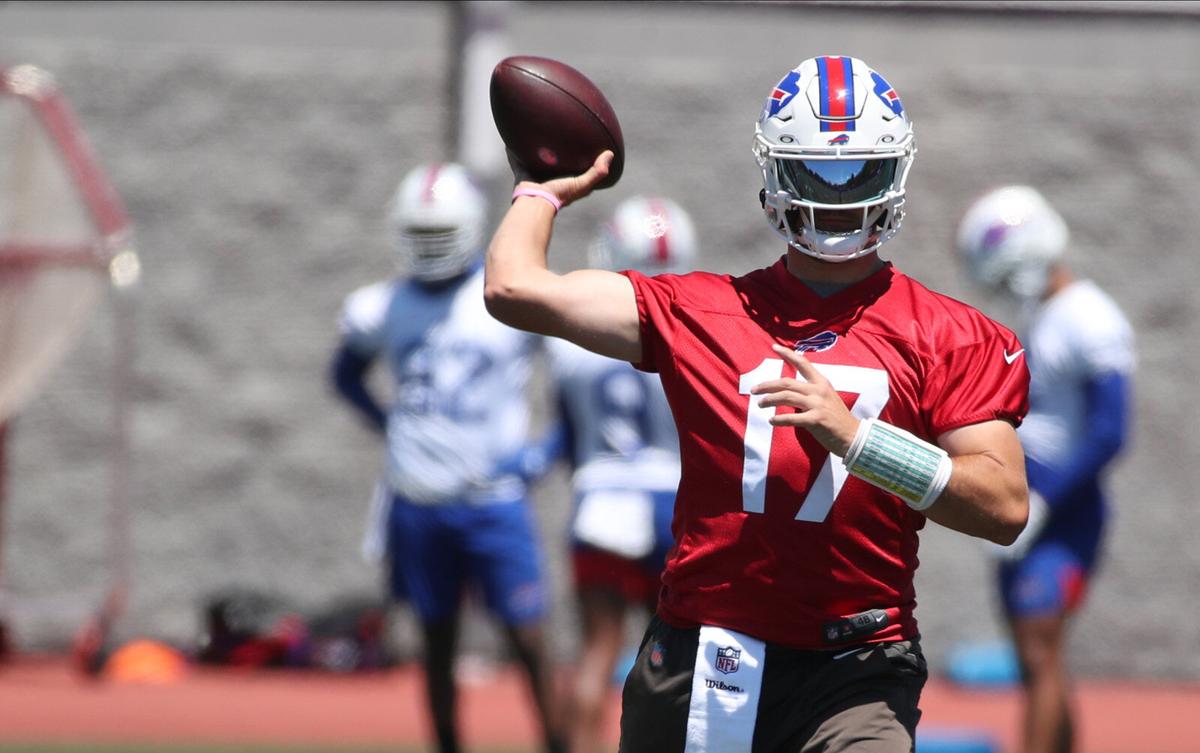 Josh Allen said his teammates' competitive fire was apparent Tuesday as the Bills gathered on the practice field for the start of a scheduled mandatory three-day minicamp at One Bills Drive.
"We're still a very, very hungry team," Allen said, "and I think that the loss that we had – obviously we return a lot of guys – the loss that we had in the AFC Championship Game is still sitting with us. And I don't think there's one guy on this team that thinks just because we had success last year that it's going to carry over. That's kind of what we've been preaching in the locker room."
The Bills return all but one starter – wide receiver John Brown has been replaced by free agent signee Emmanuel Sanders – from a team that finished one victory short of the Super Bowl and an offense that shattered numerous franchise records.
The defense has been bolstered by the return of defensive tackle Star Lotulelei, who opted out last season because of concerns about Covid-19, and rookie defensive ends Greg Rousseau and Boogie Basham, the team's first- and second-round draft picks.
"It's great to have the team here. Great to have everyone here," coach Sean McDermott said. "I certainly appreciate everyone's participation. This is how you build a team. It's hard to build a team when you're spread throughout the United States or other parts of our country and different countries. That's no way to build a team, a good team, and that's what we're trying to do, and so I appreciate everyone being here."
Allen, who finished second in NFL MVP voting last season, said the familiarity among his teammates was evident in the speed and chemistry throughout practice.
"I think the tempo, guys getting in and out of the huddle, is so much quicker," Allen said. "Guys that have been here, done that and being able to relay it and verbally communicate to the guys in the huddle, it's been so much easier. The guys know what they're doing. It's a good feeling to be in that huddle and understand whatever I call, our guys are going out there and will execute to the best of their abilities.
"It's fun, guys flying around, finding ways to get better. When you play fast, it typically presents us with some good things and some good outcomes. We're playing fast right now, we're battling on our defense. We got a couple more days of doing that and it's going to be fun. We get to use this time to make mistakes and to learn from those mistakes in order that we don't carry those on to the game field. Like I said, it all pays dividends with what we're doing right now."
Allen said he recently had his throwing mechanics digitally mapped in an effort to maintain muscle memory and keep from reverting to old, bad habits.
He also plans to again gather several offensive teammates for practice this summer, between minicamp and the start of training camp in late July.
"No offense to you guys and your job as the media but my bar is higher than anything that anybody else can set for me," Allen said. "I'm very internally driven. It doesn't really matter what people say. I care about being the best quarterback that I can be for the Bills and the best teammate that I can be for my teammates."
The goal this season, like every season, is to win the Super Bowl.
"I think that's the goal for every team every year," Allen said. "You play to win the game and if a team's not looking to win the Super Bowl that year, they're doing it wrong. I think everybody's got to have that mindset of, 'We've got to go out there and give ourselves a chance,' and Coach McDermott preaches it all the time of 'playoff caliber.' And once you're in the playoffs, every game is your season on the line. The ultimate goal is to make the playoffs and give yourself a chance for a world title. And that's what we've got to do."