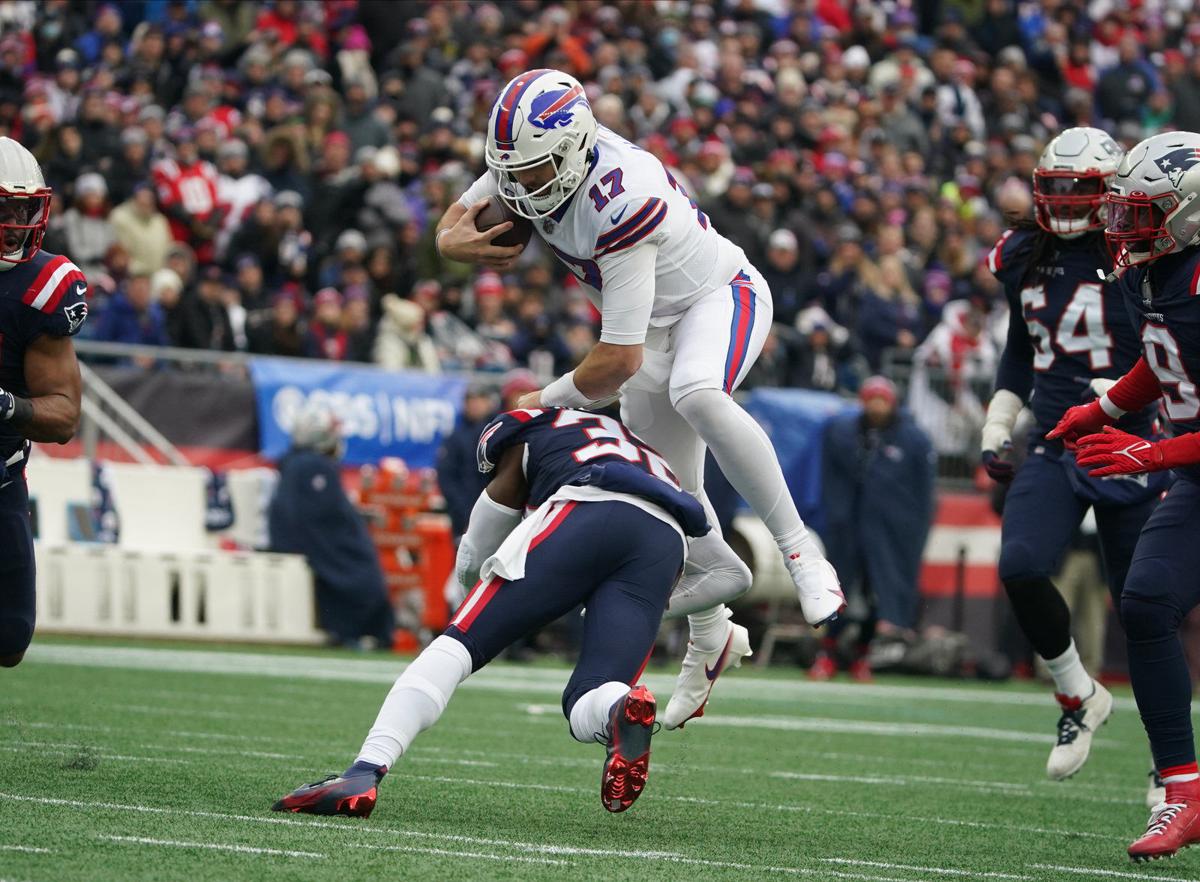 NFL defenses did a better job of preventing the Buffalo Bills from passing deep in 2021.
The production by the Bills' running backs was more inconsistent in 2021 than it was in 2020.
The Bills' offensive line personnel shuffled more in 2021 and endured more difficult games than in 2020.
Yet Josh Allen ranked second among all NFL quarterbacks in total touchdowns produced passing and rushing with 42, behind only Tampa Bay's Tom Brady. Allen was fourth in total yards produced passing and rushing, at 5,160.
The Bills' quarterback isn't in the discussion for NFL most valuable player, as he was last year. He didn't eclipse his team-record totals from 2020 in passing yards and passing touchdowns.
However, Allen arguably carried an even heavier load of the Bills' offense in 2021 and produced one of the best quarterbacking seasons in Bills history.
"There's not another quarterback I'd rather have than him," said Bills offensive coordinator Brian Daboll. "He just has such a strong, competitive nature built into him from his upbringing and what he stands for."
"Four years together, I think that he's grown a lot, along with me. We have a great relationship and great trust on and off the field and I certainly have all the trust in the world in him when he's playing the game."
Consider the exclusive company Allen keeps.
He is one of only four players in NFL history to record 4,000-plus passing yards and 40 or more total touchdowns in consecutive seasons, joining Drew Brees (2011-13), Aaron Rodgers (2011-12) and Brady (2020-21). Allen hit those marks in 16 games this year. He also joined Brady, Brees, Rodgers, Patrick Mahomes and Peyton Manning as the only QBs with 4,000 yards and 35 passing TDs in back-to-back seasons.
Allen's 36 touchdown passes were second most in Bills history, behind his total of 37 last year. His 4,407 passing yards also were second only to his 2020 total of 4,544.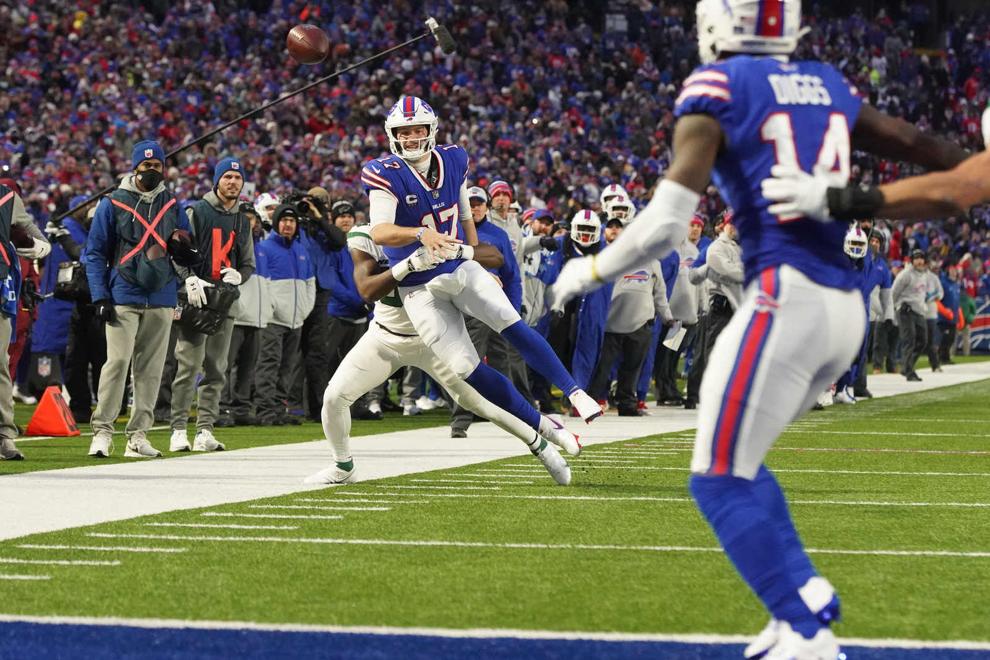 The dual-threat nature of Allen's game continues to set him apart from almost everyone. He became the first NFL QB ever to have 4,000 passing yards and 750 rushing yards in a single season. Over his first four seasons, Allen has 134 touchdowns passing and rushing, second only to Dan Marino (144) in NFL history. Allen is the first QB ever to have four consecutive seasons of six-plus rushing TDs.
Despite all that production, the 2020 season was a hard act to follow. The Bills went 13-3 and ranked third in the NFL in passing.
Defenses made the Bills work harder for scores in 2021. The Bills had 66 pass plays of 20 or more yards in 2020, which was fourth best. In 2021, the Bills' total dropped to 51, tied for 16th best. Allen completed more passes in 2021, but his yards per attempt dropped from fifth best (7.9) to 23rd (6.8).
It started right from the first game, with the Pittsburgh Steelers focusing on a four-man rush and protecting deep. The Steelers blitzed Allen once in 60 dropbacks. In Week 6, Tennessee blitzed Allen once in 57 dropbacks. The Bills' offensive line had a terrible game against the Steelers. It played better vs. the Titans, and Allen attacked the Tennessee defense better. He passed for 353 yards and ran for 26. The Bills lost, 34-31, when Allen was stopped short of the end zone on a quarterback sneak in the final seconds.
"I know we didn't win the Tennessee game," Allen said. "But I think I learned a lot from that game. I think seeing how teams were playing us before that game during the season, and just kind of learning obviously of getting the backs involved, getting the tight ends involved, finding the check downs a little quicker. Again, I'm still learning, still progressing in that aspect. And I've got a long way to go. But I think if there's one game where I learned I think the most this year was that game."
Overall, Allen was blitzed a career-low 21% of his dropbacks, down from 32.5% last year, according to Buffalo News charting.
"I don't know if the word underrated is the one I should use, but he's a very smart player," Daboll said. "Not only is he smart, he's instinctive, too. I can't speak for defenses on how they want to attack our offense or attack him. But when you bring an extra guy, unless they want to drop somebody else out there's one less guy in coverage. And then you've got to decide are we going to bring five guys and play zone behind it or are we going to rush five and play man behind it? If you do that, there's other things we have and Josh has ability-wise to attack that. It all starts with the protection aspect of it. Sometimes they can bring five and fool you and get you on a protection."
Inconsistency in the ground game prompted the Bills to ask more of Allen as a runner.
Allen rushed for a career-high 763 yards, way up from 421 yards in 2020.
Against the best defenses, Daboll decided the Bills' needed to make Allen more of a weapon in the run game. Allen ran 11 times for 59 yards against Kansas City. He rushed 12 times for 109 yards against Tampa Bay. In the second game against the Patriots, Allen ran 12 times for 64 yards.
"You try to be creative," Daboll said after the Tampa game, "and find ways to either tire a line out or get the ball on the perimeter, use RPOS, or quarterback run game or quick drop back or perimeter screens. So we were going to be aggressive. That was the mindset going into it. ... I think Josh made good decisions in terms of the running game, when to throw it and when to hand it off."
Allen ranked third among NFL QBs in rushing yards, behind Philadelphia's Jalen Hurts (784 yards) and Baltimore's Lamar Jackson (767).
With Allen as a big part of the rushing equation, the Bills enter the postseason encouraged about the state of their run game over the last month of the season. Devin Singletary averaged just five carries a game during a six-game midseason stretch. Over the past seven games, he has carried 15 times a game. The Bills also are encouraged about the way the offense has attacked defenses that have focused more on coverage than on blitzing.
"With what our offensive line has done the last couple weeks, it's been awesome to see that and to see them grow, and the communication there continue to evolve, and see how well some of these guys are playing," Allen said. "So that's been very promising. Obviously, you've been able to see Motor kind of step into a bigger role for our offense, and he's been excelling. Guys on the outside are getting open and catching balls and making plays. That's really all you can ask for."
The Bills have asked more of Allen than ever this season. That's not going to change in the playoffs.