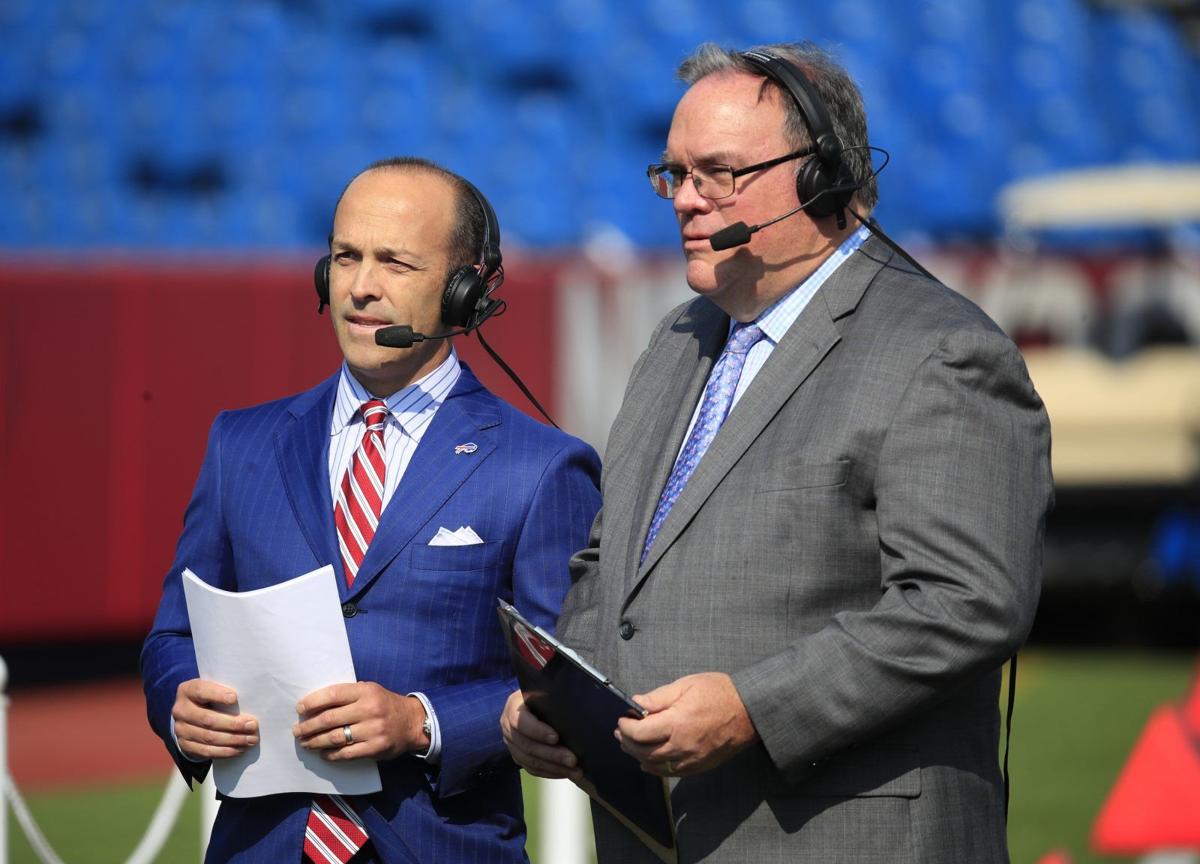 Veteran broadcaster John Murphy announced Thursday that his eight-year run on the daily weekday program "One Bills Live" and its predecessors, which is simulcast on WGR radio and MSG cable, ended with today's program.
Murphy will continue being the play-by-play announcer on Buffalo Bills radio broadcasts on the Bills network that airs on WGR and other stations across New York State.
He said the decision to exit "One Bills Live" came as his contract with Pegula Sports and Entertainment was set to expire next month. His "OBL" duties alongside Steve Tasker will be split between Chris Brown and Maddy Glab, who work for the Bills and have filled in as hosts when Murphy was off.
Murphy's "OBL" contract is separate from his play-by-play contract with Entercom Radio, which owns WGR and does year-to-year deals with Murphy with the Bills approval.
"We're excited that he's going to be the play-by-play voice on Entercom," said Mark Preisler, the executive vice president of PSE in charge of broadcasting. "We didn't want to lose him there."
Murphy, 63, said the decision to exit "One Bills Live," which airs from noon to 3 p.m., was "sort of a mutual one" between him and PSE. Preisler confirmed it, saying they've been talking about it for months.
"This time of the year the show is so slow, I usually take off three weeks this time of year and come back in late June or July and get fired up," said Murphy. "I just thought, 'Why are we doing this?' It was sort of a mutual decision, I guess."
Murphy, who has been part of the Bills game broadcast for 32 years – 16 years as the analyst along Van Miller and 16 years on play-by-play — added he had several reasons for leaving "OBL."
"I am going to be 64 years old on my next birthday" in March, he said. "The show is challenging, but it can be a bit of a grind. This time of year has always been a grind and this year, especially, with nobody around."
He also wanted to spend more time with his 11-month-old grandson Cormac, whose parents, Mark Murphy and wife Lexi Lugo, are attorneys in Niagara Falls.
"I just think it would be good to spend more time with him," said Murphy. "I mean that. They have been housebound and quarantined, and I hope I can help them get through that and hopefully get back to work."
The coronavirus pandemic also led him to reflect on his life.
"I do think these are kind of different times and the last couple of months I think everybody has taken stock of what's important and trying to put things in perspective. And this is what I kind of want to do, spend more time with Cormac, be healthier and not to have that three-hour challenge, grind, waiting for me every day."
"And I get to continue the play-by-play thing, and if you isolate the components of my job, that is by far the most fun."
He didn't want to speculate too much on what PSE's reasons were in the decision.
"They want to take the show in a different direction," said Murphy.
Murphy said he is open to other job possibilities.
He said Daemen College men's basketball coach Mike MacDonald had one idea.
"He recently offered me a job and said, 'Why don't you come and be an assistant coach at Daemen?' " laughed Murphy. "I don't know if he was kidding or not. I said I'll do the home games and he said, 'What, you don't want to ride the bus for seven hours (for road games)?' I'd immediately know in a day how much I don't know about basketball."
For now, Murphy is just preparing for his Bills play-by-play role for a season that will be affected by the pandemic and may not include fans in the stands.
"I'm eager to do the season, I think it is going to be a fun season, but I'm worried about what it might be like," said Murphy. "I don't know what it is going to be. I'm ready for whatever it might be."