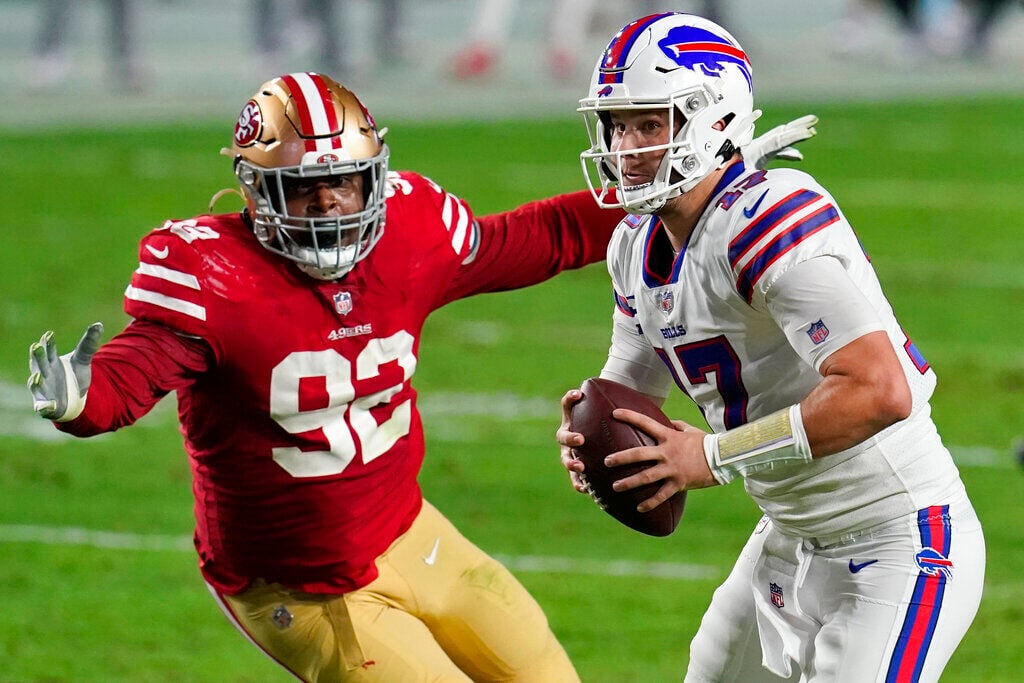 Jim Kubiak has been analyzing the play of Buffalo Bills quarterbacks for BNBlitz.com. Kubiak is the all-time leading passer at Navy, has played in the NFL, NFL Europe and the Arena Football League, and has been a coach and executive in the AFL. He spent eight years as the radio analyst for the University at Buffalo and runs the Western New York Quarterback Academy to help develop the next generation of quarterbacks.
Quarterbacks are evaluated each quarter using a "Doing Your Job" grading system for every play that takes into account the quarterback's responsibilities and outcome. 
If ever there were a game that exemplified Josh Allen's future, it was Monday night's performance on a national stage against the San Francisco 49ers. Allen's scintillating performance embodied every aspect of playing the quarterback position at the highest levels. Statistically, Allen completed 32 of 40 attempts for 375 yards, and threw four touchdowns with no interceptions. His completion percentage was an astounding 80% as he carved up the 49ers' defense.
His command and overall awareness set this game apart from all others. Allen's performance grade was a season-high 96.18%, edging out his previous game-high attained in the Bills' victory over the New England Patriots in Week 8. In both contests, Allen demonstrated the discipline to take what was given while simultaneously protecting the football. He was able to resist the urge to reach for greatness, and in doing so, he achieved it.
Allen was unflappable, decisive and polished, and he delivered down range with the precision of a sharp shooter, becoming the first player in Bills history to complete 80% of his passes while throwing four touchdowns in a game.
Play selection: 14 plays – nine passes, five runs.
Allen: 7 for 9 passing, 97 yards. One carry for zero yards.
Performance grade: 85.7%.
The Bills marched down the field on their first possession. On the third play of the drive, Allen found Cole Beasley facing a Cover 3 zone.
Gabriel Davis and Beasley were lined up to Allen's left. Davis ran a go route and Beasley took the seam. Strong safety Tarvarius Moore rotated to Beasley's side of the field while widening to cover the flat. Allen read Moore's width and attacked the vacated seam area, decisively and accurately hitting Beasley for a big gain.
Cover 3 is a basic zone defensive structure in which three defensive backs divide the field into thirds. Its strength is defending against deep throws down the sidelines or preventing deep over the top post routes. Cover 3 is vulnerable in the seams and underneath its deep defenders.
Allen's recognition and ability to deliver the throw on time to Beasley was a telling indication of the kind of game he was about to have.
The drive ended on a failed 4th-and-goal attempt in which Allen had the right idea, but tight end Lee Smith was not able to adjust his route soon enough.
Offensive coordinator Brian Daboll wanted to make it look as if the Bills were going to run the football with his use of jumbo personnel. Tackle Ryan Bates was eligible to Allen's left, and tight ends Reggie Gilliam, Dawson Knox and Smith were on Allen's right. Daboll wanted to create flow to the right and then attack to the left side of the field with Bates and Smith. The 49ers' defense did not take the bait on the play-action and were waiting in position for Buffalo's crossers. 
Smith was tasked with trying to sneak behind the linebackers, but Dre Greenlaw was waiting. Smith could have settled in the open area before getting to Greenlaw for an easy touchdown, but instead ran across, directly into the waiting defender. 
Allen saw Greenlaw and wanted Smith to slow down or stop in the open area. Smith, however, continued his route and was running to be covered. Allen tried to throw the football to the safe area behind Smith, where he wanted him to settle, but Smith was unable to rein it in. The Bills turned the ball over on downs.
The 49ers returned the favor on the next drive. The Bills' defense stuffed a fourth-and-goal run that turned the football over to the Bills on their 1-yard line.
On the next play, rookie running back Zack Moss grabbed for the football too early, rather than allowing Allen to put the handoff into his belly.
Running backs are taught not to try to grab the football for this reason. Perhaps Moss was expecting the ball sooner, or he had fixed his eyes on the defense and veered toward a hole before actually having the football. Either way, the mistake fell on Allen and Moss and the 49es scored three plays later.
Play selection: 23 plays – 14 passes, nine runs.
Allen: 12 for 14 passing for 139 yards, two touchdown. Three carries for six yards.
The Bills' first quarter mistakes were soon erased with 17 unanswered points. As Allen heated up, Buffalo took control of the tempo and time of possession, running 23 offensive plays in the quarter.
On second-and-12 from the Niners' 32-yard line, Allen found Davis with perhaps his best throw of the season.
Allen had a three-receiver concept to his left. Davis was the outside receiver, Stefon Diggs was in the slot and tight end Knox had motioned across to that side. Daboll was attempting to flood the left side of the field. Diggs' job was to run the seam, either as a viable option in Cover 3 or to clear the area out against man or Cover 4 zone coverage. Davis was tasked with a dig route, flashing underneath Diggs. Knox had motioned across to run a wheel route to the outside of Davis. This was a terrific concept design, as well as an incredible delivery by Allen.
Allen was able to read the defense, anticipate where Davis would be and get the football over linebacker Fred Warner, who was dropping into his zone. The ball traveled over Warner's outstretched hands and into the reception area where only Davis could make the catch. This was a sensational completion that was built on timing, great technique and that velocity that only Allen has.
Two plays later, Allen found Beasley to tie the score at 7-7 with his first touchdown pass of the game.
The 49ers' defense had locked-up in man coverage to the Bills' bunch formation to Allen's right. Beasley was the outside receiver and was accounted for by cornerback Richard Sherman. Sherman, a cagey veteran, has a habit of playing unique techniques. In this case, he played outside leverage on Beasley, even though he was in man coverage. Typically, defenders who are playing man coverage are lined up inside of their assignment to protect across the field as they do not have help and are responsible for their receiver wherever he goes. Sherman was positioned deeper and outside of Beasley, either trying to confuse Allen or aiming to be in position to drive on any throw in front of him.
Beasley hesitated, then burst upfield and curled on the goal line. Sherman was too far away to contest the throw. Allen's completion was perfectly placed, low and on the body of Beasley. Sherman had no chance of stopping the touchdown because of his positioning.
The Bills took a 14-7 lead on the next possession after a 14-play drive that was topped off with Allen's second touchdown pass of the game.
Daboll again demonstrated his talent for design by creating this unique play-action pass. Knox began a quick and short motion and then came across the formation after the snap. This was an attempt to make it look as though Knox was blocking the defensive end. This appeared to be a RPO (run-pass-option), with Allen making the decision to either give to the running back or throw to Knox. Knox's short motion took him outside of defensive end Arik Armstead and into the voided flat. Armstead had no chance as he was stretched laterally to the left by the run fake and laterally to the right by Knox. This great design by Daboll provided Allen with the ability to acutely focus on Armstead and make the correct decision. 
Allen closed a dominating quarter of football with this dynamic completion to Diggs on a cross.
The execution by Allen on this play was again MVP caliber, as he recognized a Cover 4 zone and knew Diggs would be entering a vacated area on the left side. Simultaneously, he was able to move in the pocket while maintaining his composure and awareness of the play developing downfield. He then slid up in the pocket and unloaded a rocket to Diggs without his feet being completely set. The degree of difficulty here was extraordinary, but Allen made the near-impossible look routine.
The play led to a field goal that boosted the Bills into a 17-7 lead at halftime.
Play selection: 15 plays – nine passes, six runs.
Allen: 7 for 9 passing for 68 yards, one touchdown. No carries.
The 49ers opened the second-half scoring to cut the deficit to 17-10 with a field goal. On the next offensive possession, Allen and the Bills continued to move the ball methodically down the field. They capped off an 11-play, 75-yard drive with Allen's third touchdown pass of the game.
In order to truly appreciate what Daboll does on this play, you will need to watch it several times. 
Diggs, Knox and Isaiah McKenzie are lined up to Allen's right in tight alignments. This was another way to create a bunch formation without being in a standard formation. McKenzie went in a short motion that looked similar to a jet-sweep motion. In doing so, he went from being the No. 2 receiver on the right side to the No. 2 receiver on the left side as the ball was snapped. This forced the back-side man defender Moore to account for McKenzie after the snap, which is difficult to do. The wide alignment and slant route by Davis put Moore in a bind. Moore tried to go under Davis and was picked and could not recover on McKenzie's wheel route. 
The other detail here is that McKenzie initially looked like he was about to run a jet sweep, then it appeared that he was going into the flat, and then he wheeled up toward the end zone. Moore reacted to the run, then to the flat and then was finally unable to cover deep because of the collision with Davis' slant route. 
Daboll also had Knox coming across the formation behind McKenzie as an outlet into the flat. 
Typically, defenses playing man coverage will pick up their assignment pre-snap and follow across the formation with motion. Some teams do not subscribe to this, as jet sweeps and fast motions can leave the defenders at a disadvantage. Daboll knew that the quick motion would be difficult to pick up. Moore's responsibility was to pick up the No. 2 receiver man-to-man. McKenzie's motion barely crossed the formation when the ball was snapped, which made it difficult for Moore to claim McKenzie. This motion also made it very difficult for Moore to defend every potential action by McKenzie.
Daboll's creativity resulted in another easy touchdown pass for Allen, which gave the Bills a commanding 24-10 lead.
Play selection: 15 plays – eight passes, seven runs.
Allen: 6 for 8 passing for 71 yards, one touchdown pass, one sack. Two carries for five yards.
With the score 27-17, the Bills put the game away with an impressive 10-play drive that culminated in a touchdown because of this fourth-and-1 conversion. The Bills were on the 49ers' 35-yard line and decided to go for it, rather than risk missing a long field goal. A field goal would have kept it a two-score game with a 13-point margin. Bills coach Sean McDermott decided to go for it and put the outcome on Allen and Diggs.
Two aspects of this play jumped out in review. First, Devin Singletary's terrific block on the blitzing linebacker, Greenlaw. The 49ers were lined up in a "Bear" defensive front, meaning that Buffalo's guards and center were covered with defensive linemen. The Bear front was an indication of an impending blitz, which was exactly what happened as Greenlaw rushed into the "A" gap. Singletary was responsible for Greenlaw, as each offensive lineman was blocking the player lined up over him, a "solid" call. Singletary was able to cross in front of Allen from his right side alignment to block Greenlaw on Allen's left side. The block gave Allen enough time and cushion to comfortably step into his throw.
Second, Diggs did a masterful job of selling cornerback Jason Verrett with an outside release, which allowed him to get back inside on the slant. This was an All-Pro caliber release by Diggs, who knew he had press coverage and that the only way for him to get inside was to get Verrett to turn his hips with an explosive outside movement.
Allen's cool throw was delivered on the body of Diggs as the Bills converted this key play to keep the drive alive. One play later, Allen threw his fourth and final touchdown pass of the game.
As touchdown passes go, this was Allen's most impressive of the game as he saw 49ers cornerback Sherman out of position. 
Allen had not intended to throw the ball deep down the field, as the 49ers were in a Cover 4 zone. Instead, he was progressing from short to deep. Beasley ran a speed out into the flat and Davis ran a go on the outside. Sherman was supposed to have deep quarters responsibility, but tried to read Allen's eyes in an attempt to jump Beasley in the flat. Allen saw Sherman and reacted.
Sometimes defenders such as Sherman do things that quarterbacks don't expect or anticipate. Sherman had deep responsibility in coverage, but instead tried to make a play in the flat. The beauty here was that Allen knew it was a Cover 4 zone because the two safeties stayed narrow, but still had the discipline to watch Sherman. This was another great example of how Daboll and quarterbacks coach Ken Dorsey had prepared Allen for the unorthodox tendencies of Sherman. Allen did not take the Cover 4 zone for granted and went through the extra step to eyeball Sherman, making certain he was where he was supposed to be. Unfortunately for Sherman, he got caught peeking, rather than playing the coverage, and the result was a Bills touchdown.
Great quarterbacks play great in big games. They lead and execute in difficult situations. They make plays and utilize their teams' strengths seamlessly, making very difficult plays look effortless. Allen played like the very best quarterback in the NFL managing, moving, adjusting and delivering like a league MVP. 
His footwork, technique, accuracy and progressions continue to improve, making him almost impossible to stop. The 49ers are a physical team and played well enough to win, but not well enough to keep up with Allen's fantastic production, as he led the Bills to points on six of nine offensive possessions.
The great John Wooden once said: "You must be interested in finding the best way, not in having your own way." I believe Daboll and Allen have come to believe this. Daboll's willingness to adjust strategies each week and Allen's acceptance to play in those changing roles make this dynamic duo a seemingly unstoppable force. Daboll is continuously devising ways to guide Allen toward success and in Allen has made it clear that nothing matters more than winning games and ultimately championships.