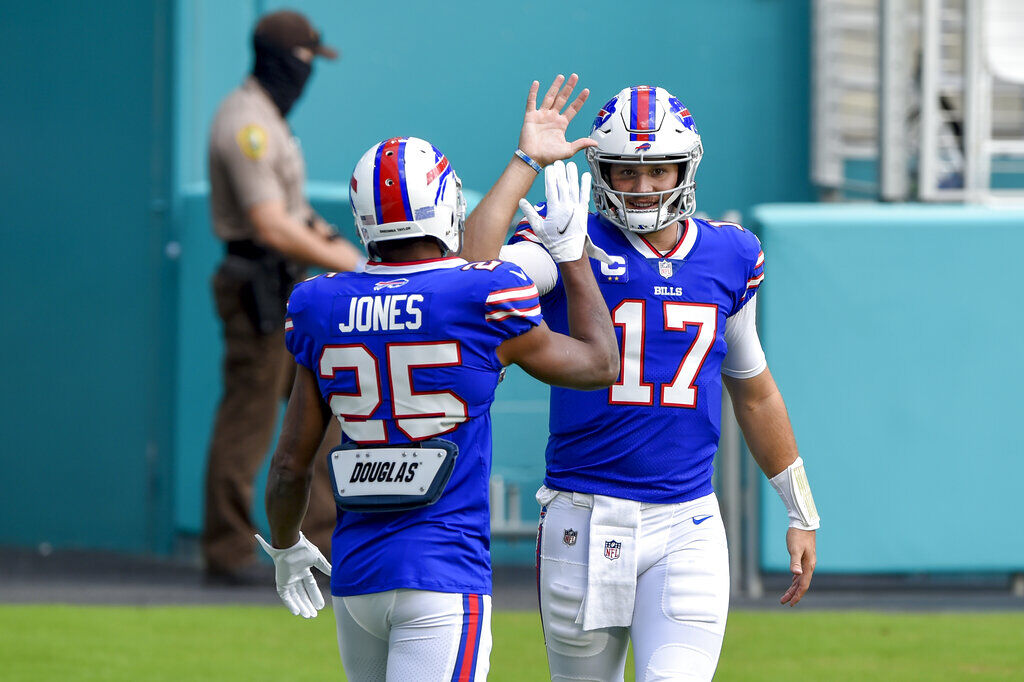 Jim Kubiak has been analyzing the play of Buffalo Bills quarterbacks for BNBlitz.com. Kubiak is the all-time leading passer at Navy, has played in the NFL, NFL Europe and the Arena Football League, and has been a coach and executive in the AFL. He spent eight years as the radio analyst for the University at Buffalo and runs the Western New York Quarterback Academy to help develop the next generation of quarterbacks.
Quarterbacks are evaluated each quarter using a "Doing Your Job" grading system for every play that takes into account the quarterback's responsibilities and outcome. 
Josh Allen turned in a sensational performance, demonstrating touch and accuracy Sunday against the Miami Dolphins' persistent and disruptive man-to-man coverage. He threw for a personal-best four touchdowns with no interceptions while completing 24 of 35 attempts (68.6%) for another personal best of 417 yards. Allen's career highs last week for completions, attempts and yards were the appetizer as he carved up the defense with the precision of a surgeon and the command of a captain. Allen became the first Bills' quarterback to have consecutive 300-yard games since Drew Bledsoe.
Offensive coordinator Brian Daboll had the Buffalo offensive hitting on all cylinders, totaling 524 total yards, netting 111 rushing and 417 in the air. It is the third time in team history that the Bills opened the season with 400-plus yards in consecutive games (the others were 1981 and 1991).
Allen rushed only four times in the game, a huge shift from Week 1. Daboll removed the zone read concepts from the game plan and limited as much defensive contact as possible on his franchise quarterback.
The most impressive aspect of Allen's execution was his touch and his ability to play above the rim, completing deep crosses down the field versus the man-principled defense of the Dolphins. Allen's ability to complete these touch passes across the field was the key to Buffalo's success and undoubtedly will be an important factor against the blitz going forward. He did a masterful job of being decisive and taking everything the defense was giving him.
Play selection: 16 plays – 5 run, 11 pass.
Allen: 8 of 11 passing for 123 yards, 1 touchdown. 1 carry for 16 yards.
Performance grade: 93.3%.
The Bills opened with two runs and a short pass to Stefon Diggs. Allen's first incompletion on a third-and-2 play intended for Diggs was a throw that he repeatedly completed throughout the game against the Dolphins.
Daboll utilized the deep crossing play on just about every drive. The route starts on one side of the field and continuously climbs all the way across.  Man coverage defenders are trying to stay in the hip pocket of wide receivers while positioning themselves to undercut lower throws. Allen was nearly perfect on these deliveries, never underthrowing or allowing defenders the opportunity with low, laser-like throws. His touch, timing and trajectory made the difference in the game.
The second drive of the game, beginning on the Bills' 3-yard line, was a microcosm of the game and the first two weeks of the season.
On second-and-9, on the second play of the drive, Diggs ran another cross. Allen made a perfect throw over the well-positioned defender Noah Igbinoghene. Allen decisively anticipated with touch which resulted in a 25-yard gain.
The next play, Allen was blitzed off his left side and made unblocked linebacker Kyle Van Noy miss. Allen reversed course, wheeled out and around the defender to his left.  
Allen's sneaky ability to move is remarkable. He makes what should be sacks look like designed plays, escaping into open space without being touched. Allen could improve rolling to his left. On this play, he overthrows an open Dawson Knox, who was standing uncontested at the first-down marker. This is a matter of a technique adjustment with his front, target shoulder on the intended receiver before the throw.
Three plays later, from the Bills' 44-yard line on first-and-10, Daboll called a quarterback draw.
This was a great play call as the Bills overloaded three wide receivers to the right in a trips formation and positioned their running back to the strong side. This resulted in a four-receiver set to Allen's right and forced the Miami defense to shift the linebackers to the strong side. With Devin Singletary lined up to Allen's right in the backfield, Allen gave a quick look with his eyes toward Singletary to further influence linebackers Jerome Baker and Van Noy. Then, he shot up and through the hole off the left side. Allen was careful and slid, avoiding contact after picking up 16 yards and another first down. 
This is how a franchise quarterback needs to protect his team, by protecting himself from unnecessary defensive contact.
On the next play, on first-and-10 from the Miami 40, Allen threw another perfect strike to Cole Beasley who had run another high-angle crossing route.
Miami was again playing man coverage, which Allen immediately recognized. He lofted the ball over the defender and into open space, with the pace and trajectory of a consummate pro for a 26-yard gain. 
Four plays later, Allen threw his first of four touchdowns on the day to rookie tight end Reggie Gilliam on a play-action roll to the right.
Great passers can see and feel defensive coverage. On this play, as Allen was rolling right, he felt the defender safety Brandon Jones waiting in the flat.  Allen adjusted the throw to place it on the back shoulder away from Jones. 
This drive had a little of everything as Allen showed his touch, his great movement, his awareness sliding on a 16-yard keeper, and his ball placement on a precise touchdown pass. He was dynamic and in total control as he completed seven of 10 attempts.
Play selection: 21 plays – 11 pass, 10 run.
Allen: 7 of 11 passing, 126 yards, 1 touchdown. 1 run for 4 yards.
The Bills' first drive of the quarter started on their 16-yard line and ended with another terrific crossing pattern that resulted in Diggs' first touchdown with the Bills.
Again, Allen identified Diggs, who had badly beaten the trailing defender, Igbinoghene.
Allen's only judgement error in the half was on his last play. On third-and-8 from the Bills' 33-yard line, Allen broke the pocket and scrambled to his left. The movement on the perimeter was strong, however risking multiple hits, plunging, and trying to will himself to the first down marker was a mistake.
It is here, in these moments, when Allen has to be careful. His willingness to take on defenders is admirable, but he risks so much for very little in return. One hit, or a strip, can change the complexion of any game or season. Allen must be smarter and go down to the ground before multiple, unnecessary collisions. This is how the best quarterbacks in the game keep themselves on the field for the long term.
Allen's overall first-half performance demonstrated his growth from his previous seasons. He completed 15 of 22 attempts for two touchdowns, but more importantly he was confident in where he was throwing the football on every attempt. He did not appear to be fooled by the defense on a single play. He knew what he was getting from the defense and he utilized the Bills' high-octane receivers to take advantage.
Play selection: 8 plays – 5 passing, 3 rushing.
Allen: 3 for 5 passing, 23 yards. No runs.
Following a lightning delay, Allen had another sluggish start to the quarter. The Bills ran only eight plays on two possessions. Allen missed an open Diggs on a shallow route as he appeared to throw the ball too hard, too low, and just out of Diggs' reach.
The result was a Buffalo punt. On the next possession, on third-and-2, Allen was nearly picked off by Van Noy.
It appeared Miami had schemed a rush to trigger Allen to throw hot to his running back in the flat to his right. Miami, anticipating this, had planted Van Noy into that throwing window. Allen threw the ball high enough to get over the top of an awaiting Van Noy. Van Noy was able to get his outstretched hand on the throw and deflect the football into the air. Excellent scheme by Miami, and a near-catastrophe for the Bills at the goal line.  
Allen has dramatically improved his ability to play "above the rim" this season, meaning that most of his throws travel above the imaginary plane that is like a sheet of glass, resting on the helmets of all the defensive players. This rim or plane is an important concept for quarterbacks to understand. Playing above the rim prevents defenders from playing between or under throws. Allen's passes consistently travel above this conceptual plane, giving defenses fits and making it more difficult for defenses to intercept the football. This indicates his maturity as a passer as well as his improved sense of timing.
Play selection: 13 plays – 8 pass, 5 run (two kneel-downs)
Allen: 6 of 8 passing, 146 yards, 2 touchdowns, 1 sack. 2 kneel-downs for minus-2.
The first time the Bills trailed all season came with 10:11 remaining in the fourth quarter. Buffalo, due to the slow third quarter start, was behind, 20-17. 
With six fourth-quarter comebacks already on his resume, Allen went to work.
On first-and-10 from their own 25 yard line, Allen utilized a play-action fake to draw up defenders and found Diggs down the right sideline for a 47-yard gain.
Diggs used a slight stutter with his feet to get the defender, Igbinoghene again, to react and bite on his movement. Then, Diggs turned on the speed and Allen found him with another clutch completion. 
Two plays later, following Allen's only sack of the day, Allen made perhaps his best throw of the game.
On second-and-24, the Dolphins adjusted into a zone defense. Allen recognized the zone and decisively found Beasley on the same crossing route that the Bills had gashed the Dolphins with all game. Due to the nature or the change in coverage, the throw had to be altered. Allen was spot on, as he decisively dropped the football into the hole in the zone area as Beasley was crossing the field.
This was a big-time play, and in my opinion, Allen's best as the Buffalo quarterback. He showed recognition, adjustment, timing and accuracy coming off a poor sack on a game-winning drive.
Allen completed the go-ahead touchdown drive with another strike on the run to Gabriel Davis as he was rolling to his right.
This pass was away from the defenders and in a place where only Davis could make the catch, and he made a spectacular catch to give the Bills a 24-20 lead.
On the next possession, when the safe decision would be for Daboll to run the four-minute offense and try to drain the clock with running plays, he unleashed four consecutive Allen passes. This shows just how much faith Daboll has in his franchise quarterback.
Allen stepped up and moved to his right on second-and-7 from his own 32-yard line to launch an incredibly accurate laser into tight man coverage of Diggs, who again was running a deep cross from the opposite side of the field.
Three plays later, Allen found John Brown on a skinny post route versus a Miami safety who was out of position.
This was a tremendous read and throw by Allen as he watched left safety Bobby McCain squat to rob his side of the field. Allen saw McCain move up and knew Brown was going to be able to get behind him if he kept his post skinny. This was exceptional vision and a great reaction by Allen, putting the Bills into a commanding 31-20 lead.
To this point, Allen has made himself into a smart, accurate and poised passer. He has developed and improved his weaknesses, beating the blitz and executing against man coverage. Allen has been well prepared both mentally and physically in the first two weeks of this season. He possesses all of the qualities that separate the good from the great players.
Daboll and quarterbacks coach Ken Dorsey have done a magnificent job preparing Allen schematically, while Allen has demonstrated his willingness to listen and adjust to improve his execution. This combination of enviable quarterback talent and great preparation, along with an insatiable appetite for learning, might result in Allen having the kind of season that MVPs are made of.
[BN] Blitz Daily Updates
Feed your obsession. Start every morning with a guide to the latest news from One Bills Drive and stay informed about what is going on elsewhere in the NFL.