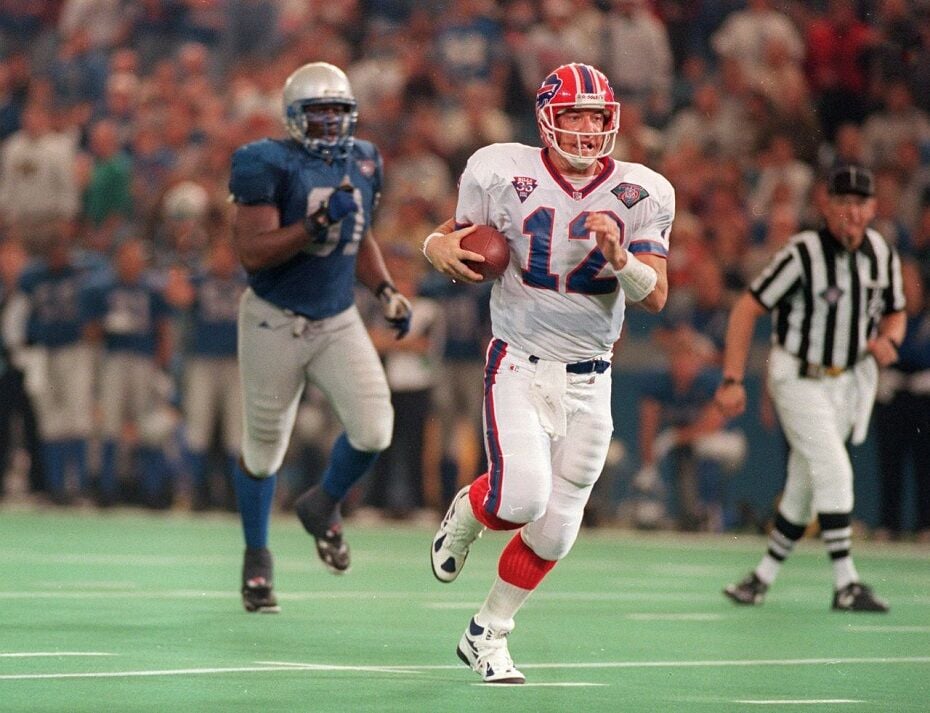 Pro Football Hall of Fame quarterback Jim Kelly led the Buffalo Bills to six AFC East championships and four Super Bowls. 
As I watched the Denver game at home with my family, I thought back to that first AFC East championship we won in 1988. There's nothing like being a player and experiencing that. And one of my biggest memories, as the fans were storming the field to tear down the goal posts, was thinking, "Let's get out of here quick!"
Seriously, though, I'm a different type of fan. I'm a player/fan, so my emotions are about taking care of business, taking it one step at a time, the old clichés. That's how I was brought up. That's how I was taught.
Marv Levy always stressed, "You don't talk about the Super Bowl. You don't talk about anything until you win your division." We always were focused on the AFC East. Of course, you've got to win most of those games, because tiebreakers are usually going to come down to what your record is in your own division.
I've heard Coach McDermott talk about taking care of things right there in front of you, and that's the AFC East. And that's exactly what they did. 
I love it. I'm pumped. I'm happy that they've worked their tail off. They're enjoying winning now, and I think they realize how hungry this city is for a championship. I'm just bummed that we've been waiting this long, and the Bills fans cannot go and watch it in person.
It's part of life. But, in the same sense, people are celebrating at home. There's not as many broken tables that way.
We were celebrating just like everybody else, but I can't watch a football game like everybody else does. I watch it from a quarterback's perspective, as far as when Josh Allen is coming up to the line of scrimmage. I'm looking at how the safeties are positioned. Are the corners staring down the receivers before the snap of the ball, or are they peeking in and it looks like it's going be a press-bail? If it's a running down, I'm looking at the defensive line and linebackers. Are they shaded more to the strong side, toward the tight end, or away from the tight end?
As far as similarities I see between Marv and Sean, number one, is respect. Without a doubt, you have to respect the guy that is leading the charge. I knew from Day One, when I met Sean, that he was a no-nonsense guy. I knew the same about Marv when I first met him. I know Marv was very picky with the words that he used, sometimes a little bit over our heads, but everything he said made a lot of sense. As we all used to say, when Marv spoke, people listened.
I think that the same respect that we had for Marv this football team has with Sean McDermott. It's awesome to see, but that's what you have to have. I heard all the talk this year about different teams and what's being said about some of the head coaches. Nobody ever talked that way about Marv, because he knew what he was doing. He knew what he was saying. I think that's the same with Coach McDermott.
You don't want to jump too far ahead, but I do see other similarities to a certain point. The young running backs, I know they're not Thurman Thomas, but they're pretty darn good. And what Josh brings to that offense, not only with his arm, but with athletic ability and his decision-making, it seems like it's getting better week in and week out.
Ken Dorsey, the quarterbacks coach, doesn't get enough credit. Brian Daboll's doing a very good job, but Ken Dorsey is very intelligent – of course, he went to the U – and he's with Josh all the time and I think that he's done an unbelievable job with him, making sure Josh is doing right thing. The offense just needs to continue to do what they do.
The defense is coming on, but we've got to be able to pressure the opposing quarterback. Because when you get to the playoffs, every quarterback's going to be good and you've got to be able to put hits on him. You've got to be able to put pressure on him. You can't let them sit back the pocket. This is something our defense has gotten better at doing.
I think one of the keys also is now we're getting healthy. We're peaking at the right time. I love – emphasize love – what I see now, but time will only tell. If they stay healthy and this coaching staff stays the same, I think we could take this a long way.