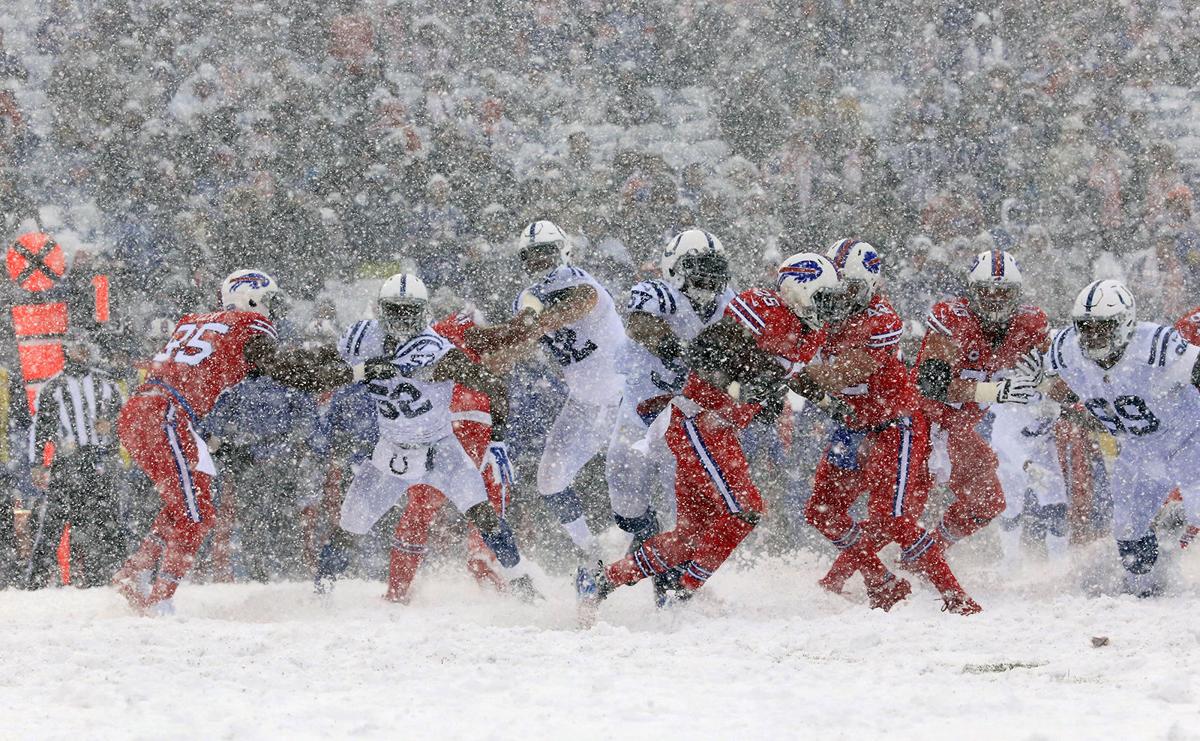 Enjoy this free sample of the extensive Bills coverage available on BNblitz.com. To subscribe, visit BNblitz.com.
Baseball legend Darryl Strawberry was a guest of the Bills over the weekend. On Saturday, he gave an inspirational talk to the team. He attended Sunday's game and was scheduled to spend more time with the players at One Bills Drive on Monday.
One Bill in particular took Strawberry's message directly to heart.
"I'm a big fan of his," said running back LeSean McCoy. "It was more a gospel thing, talking to us about the word of God. I wanted to have a big game because of something he said that I appreciated. About the small things you need to do to leave a legacy."
McCoy cares about the big things, too. He makes no secret of his desire to go over 10,000 career rushing yards. He needed 195 yards to get there Sunday against the Indianapolis Colts. He fell a little short, but no one on his team was quibbling with the result.
Running through a driving snowstorm at New Era Field, McCoy was the straw that stirred the drink in a 13-7 overtime victory over the Colts. He carried the ball a career-high 32 times for 156 yards, including a game-winning 21-yard dash with 1:39 left in OT.
On a day when the Bills were down to third-string quarterback Joe Webb, with the winds high, the visibility poor and the passing game a dubious notion, McCoy saved the day and the team's playoff hopes. He also might have saved his head coach from possible embarrassment.
Sean McDermott made a highly questionable call in OT, electing to punt on fourth-and-1 from the Colts' 41 with 4:13 left. Considering the brutal conditions, it seemed akin to playing for a tie, which would have effectively eliminated the Bills from the playoffs.
It was reminiscent of Rex Ryan punting from his 41 on fourth-and-2 with 4:09 left in OT a year ago. The Dolphins drove to the winning score, ending the Bills' faint playoff hopes. McDermott proved he's from the old school of conservative coaching, too.
"Well, field position," McDermott said when asked for his motives. "That was big in this game, with the conditions the way they were. I felt confident in our defense, that if we were able to pin them deep we would get the ball back, which we were able to do."
That doesn't mean it was the wise move. McDermott got a huge gift when Webb, who was 1-for-5 passing for 1 yard to that point — his first pass completion in five years — lofted a 34-yard pass to Deonte Thompson near the right sideline on third-and-6, putting the Bills in business at the Indy 27.
McCoy took it from there. He went right for 9 yards on first down, then got stuffed for a 3-yard loss. But on third-and-4, he popped through the middle, made one hard cut on the snow-covered turf and was gone. Ballgame. The Bills were 7-6, still breathing.
"I had a feeling," Webb said. "Shady's always good for popping one, and that was a great time to pop one to seal the game. The way he ended it, words can't explain."
History suggested he was due. McCoy has a thing for the snow. In 2013, with the Eagles, he played in a similar snow game against the Lions. He broke the Philly rushing record with 217 yards that day, including two long TD runs in a 34-20 win over the Lions. That game also occurred in Week 14 and helped Philadelphia sneak into the playoffs.
Eagles players described Shady's performance as "insane" after that game four years ago. There was eight inches of snow on the field. They said it seemed as if he were the only one playing in cleats.
"Just being a Pennsylvania kid, I've played in the snow before," McCoy said. "I don't know. I can still cut and run, like it's not snow. I slipped here and there. There's some cuts I slipped on. But for the most part, I was running, I was cutting and stopping where other guys were slipping.
"I didn't have an issue with it at all," he said. "I was trying to tell the other backs, don't try to slow down and settle yourself to cut. Cut hard in the ground and get upfield. But I'm no expert at it. I just run."
No expert? Tell that to defenders who try to tackle him. His cuts are sharper than Valyrian steel. Colts coach Chuck Pagano didn't seem very sharp when he called timeout late in the first half with the Bills facing second-and-10 at their own 20-yard line.
On the next play, with 1:36 left in the half, McCoy busted one off right tackle for 23 yards. On the next play, he followed Richie Incognito's block for another 25 yards. Darryl Strawberry, who hit 335 home runs and knows a little about popping a long one, had to be pleased.
Four plays after those two big runs, Nathan Peterman found Kelvin Benjamin with a fade to the right corner of the end zone for an 8-yard TD, the game's only score until the Colts drove 77 yards on 19 plays to tie the game late in regulation.
"Soon as we saw the weather, we knew we had to run the ball," said left guard Richie Incognito, who said he was stunned to see the heavy snowfall when he went out for warmups. "We knew we had to be physical. The passing game kind of went out the window. Yeah, you put that on the big hogs up front."
McCoy said he challenges his offensive linemen to set the tone. The Bills led the league in rushing and yards per carry his first two years in Buffalo. But the run game has been erratic this season.
"We like to put a lot of pressure on the guys up front," he said. "I say, 'What do you guys want to do? what type of runs you want?' Up the middle, to the sides, we try to correct them and get it right. So collectively, we had to get it done in the run game."
McCoy came into the postgame interview room as Webb was leaving and told a story about Webb leading an upset of the Eagles as a rookie in 2010 when Brett Favre was hurt. He told Webb to play that way when he got to the Bills.
No one had to tell McCoy what was required Sunday. The Bills needed a leader. More so, they needed McCoy to be the best player on the field against the sorry Colts. The 156 yards were his high as a Bill. He went over 4,000 scrimmage yards, the first Bill to do it over three seasons since Travis Henry.
McCoy said he was disappointed to fall short of 10,000 career yards with Strawberry in the house. He's at 9,961 now, just 39 yards from the magical 10K mark. I'm sure Straw was impressed, and confident that Shady's legacy is secure.
Be the first to know
Get local news delivered to your inbox!