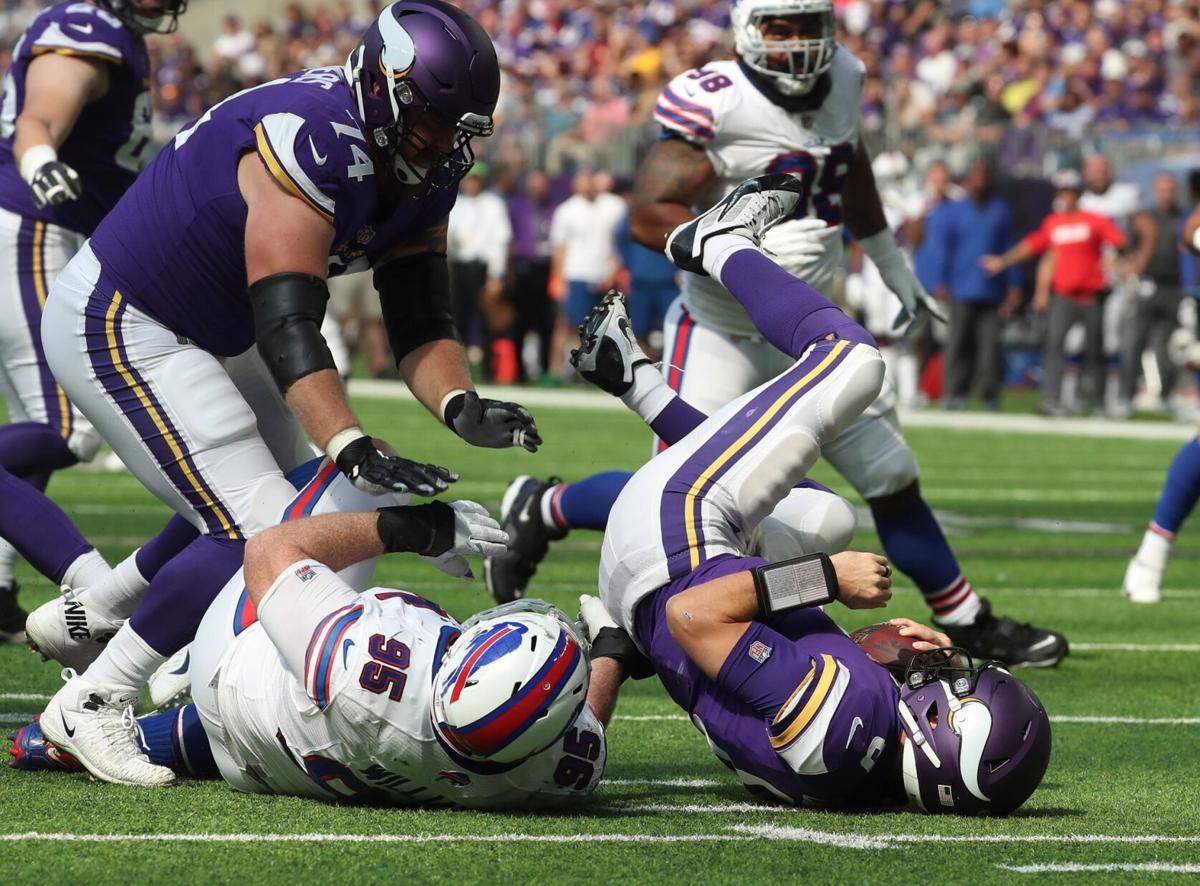 MINNEAPOLIS – Truth be told, a blowout was expected Sunday.
Keyed by a lights-out defensive effort, the Buffalo Bills put together the upset of the young NFL season, shocking the Minnesota Vikings, 27-6, at U.S. Bank Stadium.
For as outstanding as rookie quarterback Josh Allen played in the first half, the defense matched him every step of the way. Buffalo held the high-powered Minnesota attack to just 46 yards and two first downs in the first half. That's the fewest yards allowed by the Bills since they held the Cleveland Browns to 2 yards on Dec. 12, 2004.
The Vikings piled up some garbage-time yards in the second half, but the game had long been decided by that point.
You name it, the defense had it Sunday.
Pressure on the quarterback? Kirk Cousins was sacked three times.
Turnovers forced? Sacks by Trent Murphy and Jerry Hughes caused fumbles that the Bills recovered (Murphy's by Lorenzo Alexander, Hughes' by Matt Milano), leading to 10 points.
"It was great complementary football," Hughes said. "Trent starts the game off with a strip sack … and it was just motivation for me to get out there and do the exact same thing, try to find ways to help our team win. I think those two plays were huge to get the ball rolling. We always talk about starting fast and he jumped the game off quick and I just wanted to follow his lead."
Whether it was through a four-man rush or with a blitz, the Bills put all sorts of heat on Vikings quarterback Kirk Cousins.
"His QBR (quarterback rating) comes way down even when he feels pressure and starts to feel the rush," Alexander, a linebacker, said. "We were able to do that throughout the game consistently."
Hughes in particular had a field day against Vikings left tackle Riley Reiff, time after time beating him around the edge.
"It was something that we certainly saw on film that we were going to try to hone in this week and really focus on using," Hughes said. "Just kind of get him running. Start him off with speed at first, then work our way into the power and finesse game."
Hughes missed a sack in the season opener against Baltimore when he went for the strip instead of taking the sure thing. That's been on his mind in the two games that followed.
"I tried to really just do my job and focus more on making the tackle – don't really try to force the big play," he said. "The big plays will come, and I've kind of learned that playing Baltimore in Week 1. You can go for a big play and miss one. It's just like playing baseball. You can't go up there swinging for a home run, you've got to just play for contact. Today I did that and good things happened."
A stout run defense? Check. Minnesota rushed for 12 yards in the first half, and just 14 for the game.
Tight coverage on the Vikings' dynamic receivers? Stefon Diggs and Adam Thielen were limited to six catches for 22 yards in the first half. Diggs was kept in check by Tre'Davious White, who is quickly becoming the shut-down cornerback he showed signs of last year.
Only a garbage-time touchdown by tight end Kyle Rudolph with less than 3 minutes to play helped the Vikings avoid their first home shutout since the 1962 season.
"I thought we played team defense first and foremost," Bills coach Sean McDermott said. "Guys were flying around, which is important. Swarming."
Defensive coordinator Leslie Frazier resumed play-calling duties after giving them up to McDermott in the second half of a Week 2 loss to the Chargers, although McDermott said it was a "collaborative effort."
Whatever the case may be, the reality is this: After giving up 75 points in the first six quarters of the season, the Bills' defense has held teams to just nine points in the last six.
"I know it's a young season still, a lot more games to be played, but that second half last game really gave us some momentum and we've just been going off that this whole week of practice, and you guys saw the result today," safety Micah Hyde said.
2. As great as Allen was Sunday, his numbers could have been even better. Four passes were dropped in the first half, two of which were by No. 1 receiver Kelvin Benjamin. The second of those might have been a touchdown, and if not, would have resulted in a first-and-goal from the Vikings' 1-yard line. Tight end Charles Clay also failed to secure a touchdown catch, and rookie receiver Robert Foster let a perfectly placed bomb go through his hands. As it was, Allen went 12 of 19 in the first half for 172 yards and one touchdown, and rushed seven times for 37 yards and two more scores. Imagine what those numbers would have looked like if he had a little more help.
To Benjamin's credit, he rebounded after those early drops to make three catches for 29 yards. Not an overwhelming statistical output by any means, but perhaps enough to get him going in the right direction.
3. Allen is an underrated runner. He outran Vikings linebacker Anthony Barr to the pylon for a 10-yard touchdown run in the first quarter, and did a great job stretching the ball over the goal line to finish off a fourth-and-goal play from the Minnesota 1. The play that will show up on every highlight reel is when Allen hurdled Barr to pick up 10 yards and a first down on a third-and-9 play. The Bills might not love seeing their franchise quarterback make such a play, though. Allen is one tough dude, but the Bills surely don't want to see him taking as many hits as he did in the first half. The Vikings took two personal fouls against Allen in the first half, the first on a helmet-to-helmet hit by Linval Joseph and the second a horse-collar tackle by Barr.
4. It wasn't a surprise to see a change along the offensive line. Russell Bodine took over for Ryan Groy as the starting center. Through the first two weeks of the season, Groy was the lowest-graded center in the NFL, according to analytics website Pro Football Focus. It made sense to give Bodine a look after he signed a two-year contract worth up to $5 million. Bodine had to come out of the game in the second half because of cramps, leading to Groy going back in. Bodine, though, returned to finish the game.
5. Any question about who the Bills' No. 2 tight end is looks like it was answered Sunday when the team made Logan Thomas inactive. Thomas had played 37 offensive snaps the first two weeks, with Jason Croom taking 34. Croom, though, was in the lineup against the Vikings, while Thomas was a healthy inactive. Blocking tight end Khari Lee made his season debut. Croom scored his first career touchdown in the first half, hauling in a 26-yard pass from Allen.
6. Credit McDermott for being aggressive in the first half. He could have settled for a chip-shot field goal that would have made the score 20-0, but instead went for the touchdown – which he got when Allen used his 6-foot-5 frame to stretch the ball over the goal line. Credit offensive coordinator Brian Daboll, too, with the right play call at the right time.
7. What a last few weeks for Ryan Lewis. He goes from being claimed by the Bills off waivers from New England, spends one week on the active roster (but is a healthy inactive against Baltimore), gets cut, gets re-signed to the practice squad and then gets promoted following Vontae Davis' abrupt retirement. Lewis made his first career start as Phillip Gaines was held out of the lineup because of the dislocated elbow he suffered in Week 2. Rookie slot cornerback Taron Johnson returned to the lineup for the Bills after missing Week 2 because of a shoulder injury. Both Lewis and Johnson were injured on the same play in the fourth quarter, but both of them were able to return to the lineup.
"Ryan played fantastic today," Hughes said. "You know he stepped up for us at corner."
Speaking of Davis, shout out to NFL Network's Mike Garafolo for the best tweet Sunday: "At this rate, Vontae Davis might show up at halftime." That's gold, Jerry, gold!
8. He wasn't needed much in the first half, but Bills punter Corey Bojorquez came to play in the second with the Bills in run-out-the-clock mode. Four of Bojorquez's five punts were downed inside the Minnesota 20-yard line, and he averaged 43.4 yards per attempt.
9. One small special-teams complaint from the first half. Rookie receiver Ray-Ray McCloud failed to come up and make a fair catch of a short Minnesota punt that ended up bouncing from the Bills' 40-yard line all the way to their 10. That was 30 yards in lost field position. It's somewhat understandable that McCloud didn't want to risk not being able to make the catch, but it's something the coaching staff had a talk with him about after the play.
10. One injury to keep an eye on: Murphy was announced as being questionable to return because of an ankle injury late in the fourth quarter. The Bills didn't need him to come back into the game, but they will need him ready to go in Week 4, especially if Shaq Lawson remains out. Lawson missed his second straight game Sunday because of a hamstring injury.