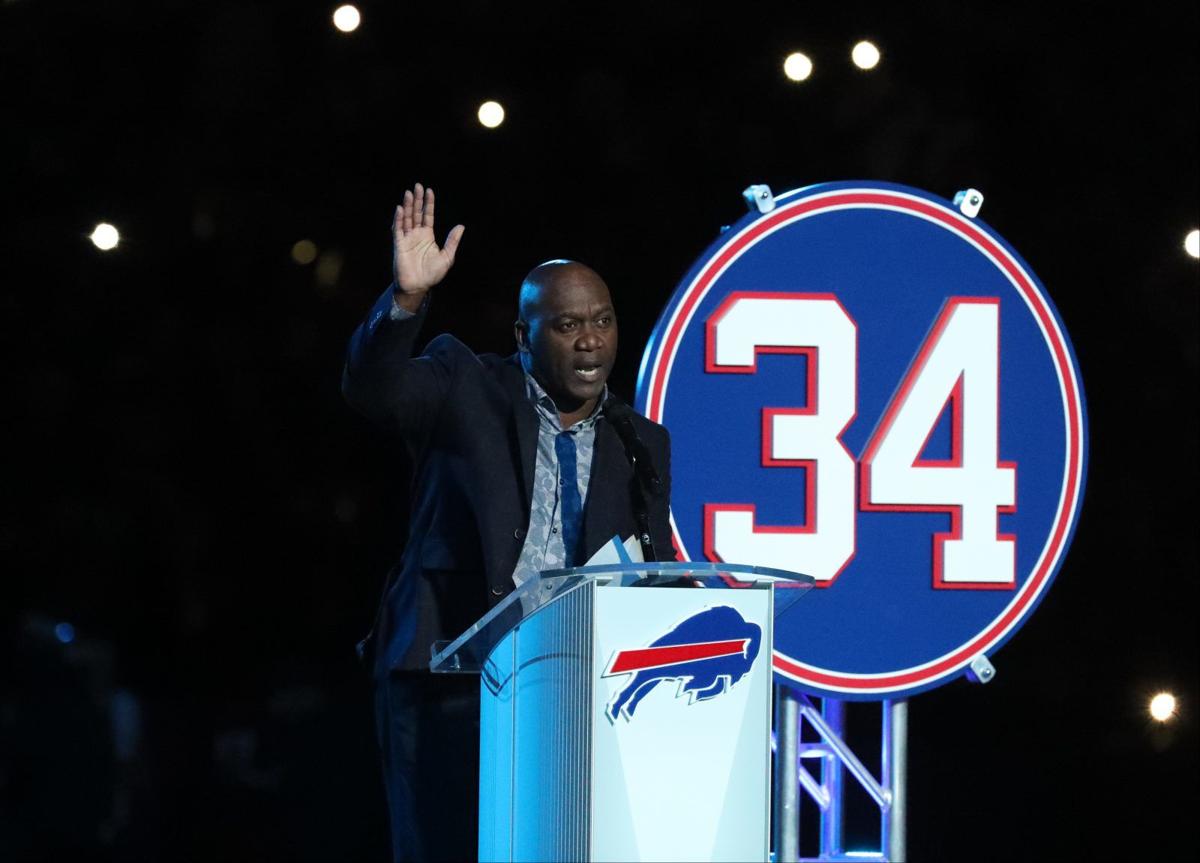 James White scored from the 1-yard line, the first touchdown allowed by the Buffalo Bills all night, prompting a small but unmistakable initial wave of fans to exit the stadium.
The New England Patriots led by 12 after a failed two-point conversion.
There was 9:58 remaining in the game.
It was tough to blame the Bills' faithful for bailing. It was a weeknight, after all. And this team hadn't scored a touchdown in two weeks, since Nathan Peterman connected with Zay Jones before his meltdown in Houston. That futility continued, spoiling a stellar defensive effort on a national stage, as Jason Croom dropped a sure touchdown pass from Derek Anderson with about six minutes to play and Devin McCourty scored on an 84-yard interception return moments later.
It's a dark time for the organization and its fans, which enjoyed a brush with greatness aside from the opponent when the Bills retired Thurman Thomas' No. 34 during a ceremony at halftime of their 25-6 loss to the Patriots on Monday night at New Era Field.
The Hall of Fame running back's number became the third retired in franchise history, joining Jim Kelly's No. 12 and Bruce Smith's No. 78, which were taken out of service in 2001 and 2016, respectively.
"I received a call about two weeks ago from Bruce Smith," Thomas told the crowd from behind a podium at midfield. "He asked me, 'Squatty, do you know what it really means to have your jersey retired?' He said, 'Thurman, do you realize the importance of it?' I do now, Bruce. And now that I'm here with all of you, I realize it even more."
The Bills shut off most lights, creating a scene where fans illuminated the bowl of the darkened stadium with cellphones.
Chris Berman served as the emcee for the ceremony, which included a tribute video from fellow Hall of Fame running back Earl Campbell, who wore the same number. The event was attended by a wealth of Bills alumni, including Kelly and former coach Marv Levy.
"I want to begin by giving a great big thank you to the City of Buffalo, my home, and to all of my fans," Thomas said. "Some of y'all are crazy as hell, and you know who you are, but you have supported me throughout my entire career and beyond. Good times and bad. I love each and every one of you, more than you will ever know."
He went on to thank his family, his coaches and Bills owners Kim and Terry Pegula.
"I did not play one down of football for them," Thomas said, "yet they thought what I achieved as a Buffalo Bill was worthy of this honor. My family and myself will be forever grateful to the both of you for the rest of our lives, and certainly every time we look up there and see my number.
"And secondly, because I know he's up there listening, I need to thank the original owner, the man who gave me the chance to play for the team I love, and for the city that I made my home, my fellow hall of fame brother, Mr. Ralph C. Wilson Jr."
Wilson would have turned 100 years old earlier this month. His wife, Mary, was in attendance.
Thomas' number hasn't been worn in a game – or even issued to a player for practice – since he played.
Thomas spent 12 of his 13 NFL seasons with the Bills, helping the franchise reach four consecutive Super Bowls from 1990 to 1993 after being drafted out of Oklahoma State with the 40th overall pick in the second round in 1988. He played his final season with the Miami Dolphins in 2000.
In between, Thomas rushed for a Bills franchise record 12,074 career yards, an average of 4.2 yards per carry and the 16th-most in NFL history, and 65 touchdowns.
He added 472 career catches for 4,458 receiving yards and 23 receiving touchdowns.
Thomas, 52, led the league in yards from scrimmage in four consecutive seasons, from 1989 to 1992.
Thomas was named the 1991 NFL MVP and Offensive Player of the Year by the Associated Press. He also was named to five Pro Bowls and a two-time first-team All-Pro.
Thomas was inducted into the Pro Football Hall of Fame in 2007 and the College Football Hall of Fame in 2008. He is a member of the NFL 1990s All-Decade Team and the Bills Wall of Fame.
"I never thought when I retired that I would get to experience the singular thrill of coming out of the tunnel and onto this field in front of you all once again," Thomas said, "but I am experiencing that right now. From this point on, when I look up and see the number 34 retired under my name, I'll be reminded that number doesn't just belong to me, it belongs to the Bills fans everywhere. Thank you. God bless. I love you."
Buffalo trailed just 9-3 at halftime. But the Patriots already had all the points they would need.
The Bills have scored fewer than seven points in four of their six losses this season. They have scored two touchdowns in their last five games.
"It was an incredible honor for Thurman ... A lot of people in the stands & everyone watching, you want to do better and perform better," Bills receiver Zay Jones said. "You want to represent your organization to the best of your ability and we could've done better."
Anderson failed to lead a touchdown drive in his second consecutive start in place of injured rookie Josh Allen, but he received little help from his teammates.
The Bills' best offensive player, LeSean McCoy, provided a team-high 82 receiving yards on six catches. But he finished with just 13 rushing yards on 12 carries.