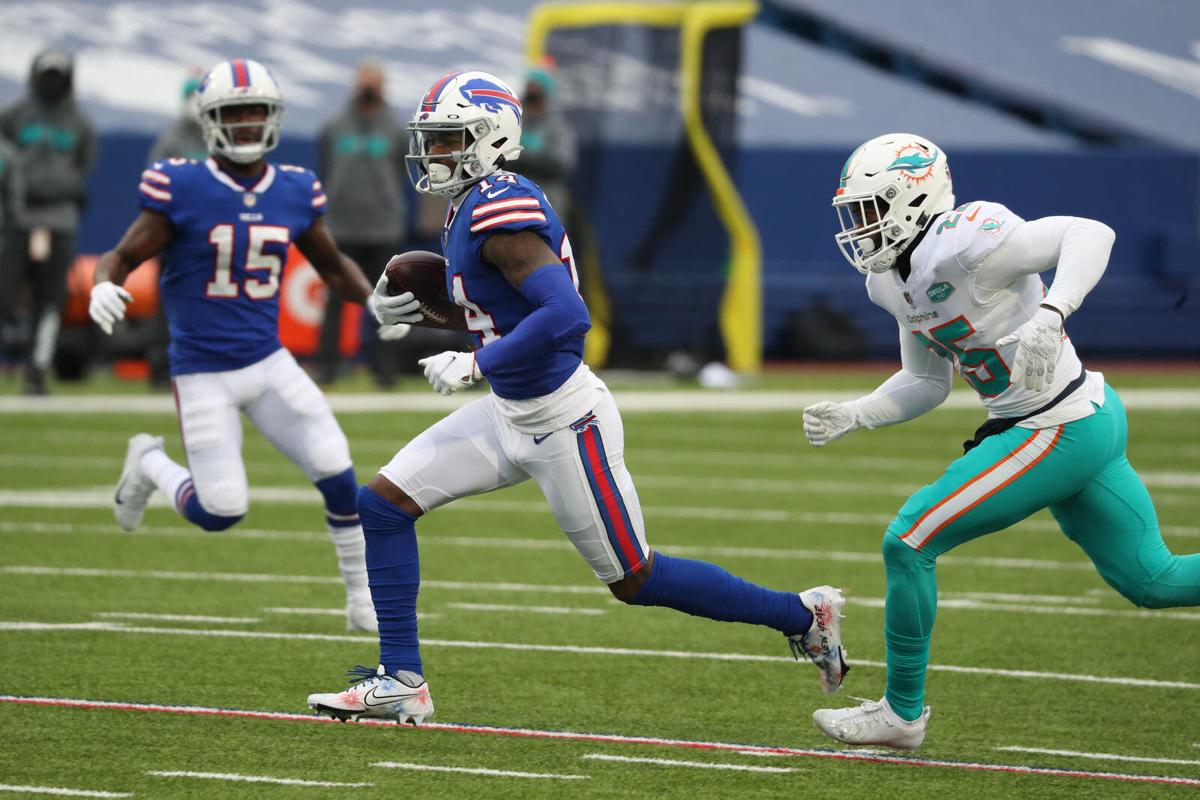 It was early in the second quarter of the Bills' 56-26 stomping of the overmatched Miami Dolphins in the regular season finale Sunday when a CBS camera caught Stefon Diggs flossing his teeth on the sideline, a moment made for social media.
But Diggs has been flossing (read: showing off) on the field all season.
From the weekly custom paint job on his cleats to his elite route running to his impressive catch radius and ability to dominate most anyone who lines up against him, the superstar wide receiver has injected the Buffalo offense with a skillset and swagger it lacked a year ago.
Diggs is the first player in Bills history to lead the NFL in catches (127) and receiving yards (1,535), setting single-season franchise records in both categories. He added a team-high eight touchdown receptions, helping turn a franchise known in recent seasons for its defense into an offensive force akin to the reigning Super Bowl champion Kansas City Chiefs.
"The thing about (Diggs' success) is it didn't happen by accident," Allen said. "This is a guy that works extremely hard, probably more so than anybody that I've ever seen. He takes care of his body like nobody I've ever seen. And it all pays dividends to what he does on the field.
Momentum doesn't get any stronger than the runaway train that is the Buffalo Bills entering the postseason, writes Vic Carucci.
"We're keeping him happy by throwing him the ball a lot, but again, he's one of those guys where it doesn't matter if he gets five targets or 20 targets a game. If he's helping the team win, that's all he cares about and that's why I love him so much."
These are heady times in Orchard Park.
A year after Allen imploded in a reckless playoff performance at Houston, the third-year QB has blossomed into an NFL MVP candidate and, like Diggs, has rewritten the franchise record book, setting the Bills' season marks for completions, passing yards, touchdown passes and more while leading the offense to a single-season scoring record.
And, along with 13 wins and the AFC East title, they secured the No. 2 seed in the AFC, meaning the only potential road game on the way to the Super Bowl would be an AFC Championship Game matchup in Kansas City.
There are several reasons for this phenomenal success, but chief among them are Allen's diligent work on passing mechanics to improve his accuracy and General Manager Brandon Beane's aggressive offseason trade with the Minnesota Vikings to bring the disgruntled Diggs into the fold.
The jump Josh Allen has made from his second to third professional season has been nothing short of remarkable, writes Jay Skurski.
"When he first got here, nobody knew what was going to happen," receiver Isaiah McKenzie said. "Nobody knew how he was going to act. But we brought him in with open arms. He's like a brother to us and he had a tremendous season and he's going to keep excelling each and every week."
Diggs, who played in all 16 games for the first time in his career, caught seven of eight targets for 76 yards against the Dolphins, all in the first half, before coach Sean McDermott pulled most offensive starters.
It snapped Diggs' streak of three consecutive games with at least 130 receiving yards, but it was enough time for him to collect at least seven catches for the eighth consecutive game, the fifth such streak in NFL history.
It was also enough time to set the NFL record for most receiving yards by a player in his first season with a new team, surpassing Brandon Marshall's 1,508 yards with the Chicago Bears in 2012.
Diggs' performance this season is even more impressive than it appears on its face.
It is statistically one of the greatest seasons by a wide receiver in NFL history.
The Miami Dolphins have a major Josh Allen problem, writes Mark Gaughan.
Diggs' 127 catches are the sixth in league annals, behind only Michael Thomas, Marvin Harrison, Antonio Brown (twice) and Julio Jones.
Herman Moore, Wes Welker, Cris Carter, Calvin Johnson and Jerry Rice.
The Bills' No. 1 wide receiver ranks among Hall of Famers, some of the most dominant and fearsome receivers to play the game.
It's no wonder both Allen and Diggs, a fifth-round draft pick out of Maryland in 2015, were named to the Pro Bowl for the first time in their careers.
"Very, very much appreciate and grateful for Stef," McDermott said. "Love his approach. He's a team player. Extremely competitive and more than anything, he just wants to continue to grow and get better, and that's probably been one of the biggest marks that he's had on our team, which is great to see."
One of Diggs' greatest contributions, and a byproduct of his on-field production, is the attention he commands from opposing defenses.
His mere presence opens opportunities for his teammates.
Isaiah McKenzie had a field day against the Miami Dolphins on Sunday.
"Obviously, he's a distraction out there for the defense," Allen said. "They've got know where he's at at all times. Whether they double him, try to get something done with him, he just finds ways to get open and catch the ball and make plays after the catch. I love that guy. He's been awesome for us. He's been awesome for me, as a friend, as a teammate. Just a guy that I trust completely.
"But again, you look at the guys like (John Brown) and Gabe (Davis) and Isaiah (McKenzie), having their games today, too. When we get Cole (Beasley) back (from a knee injury), you've got to worry about a lot of guys on our offense."
McKenzie scored three touchdowns in the Bills' explosive second quarter against the Dolphins – two receiving TDs and one on an electric punt return – when Buffalo unloaded 28 points to bury a Miami team fighting for its playoff life.
Brown hauled in a 32-yard touchdown pass in his return from stints on injured reserve and Covid-19 lists, a welcome development heading into the playoffs.
Diggs contributed receptions on each of the Bills' first-half scoring drives and supported his teammates once he was removed from the game.
"Great guy on and off the field," McKenzie said. "Just like today, he didn't play much, but he was on the sideline and he was telling us … just keep working, be patient in your routes, just teaching us ways to get open and things like that. He knows we have the confidence. He's just trying to instill it in us each and every drive we go out there."
Diggs turned 27 in November. He's under contract for three more years.
It could be a magical ride.