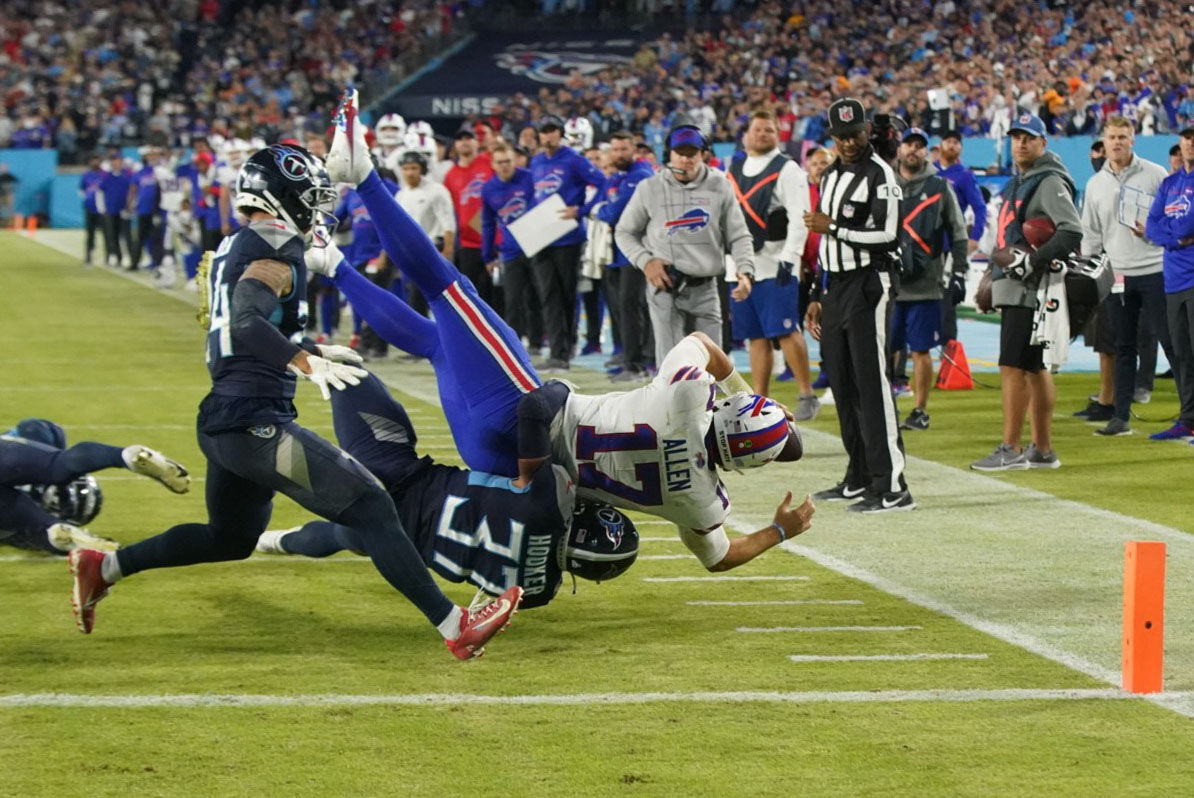 NASHVILLE – The Buffalo Bills' failures in the red zone finally bit them.
Josh Allen was stopped short on fourth-and-inches when he attempted a quarterback sneak at the Tennessee Titans' 3-yard line with 22 seconds to play, sending the Bills into the bye week with a 34-31 gut punch of a loss Monday night at Nissan Stadium.
It was the Bills' third trip to the red zone without a touchdown in the game, after settling for a pair of short field goals from Tyler Bass in the first half. They were 2 of 5 in the red zone. The Titans were 3 of 3.
"When you have the feeling of being able to move the ball and you kind of stall out there in the red zone, it's never a good feeling, because we want to score points," Allen said. "That's our job. Score touchdowns. And, again, we just didn't do a good enough job of that tonight."
The Bills have scored only 16 touchdowns in 29 trips to the red zone this season, confounding for a team with so many weapons. That's more trips to the red zone than any team in the league, but just a 55.2% conversion rate, worse than all but six teams.
The Buffalo Bills' offensive coordinator coached Monday night following the death of his grandfather, Christian Kirsten, on Sunday at the age of 95.
The Bills have an embarrassment of riches on offense – particularly among the receiving corps – with the offseason addition of Emmanuel Sanders and emergence of tight end Dawson Knox. They seem to move the ball at will, at times, but neither coach Sean McDermott nor Allen were able to pinpoint a common thread to explain the team's shortcomings in the red zone, outside of simply failing to execute.
Eleven players caught a pass for the Bills on Monday night – including Allen from Knox on a two-point conversion – as the Bills went toe-to-toe with one of the AFC's fellow heavyweights and came up short.
"It just looked like there was some penetration there off our left side and they pinched down, so it looked like there was an opportunity," McDermott said, describing how Allen was stopped on the fourth down QB sneak by Titans defensive tackle Jeffery Simmons. "But at the end of the day I trust him, and I'll trust him again if we're in that situation again. I'll take Josh Allen 10 times out of 10."
The Bills (4-2) head into the bye week with their four-game winning streak snapped and trail the Baltimore Ravens (5-1) by one game for the best record in the AFC, tied with the Titans, Los Angeles Chargers, Las Vegas Raiders and Cincinnati Bengals at 4-2.
"We get extra time to work on what we need to work on," Bills center Mitch Morse said, "but at the same time that bad taste is going to be in our mouth a little bit longer than we'd like. So it's going to be a tough film to watch, especially for myself. And then we'll go from there and be pros about it. All you can do is just point fingers at yourself."
Don't miss Katherine Fitzgerald's quarter-by-quarter look at the Buffalo Bills' loss to the Tennessee Titans on Monday.
A week after clobbering the Kansas City Chiefs in a nationally televised prime-time game, avenging a loss in last year's regular season and the AFC championship game, the Bills attempted to continue the revenge tour in Music City after being embarrassed on this field a year ago.
Tennessee dealt Buffalo its first loss of the season in 2020, thrashing the Bills 42-16 in a nationally televised Tuesday night game after the Titans' Covid-19 outbreak wreaked havoc on the schedule.
The Bills always offer up a good deal of coachspeak about how they take their games one week at a time and how last season has no bearing on this season.
And while that's true, to an extent, the performance last week changed the national narrative. It was a symbolic passing of the torch from the two-time reigning AFC champions to the Bills, the new favorite to represent the conference in the Super Bowl.
The loss to the Titans shouldn't change that, but it was also more than a simple regular season game in Week 6.
NFL players are an ultracompetitive bunch, and the Bills returned virtually all their starters and coaches from a year ago. They do well to keep this in-house, but they remembered all too well what happened last year in Kansas City, just like they remembered being embarrassed in Tennessee.
The Bills weren't ready to play when they visited Nashville last season.
They struggled to put the ball in the end zone early in this game, as well, settling for 24- and 28-yard Bass field goals and a 6-0 lead, which vanished when Derrick Henry broke loose for a 76-yard touchdown run.
Buffalo marched 74 yards in 13 plays on its first drive, reaching the Titans' 5-yard line before a third-down pass fell incomplete.
The Bills reached the 5-yard line early in the second quarter, as well, before a penalty on Sanders nullified a touchdown run by Knox. They picked up five yards on the next three plays, before Bass tacked on another short field goal.
"Just not executing how we should," Allen said. "Shooting ourselves in the foot a couple of times with penalties. I've got to be better for us in the red zone. It's no secret, 2 of 5, against a team like this, it's not going to win you a football game. We go 3 of 5, we win that game."
Derrick Henry dominated Monday night's game when he was on the field – whether he carried the ball or not.
Henry's score lit a fire under the Bills, as Allen led a surgical scoring drive, 72 yards in seven plays, hitting Stefon Diggs with a 14-yard touchdown pass to reclaim the lead.
The lead changed hands seven times Monday night.
Ryan Tannehill rushed for a short touchdown after Allen was intercepted deep in Bills territory.
Cole Beasley caught a wide-open score to put the Bills back on top shortly before halftime.
Henry's second rushing touchdown gave the Titans a slim edge late in the third quarter.
And the Bills climbed back on top minutes later when Allen found Tommy Sweeney for a 1-yard score in the back of the end zone.
Henry's third touchdown run gave the Titans a 34-31 lead with 3:05 to play.
The Bills quickly zipped down the field and into scoring position, beginning at their own 18.
Sanders, Zack Moss, Cole Beasley and Gabriel Davis each picked up chunks of yardage on the way to the Titans 12-yard line. After a Moss run and Allen incompletion, the quarterback ran and dove for the first-down marker on third-and-6, coming up just short.
Rather than kicking another short field goal to potentially send the game to overtime, the Bills went for the win. It was aggressive. It might have paid off. But it blew up in their faces.
"I love Coach McDermott for giving me that opportunity," Allen said, "and I've got to go out there and prove him right."
Another failure in the red zone, similar, yet different from the others.
They should have kicked another field goal, after all.