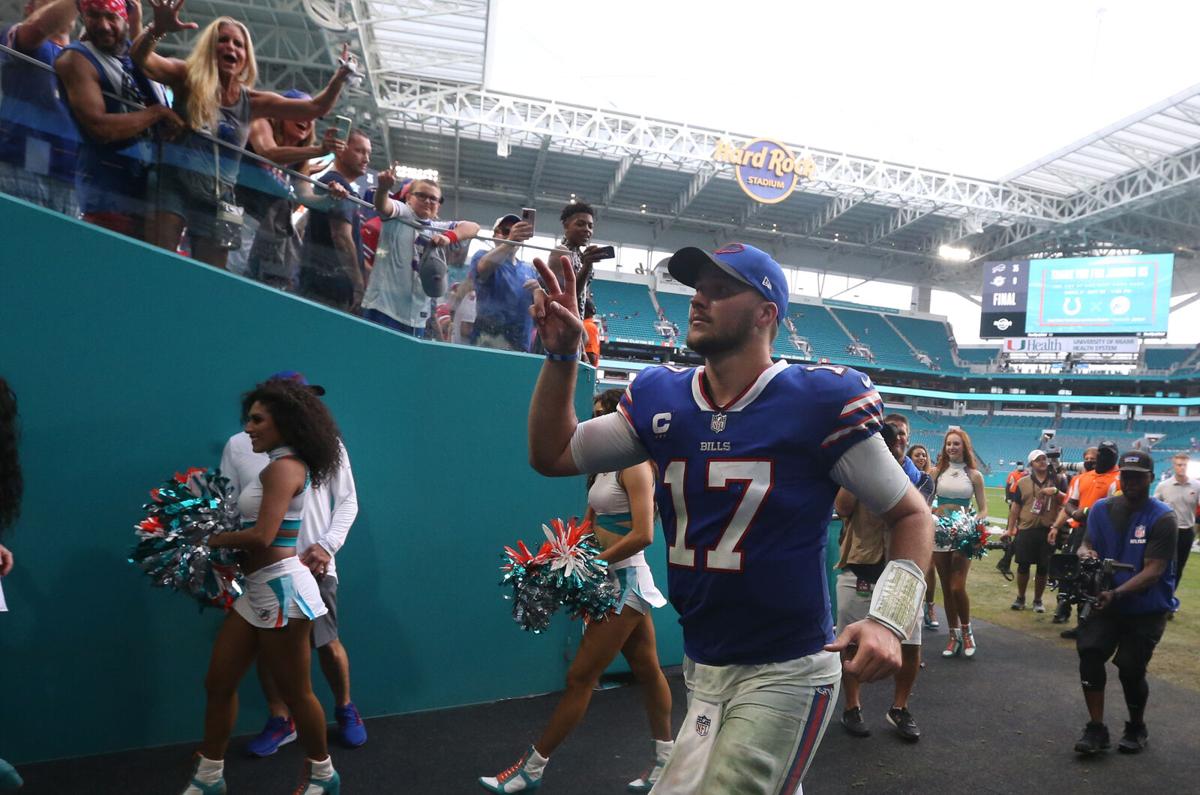 MIAMI GARDENS, Fla. – Josh Allen dodged a would-be tackler, rolled right, stopped and threw the ball across his body, across the field and into the end zone, the type of reckless decision he used to make early in his career, when the young franchise quarterback often made elementary mistakes under pressure.
But this particular pass ended up in the hands of the wide-open Stefon Diggs, giving the Buffalo Bills an early two touchdown lead.
There were some spectacular moments for Josh Allen & Co. in the 35-0 win at Hard Rock Stadium. Here's a closer look at the big offensive plays for the Buffalo Bills.
"We call those 'attaboys,' " Allen laughed, looking ahead to the film review.
The Bills proved two important things on the way to a 35-0 drubbing of the Miami Dolphins on a sweltering Sunday afternoon at Hard Rock Stadium, a week after the Dolphins beat the New England Patriots on the road and Buffalo dropped its home opener against the Pittsburgh Steelers.
First, they remain the team to beat in the AFC East.
Don't miss Jay Skurski's grades of the Buffalo Bills' performance in their 35-0 win over the Miami Dolphins.
The Bills' sixth consecutive victory against the Dolphins ties the franchise's longest winning streak ever against Miami, matching a run from 1987-89, and the games haven't been close. The Bills have outscored the Dolphins 232-112 in those victories, with only one game within a single possession. Their seventh consecutive victory against an AFC East opponent matches the second-longest streak in franchise history. Buffalo's longest stretch of divisional dominance is 10 in a row in 1990 and '91.
Second, the Bills are capable of dominating when Allen isn't playing his best.
Last season's MVP runner-up has historically owned the Dolphins, but this time, he completed just 17 of 33 pass attempts for 179 yards, two touchdowns and an interception deep in Buffalo territory. But with the explosive passing game largely grounded, the Bills rolled to a blowout victory on the strength of their defense and rushing attack.
"You have to be able to do that," coach Sean McDermott said. "You've got to be able to make in-flight adjustments. You've got to be able to win left-handed at times, or play left-handed at times, and be good enough and execute at a high enough level where you have something else, right? And I saw some of that today."
On the same day New York Jets rookie Zack Wilson tossed four interceptions in a loss to New England – including three picks in the first half – and was being mentioned on Twitter in the same breath as Nathan Peterman, the Bills came to Miami and kicked the Dolphins in the face.
Here is a quarter-by-quarter look at the Buffalo Bills' win against the Miami Dolphins on Sunday.
Tua Tagovailoa was knocked from the game with a rib injury midway through the first quarter. After absorbing sacks by Taron Johnson and Micah Hyde on two of the Dolphins' first three plays, he was crushed by A.J. Epenesa on fourth-and-1 to end Miami's second series.
Athletic trainers tended to Tagovailoa at the 50-yard line before he gingerly walked off the field. He was carted to the locker room and replaced by backup Jacoby Brissett, who has 32 career starts to his resume and actually fared better, albeit without putting any points on the board.
Buffalo's stout defense – which has allowed just one touchdown in two weeks – finished the game with six sacks, including two by first-round rookie Greg Rousseau.
"It's just really all about just going out there and playing hungry," Rousseau said. "Obviously, we lost last week. We didn't have our best game, so we knew we had to come out and start fast and that's what we did."
The Bills also recorded three takeaways and stopped the Dolphins in the red zone three times.
It's looking like the Bills will not have to rely on their offense to be dominant every week – as they did in many games last season. The Bills are looking like a more well-rounded team than last year.
Levi Wallace had an interception two plays after being flagged for taunting, Matt Milano recovered a fumble caused by Taron Johnson and Dane Jackson made a tackle to end another series on downs. Miami's final drive of the game stalled at the 19.
"The defense getting off the field, that's what we preach and that's what we weren't able to do last week in the second half," Hyde said, "so we were just men on a mission this week and wanted to come down here and get a win."
The Bills' fast start on defense was matched by the offense.
Devin Singletary took the second snap from scrimmage 46 yards to pay dirt, providing a quick 7-0 lead.
"It just gives us a jolt, like, 'Hey, let's go. Offense is moving. Let's get our side of the football moving, too,' " safety Jordan Poyer said.
The day after his aunt's funeral, Zack Moss ran for two fourth-quarter touchdowns in the Buffalo Bills' 35-0 victory over the Miami Dolphins.
Allen's unnerving 5-yard touchdown strike to Diggs made it 14-0 midway through the first quarter before the offense petered out, managing just 30 more yards the rest of the half.
"We've got some stuff to work on. We really do," Allen said. "And myself, just trying to find a rhythm early on. But hats off to our guys up front and our running backs for establishing a run game early. That helps us out so much."
Buffalo led just 14-0 at intermission.
"It's a long game, so that's the approach and the mentality you have to have as a coach and a player and a team, collectively," McDermott said. "But I did like the start. I could feel them in pregame. I could feel they were ready. And give credit to our guys. They put in a really good week of work and, more importantly, the focus and the mindset. We've got to take that hungry and humble approach, as we always talk about around here."
Allen opened the second half with an eight-play, 75-yard touchdown drive, hitting Cole Beasley for 22 yards, Emmanuel Sanders for 13 and capping it with an eight-yard touchdown pass to Dawson Knox to put the Bills ahead 21-0.
It was apparent from the very first play that the Buffalo Bills' defense came to play Sunday, finishing with six sacks and forcing two turnovers (the special teams forced another) in a 35-0 win over Miami.
"We know we needed to get six there," Allen said. "We had a couple of plays early on in the first quarter that helped us get a couple of scores, so we wanted to put something together that was long, sustaining and, really, putting us up 21-0 coming right out in the third quarter, it's huge for a team to have that sense of, 'OK, we still can play aggressive here and we don't have to worry about any consequences. We don't have to be afraid. Let's just go and pin our ears back and play hard,' and that's what our guys did."
Zack Moss added a pair of physical touchdown runs in the fourth quarter, rumbling in from the 7- and 1-yard lines after losing a fumble in the first half, responding to adversity in much the same way as the Bills after their loss to Pittsburgh.
"We came in with guys that were focused," McDermott said. "Obviously, we didn't like how the game went a week ago and so that's what you've got to do. You've got to respond. It doesn't mean we're perfect. It doesn't mean we're where we need to be. But our job as coaches is to get them the adjustments they need moving forward after this week, because we didn't play a perfect game."
They only scored five touchdowns and pitched a shutout.
On the road. Against a division rival. With their franchise quarterback struggling to find a rhythm.
"It just says that we learn from our mistakes and that we know how to let things go and move on to what's next," left tackle Dion Dawkins said. "And that just shows the type of character of the guys that we have in our locker room, that we did not let what happened last week destroy us. …
"For the guys that we have in our locker room, to put that to bed and move on with a fresh start, that just shows that we have the right guys to get this thing done."