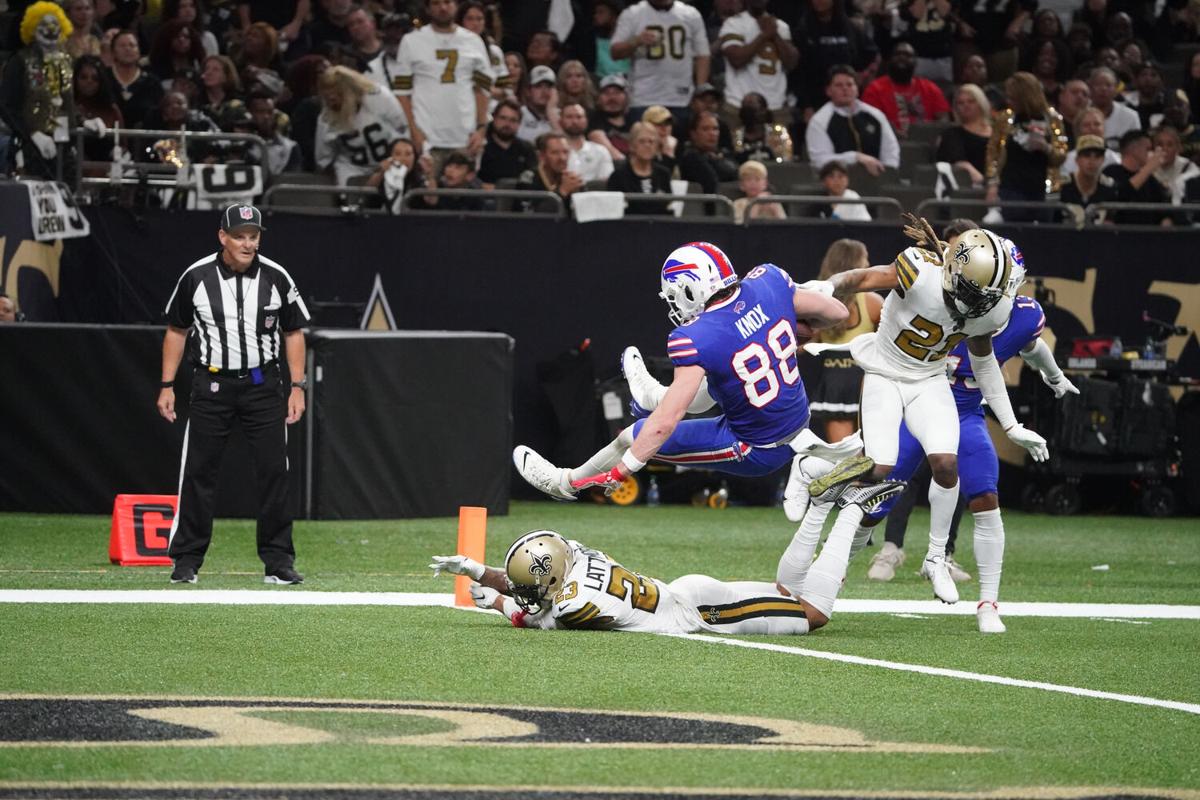 NEW ORLEANS – Dawson Knox's breakout season continued with a pair of touchdown catches and a Buffalo Bills record for the most scores by a tight end in a single season, a major bright spot with so much else going wrong in a lopsided victory.
Knox caught touchdown passes early in each half, grabbing seven- and 24-yard scores as the Bills crushed the shorthanded New Orleans Saints, 31-6, in a nationally televised road game on Thanksgiving in the Superdome. They were his sixth and seventh touchdown catches of the season.
But what should have been a soothing nightcap resulted in a degree of indigestion.
The Bills, playing against a backup quarterback for the fifth time in 11 games and facing a team missing its top two running backs, led by 10 points at halftime and 24-0 at the end of the third quarter. But there was little to feel good about outside of the scoreboard and Knox's dominant performance.
"It's the pursuit of perfection, that this team, we're not just happy with winning," Josh Allen said. "We want to be the best versions of ourselves every day we step into that building. Every time we step on the field, we want to be the best teammate, the best player that we can possibly be and you feel that amongst the guys."
Buffalo suffered a major loss when All-Pro cornerback Tre'Davious White left the game with a knee injury in the second quarter and did not return. He slammed his helmet on the sideline in frustration before walking into the locker room with a towel over his head. He was replaced by Dane Jackson, a seventh-round pick in 2020 who has two career starts on his resume. It's unclear how much time White will miss.
The offensive line continued to struggle with protection and penalties, including one on Ike Boettger as an ineligible man downfield that wiped what would have been Knox's second touchdown off the board moments before halftime.
"Thankfully I didn't celebrate too much," Knox said, "because turning around and seeing the flag, that's always frustrating. But it's just something that happens. We've got to bounce back from it."
It not only cost Knox the hat trick. The Bills failed to score on that trip into the red zone.
Protection issues resulted in Allen, who tossed four touchdown passes, also throwing multiple interceptions for the third time in four games. His second pick came on the play immediately following Boettger's miscue, wasting a scoring opportunity.
Allen's protection broke down as Cam Jordan beat Dion Dawkins and hit Allen's arm as he released the ball, which was picked off by Kwon Alexander.
It was Allen's first career red zone interception, according to ESPN Stats & Information.
"That's not how you win games, playing like that," Bills coach Sean McDermott said. "We had an execution error and we were sloppy. We turned the ball over twice, especially in the red zone, you take points off the board and it should have been at least three, let alone seven."
Earlier, Allen was intercepted by Bradley Roby while trying to force the ball to Stefon Diggs.
Cody Ford briefly left the game on that drive with an arm injury, but it was long enough for his replacement, Ryan Bates, to suffer an injury of his own, resulting in recent practice squad call-up Jamil Douglas taking the field.
The running game remained less than impressive, with Matt Breida appearing to take over as the Bills' lead back and Zack Moss a healthy scratch, though Breida scored on a 23-yard screen pass in the fourth quarter and clearly has a role in the offense moving forward.
Rookie Marquez Stevenson made his NFL debut as the Bills' primary return man in place of Isaiah McKenzie, who was a healthy scratch after fumbling on a kickoff return on Sunday against Indianapolis. Stevenson fumbled a punt but recovered to avert disaster.
On the plus side, the run defense looked much improved after being run over by Jonathan Taylor and the Colts. But the Saints' top two running backs, Alvin Kamara and Mark Ingram, were inactive with knee injuries.
Ed Oliver, who had his first sack of the season, splitting it with Efe Obada, discounted the dropoff in the Saints' rushing attack, with Tony Jones Jr. managing just 27 rushing yards on 16 carries.
"You can say they're down, but it's the NFL," Oliver said. "Everybody gets paid to be here. … Anybody can run the football."
Mario Addison, who recorded his team-leading fourth sack of the season against Trevor Siemian, echoed Oliver's remarks but added a healthy dose of perspective.
"We've got a good team," Addison said. "We've got a (darn) good team. But sometimes we don't play like it. So the thing we've got to do is play more consistent ball."
Knox stole the show for the Bills with his two touchdowns and would-be third. 
He finished with three catches for 32 yards, credited wide receiver Gabriel Davis for blocks on both of his scores and capped his night by getting awarded a turkey leg on the postgame show, only to not be able to answer a question because he had taken too big a bite.
The 6-foot-4, 254-pound tight end, drafted in the third round out of Ole Miss in 2019, earlier this season became the first tight end in franchise history to catch a touchdown in four consecutive games.
He had five touchdowns in his first two seasons combined.
Knox missed two games earlier this season with a fractured right hand but returned for the Bills' blowout victory against the New York Jets on Nov. 14. He had just one catch in that victory but recorded a season-high six catches on 10 targets for 80 yards in Sunday's loss to Indianapolis.
He continued his impressive season on a national stage against the Saints, a positive in a lopsided victory against an inferior and undermanned opponent.
The Bills will need more where that came from moving forward.
"Coach always talks about 'playoff caliber,'" Allen said, "and that's the team we want to be."