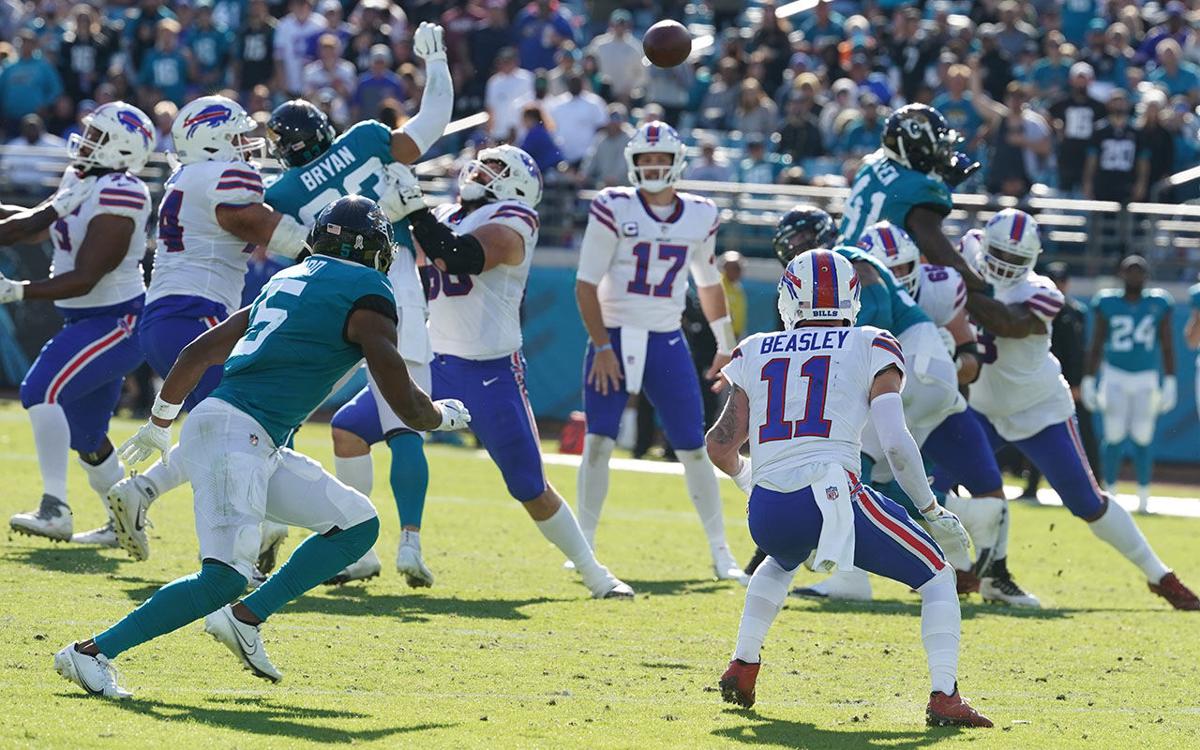 JACKSONVILLE, Fla. – A loss to the hapless Jacksonville Jaguars deflated the Buffalo Bills, but Jacksonville cornerback Shaquill Griffin said he saw their spirits dipping well before the game ended. 
"I was just looking on their sideline, and one thing I noted is I was like, 'they don't have the same energy as us,' " Griffin said. "I feel like if you feel like one team deserved this win, it's us, but you've got to believe that.
Allen sat red-faced behind a microphone, having committed three turnovers in the second half, and with a hoarse voice attempted to explain how the highest-scoring offense in the NFL failed to find the end zone.
"So that's one thing I kept preaching at everybody else. 'Look on the sidelines, watching them walking around, it's like they don't care. They don't deserve this. Let's show them why.' "
The Jaguars have not had much to celebrate this year or in recent history. Their 9-6 win over the Bills was their second win this year, and their third in 24 games. They did not look particularly lethal Sunday, and they did not score a touchdown. But they dropped the Bills to 5-3, an abysmal loss for Buffalo, and that seemingly emboldened Griffin.
The three turnovers by the Bills didn't do anything to help whatever energy Griffin saw. Buffalo quarterback Josh Allen threw two interceptions and lost a fumble. Two of those turnovers came at the hand of Jacksonville linebacker Josh Allen, who sacked, intercepted and forced a fumble of his same-named opponent. It made history as the first time a player sacked a quarterback with the same name since the league first began counting sacks in 1982.
 Don't miss Jay Skurski's grades for the Buffalo Bills in their 9-6 loss to the Jacksonville Jaguars on Sunday at TIAA Bank Field. "Buckle up ..." he writes.
Jacksonville's Allen attributed his day in part to all the visualizing he did as prep leading up to the game. But during that, he wasn't really thinking about the quarterback he'd face as much as his teammates, despite all the hoopla around the meeting.
"Every time I checked my phone, it was something, and it was like, Josh Allen versus Josh Allen," he said. "When you really look at it, in my position, it's really not. It's me versus this right tackle or this left tackle. I've got to study this dude to beat him every play to get to him. In my mind, I'm not worried about what he does. I'm worried about what this guy is going to give me so I can beat him every play."
He and the Jacksonville defense got the better of the Bills offensive line Sunday. Buffalo's Allen was sacked four times, totaling a loss of 35 yards. Defensive tackle Taven Bryan had two of those sacks Sunday, after he had 3.5 total in his previous 54 games. Dawuane Smoot had the other sack, which was the dagger. It came on third-and-7 with less than two minutes remaining. The Bills would be unable to convert the ensuing fourth-and-16, effectively ending the game.
"Smoot has been playing at a high level, as well, every game, and it shows," Jacksonville's Allen said. "And then Taven, oh, my gosh, that's – that's all I'm going to say on that one. People hated on him, but he got better. He's getting better. He's a big asset to this team, and he's going to continue to make a lot of plays for us in the back end, so I'm excited to see that growth, too."
Jaguars coach Urban Meyer also saw growth in his team, which, in turn, boosted Allen's performance.
Don't miss Katherine Fitzgerald's quarter-by-quarter analysis of the Buffalo Bills' 9-6 loss to the Jacksonville Jaguars on Sunday.
"Josh has been really great all year, but he hadn't had the help inside," Meyer said of his linebacker. "Taven Bryan came in and did a heck of a job, Adam Gotsis and Jihad Ward gave great penetration inside, and that forced the quarterback, a lot of those sacks you saw when he was scrambling away from the interior pressure. Really it's a combination of both, but those guys are great. But the interior pressure really set up a lot of things."
It didn't help on the Bills' end that they reshuffled their offensive line due to injuries, with Jon Felicano and Spencer Brown out. But the Jaguars entered Sunday 30th in the league in sacks, with just 11. 
Griffin also pointed to the Jaguars' defense working together. 
"A lot of plays, a lot of sacks that we did get was winning one-on-one battles, and then also covering a little longer back end," he said.
For the second straight game, the Buffalo Bills were lost offensively in the first half. Only this time, there were no answers to be found after halftime.
The Bills' 301 net yards were the second lowest allowed by the Jaguars, with last week's 229 to Seattle being the lowest. The Jaguars were giving up 29 points per game before holding the Bills to 6. The mishaps for the Bills were plenty, but Jaguars players and Meyer all wanted to point out the general strengths of the Buffalo offense when talking about how they overcame it.
At the end, Jacksonville's Allen did send some well wishes to Buffalo, even if they were wrapped in a boast that is probably too soon for Bills fans to swallow.
"To hold that team to zero touchdowns? Pssshh, it's tough to do," he said. "Hopefully they score a lot of touchdowns the rest of the season so we'll be the only team to do that."