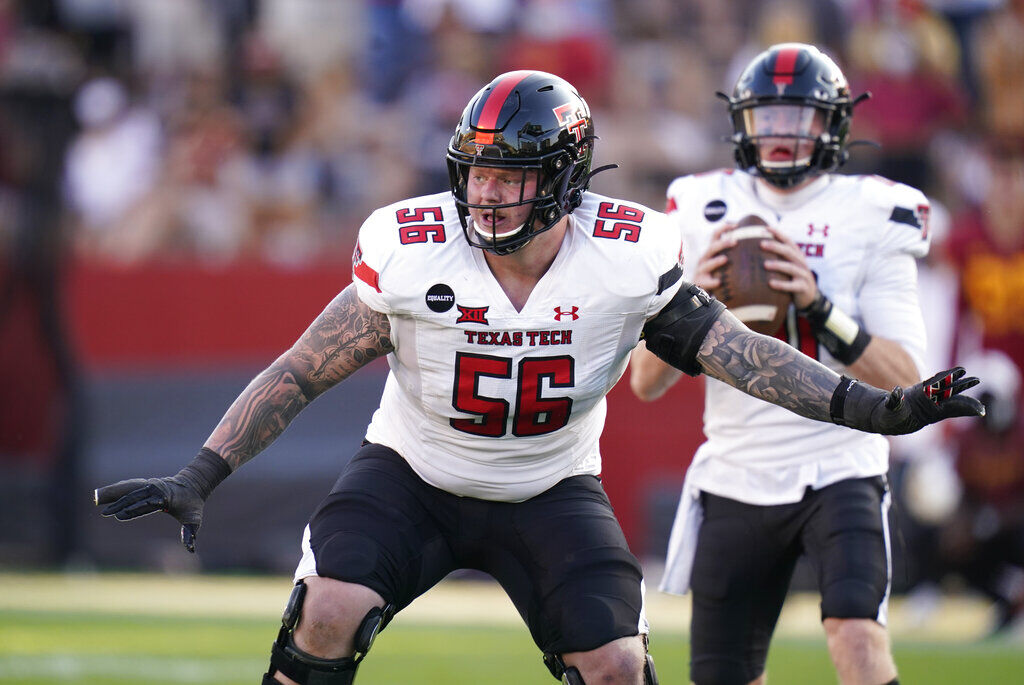 The Buffalo Bills drafted a Richie Incognito look-alike when they selected Texas Tech guard Jack Anderson in the seventh round earlier this month.
They'll be more than pleased if Anderson ends up being an Incognito clone on the field, too.
How much space will the Bills need in 2021 and 2022 for a contract extension for Allen? There are so many variables in terms of length of the deal and the structure, it is hard to say for certain.
"I've heard that a bunch throughout the process: 'Little Richie,' " Anderson said. "He's a guy I really look up to. We have the same agent, so I'm friends with him. Talk to him every once in a while, I FaceTimed with him a few weeks ago. I think that's a good comparison, and I'm just so happy to be a Bill."
Incognito is a 13-year veteran who has made four Pro Bowls, so that's perhaps an unfair comparison for Anderson, whom the Bills chose with the 236th overall pick. Anderson, though, was the highest-ranked player on Buffalo's board at the time, according to General Manager Brandon Beane, and will get a chance to compete for a spot on the 53-man roster or, maybe more likely, the practice squad.
"I think I bring physicality, that's the main thing," he said. "Someone that can just put their hand in the ground and come off the ball. I think I can play all three positions inside – wherever they need me to play. I think position flexibility helps as well."
Here is The Buffalo News' first 53-man projection of the offseason, predicting what the opening-day roster may look like.
The Bills do value both of those traits. Versatility along the offensive line is a must, especially for a backup, and offensive line coach Bobby Johnson and offensive coordinator Brian Daboll both prefer linemen who play with an edge. That sounds like Anderson. A line from his NFL.com scouting report says he "has no problem with mixing it up and brawling."
"Before the draft, they said they like guys that can play wherever and guys that are physical and play the game with a certain mean streak," Anderson said of his pre-draft conversations with the Bills. "I think that's something that I can come in and help right away at all three positions."
Anderson was a top-50 prospect nationally who started as a true freshman at Texas Tech, being named a freshman All-America after starting all 13 games at right guard. He was named a second-team All-Big 12 Conference selection after starting 12 games in 2018. He suffered a season-ending shoulder injury in 2019 after playing just three games, but returned in 2020 to start 10 games at right guard and finish his college career as a first-team all-conference pick. Anderson accepted an invitation to the Senior Bowl, one of five Bills to play in that game.
During the week of practice in Mobile, Ala., leading up to the game, Anderson worked at center in an effort to show his positional versatility.
"I feel really good at center. When I was in college, I got a lot of snaps at center in practice," he said. "I would get a third of the snaps at center in practice, they would always rotate me. I feel really comfortable there and at the Senior Bowl they just put me right in. I feel really confident there, snapping, shotgun, under center – whatever I need to do. Wherever they want me, I'm ready to go."
The NFL and NFLPA have not announced what type of Covid-19 protocols will be put into place for the remainder of the spring, training camp or the regular season.
Jim Nagy, the Senior Bowl's executive director, tweeted that Anderson will make the Bills' 53-man roster. That might be a bold prediction right now. To do so would require beating out Ike Boettger, Ryan Bates, Forrest Lamp and Jamil Douglas.
"We really aired it out at Texas Tech, so I got a lot of pass pro experience. I feel really confident in pass protection, and we ran a lot of inside zone and a lot of the same schemes that we do now with the Bills," Anderson said. "So, I think I'm prepared in every way as far as scheme goes."
The Bills passed on 61.71% of their plays in 2020, which ranked 11th highest in the NFL (Jacksonville led the league in 66.2% v a number inflated by the Jaguars frequently trailing in games). Anderson is used to primarily playing as a pass blocker. Texas Tech ranked 15th out of 127 Div. I programs in run-pass ratio, throwing 55.18% of the time.
Because of that, some scouting reports have questioned Anderson's potential as a run blocker.
"I kind of dealt with that throughout the process, 'Oh, Tech doesn't put O-linemen in the league like that.' But I don't think I can get put into that category at all, and I think it's not even true because we have put a lot of good O-linemen in the league," he said. "I think it prepared me more than anything, passing the ball – we did a lot of things that (the Bills) do right now. I feel real confident and I think this will be a great fit."