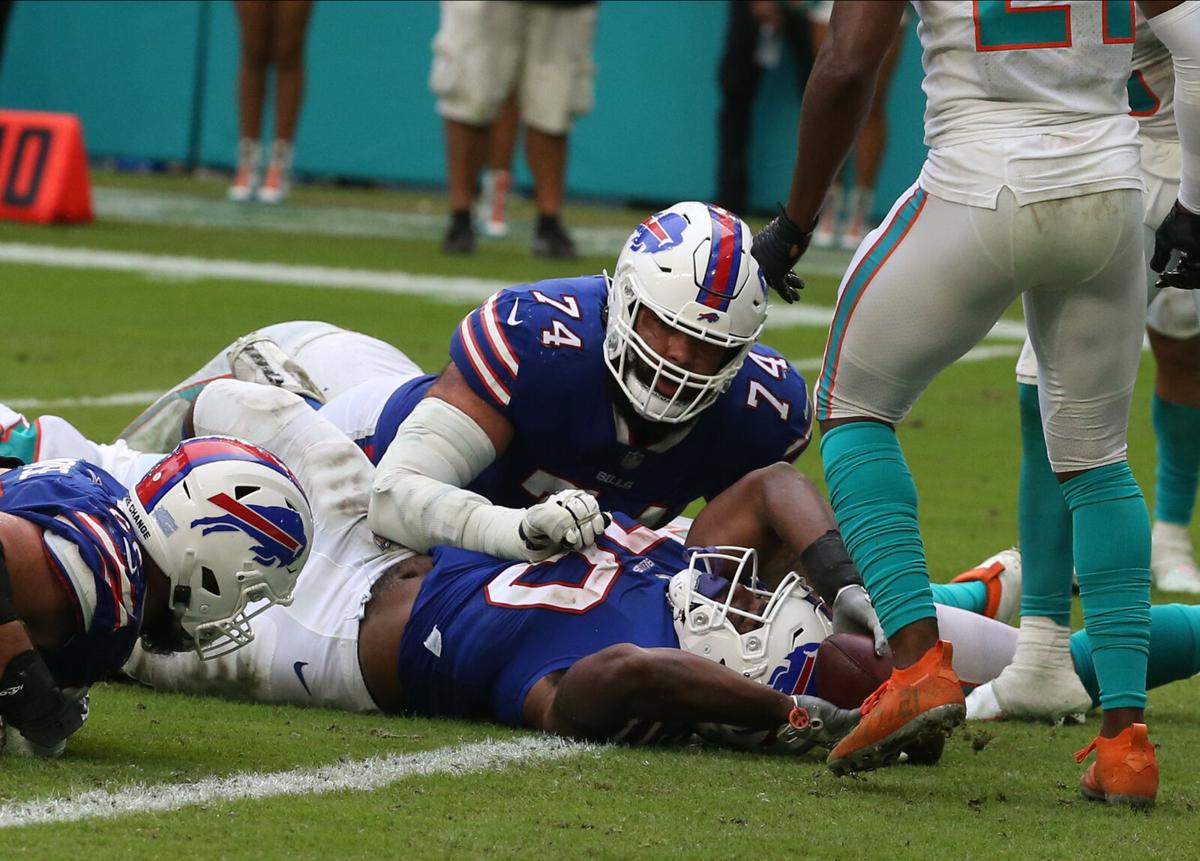 MIAMI GARDENS, Fla. – By the time the fumble came, Zack Moss was already deflated. 
His mom's sister passed away recently, and the running back arrived home in Miami late Friday night, ahead of his Bills teammates, to be with family.
Here is a quarter-by-quarter look at the Buffalo Bills' win against the Miami Dolphins on Sunday.
"I had a long weekend," he said Sunday. "I had to bury my aunt yesterday morning. So then just having to come out here 24 hours later, and have a fumble in a big game that we definitely needed, I just had to just kind of get my mental right and kind of just switch over."
In the Bills' 35-0 victory against the Miami Dolphins, Moss ran for two fourth-quarter touchdowns. The first was good for seven yards; the second good for one. He did so on eight carries, totaling 26 yards.
But before all that, even within the vacuum of a football lens, Moss had to rebound from the first-quarter fumble. Immediately after, he told his teammates on the sideline that it wouldn't happen again.
Don't miss Jay Skurski's grades of the Buffalo Bills' performance in their 35-0 win over the Miami Dolphins.
"It just shows that Moss is a guy of character, and he flushed that as well," left tackle Dion Dawkins said. "Moss said, 'Look, the next time I touch this ball, I'm gonna make it count,' and he did that (and scored) two more times. And he ran behind his big guys and just put his head down and kept on chugging on."
Moss said the trust from his coaches came from experience. He felt shades of last year's meeting with the San Francisco 49ers in December. Early in the game, the rookie botched the handoff from quarterback Josh Allen when the Bills were pinned in their own territory. The 49ers scored three plays later, and Moss was benched the rest of the game.
"That was a big learning curve, and then for Coach (Sean) McDermott just to continue to say that he trusts me every time I've kind of seen him was big for me," Moss said Sunday.
Against the Dolphins, his seven-yard run was especially taxing, bouncing off Dolphins defenders and spinning to extend a physical play.
"We know as running backs that if you don't make them count down there, the chance of you getting another one is very slim. There's a chance that it might go in the air," he said. "So, I just wanted to make sure that when I did get it, I made sure that I had crossed that white line so that we couldn't go in the air and I didn't have to block anyone."
The Bills proved two things on the way to a 35-0 drubbing of the Miami Dolphins on a sweltering Sunday afternoon at Hard Rock Stadium.
The physical drive stood out, but so did the mental side.
"I thought it was important that he was able to reset and remain mentally tough, come back and he made some really tough runs, particularly the last one at the end on the touchdown," McDermott said.
"That last run was sweet, too," Allen added.
The two scores from Moss eliminated any possibility of an already unlikely Miami comeback and provided redemption from the fumble. It also came in his first action of the season after Moss was inactive for the season opener.
Last week, Moss had tweeted, "Control you controllables – Something I live by" in regard to not playing.
It's looking like the Bills will not have to rely on their offense to be dominant every week – as they did in many games last season. The Bills are looking like a more well-rounded team than last year.
On Friday, ahead of Week 2, McDermott reiterated his confidence in Moss, saying numbers were the main factor, though mentioning Moss missing some time in training camp from a hamstring injury didn't help. 
But Moss knew any football adversity he had – and will have – pales in the big picture, as he put the range of emotions of this weekend into perspective.
"If I had to put it in one word, it's life," he said. "So, just going from having ups and having downs in just 24 hours – I'm just thankful for just being able to play this game, because (there's) a lot of other things in life that's way more important.
"But I get a chance to come out here and play this game, so super happy and super blessed just to be able to play and have the game that I did have with the rebound."