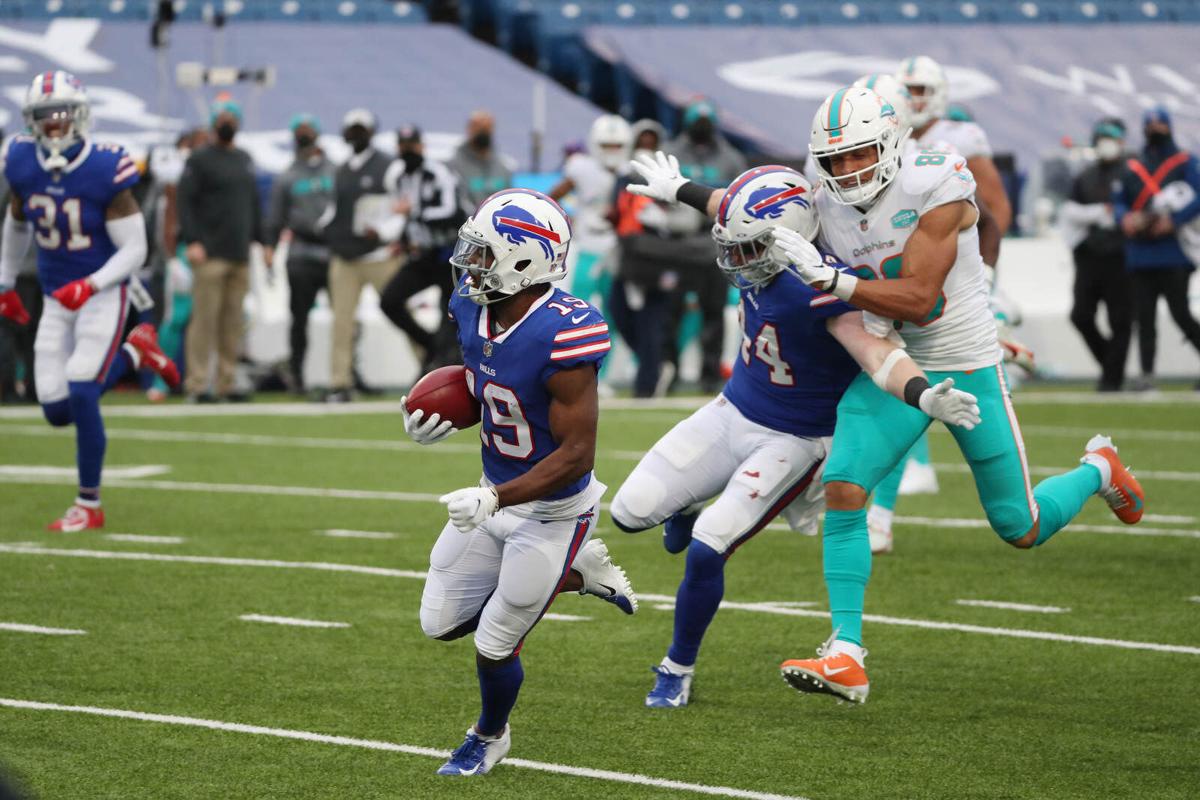 Mary Rembold, of Cattaraugus, has been a Bills fan since the Joe Ferguson days of the early 1980s and has a self-described "punny sense of humor."
In a video call with reporters last week explaining why he re-signed with the Bills, Isaiah McKenzie said, "For me, money didn't matter ... If we were getting paid in candy, I would stay here ... for the rest of my life."
Isaiah McKenzie explaining why he stayed with the #Bills using an analogy any 5 year old would understand.

"For me, money didn't matter... If we were getting paid in candy, I would stay here... for the rest of my life."#Billsmafia pic.twitter.com/2jOu9CeC1i

— Thad Brown (@thadbrown7) March 24, 2021
Rembold jumped into action, with the payoff coming Thursday when McKenzie posted a photo to show that he had received the results of Rembold's handiwork. She picks up the story from here: 
When I heard Isaiah McKenzie state the Bills probably could have offered him candy and he'd stay, well, that's just leaving the door wide open for some fan to leave some candy for him. I thought 100 Grand bars seemed most appropriate. I thought of the idea last week.
I was heading to Cheektowaga on Saturday. I stopped at Wegmans because I don't have one out this way. I almost forgot to get the candy, but luckily remembered. I take the 219 to get back home so the stadium is not far out of the way. I stopped at the Bills Store. I took that candy into the workers there and told them I was doing something funny. I asked if they knew about what Isaiah said about getting paid in candy. The one worker did not know. I said "How can you work for the Bills and not know that?" The other did. They explained they work for Delaware North, not the Bills.
When I explained my intention, they said they would give it to someone in the Bills organization. I took a picture of the candy and stadium before I went in the Bills Store. I posted about if afterward on Facebook and Twitter.
I really love the attitude and dedication of the current players. I always say I want to cheer for players on the field that I can cheer for off the field. These current Bills seem to be high-character human beings off the field as well as talented, team-oriented players on the field. It's great to be excited for the success of this team this past season and about the potential for even greater success in the near future.
As a longtime Bills fan, who would believe that players would turn down more money elsewhere, or take cuts to their pay, to stay in Buffalo? It's awesome to see what's happening.
I left the candy because its a funny thing to do and I hope it makes people smile. I'm sure much more candy will be coming his way from other appreciative Bills fans. Go Bills!