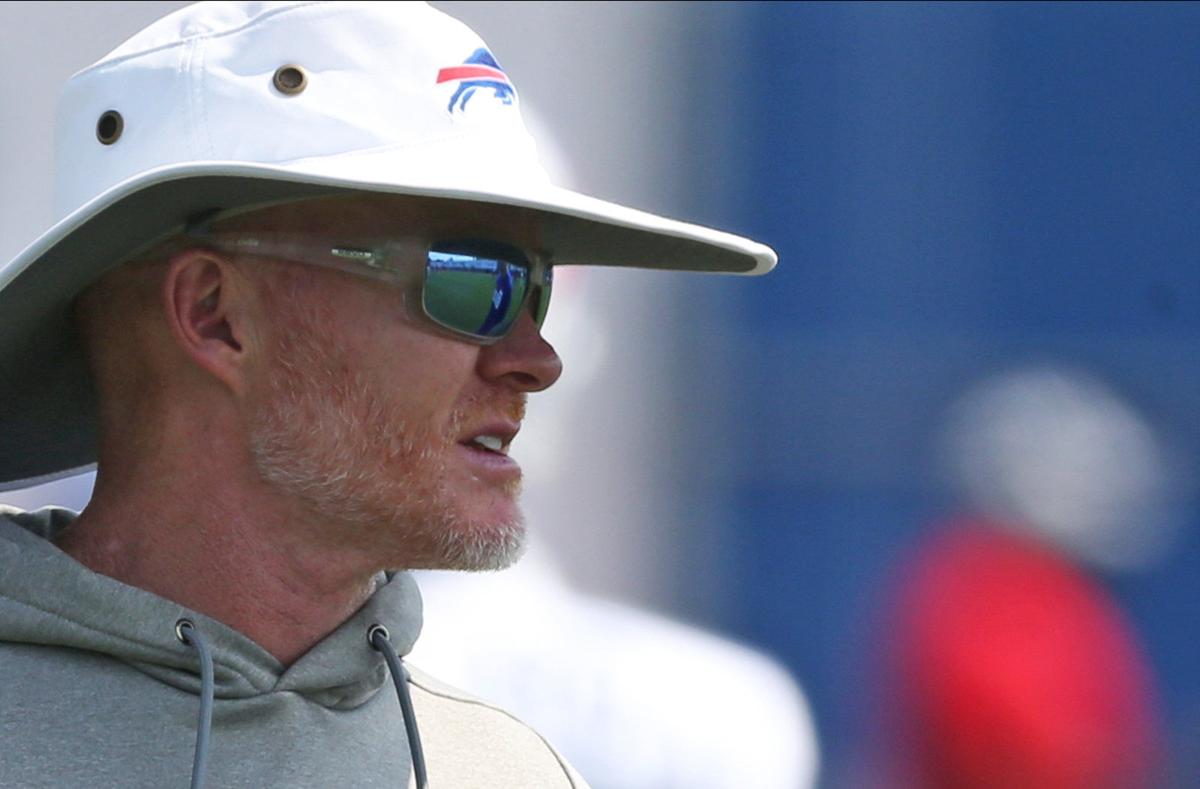 The Buffalo Bills' efforts to educate their players on the benefits of receiving a Covid-19 vaccine have been "non-stop," coach Sean McDermott said Thursday.
"There's not much room in our day left to do anything else other than educate on that and football," he said. "I can tell you've we've done our part in educating."
To this point, however, those efforts have failed at a rate that is among the highest in the NFL. 
The Washington Post reported Tuesday that 92.7% of all NFL players have at least started the vaccination process, and all but four teams have a vaccination rate of at least 89%. Based on General Manager Brandon Beane's admission Tuesday that the Bills are hovering around an 80% vaccination rate, we know his team is among those four. It's entirely possible the Bills have the lowest vaccination rate in the NFL, and that could drop even more once the 53-man roster is set next week.
This is about when a certain segment of Bills Mafia starts to scream "stick to football!" Here's the thing, though – this is about football.
The Bills got a taste this week of what can happen when that many players are unvaccinated. Wide receivers Cole Beasley and Gabriel Davis are away from the team – missing the last three practices – because they are unvaccinated and came into close contact with a team trainer who, despite being fully vaccinated, tested positive for Covid-19. So, too, are defensive tackles Star Lotulelei and Vernon Butler Jr. for the same reason.
Covid-19 and its impact on the team is a story that isn't going away, no matter how much all parties involved – players, coaches, fans and media – long for that to be the case. The latest development came Thursday when wide receiver Isaiah McKenzie shared on Twitter a picture of a letter from the NFL notifying him of a $14,650 fine for failing to wear a mask.
According to the letter, McKenzie's violations came at 2:15 p.m. Wednesday when he walked through the team's indoor fieldhouse into the training room and again at 4:35 p.m. when he did not have a mask on in the meeting area of the weight room while gathered near other players.
"Your refusal to wear a mask occurred after you were informed that it was required for unvaccinated players as set forth in your 2021 club discipline schedule and as reiterated by signage throughout the club facility stating that unvaccinated players may be subject to fines/discipline for failing to wear a mask," the letter read.
McKenzie was previously warned by the NFL about not wearing a mask in a letter dated July 27.
"For players who are not fully vaccinated against Covid-19, like you, your conduct is expressly prohibited by the protocols," the letter reads. "Again, your conduct potentially compromised not only your safety, but also the safety of others, as well as the league's ability to ensure that your club's training camp is conducted in a safe manner."
McKenzie's letter notes the violation occurred after a league staff member gave a presentation to the Bills regarding the Covid protocols agreed to by the league and the NFL Players Association.
Yes, you read that right. McKenzie broke Covid protocols in front of a league staffer ... right after gave a presentation specifically designed to inform players of those protocols – and the penalties involved for breaking them.
Sadly, that's not the only "SMH" moment to come from Thursday. Perhaps not surprisingly, Beasley shared that he, too, had been fined by the league for a masking violation. Imagine that!
The NFL's poster child for vaccine hesitancy quote-tweeted McKenzie's photo showing his fine letter to say "don't worry they got me too. But I was wearing a mask when I was in close contact with fully vaxxed trainer who tested positive and still got sent home. So what's the point of the mask anyways? Meanwhile I'm here still testing negative and can't come back. Make it make sense."
Beasley, who said at the start of training camp he would be giving up posting to social media, went back on his word in a big way Thursday. His latest Twitter tirade included admitting that he was not wearing a mask for about "five steps" – as if that matters – when he entered the facility Tuesday.
He continued with his usual takes – that's he's not pro- or anti-vaccine, but rather favors individual choice -- and also reiterated his line of complaints about the rules put in place for unvaccinated players – rules that were agreed to by the union of which he is a member.
McKenzie and Beasley would be subject to increased discipline from the NFL for further violations, which could include a maximum fine of one-week's salary and a four-game unpaid suspension. The league has fined 25 players for refusing to wear a mask or tracking device since the start of training camp, the NFL Network reported.
"It's unfortunate when players get fined," McDermott said. "That being said, these rules have been agreed upon and in place and well communicated for some time. So, it's important for us that we focus on A. being safe and healthy. That's No. 1 and that's always been No. 1. Then No. 2 is doing our best to stay focused on the goal and purpose of why we're here, which is to win football games."
Beasley helps the Bills do that – when he's on the field. The receiver was asked if he intended to retire, as he had threatened in the spring.
"I'm gonna exhaust all options before retiring and try to change as much as I can for the other unvaccinated players," he wrote in response. "They are not protected at all. They have to protect themselves from the vaccinated players and staff. Which is almost impossible since they're tested 1/14 days."
That line of thinking – if you want to call it that – shows the challenge McDermott faces. As the coach addressed the issue before Thursday's practice inside Highmark Stadium, it was hard not to go back to what Dallas Cowboys owner Jerry Jones said this week.
"Everyone has a right to make their own decisions regarding their health and their body. I believe in that completely – until your decisions as to yourself impacts negatively many others," Jones said in an interview with Dallas radio station 105.3 The Fan. "Then the common good takes over. And I'm arm-waving here, but that has everything to do with the way I look at our team, the Cowboys, or the way I look at our society. We have got to check 'I' at the door and go forward with 'we.' "
There are a good number of 'I' players on the Bills' roster right now. Beasley is the most notable, but he's not the only one. Davis, Lotulelei and Butler are three more. So, too, are linebackers Matt Milano and A.J. Klein, who were sent home Tuesday as a precaution before ultimately being deemed not to have had close contact with the trainer and thus being allowed to return to practice the following day. Given that vaccinated players are not required to quarantine provided they test negative for Covid, it's clear Milano and Klein are not, or they wouldn't have been sent home.
"Our performance is judged off of wins and losses or how well a person does 'X' or 'Y' and some of that is dependent upon other members of the team," McDermott said. "That's why this is a team game. Being able to count on people is important, so when you're going through a week -- if this were a real week -- and having the players out that we've had, that makes it harder to win games that way. That's the competitive piece of this."
At what point, McDermott was asked Thursday, does this stop being about "individual freedom" or "personal choice" or any other explanations offered by non-vaccinated players, and start being about the good of the team – from a competitive standpoint as well as a health-and-safety standpoint (to say nothing of the greater good to society)?
"Listen, there's plenty of evidence in my opinion on why you should get vaccinated," the coach said. "That's what I did. That's my own personal beliefs. Everyone has their own beliefs, and I respect those. But my opinion, my beliefs, there's plenty of evidence to get vaccinated."
It's not as if the roster lacks personal experience. Tight end Tommy Sweeney missed all of the 2020 season after developing a heart condition, myocarditis, after a positive Covid-19 test. More recently, franchise left tackle Dion Dawkins was hospitalized four days at the start of training camp while battling the virus. His condition was so bad at one point, Dawkins said he became worried he would never leave the hospital.
If that's not enough to convince players to get vaccinated, nothing seems like it will be. That includes the FDA giving full approval to the Pfizer vaccine. McDermott said although he's heard some "encouraging conversations" regarding his unvaccinated players potentially getting vaccinated, he does not believe that the numbers have ultimately gone up.
"It is tough. It's frustrating. It's challenging -- however you want to say it," McDermott said. "I can't make the decision for them."
Yes, it's "only" the preseason, but with the way the Delta variant is spreading, it's not hard to imagine this situation coming up again when the games start to count. The Bills, as currently constructed, are at a competitive disadvantage. If Beasley, Davis and McKenzie come into contact with another Covid-positive person in the week leading up to the season opener against the Steelers, that's three of the team's projected top five receivers who will have to go through the NFL's five-day, re-entry process – even if they test negative for Covid.
"Some people are in a better position potentially than we are at this point, just looking on the surface at the numbers," McDermott conceded. "That being said, you got to go back to the personal decisions on this thing. And I respect our players' positions. In my personal opinion, it's right to get vaccinated."
The effort to convince his players of that has been "absolutely non-stop," McDermott said.
One thing the Bills won't do, McDermott said Thursday, is factor in vaccination status when determining who makes the final roster.
Beane stepped in it earlier this offseason when replying to a hypothetical question about whether he would cut an unvaccinated player to reach a threshold that loosened Covid protocols, saying he would. That led to a wrist slapping by the NFL.
McDermott wasn't about to go down that road Thursday.
"That will not be a factor in deciding who stays and who goes," the coach said.
At least not publicly. The reality is, there would be no way for the NFL to tell if the Bills' decision on the 53rd or 54th player on their roster came down to whether he was vaccinated. The problem is, Beasley, Davis, Milano and Lotulelei are all too good to be cut. The Bills could get by without Butler or Klein, but cutting them probably doesn't help.
Even if he wanted to – even if he should – McDermott is in a position where he can't take a hard line. Thus, diplomacy rules the day.
"I'm not going to hide behind the fact that I'm passionate about doing what's right, whether it's COVID or anything else. I respect people's positions in a lot of areas," he said. "Obviously, this is a hot topic. There's a lot of hot topics right now in our country. Respect is important. It doesn't mean that I'm not passionate about my position and passionate about what I feel is the right thing to do for the greater good of this country. That, in my opinion, means getting vaccinated."