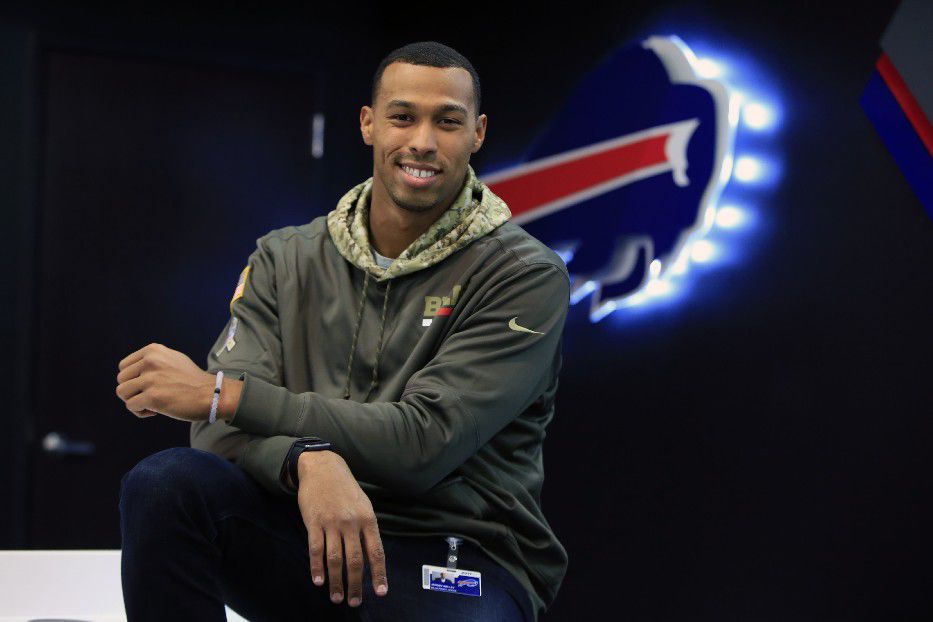 Jeremy Kelley is fond of sharing an anecdote that neatly sums up the unlikeliness of his professional football career.
"I signed more NFL contracts than I had touchdown catches in college," said Kelley, the West Seneca native who crisscrossed two countries over a six-year stretch in pursuit of his dream.
Kelley's journey includes stops with Hamilton and Saskatchewan in the Canadian Football League, Utah and San Jose in the Arena League and Indianapolis, Denver and Chicago in the NFL.
"Everybody has this vision of what an NFL career could and should look like. Mine doesn't look like what I dreamed up," Kelley said. "But I think I went through all this to be able to serve guys down the road. The doors have opened up to allow me to be in the position to help guys."
Kelley does that today as the Buffalo Bills' alumni manager, a role he's been in since June. It was at that point that he decided to once and for all give up a playing career that started at West Seneca West High School.
Kelley was a third-team All-Western New York selection for the Indians in 2005 along with lifelong best friend and teammate Des Randall. They signed their national letters of intent to play at the University of Maine on the same day as seniors.
A 6-foot-5, 212-pound receiver who understood how to run routes, Kelley figured to step right into the Black Bears' starting lineup. But the step up in competition was "a different beast," to use Kelley's words. Maine's defense included future NFL players Mike DeVito, Jovan Belcher and Lockport native Daren Stone.
"When I wasn't able to meet those expectations, I kind of got pushed aside," said Kelley, who redshirted in 2006 and considered transferring home to the University at Buffalo.
Spend just a few minutes with Kelley, though, and it's easy to see why that didn't happen. Perseverance might as well be tattooed across his chest.
"I stuck it out at Maine and I'm glad I did," he said. "Things got better. I was certainly respected on my football team. I was a big special-teams guy. I think that's what opened the door and kept me somewhat relevant."
As a redshirt freshman in 2007, Kelley's position coach was Phil McGeoghan, who today is the Bills' receivers coach.
"He was a redshirt freshman, and you know how you are on rookies and freshman as a coach," McGeoghan said. "You're very demanding on them. You don't give them an inch and you never give them the benefit of the doubt. He always had a good demeanor. He was confident, even if he had a lot to learn. He was a good student and he was responsible, so you knew that he would be successful in some capacity as a player, and you knew for sure he'd be successful as a person."
Kelley had 13 receptions for 148 yards and one touchdown in his first three college seasons. As a senior in 2010, he wasn't getting as much playing time as he wanted, so one day he put a defensive jersey on before going out to practice.
"No one knew about it," he said. "I didn't talk to any coaches about it. The D-line coach was like, 'You sure about this?' I was like, 'Yeah, no doubt.' The following week I was starting at defensive end.
"I was committed to, 'You're going to play me somewhere. I'm too good not to be used.' "
That unwavering sense of confidence has always been inside Kelley.
"Faith is a lot of it, because you know the odds are already stacked against you," he said. "You've just got to believe in yourself. I was fortunate enough to grow up around people that had actually been there, that encouraged me, 'Man, you are good enough, you can do this.' And I did believe in myself."
One of those people was former Bills receiver Demeris Johnson, Randall's father.
"He wasn't just my best friend's father, but my pastor, my trainer," Kelley said. "I remember the day on the practice field he told me, 'You've got what it takes to get there.' From that point it wasn't a dream, it was a goal. Those are two very different things. I knew what I had to do to get there because I had somebody telling me who had been there, so I just followed everything he said."
After graduating in 2010 with a bachelor's degree in kinesiology and biomechanics, Kelley had a good showing at Maine's Pro Day in March 2011, but that was an unusual year with the NFL in a lockout with its players. Kelley worked out for Hamilton before the draft, but opted not to sign in case he was a late-round pick. That didn't happen, and he spent the spring and summer training at Sahlen's Sports Park in Elma. Included in those training sessions were several of the Bills, including quarterback Ryan Fitzpatrick, since players couldn't use the team facilities.
"I basically knew the Bills' system just from spending the whole summer with them," he said.
When the lockout ended at the end of July, "nothing happened," Kelley said."All that buzz fizzled. The phone wasn't ringing."
He was still on Hamilton's radar, though, so when the Tiger-Cats called, he quickly accepted and had his first professional contract. Kelley saw some action toward the end of his rookie season, but was released after the Tiger-Cats made a coaching change.
From there, he went to the Arena Football League's Utah Blaze, playing eight games and making 19 catches for 231 yards and seven touchdowns during the 2012 season.
"I had a blast," Kelley said. "It was the first time I was actually able to get some film."
Following that season, Kelley was back home working at the L.A. Fitness on Elmwood Avenue when he got a call from the Indianapolis Colts, who wanted him to come out for a workout.
Two days later, Kelley was the only player working out in front of General Manager Ryan Grigson and coach Chuck Pagano. Kelley nailed the workout, and signed his first NFL deal. He was with the team through spring practices and training camp, up until there was 20 minutes remaining to final cuts. While out to dinner with two teammates, one by one the phone call came that each of them had been cut.
"It was disheartening, for sure," Kelley said. "I got brought in, I had a meeting with the director of pro personnel. As he was talking to me, I actually thought, 'OK, they're about to put me on practice squad. He's like, we see you as a Marquse Colston. I'm thinking to myself, you just compared me to an All-Pro, and you're letting me walk out the door?"
Before the meeting was finished, Kelley was told the Colts didn't expect him to be out of work for long.
"For whatever reason, that instilled a little life in me," he said. "I just went back to work. I had been through this before. I just went back to work. That's what I know how to do."
Kelley's next crack at an NFL job came in Denver. He signed a reserve/futures contract with the Broncos at the end of 2014, but was released following the 2015 NFL Draft. It was around that time he started to seriously consider ending his playing career. Physically, he was suffering from symptoms similar to McArdle's disease, which prevents muscles in the body from properly metabolizing energy. That leads to severe cramping in the body. Although Kelley hasn't been officially diagnosed with the disease, his research has led him to believe that's what was impacting him.
He spent part of the 2015 season with the San Jose SaberCats of the Arena League, but during that time started to think about what he could do for work after his playing career ended.
"I remember thinking to myself,  you've got to be all in or all out, because that's how you get hurt," he said. "I committed to it, and sure enough I got a phone call."
The Chicago Bears signed Kelley midway through training camp in 2015 and he appeared in two preseason games, but didn't make it through final cuts. At that point, Kelley figured his options were limited, but there would be one final chance.
The CFL Saskatchwan Roughriders reached out early in 2016, and Kelley signed an international contract. When he got sick during minicamp, however, he announced his retirement.
"I shut it down at that point," Kelley said. "I moved out to California and took a job in the IT business and that was that."
Come the beginning of this year, though, the itch came back.
"I'm like, this has run its course. I think I might want to play again,' " he said.
Kelley, 29, moved home and started training. With his health cooperating, he got in shape and had NFL three teams express interest.
"At my age, I'm thinking whether they bring me in as a camp body or not, I'm still fresh," he said. "I haven't played a lot of football."
McGeoghan was one of the people Kelley was in contact with as he searched for one last NFL shot. At about the same time, though, Kelley got a call from Marlon Kerner, the Bills' director of player engagement and alumni, who had a job offer.
"I talked to Phil again and I told him. I thought he was going to break down and cry over the phone," Kelley said. "He told me, 'Listen, I'm proud of you, and you're going to work in the NFL a lot longer you're going to play in it. ... You take that job."
"I know the transition for myself as a player who didn't achieve as much success as I would have liked to is probably similar to how he felt," McGeoghan said. "The best thing to do then is to give to others and to contribute to other people's lives and try to add more value to somebody else. In turn, you feel better about yourself and it eases your transition. That's why I got into coaching, and that's why I was encouraging him, as the doors were shutting athletically, more would open because of the gifts God gave him to communicate."
One of Kelley's responsibilities in his current role is setting up alumni events. Earlier this season, the Bills held their first one of those at a road game, as Kelley organized a party in Atlanta for team alumni who live in the area.
"One of the key points for Mr. and Mrs. Pegula is we want to retain the culture and tradition of the Buffalo Bills," Kelley said. "They want alumni involved."
Kelley's job is to reach out to as many of them as possible.
"We had guys back this year who haven't been here in 25-plus years," he said. "We're making strides in terms of connecting with everybody."
Before the home opener, the Bills honored members of the 'Greatest Comeback' team in recognition of the 25th anniversary. During the ceremony, each player was presented with a custom jersey and helmet,
"You would have thought it was a little league football team, getting their uniforms for the first time," Kelley said. "They couldn't wait to put them on. ... It just reminds you that it's a kid's game and it always will be. Even at 40, 50, 60 years old, guys still want to feel that, because it's something special."
Kelley knows all too well the cold realities of life as a professional.
"You do all this work to get to one of the most prestigious fraternities in sports, but yet when you leave, you get a trash bag or a box" he said. "You never think about that. You feel like you're kicked out the door. So guys, once they're gone, they feel like there's no connection to the NFL anymore. … You go back home and that was it. You have nothing to show for it, other than some pictures and maybe a jersey."
Kelley's goal is to make sure that any player who has suited up for the Bills has a better memory.
"I'm trying to take care of them," he said. "I get to serve, and it's an awesome role."