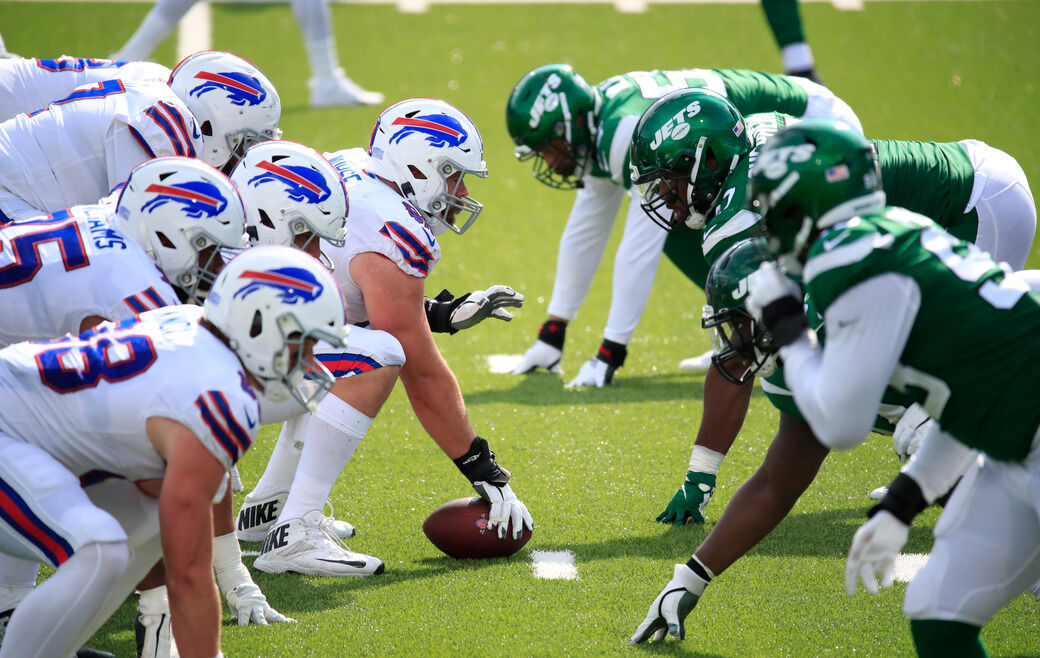 Josh Allen gave his offensive linemen a Christmas gift he hopes they don't plan on using any time soon.
The Buffalo Bills' third-year quarterback is an avid golfer. He shared his passion with the big guys up front by giving each of them custom-fit golf clubs, complete with Callaway Mavrik woods and irons, an Odyssey putter and an Ogio golf bag in red, white and blue Bills colors, of course.
Allen didn't stop there, though. The bag is filled with balls, each personalized with each player's name and number. And for those who might need a little help getting started, he paid for lessons with the head golf professional at Crag Burn.
"It's really cool. Obviously, gifts are extremely hard to buy for guys that have basically everything already," Allen said. "I talked to them, and none of them had their own custom golf clubs, so it's something that many of these guys maybe haven't even done yet. Giving them the opportunity to go out and expand their horizons, try something new and just hang out on the golf course and get away from football for a little bit in the offseason, it's something I love doing and hopefully one or two of them – or maybe even all of them, pick the game up and start to enjoy it as much as I do."
It's an NFL tradition for quarterbacks to take care of the guys who take care of them at Christmas time. Last year, Allen gave each lineman a Traeger grill. The year before, the Bills' quarterbacks gave each an iPad.
It's telling that every year, Allen goes out of his way to find something that each of the offensive linemen didn't already have, left guard Ike Boettger said.
"He's done that every year. The first year he asked, none of us really had iPads, so he got us the newest one, the biggest one, so we could put movies on it for road games," Boettger said. "Last year, he asked us and none of us really had grills, so he got us all Traegers. This year, you know, I mean he was asking around months ago. You can just tell he puts time and thought and effort into it. It just says a lot about him and the kind of leader that he is."
The accolades have poured in for Allen this season. The quarterback has been named the AFC Offensive Player of the Week four times – setting a team record – most recently after his performance against Denver in Week 15 clinched the Bills' first AFC East championship since 1995.
"He's a Pro Bowler in our book," Bills cornerback Tre'Davious White said of his teammate. "He knows he's a Pro Bowl, All-Pro-caliber player."
"I definitely think that goes hand in hand with how our offense is going as a whole," Allen said. "I do believe that's a team award, and I'm thankful to have the guys around me that we do, have the coaching staff that we do. It's just my job to get the ball to those guys and let them make plays. That's what they've been doing."
With still two games to play in the regular season, Allen is the first player in NFL history to record at least 4,000 passing yards, 30-plus passing touchdowns and eight-plus rushing touchdowns in a single season. Not surprisingly, he was named to his first Pro Bowl earlier this week.
"It's obviously a big honor," Allen said. "Again, that as well is kind of a team award. You don't get there by yourself. As great as it is, it's nothing that I'm super focused on or trying to do. I'm just trying to be the best quarterback for this team that I can be, but I guess that does mean that we're having some team success, so that's why I'm all for it."
Boettger said that's not just something Allen spoon feeds to the media.
"I went up and congratulated him on the Pro Bowl this week, just one on one, and he literally said 'that's a team award,' " Boettger said. "He can say that, but all of us know the type of work he put in this offseason to have the season he's having. It just says so much about him. Really, what else do you want in your quarterback and the leader of your football team? It just says so much about his character and the type of leader that he is."
Allen tabbed Boettger as the offensive lineman most likely to give him a run for his money on the course.
"I know he's had a little bit of practice," Allen said. "I think, athletically, Dion (Dawkins) can do it. It might take him a little bit, but at least I've got some more buddies to go golfing with come next offseason."
The ongoing Covid-19 pandemic gave Boettger a chance before the start of this season to hit the course more often.
"I've always really liked it, but never really had time. With quarantine and everything back home, I got a membership to a golf course back home in Iowa," Boettger said. "I got out probably 30, 35 times this year. I played a lot, but I had never done that before. I really actually got better. That makes you like the game a lot more. Before, it was like, I'd play two or three times a year and it was just hard to get into it, but now I've got the itch, for sure."
Of course, Allen and the Bills hope it will be quite a while before his gifts can be used. That, of course, would necessitate a deep playoff run.
"I told him when he gave them to me, that I was coming for him," Boettger said. "That was my warning, but we'll see. I don't know. He can get a little more rotation with his swing than I can, but I'll put in some work this offseason. I don't think any of us are looking to play golf right now, but in the offseason, we will."
Diggs was traded from the Vikings to the Bills in March and has since played every home game in an empty stadium.
Allen got some help designing the cleats that he wore in Week 14 from Tom Low, an 11-year-old from South Buffalo who the quarterback met when the City Honors sixth-grader had a stay at Oishei Children's Hospital. Low had an infection in his eye that traveled to his brain and required two surgeries.
Now, Low needs some help. As part of the NFL's "My Cause, My Cleats" campaign, Allen's cleats are being auctioned off, with all proceeds benefitting Oishei. A GoFundMe campaign has been started to help Low make the winning bid for the cleats, which will be autographed by Allen.
As of Thursday afternoon, more than $10,000 had been raised in the campaign. The current price on nflauction.com for the cleats is more than $3,500. The auction closes Jan. 17. Fans interested in contributing can go to gofundme.com and search Tom's Miracle Cleats.
The Bills made a roster move Thursday, releasing wide receiver Jake Kumerow. The move could be a sign that wide receiver John Brown, who has missed the past four games with an ankle injury, could be ready to be activated from injured reserve.
"John's one of, I think, the greatest route runners in the game today," Allen said. "He's extremely fast. He's a deep threat that you've got to pay attention to. We were running a lot of four wide before he went down. I don't know if we'll get back to that or not, but it just gives us an extra threat."
Kumerow, who had a touchdown reception last week against Denver, could re-join the team's practice squad.
The Bills held practice indoors Thursday. The team issued its first injury report of the week. Tight end Reggie Gilliam (knee/hamstring) and offensive tackle Ty Nsekhe (groin) did not participate.
Right tackle Daryl Williams (groin), wide receiver Andre Roberts (back), safety Jaquan Johnson (ankle) and quarterback Jake Fromm (not injury related) were limited participants.