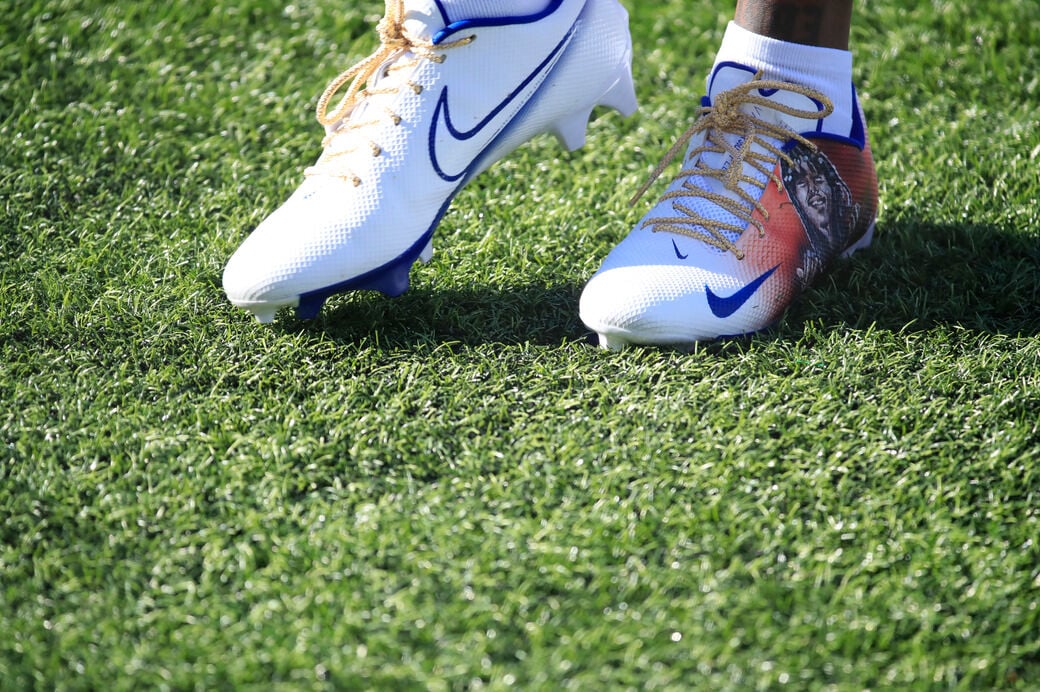 Inspiration struck Stefon Diggs in a rather unusual spot recently.
The Buffalo Bills' star receiver was in the dentist's chair getting a root canal when he learned something new.
Funk legend Rick James was born and raised here, Diggs was told.
"Boom," Diggs said. "Cleat idea."
The following week, Diggs' white Nike cleats featured an image of James – well, comedian Dave Chappelle's legendary impersonation of him from "Chappelle's Show" – when the Bills played the Seattle Seahawks.
"It's been going on for a few years now," Diggs said of his weekly customized cleats. "I can't give you all the secret sauce to the recipe, but I try to do it based on the city we're in or the team that we're playing. When we were in New York last year, I did 'Coming to America.' We were at home, so Rick James was perfect."
Bills fans know what they have in Diggs on the field since he came over in an offseason trade with the Minnesota Vikings.
The team's No. 1 receiver is on pace to finish with franchise single-season bests in catches (a projected 117) and yards (1,450). His 73 catches for 906 yards through 11 weeks rank second in the NFL.
Off the field, however, it's been tougher to know what makes Diggs tick. The ongoing Covid-19 pandemic has done more than just keep fans out of Bills Stadium. Players have basically been relegated to the workplace and their homes. If not outright prohibited, going out in the community has been highly discouraged.
Diggs typically speaks to the media just once a week, and while he has been illuminating on a variety of topics, it's hard to truly get to know someone via video conference. The one space that Diggs has flashed his personality, though, is on his feet.
Almost every week, the receiver wears a pair of customized cleats that are made in collaboration with sneaker-artist-to-the-stars Dan "Mache" Gamache. A Poughkeepsie native, Gamache, 41, owns and operates Mache Custom Kicks, making one-of-a-kind sneakers or cleats for a client list that includes not just Diggs, but also LeBron James, Dwayne Wade, Steph Curry and several other of the biggest stars in the NBA, NFL, MLB and WWE.
Gamache has gone from working out of his mother's basement to operating an empire. He has more than a half-million followers on Instagram, and his website cautions customers that the wait time for an order can sometimes be up to six months with a cost toward $500 depending on the intricacy of the design. 
"It's highly detailed stuff," Gamache said. "My goal is never to have a million guys on my roster. It's a quality-over-quantity deal. I like to focus on a couple guys who really do appreciate the artwork and just put all my energy into that."
A former college baseball player, Gamache had designs on a professional career before a torn labrum in his throwing shoulder ended those hopes. He fell back on a combination of his master's degree in garment design from SUNY Oneonta and a talent inherited from his grandmother, a former art teacher, when he started to customize sneakers. Through trial and error, he got comfortable enough to charge for his designs, drumming up business through showing the finished products in barber shops around Poughkeepsie.
Gamache's first big break came in 2008, when he convinced a security guard to hand-deliver a customized pair of sneakers to rapper Pharrell Williams, who was in New York City on tour with Kanye West. Williams loved the sneakers so much he sought out Gamache to invite him to that night's concert and posted a picture of them on social media.
While that created a surge in business, Gamache still wasn't ready to leave his day job. His next big break came in 2012, when James took notice of a pair of custom LeBron X Transformers-inspired sneakers Gamache had posted to social media.
James contracted Gamache to customize a pair of LeBron X Iron Man-inspired sneakers, which the artist hand-delivered before the 2013 NBA All-Star Game in Houston. After James posted a photo of the sneakers, Gamache gained nearly 20,000 followers overnight and his career path was set.
Diggs and Gamache met in 2016, when the artist was delivering a pair of cleats to Vikings tight end Kyle Rudolph as part of the NFL's first "My Cause, My Cleats" campaign, an initiative that has allowed players to raise awareness for a wide variety of charitable endeavors that are important to them. Rudolph gave Gamache a tour of the Vikings' locker room, and that's when he first met Diggs. A friendship soon followed.
"I'm a Vikings fan. That's how the whole relationship with Stefon started, but obviously now that he's out there, I've become a cousin of the 'Bills Mafia,' " Gamache said. "I do root for him no matter what. It's funny, because my mom is a Bills fan, so she's ecstatic that Stef's out there. We just clicked ever since we first met. We did one pair and it just kind of grew over the years. Now he's in Buffalo, so there's a whole lot less purple in the cleats now."
Diggs' designs this season have stayed true to his city theme. When the Bills went to Nashville in Week 5, Gamache painted an image of Elvis on a pair of silver Nike cleats. When the team made its first trip to Las Vegas the previous week, a pair of red cleats featured characters from "The Hangover."
"The process is very, very fluid. Very organic," Gamache said. "Sometimes he'll have an idea or sometimes I'll have an idea and he'll just trust whatever I do. His music taste, I'm a 40-year-old white guy from New York who listens to Wu Tang and things like that. He listens to stuff, that I have no idea who it is."
In Week 2, Gamache did the album artwork for rapper Action Bronson's "Only for Dolphins" on Diggs' cleats before the Bills' game against Miami. Gamache joked that Diggs had no idea who Bronson was, but the red, white and blue colors worked.
"I showed Stef the artwork. He was like, 'Yo, that's dope, what is that?' I was like, 'You have no idea who Action Bronson, do you?'" Gamache said. "But he liked it. He's like, 'I trust you.' He likes what he likes. He's definitely someone who marches to his own drum, no matter what, but he definitely has a lot of trust in my own vision or ideas, because I guess I haven't steered him wrong yet."
Diggs is on a very short list of Gamache's weekly clients. Typically, the artist will do from three to 10 sets of cleats for players a week. Diggs and Gamache will text back and forth Sunday night or Monday morning and come up with a plan. From there, Gamache does his magic and in a day or two has a unique pair of cleats ready to ship.
The artist has developed a relationship with the Bills' equipment staff, headed by Jeff Mazurek, making sure to meet any deadlines. If the Bills have a Sunday home game, Gamache can send the finished product Friday. If they're on the road, it has to arrive at the team facility by Friday.
Any of Diggs' followers on social media know he has a passion for clothes and sneakers. Last year when Diggs visited New York with the Vikings, Gamache came down from his studio in Connecticut to hand-deliver the "Coming to America" cleats. While they were together in Manhattan, they went to the stylish SoHo section of the city to do some shopping.
"It is something that's important to him," Gamache said. "He's not a party guy. He does his own thing. It's a great thing about him. I think people think, 'young, successful guy, they're out there being crazy,' and he's not that type. He's more of a family guy."
Almost every one of Diggs' posts on Instagram is either him on the field or in a fashion shoot of sorts.
"He's big into the 'look good, play good' stuff," fellow receiver Cole Beasley said. "He's definitely going to have some kind of new gear each week – something for people to gawk at a little bit. As long as he's making plays, we're all good."
"Cole be swaggin'. I be trying to tell him, 'I've got to look how I want to look in order to feel good so I can play well,' " Diggs conceded. "That's what I do when I've got some free time, when I'm not all about football, I like to dive in a little bit, but I'm at work right now. We can talk about that on our own time."
Until then, Diggs' cleats will continue to show a side of him few in Buffalo have seen much of.
"Especially being a sport, where 95% of the time they have a helmet on their head," Gamache said. "It's a lot tougher for NFL players to get that personality out. The NBA, it's a lot easier. They're out there for everyone to see. They can show their emotion. I think that was one of the things that got this started, not just for my custom cleats, but just in general was to get their own personality out. The NFL has certainly accepted it a lot more and kind of put their toe in the water with 'My Cause, My Cleats.' That was good. It can open it up more for people to express themselves. It makes the game a lot more fun, for sure."
Gamache said that Diggs, who will celebrate his 27th birthday Sunday, is still acclimating himself to Buffalo.
"As soon as I heard he was going to Bills, I was like, 'He's going to kill it with Josh Allen,' " Gamache said. "Stef's one of those guys, he's a competitor. He doesn't want to lose. I think sometimes people kind of misconstrue that passion for being a diva, which isn't how he is. ... It's great to see. I knew he would do well out there."
As for what they've got cooked up this week, Gamache said it's a bit of an understated selection.
"Stef's pair was simple this week," he said. "He just asked for a real basic pair because they are wearing the throwback uniforms this week. His taste style has evolved a little bit, too. He's a little bit more low key with the cleats than he was in Minnesota. I don't know if that's being a little bit more mature or what, but I'm learning his style and taste a little more. I learn a little more about him every year."