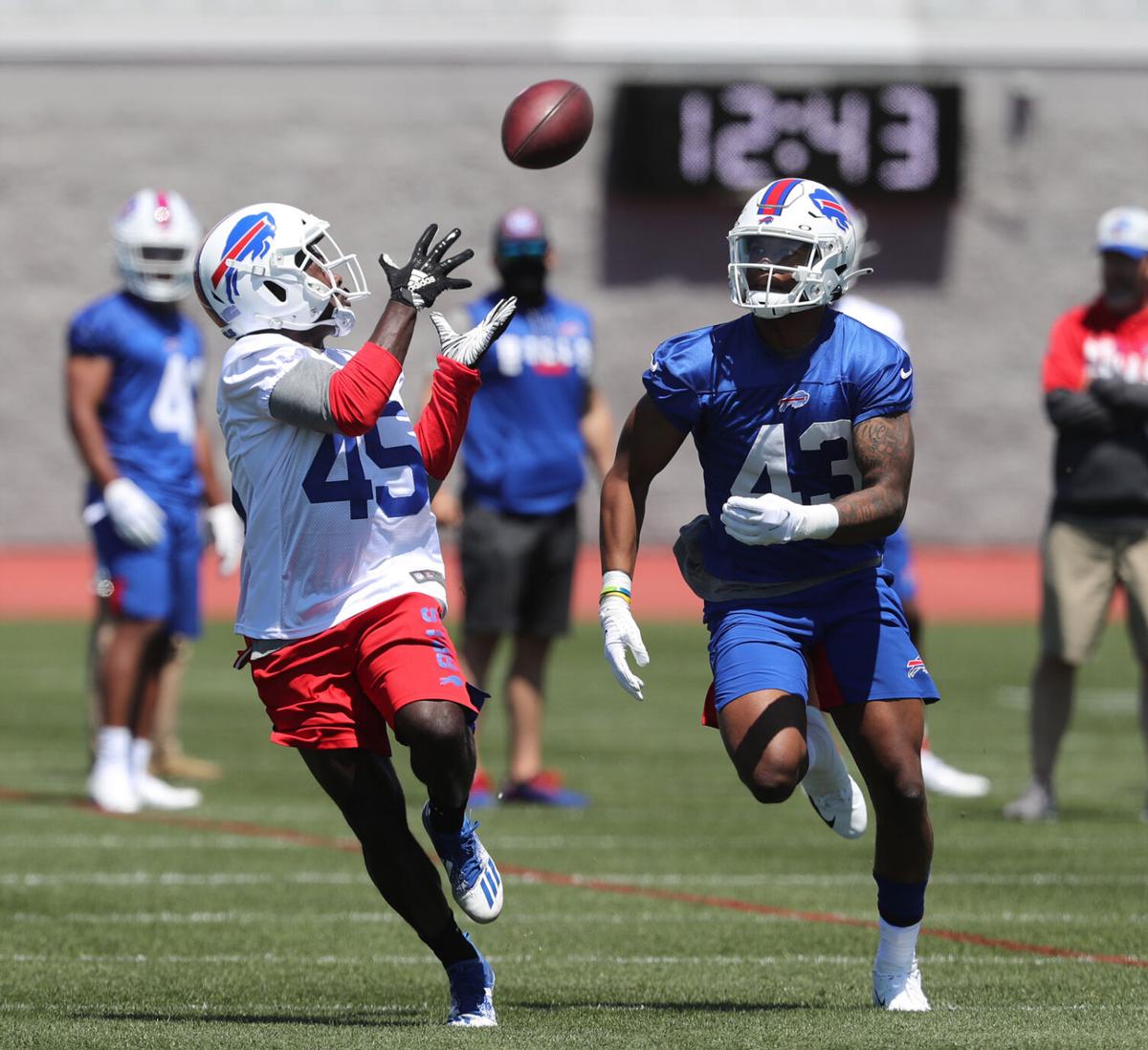 Christian Wade is finished with being a fun story.
By now, even casual Buffalo Bills fans are familiar with the running back's journey from professional rugby in England to the NFL. Wade, 30, took the first carry he ever received in the preseason 65 yards to the end zone in 2019 against the Colts, and from there, a legend of sorts was born.
If it is possible for a player who has never been on the 53-man roster to become a fan favorite, Wade's figured out a way.
"That's very humbling, for someone who has kind of come across the world to a totally different sport, a different culture, a different way of life, loads of different stuff like that," Wade said in a recent phone interview with The Buffalo News. "It hasn't always been a smooth transition. It obviously has taken a lot of work, but it makes me feel really good knowing that the fans have kind of taken a liking to me. … It gives me that extra support I guess I need as a foreign player in the NFL."
As part of the NFL's International Player Pathway program, Wade made the Bills' practice squad in 2019 as an exempt member. That meant he was locked into the Bills for the entire season, but couldn't be promoted to the 53-man roster or signed away by another team.
Still, for an NFL novice from Slough, England, who had left behind a successful career with the Wasps Rugby Football Club, it was a pretty good gig.
The Covid-19 pandemic meant Wade didn't have much of a chance to show what he'd learned in his second professional season. With no spring practices, a condensed training camp and no preseason games, Wade had limited opportunities to show he deserved a spot on the 53-man roster. The pathway program, however, allowed for a second year on the Bills' practice squad as an exempt member, which Wade accepted for the 2020 season.
Earlier this offseason, the NFL granted players in the program a third year of eligibility, so Wade finds himself in exactly the same situation as the past two years. He'll go to training camp this year with a chance to make the Bills' 53-man roster. If he falls short of that, the Bills would release Wade and he would then be subject to waivers, meaning another NFL team could claim him and put him on its 53-man roster. If Wade clears waivers, he could sign to any practice squad around the league, including the Bills, on a non-exempt spot. That would mean he could join that team's 53-man roster as a promotion from the practice squad or could sign to another team's 53-man roster. The last option would be to accept a third exempt season with the Bills.
"Every year I've come in, I've not really looked at the exemption as a safety net," Wade said. "When I came over here, those first two years, it was more like, you know, I'm trying to play now. That's why I did what I did in the preseason.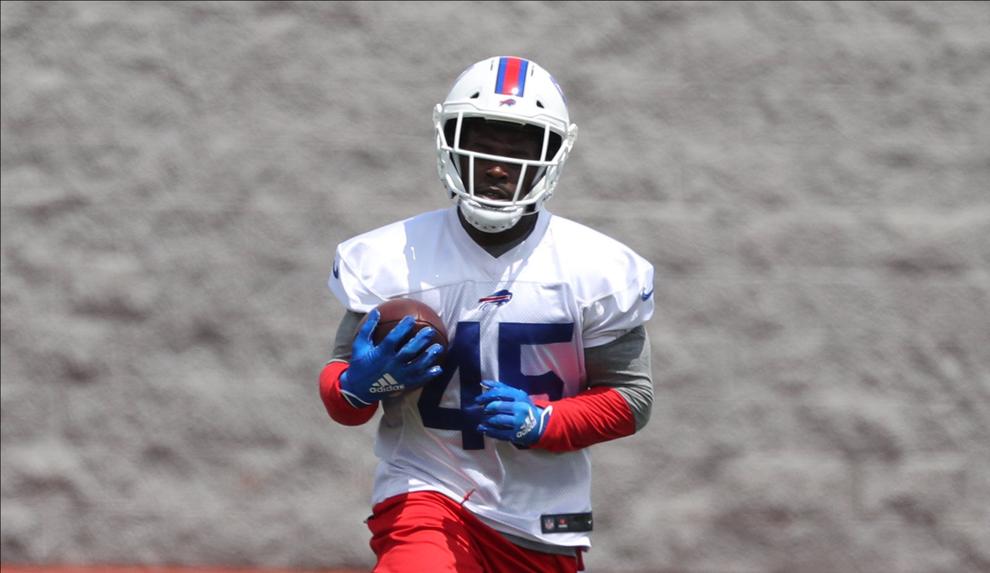 "That obviously wasn't enough to warrant me a position on the field, maybe because of lack of knowledge, so year two, I was going for the 53 again, but with no preseason games, that didn't go in my favor, because I couldn't show the difference from year one to year two. Now year three, I didn't even expect there to be the opportunity for teams to use the exempt spot. That's kind of annoyed me a little bit, but my whole thing is I'm trying to make the team every year. Now that we have preseason games back, hopefully if I get the opportunity, then I'll show what I can do again and we'll see where that leaves me."
Bills offensive coordinator Brian Daboll said that opportunity will indeed come.
"Christian's been a very, very steady guy since he's been here," Daboll said Tuesday. "Obviously, you guys know him, his personality is great. He's had a lot to learn. He's come a long way. So he'll have opportunities out here in the summer. We'll get to training camp and he'll be asked to make the most of them."
Wade will enter training camp behind Devin Singletary and Zack Moss on the Bills' depth chart at running back. He's part of a group that also includes Taiwan Jones, Matt Breida and Antonio Williams. Those four will compete for what is likely to be two roster spots.
Daboll said Wade was "relatively raw" to American football when he came to the Bills, but has made steady progress in his first two seasons with the team while at the same time being a great teammate.
A big reason for that is the work he's put in with Steve "Speedy" Gonzalez, the owner of Lethal Speed, an athletic performance training company.
When Wade and Gonzalez first started training together, the latter had no idea a change of sport was coming. 
"I got a message from Wade and said can I help him out. He was going to be coming to America, to see what he could do," Gonzalez said in a phone interview with The Buffalo News. "When I first got Wade, I just thought he wanted to train for the rugby aspect. I didn't know he wanted to transition to the NFL. When I saw him, I was like, 'man, this guy needs to be in the NFL.' After that, I told him, 'you really need to push this NFL thing,' and we started training on a daily basis."
Gonzalez's first few training sessions with Wade were unorthodox.
"With Wade, it was never the athletic, it was just the understanding with the game. I knew once he understood the game and the body movements of football, carrying over his ability, that he would be good," he said. "I'd have him work with no shoes on, just teaching him movements and the way you move as a football player."
The key, Gonzalez said, was for Wade to minimize his steps. 
"He was taking rugby steps for no reason that you don't need to do in the NFL," he said. "You don't have time to be taking these tap-dancing steps, so what I did was made him more aggressive. I knew once he gets the ball in his hands, he's not going to be stopped. If you're just thinking about speed, you're going to be running into contact the whole game. My goal with Wade is to get him to control his speed, set up his routes and set up stuff out of the backfield. He's got an amazing first step. We attacked how he moved and it's transitioned for him.
"I feel like, he can play in the slot, he can return kicks. I feel good with where he's going. He needs to be on the field someway, somehow this year because every time he touches the ball, it feels like he can score or break a big run. I think he's ready."
Wade and Gonzalez trained earlier this offseason in Las Vegas and plan to meet again before training camp. Wade also sends Gonzalez film of his training sessions to break down. 
"The film that I'm getting from him, just from last year to this year is a huge difference," Gonzalez said. "That's just his natural ability. He has that raw talent. Now that he's understanding the gam, he's really going to be dangerous."
"When I first came in, not that I didn't have any clue whatsoever – I had a bit of a base – but there was just so much to know, this huge mountain to climb," Wade said. "I'm still going through that process now. There are still things I will get wrong, but I'm definitely in a better place now and feeling confident to really compete this year for a spot on the roster. That's the reason why I came over here. I didn't come over here to just take part or be on the practice squad, even though that's a good gig and you're helping the team to win and stuff. I came from 10 years experience in rugby as a professional player at the top of the game, so I want to be over here getting some game time as well. That's really where my focus is this year."
There are still moments that Wade's background shines through. He referred to the Bills' uniforms as "kits" during his recent interview with The News, for example, but his comfort level on and off the field is much higher than it was two or even one summer ago.
"All the meetings that we have, the walk-throughs, special teams stuff, actually being on the field and executing – in all of those different areas, I definitely feel a lot more comfortable," Wade said. "I'm able to critique myself, know where I'm going wrong, which means I can help other people as well."
Wade is always looking to help those around him. He has a dynamic personality and seems to always be in high spirits. That trait runs in the family.
"My younger brother, Adam, his nickname is actually 'Smiley.' That's because he smiles even more than me," Wade said. "That's just part of our personality. I'm a real people person. I like to talk to people, find out what they like, what they don't like. … I like to have a rapport, especially if it's my teammates, on people that I work with. If I'm on the field and I bring my energy, then that's going to be spread amongst everybody else on the field. I want to get people fired up. That's really what it's about."
That personality has made Wade a popular figure both here and back home. Wade has served as host of "Coffee with the Bills" on the team's website and has interviewed Terry and Kim Pegula, taught British slang to Josh Allen and quizzed his teammates on the meaning of popular sayings in Great Britain. 
Of course, not everyone in London is familiar with his story. During a January episode of the English game show "The Chase," Wade was the subject of a question that asked which sport he left the Wasps to play. The choices were baseball, ice hockey and American football and the contestant went with … hockey.
That prompted a Twitter response from Wade, who suggested the contestant be given a second chance.
"Back in England, not everybody likes sports. I feel like in America, everybody has sports as a foundation," Wade said with a laugh. "You're not really going to get an answer like that. I did send a tweet out to the person, though, saying, 'Like, come on, of all the options, you said ice hockey?' She could have come up with a better educated guess than that. I guess the show was a bit too much pressure for her."
Because of the pandemic, Wade hasn't been able to travel home in more than a year. He'll have an opportunity to do so following the Bills' three-day, mandatory minicamp next week.
"I haven't seen my parents since the pandemic, so that's last year March," he said. "It's been a long year. We've been kind of stuck in the house, just going between the facility and the house. My family back home, they're going through the same thing, as well, so I did actually feel a little bit homesick, which I don't really say often, because I'm an experienced traveler with rugby. I've traveled around the world several times – visited every continent – so I'm not one to say I get homesick, but last year I definitely got homesick. I really was yearning to get home. As it stands, I've had to just press the reset button, get back into work mode and just do what I need to do."