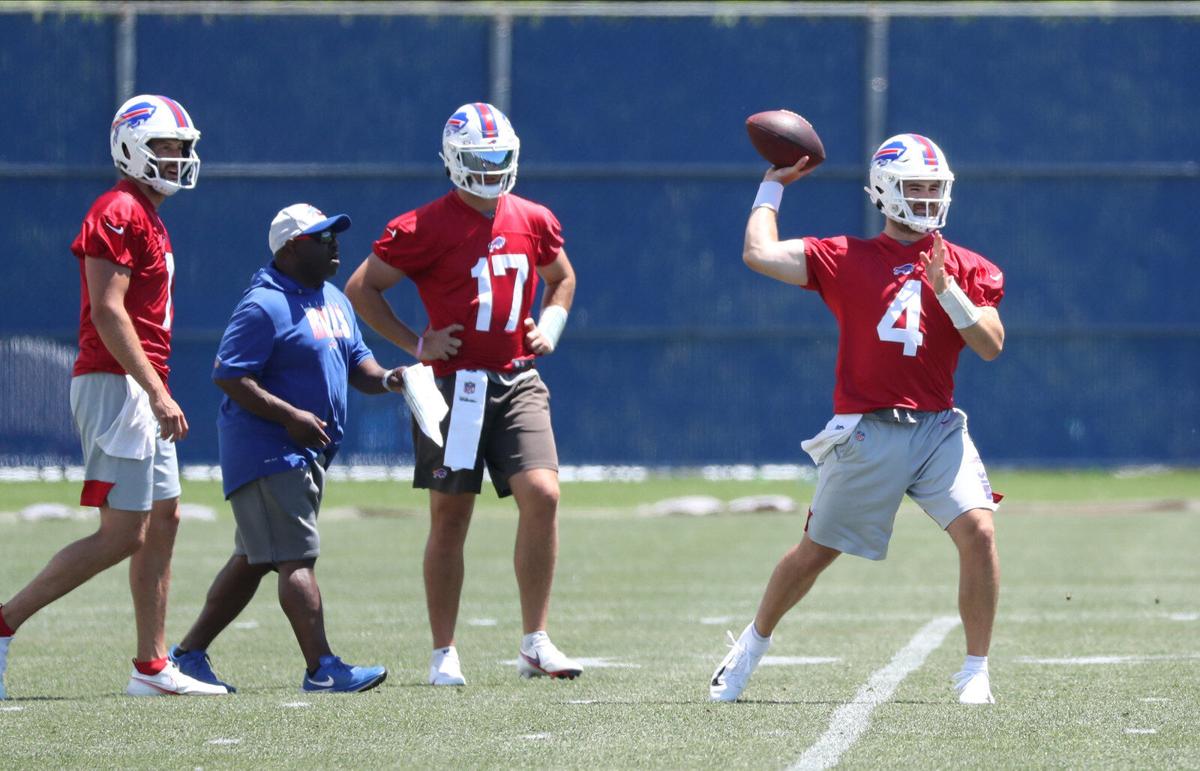 The Buffalo Bills got an early start to their summer.
Coach Sean McDermott decided to cancel the third and final practice of the team's mandatory minicamp Thursday, content with the work put in not just during the first two days, but the entire spring.
The Bills consistently had strong attendance during their 10 voluntary organized team activities that came before minicamp. While it's premature to draw any firm conclusions from those sessions, they at least provide a framework when considering what the 53-man roster might look like come September.
The Bills have 88 players on their roster – three less than they are permitted to take to training camp (running back Christian Wade is given an exempt spot because of his status as a part of the International Player Pathway program, allowing the team one extra spot as opposed to the 90-man roster limit).
Here is The Buffalo News' 53-man roster projection following spring practices:
Quarterbacks (2): Josh Allen, Mitch Trubisky.
Cuts (2): Jake Fromm, Davis Webb.
Analysis: The Bills kept three quarterbacks on the 53 and four in the organization last year, but that was directly related to the Covid-19 pandemic and the need to have adequate insurance at the position should an outbreak occur. With the depth the team has at other positions, keeping three quarterbacks on the active roster again feels like a luxury – although it's a possibility, especially if there is still reason to fear Covid could be a potential threat (which is why Allen's vaccination status is worth wondering about). Webb's contributions to the locker room are highly valued by the coaching staff, so he would seem to be a lock for the practice squad if he doesn't make the 53-man roster. It's harder to see where Fromm fits.
Running backs (4): Devin Singletary, Zack Moss, Matt Breida, Taiwan Jones.
Cuts (2): Wade, Antonio Williams.
Analysis: The competition here is really for one spot, as Singletary and Moss figure to be the primary ball carriers and Jones has the inside track on the No. 4 job based on special teams. Breida's speed is intriguing, but it's a bit concerning the Dolphins couldn't find a way to use it more considering how poorly they ran the ball last year. Wade has become a fan favorite despite never appearing in a regular-season game, while Williams ran well in Week 17 of the 2020 season against Miami. It's not out of the question that either could beat out Breida, but it will take a good training camp and strong preseason.
Wide receivers (6): Stefon Diggs, Cole Beasley, Emmanuel Sanders, Gabriel Davis, Isaiah McKenzie, Isaiah Hodgins.
Cuts (6): Duke Williams, Jake Kumerow, Marquez Stevenson, Brandon Powell, Lance Lenoir, Tanner Gentry.
Analysis: Hodgins, who missed his rookie season because of a shoulder injury, generated the most buzz during the spring. He's 100% healthy and will be a player to watch in training camp to see if he can build off what he accomplished over the last couple of months. The Bills don't usually like to cut draft picks, but in the case of Stevenson, it's hard to say right now he has the upper hand on McKenzie, either as a receiver or as a return man. McKenzie is not going to be easy to beat out for either role, and the Bills can always try to sneak Stevenson onto the practice squad. Kumerow could find a way to sneak onto the 53-man roster if he distinguishes himself enough on special teams.
Tight ends (4): Dawson Knox, Jacob Hollister, Tommy Sweeney, Reggie Gilliam.
Cuts (2): Quintin Morris, Nate Becker.
Analysis: Sweeney is back to full health after a scary bout with myocarditis that followed a Covid-19 infection. He will have a chance to fill the spot on the 53-man roster that was vacated when the Bills traded veteran Lee Smith to Atlanta. Gilliam is another player whose spot on the active roster depends on how many positions the coaching staff wants to devote to special teams.
Offensive line (9): Dion Dawkins, Cody Ford, Mitch Morse, Jon Feliciano, Daryl Williams, Spencer Brown, Tommy Doyle, Ryan Bates, Ike Boettger.
Cuts (7): Forrest Lamp, Jack Anderson, Bobby Hart, Jamil Douglas, Jordan Devey, Steven Gonzalez, Syrus Tuitele.
Analysis: There is a lot to sort out here, starting with the question, are the Bills any better up front? The starting five projects to be the same. The team really needs Ford to show why they traded up for him in the second round of the 2019 draft. Ford has struggled to stay healthy in his NFL career. The Bills have settled on left guard being Ford's best spot, so he needs to find some consistency. Brown, a third-round draft pick, figures to beat out Hart as the swing tackle, and Doyle should be safe to make the active roster as a fifth-round pick. It gets tougher inside. Lamp, a former second-round pick of the Chargers, has plenty of NFL experience, including last year when he started all 16 games for Los Angeles. Anderson, a seventh-round pick, is a sleeper candidate for the 53-man roster, although he'll have to beat out veterans Lamp, Douglas and Devey.
Defensive line (10): Jerry Hughes, Mario Addison, Greg Rousseau, Boogie Basham, A.J. Epenesa, Darryl Johnson Jr., Ed Oliver, Star Lotulelei, Vernon Butler Jr., Justin Zimmer.
Cuts (5): Bryan Cox Jr., Mike Love, Efe Obada, Brandin Bryant, Harrison Phillips, Treyvon Hester.
Analysis: If you believe the Bills are keeping Addison and Hughes, that's a minimum of five defensive ends, because Rousseau, Basham and Epenesa are all locks. Six defensive ends is a lot, but the case can be made that the Bills should keep seven. Johnson is an important member of the special teams, while Obada had 5.5 sacks last season with the Carolina Panthers, a total that would have led the Bills last year. Even Mike Love and Bryan Cox Jr., players who project as longshots for the active roster, probably are good enough to make several other NFL teams. Cox suffered a lower-body injury during the first practice of minicamp, the severity of which is not yet known. With that being the case, General Manager Brandon Beane should be active in looking for possible trades leading up to cutdown day. It's a similar story at defensive tackle. Phillips, a former third-round pick, is entering a make-or-break season as he heads into the final year of his rookie contract. If Zimmer beats him out, perhaps Phillips has some trade value.
Linebackers (5): Tremaine Edmunds, Matt Milano, A.J. Klein, Tyler Matakevich, Tyrell Adams.
Cuts (5): Andre Smith, Mike Bell, Tyrel Dodson, Joe Giles-Harris, Marquel Lee.
Analysis: Beane quietly added more depth to this position in the offseason. Adams, who was a tackling machine for the Texans last year with 125 stops, should be a capable short-term replacement if the team were to lose Edmunds or Milano for a short period of time. Matakevich and Smith are key members of the special teams, as is to be expected of any backup linebacker. With the depth at other positions, though, the Bills might only be able to afford to keep one of them on the active roster.
Cornerbacks (6): Tre'Davious White, Dane Jackson, Levi Wallace, Taron Johnson, Siran Neal, Rachad Wildgoose.
Cuts (3): Nick McCloud, Cam Lewis, Olaijah Griffin.
Analysis: Wildgoose, a sixth-round pick, has the positional flexibility to play inside or outside, which potentially makes him a valuable backup. The Bills have in the past gone into seasons a bit lighter at this position than others, so it's possible the team keeps six linebackers and five cornerbacks. The top five, with Neal playing an important role on special teams, appear to be set.
Safeties (4): Micah Hyde, Jordan Poyer, Jaquan Johnson, Damar Hamlin.
Cuts (2): Josh Thomas, Tariq Thompson.
Analysis: There is a lack of veteran depth here, although the Bills have confidence in Johnson as the third safety. Nevertheless, an injury to Hyde or Poyer would be problematic. Thomas should get a good look for the practice squad if he can't make the active roster.
Specialists (3): Reid Ferguson, Tyler Bass, Matt Haack.
Analysis: Nothing to see here. The Bills have, somewhat surprisingly, decided not to bring in any competition for Bass at kicker or Haack at punter, although that could change between now and training camp.