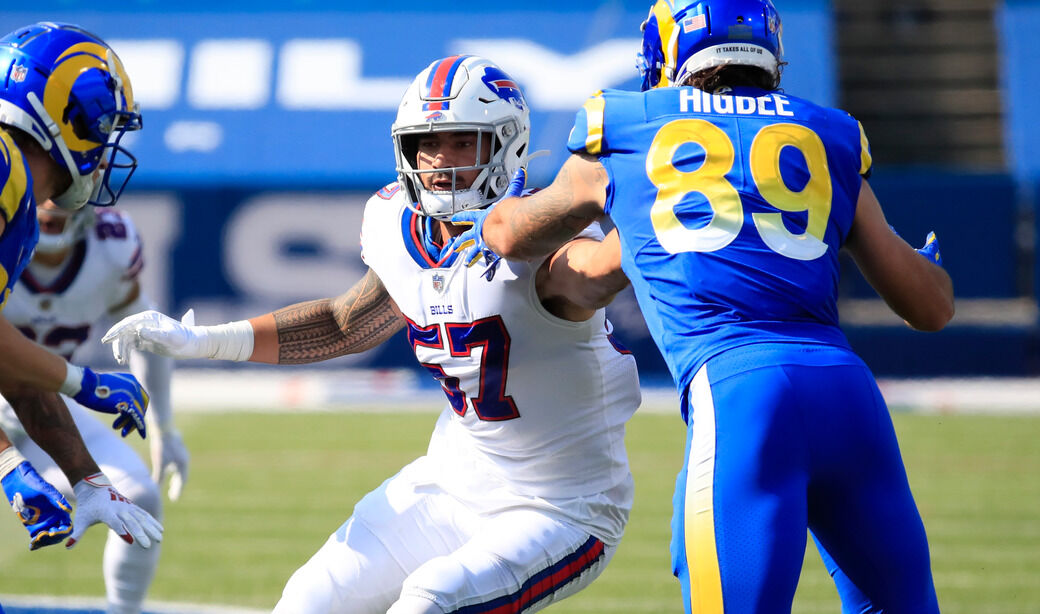 The definition of "breakout" player is subjective.
With the near 24/7 news coverage the NFL gets, it's difficult to find any player truly unknown to fans. There are, however, players who may be ready to assume a larger role than they've had in the past. In examining the Buffalo Bills' roster, The Buffalo News has identified the following five players as candidates to do just that:
Here's a cheat sheet for the Bills' roster entering the 2021 training camp.
It shouldn't be a huge surprise that the Bills' second-round draft pick in 2020 was a bit slow out of the gate. Epenesa's rookie season was severely impacted by the Covid-19 pandemic. Rookie minicamps and all of the NFL's spring practices were wiped out, meaning his first real experience didn't come until training camp. Even then, with no preseason games, it left very little time to prepare for what was to come.
Epenesa was a healthy inactive in Week 1 against the New York Jets last year, and he took a while to find himself. He ultimately played 27% of the defensive snaps as a rookie, although that playing time ticked upward as the season went on. Now, with veteran Trent Murphy gone and the Bills expected to give Mario Addison a reduced workload in an effort to increase his production, Epenesa's playing time should benefit.
Here are 50 thoughts on the upcoming season as the Buffalo Bills' roster readies to report for the first practice of training camp Wednesday.
"He's in great shape right now, he looks as good as I've seen him look and credit to him for being here, he's been here most of the offseason," Bills coach Sean McDermott said during the spring. "I think he went home for a little bit of time and spent some great time with his family. He's in a great spot now, he's in shape and he's on track to have himself ready to go for training camp. What I've seen to this point is very encouraging."
A seventh-round pick in 2020, Jackson appeared in five games as a rookie, making 15 tackles, one interception, five passes defensed and one fumble recovery. The path to playing time for Jackson entering training camp is simple: Beat out Levi Wallace for the starting job opposite Tre'Davious White.
Like Epenesa, Jackson came into his first training camp last summer without having spent any real amount of time around his new teammates. Defensive coordinator Leslie Frazier said Jackson was a shy rookie "who didn't say two words. You had to pull him up front just to get to know him a little bit."
Frazier, however, noticed a change in the spring.
"Now, he's out there high-fiving, talking with his teammates, laughing and joking," he said. "He's comfortable with his teammates and that should allow him to play free and enjoy the experience."
You could make the case Davis broke out as a rookie, when he finished with 35 catches for 599 yards and seven touchdowns, which were second most on the team. He finished third on the team behind All-Pros Stefon Diggs and Cole Beasley in catches and yards, and his 17.1 receiving yards per catch ranked first.
With his ability to play every receiving position, the opportunities will be there for Davis to match and exceed his impressive rookie numbers.
What about offensive balance? What about the supposed need to keep defenses guessing about how they'll be attacked? Bills offensive coordinator and play-caller Brian Daboll doesn't buy into that axiom.
Moss' rookie season was slowed by a toe injury that cost him three games early in the season, but by the end of the year, he was edging Devin Singletary in playing time. He had back-to-back strong showings against the Denver Broncos and New England Patriots to close the regular season (excluding a Week 17 game against Miami in which he got just three carries), but then suffered an ankle injury in the postseason opener against Indianapolis.
Similar to Jackson, the path to more playing time for Moss is simple: Beat out Singletary for the title of lead back.
Upgrading at tight end was thought to be an offseason priority after general manager Brandon Beane said his team didn't have a player at the position that other defenses had to game plan for. The only outside addition with meaningful NFL experience, however, is Hollister, a former college teammate of quarterback Josh Allen at Wyoming. Dawson Knox is the presumed starter entering his third season, but he has yet to solidify himself as the man at the position, which opens the door for Hollister to steal snaps.
"He's really been a good addition to the tight end room," offensive coordinator Brian Daboll said. "I would say he's an instinctive player in the pass game. … I think he's got insight. He's played a few years in a couple different systems. He's picked up our system really well. I think he's done a good job in terms of having some leadership in the room. There is some chemistry and continuity between Josh and him.