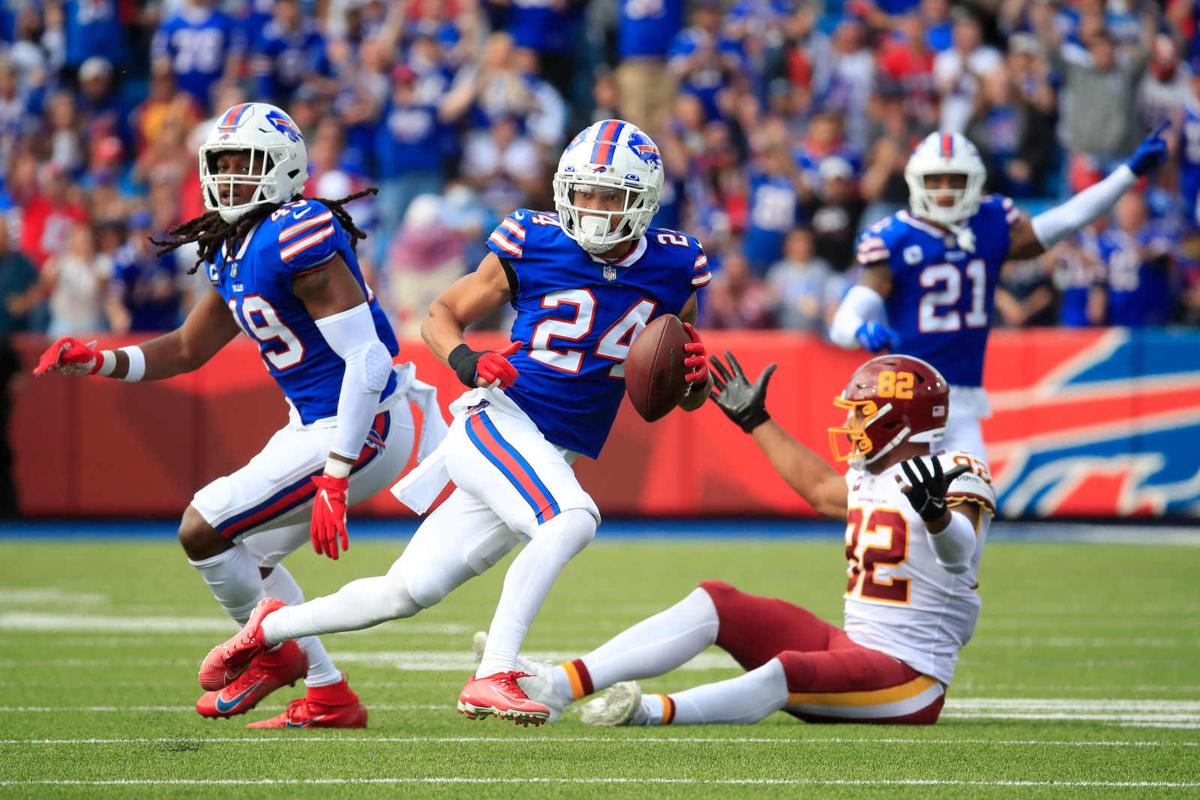 Safety Micah Hyde thought that nickel cornerback Taron Johnson was playing looser Sunday, and he had a guess as to why. 
"He got that bag!" Hyde said after the game. "He's playing free."
On Saturday, the Buffalo Bills signed Johnson to a three-year contract extension through 2024. The next night, Johnson recorded a career-high 12 tackles and had one passed defended in the Bills' 38-20 win at Kansas City. His teammates felt the extension both reflected what Johnson's already done this year, and freed up him to do more now.
"Yeah, so he's got no worries now," safety Jordan Poyer said after the game. "He comes to play every week. He prepares hard. He's really turned into a professional football player. Just like learning from his rookie year to now, he's a lot smarter. He's grown up a lot more. He just comes out there and he makes plays for us every single week, and we're lucky to have him on our team."
Johnson's five passes defended this season tie Hyde for most on the team, and his 27 total tackles are behind only linebacker Tremaine Edmunds. While grateful for the extension, he's ready to get back to the non-business side of football.
"It was a blessing," Johnson said Thursday, his first availability since the extension. "Honestly, I just really wanted to focus on the game and not be too much worried about me signing, because I understand that could be a distraction, so I just didn't want it to be a distraction."
A fourth-round pick in 2018, Johnson is the latest case of General Manager Brandon Beane extending Bills draft picks. Johnson said it had been in the works for a bit, with his priority of staying in Buffalo.
"We have been talking for a couple weeks, my agent and (Bills General Manager Brandon) Beane, and we just finally came around to the numbers that I saw fit," Johnson said. "And I wanted to be here, I love this place, so that was really it. I saw the numbers, and I said, 'Let's do it. Let's go for it.' "
The Bills expect it to pay off for the team as well. Defensive coordinator Leslie Frazier is confident using Johnson in a number of ways. Against Kansas City, Frazier felt Johnson met every goal.
"He had an outstanding game for us," Frazier said Monday. "There were times we matched him up on (Kansas City wide receiver Tyreek) Hill and he did a really good job of covering him man to man. He was good in zone coverage, and he tackled well also, so he had a really good game. And we asked a lot of Taron both in the run game as well as being in pass defense. And he's been able to rise to the challenge every week."
Johnson and the Bills defense certainly have another challenge coming up Monday. Titans running back Derrick Henry leads the league in rushing yards (640), carries (142) and rushing touchdowns (seven). Browns running back Nick Chubb has the next-most rushing yards at 523, so it's not exactly close.
Henry (6-foot-3, 247 pounds) is not the easiest to tackle, but Johnson has a pretty straightforward plan.
"Get him down. I mean, it's him or me," Johnson said. "It ain't gonna be me.
"So that's just how I feel, and that's how I feel with anybody I'm going against."
From there, it's just execution. Johnson knows he's smaller than most guys he faces, but he's been in the underdog role before. The Weber State grad said Thursday that entering the league, it was hard to see ahead this far. That has since changed.
When he signed the extension, Johnson felt a few emotions, but mostly was already looking ahead.
"Just glory to God, honestly," Johnson said. "I'm just thankful for this opportunity and just want to continue to put my best foot forward."
Bills linebacker Matt Milano (hamstring) practiced Thursday, but was limited. While coach Sean McDermott knows the bye week follows the Monday night game in Tennessee, the schedule isn't a huge factor in evaluating Milano's injury.
"I'm aware that that's there with the bye week, but I want to focus in on today and see where he is relative to today and this week," McDermott said.