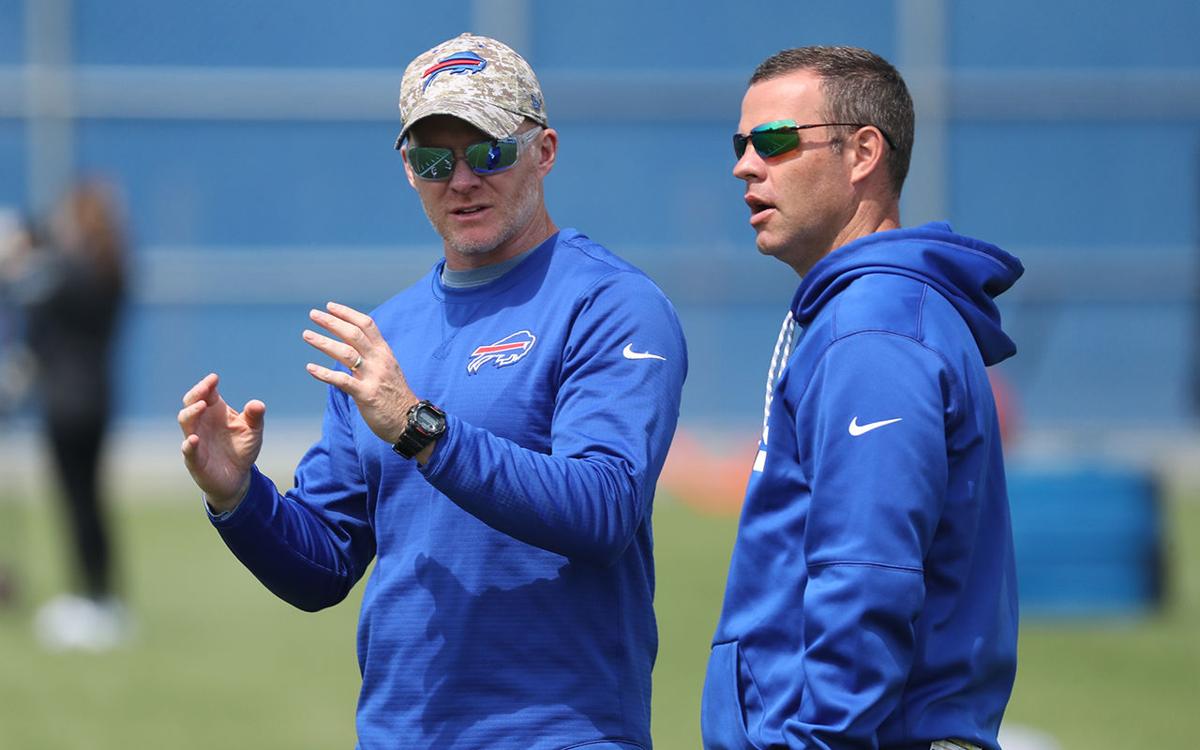 Sean McDermott says the primary thing he needed to do upon arrival as the Bills' head coach in 2017 was "get the right people on the bus."
"It's a people-driven business, like many things, and we wanted to build those key relationships," he said recently. "There were already good people in the building. We had to make sure we retained those people and then added to those people. I'm a big believer if you win off the field that it makes it easier to win on the field so we went head first into accomplishing that as well."
That involved a significant turnover of the roster – some through management's choices, some through players leaving in free agency.
As the Bills head to the playoffs for the third time in four years, defensive end Jerry Hughes and long snapper Reid Ferguson are the only players who remain from before McDermott and General Manager Brandon Beane arrived.
Beane's belief in building through the draft is evident in the 53-man roster and players on injured reserve. Of those who joined the Bills after the new regime arrived, 21 players are Bills' draft picks and five others were added as undrafted free agents out of college.
McDermott and Beane have stressed the importance of stability, with Beane noting that was a topic that was part of his interview with co-owners Terry and Kim Pegula.
McDermott is the longest-tenured Bills coach since Dick Jauron coached 57 games from 2006-09. Before that, you have to go back to Hall of Famer Marv Levy.
"You have to lay out a plan," Beane said after receiving a multi-year contract extension last month. "That's not to say you lay out a three-year plan and you're going to do every single thing and not change. You're going to have to make some hard decisions, and quite frankly, unpopular decisions. You have to make them, you have to live with them and get everybody on board.
"If they don't get on board, it doesn't make them bad people. It makes them bad fits. We've had to do that some along the way. … If you think it's the right thing, you have to stick with it long term. If you're going to do it and do it right, you have to be willing to go through bumpy times and take some criticism."
Or as McDermott puts it, "For any leader, the hardest part of the job is making what are perceived to be unpopular decisions and how lonely leadership at times is. … I always come back to if I'm prayed up and I've got the right mindset and that every decision that I make is in the best interest of our time, that when I get up to bat, I'm hopefully going to get a hit more than I strike out.
"It's like running a business. I don't own the business, but Terry and Kim have entrusted me with a huge responsibility to handle their investment the right way. I take a lot of pride in that and I take a lot of ownership in that. In those moments when you've made a big decision or things haven't gone your way and the crowd has gone home and you look back and say, 'Where did I go wrong? And what do I need to do to get things right?' "
Based on their success, McDermott and Beane have done plenty right.
Here is a look at how the current Bills' roster was rebuilt in the last four seasons:
S Dean Marlowe (practice squad signee, Panthers)
CB Tre'Davious White (first round, LSU)
LT Dion Dawkins (second round, Temple)
LB Matt Milano (fifth round, Boston College)
DE Trent Murphy (Washington)
DT Star Lotuleilei (Panthers, opted out for 2020)
QB Matt Barkley (Cardinals)
QB Josh Allen (first round, Wyoming)
LB Tremaine Edmunds (first round, Virginia Tech)
DT Harrison Phillips (third round, Stanford)
DB Taron Johnson (fourth round, Weber State)
DB Siran Neal (fifth round, Jacksonville State)
CB Levi Wallace (Alabama)
P Corey Bojorquez (Patriots)
WR Isaiah McKenzie (Broncos)
WR Cole Beasley (Cowboys)
G/C Jon Feliciano (Raiders)
OT Ty Nsekhe (Washington)
WR/KR Andre Roberts (Jets)
DT Ed Oliver (first round, Houston)
OL Cody Ford (second round, Oklahoma)
RB Devin Singletary (third round, Florida Atlantic)
TE Dawson Knox (third round, Ole Miss)
S Jaquan Johnson (sixth round, Miami)
DL Daryl Johnson Jr. (seventh round, North Carolina A&T)
TE Tommy Sweeney (seventh round, Boston College)
LB Tyrel Dodson (Texas A&M)
LB Del'Shawn Phillips (Illinois)
WR Stefon Diggs (Vikings)
DE Mario Addison (Panthers)
DT Vernon Butler (Panthers)
DE Quinton Jefferson (Seahawks)
LB Tyler Matakevitch (Steelers)
CB Josh Norman (Washington)
LB Andre Smith (practice squad signee, Panthers)
OT Daryl Williams (Panthers)
DT Justin Zimmer (practice squad signee, Browns)
DE A.J. Epenesa (second round, Iowa)
RB Zack Moss (third round, Utah)
WR Gabriel Davis (fourth round, Central Florida)
QB Jake Fromm (fifth round, Georgia)
WR Isaiah Hodgins (sixth round, Oregon State)
K Tyler Bass (sixth round, Georgia Southern)
TE Reggie Gilliam (Toledo)