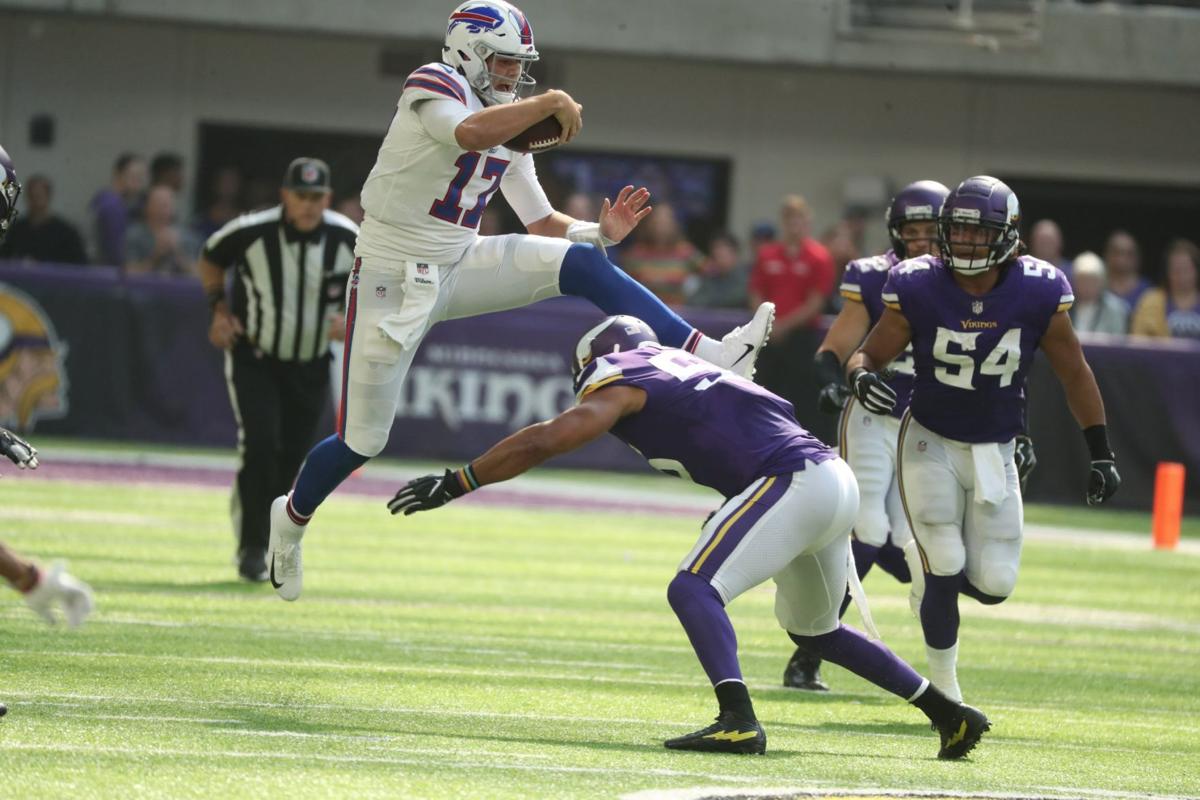 Josh Allen's nickname in high school wasn't exactly flattering.
His old baseball coach called him "Tortuga," based on his slow, plodding running style.
So how did the Buffalo Bills' quarterback go from being known by the Spanish word for turtle to shocking the NFL with his rushing ability?
The answer can be found in the training methods of Ryan Flaherty. Nike's senior director of performance, Flaherty started working with Allen last year, prepping him for the NFL Scouting Combine. The pair continued their working relationship after the Bills drafted Allen seventh overall, and the results have been extraordinary.
Allen set a single-season franchise record for rushing yards by a quarterback in 2018 with 631, topping the mark of 580 previously set by Tyrod Taylor in 2016. Allen also scored eight rushing touchdowns, tying the team record for quarterbacks previously set by Jack Kemp in 1963.
"I wasn't surprised by it," Flaherty told The Buffalo News this week of Allen's rushing. "He's a really good athlete – much better than I think people are aware of."
Flaherty might be the only person not to be surprised by Allen's rushing display as a rookie. The quarterback himself couldn't even believe it.
"Not at all," Allen said. "Things just kind of unfolded in front of me. We didn't really run a lot of quarterback-run plays. It was more scramble, get outside the pocket and try to make a play."
The ability to do that began to take shape when Allen started training with Flaherty. Originally, their goal was to improve the quarterback's 40-yard dash time, which Allen had only run a couple times in college and never had any formal training on how to prepare for it. Almost immediately, Allen's body transformed. He clocked 4.75 seconds at the 2018 combine – third best of any quarterback.
"I didn't really run a whole lot (at Wyoming)," he said. "I ran when we had to, third and short and things like that, but never had 'breakaway' speed, if you want to call it that. I still don't think I'm that fast."
The results say otherwise. Allen's 89 rushing attempts were fourth most among quarterbacks, and that's with missing four games because of an elbow injury. His 7.09 yards per carry led all quarterbacks with at least 25 rushing attempts.
"I knew if he ever got the chance to move and run and create – get some first downs with his legs – he could do that," Flaherty said. "I knew that was always in him, just based on us working together."
It's all in the mechanics
Flaherty has been around enough elite athletes to see that Allen had some special traits. Prior to his current position with Nike, he was the founder of Prolific Athletes, a San Diego, Calif.-based training center frequented by some of the world's best. Included on Flaherty's client list are tennis superstar Serena Williams, Seahawks quarterback Russell Wilson and Texans quarterback DeShaun Watson, to name just a few.
Currently, Flaherty works with 22 NFL quarterbacks, and in his career has worked with more than 100. He's noticed a trend lately of quarterbacks seeking him out to specifically work on their speed training.
"People don't think of quarterbacks as athletes who really train to get faster. The old thinking has always been, 'you don't need to run, you're a pocket passer,' but the game is changing," he said. "The old regime of quarterbacks I used to train, speed wasn't their main focus. It was just, 'how do I stay healthy?' That's still around, but these guys want to be able to move well."
To do that, Flaherty focuses on the mechanics of the running stride. Most quarterbacks Flaherty works with don't have a background in speed training, so his first lesson with them is to help them understand how to best apply force into the ground to push them forward.
"I would say it can be upwards of 70 percent of how fast someone is is based on their sprint mechanics," he said. "It's like a golf swing. If you come in and your mechanics are all off, obviously you're not going to be able to drive the ball 300 yards down the middle of the fairway, but anybody can develop the mechanics to do that. It's the mechanics of your swing that create the speed and power – the ball speed and clubhead speed.
"Sprinting is very similar. Just about every player in the NFL has enough athleticism to be fast, enough strength to be fast, but it really comes down to their mechanics. That's a skill you can learn. … It was awesome to be able to see Josh show that this past year because it's something he worked really, really hard on."
No two athletes run exactly the same, so Flaherty doesn't try to train robots. Instead, he takes what they already do well and tries to improve on it. In Allen's case, they focused on getting his heels higher at the top of his stride – away from the ground. Flaherty uses another analogy to explain why that's important. When a person throws a punch, the further their hand is from the target, the more power they're able to generate.
Sprinting follows the same concept. The higher a person's foot gets off the ground, the more force and power that's created. In turn, that produces a longer stride.
"When you look at the top sprinters in the world, like Usain Bolt, the reason he was so incredible was he had the ability to accelerate with all of the shorter guys, the quick guys, but his stride length was so long because his heel height got so much higher than everybody else because he was 6-foot-5," Flaherty said. "He took 42 steps to run a 100-meter dash, the next fastest guy in the world took 44, which is what made him so unbeatable."
Allen has an identical 6-5 frame. He just needed Flaherty to help him tap into that speed.
Allen won't have the luxury of sneaking up on opponents next season. Tapes of his rushing exploits have made their way to every team in the NFL, and defensive coordinators know now what he can do.
That means the focus for Flaherty and Allen – who will work together again in Southern California during this break leading up to training camp – is on using Allen's speed more selectively.
Flaherty doesn't want Allen instantly reacting to the rush and taking off. Instead, he wants him to follow more of the Wilson model. The Seahawks' quarterback excels at creating in the pocket, rolling out and then re-establishing his base to make a play down the field.
"That's Russell's secret sauce," Flaherty said. "It's his ability to create that space and still make a play downfield when everyone on the defense thought for sure he was running the ball. That's what Josh and I talk a lot about. Escaping that pressure, but then resetting and someone's going to come open. Those are the devastating plays. You can pick up 8 yards all day long with your legs, but the devastating play is when everything is covered, and then you break away and the defense breaks down and you can make a 40-yard pass downfield."
That kind of football is right up Allen's alley. He loves to get outside of the pocket and throw on the run. Scramble-drill rules can put stress on a defense when it has to cover receivers for an extended amount of time, and if defenders turn their back to Allen, he has shown an ability to find running lanes.
The first real glimpse of that ability came in Week 3 last year. His hurdle of Vikings linebacker Anthony Barr was one of the highlights of the NFL season. When he returned to the sideline after that, veteran defensive tackle Kyle Williams had a message for Allen: Don't ever do that again.
Williams knew then what the Bills' coaches know now – that Allen's health is more important to the team's success than the extra yard or two he might gain by failing to give up on a play. That's a lesson that's difficult for some to learn. Former Bills quarterback Ryan Fitzpatrick, for example, never stepped out of bounds.
It's hardwired into the DNA of most football players to not shy away from contact, but when it comes to a quarterback that's a requirement.
"The mindset I have to have is limit the hits as much as possible," Allen said. "Survive for another down."
When Allen returned from his elbow injury against Jacksonville in Week 12 against the Jaguars last year, he gained 99 yards on the ground – dropping below 100 because of a couple kneel downs at the end of the game. He took too many hits in that game, though, but showed almost immediate improvement in that area the following two weeks.
His 135 rushing yards in Week 13 against Miami set a franchise single-game record for a quarterback, and he followed that up with 101 yards against the Jets the following week. That made Allen the first NFL quarterback with consecutive 100-plus rushing yard games since Green Bay's Tobin Rote in 1951. Allen owns the Bills' four-highest single-game rushing totals by a quarterback, with 95 in the season finale against the Dolphins. Before Allen came along, Taylor's 79-yard game against Washington in 2015 was the franchise record.
"I mean, there's not many guys that did that in the league – ever," offensive coordinator Brian Daboll said. "It's something we'll never take away from him. He has to be smart with it – understand when to say when, but we have a lot of confidence in him."
It's fair to say Allen has shed the "Tortuga" nickname based on his first NFL season. Flaherty, though, happens to like it.
"It's funny, because my coaches when I was a kid used to say I was slower than a dead turtle," he said. "I kind of like the nickname, so I'm going to keep it around. I like being able to poke fun of these guys, keep them humble and remind them of where they came from."
Flaherty considers Allen to have the highest ceiling of any quarterback he's worked with in the last 10 years.
"He's got a major weapon in his legs, and then you think about another year in that offense, with the combination of that arm talent he has," he said. "Josh is on another level. Put his lower-body speed together with his arm talent and his mental approach to the game and his understanding of that offense. With those three things together, you've got somebody who I think is going to be an elite, tier-one quarterback."
Be the first to know
Get local news delivered to your inbox!