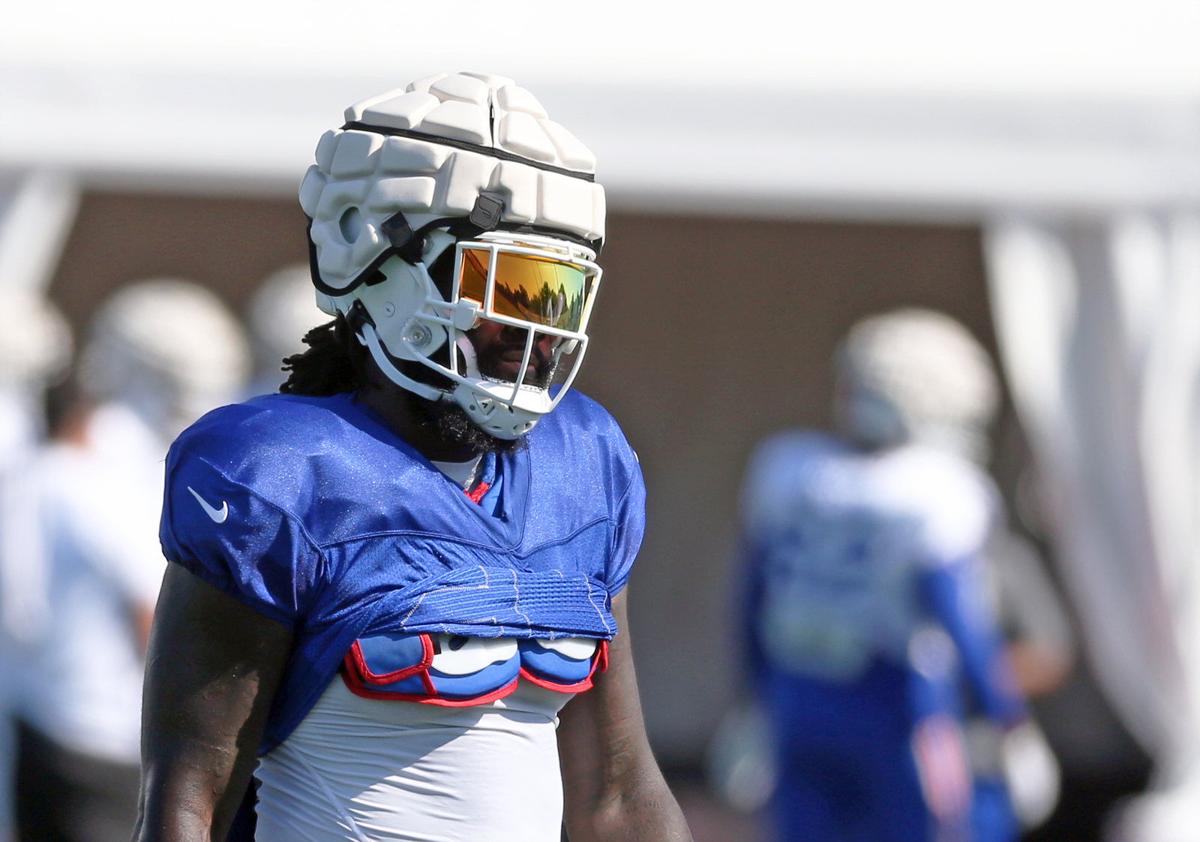 Mario Addison did his best to hide the pain.
The Buffalo Bills' defensive end tried to put on a brave face during his first season with a new team last year, but deep down, grief still crushed him.
Rodgers called journeyman Jake Kumerow the Packers' "second-best wide receiver in training camp last year." The high praise from Rodgers came at an interesting time for Kumerow, who is making a case for himself during training camp with the Bills.
A year prior, in October 2019, Addison's younger brother, Gjamal Antonio Rodriqcus, was shot and killed in Birmingham, Ala.
"It was heavy on me. It was really heavy," Addison admitted Tuesday after the Bills' sixth practice of training camp. " ... Just to be honest, my mind was on football, but it wasn't all football. I was letting it control me. I wanted it to fuel me, but it reversed on me. It kind of, like, had me down all the time. … A lot of people didn't know that it was heavy on me, but it was."
It didn't help matters that Addison's first season with his new team was greatly impacted by the Covid-19 protocols put in place by the NFL. Getting to know his new teammates away from the field was that much more difficult.
Here are top observations from Day 6 of training camp at the fields next to ADPRO Sports Training Center.
Addison even missed the weekly interactions with media members – a chore most NFL players greet with all the enthusiasm of a trip to the dentist.
"In all honesty, it feels good really to be in front of you guys. When we was doing everything virtual, it was different. It was so different," Addison said. "Even when I was doing meetings, I barely could hear you guys when y'all was talking. I know you guys probably couldn't hear what I was saying as well. To be back in front of everybody, you know, to be able to really just touch each other and do everything normal – it ain't all the way normal – but for what it's worth, man, I'm loving it."
The pain over his brother's loss hasn't totally disappeared and never will. Addison, though, said time has at least dulled it.
"You will never get over it. You just have to learn to live with it and that's what I'm doing now," he said. "I'm in a better mental state right now."
Coach Sean McDermott, whose relationship with Addison dates back to their days together with the Carolina Panthers, has taken notice.
The Bills were 20th in rushing last season, and now have to navigate what their 2021 run game will look like.
"He looks good," McDermott said. "When you're in a good spot – he's in shape, ready to go – it makes it all that much easier to help others. So lead yourself first and lead others second is what he's done to this point in camp."
Addison demonstrated that leadership earlier this spring. When the team doubled down at defensive end in the first two rounds of the draft by selecting Greg Rousseau and Boogie Basham, Addison was one of the first players on the roster to reach out to them.
Not every NFL veteran participating in his 11th training camp – as Addison is – would be so welcoming to a pair of rookies who one day may become his replacement.
"That's amazing," Addison said of his initial reaction when learning the Bills picked back-to-back defensive ends. "You know, I don't want to play 50 snaps a game. These guys, they can play as well. When you have young guys that can contribute the same way you do, that's what the team needs. I'm here to coach those guys up, play my role. Whatever my role is on this team, I'm going to play it to the best of my ability. When they drafted the young guys, I was happy for the team."
While Rousseau and Basham may be the future at the position, Addison is determined to be a part of the present. He's coming off a season with just five sacks – his fewest since he had six in 2015 with Carolina.
Last season, the Bills used eight different starters on the offensive line, which ranked as 19th most, made seven line changes (tied for 17th most) and went five straight weeks with the same five-man unit (tied for seventh longest).
Addison skipped organized team activities in the spring, but reported for mandatory minicamp in June. The Bills believe that with a reduced snap count, he can be a more effective pass rusher. Addison shares in that belief.
"I know they brought me in to pass rush and that's what I'm good at," he said. "But when you're worn down, you ain't going to have the energy. It takes energy to rush. If you don't have that energy, you can't rush as an elite pass rusher in this game. I've never seen a tired pass rusher go out there and kill it. It don't work like that."
That's where adding Rousseau and Basham to a rotation that already includes A.J. Epenesa, Addison and Jerry Hughes should be beneficial.
"If you can bring a guy in there that can do the things that you do, but will keep each other fresh, that's what you need," he said. "Those young guys got to show up the same way I do. Every morning they've got to brush their teeth, they've got to put their pads on. They've got to come out here and dominate a motivated man who's trying to feed their family. But if you don't do that, you won't be playing. … They've got to prove themselves. You know, I ain't just going to give it to you. I'm going to coach you up, you know what I'm saying? Point you in the right direction, but at the end of the day you've got to do it for yourself."