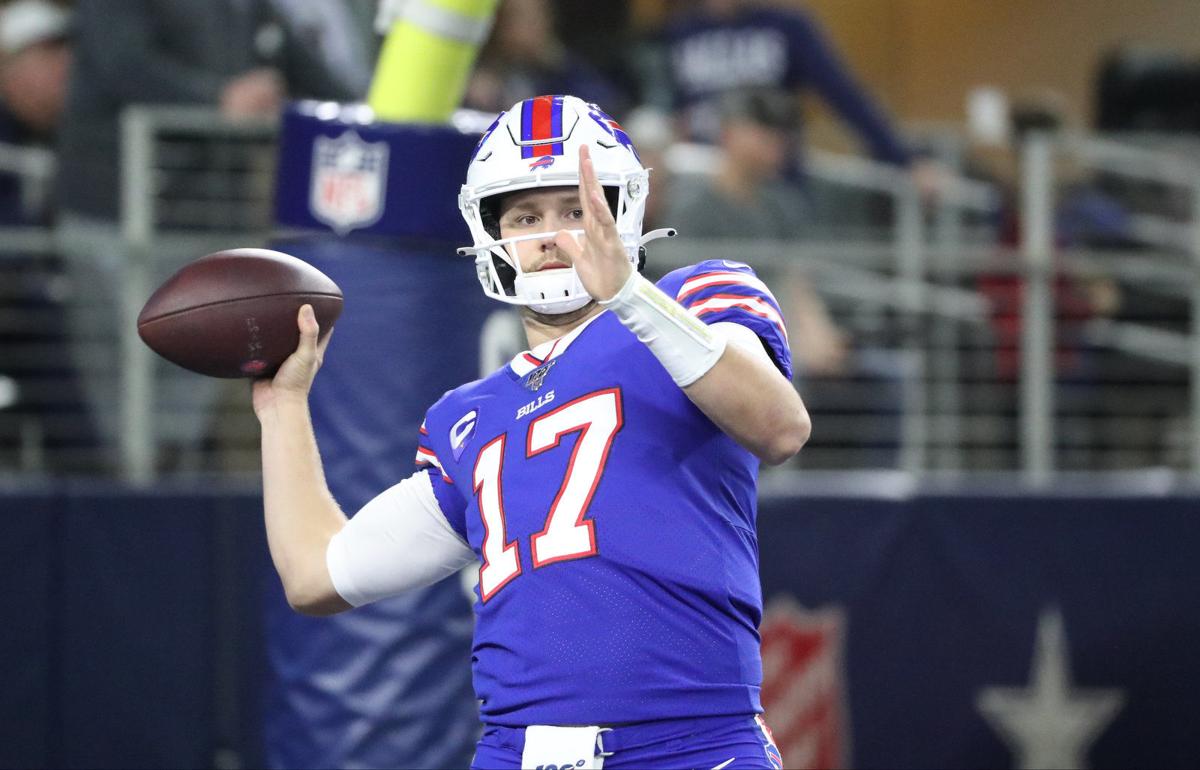 Jim Kubiak has been analyzing the play of the Buffalo Bills quarterbacks for BNBlitz.com. He is the all-time leading passer at Navy, has played in the NFL, NFL Europe and the Arena Football League, and has been a coach and executive in the AFL. He spent eight years as the radio analyst for the University at Buffalo and runs the Western New York Quarterback Academy to help develop the next generation of quarterbacks.
Quarterbacks are creatures of habit. We do the same things over and over, trying to cognitively improve our recognition time, trying to create reactions that are precise and automatic.
This is the nature and life of a quarterback: recognizing, calculating, being decisive and taking advantage of what the defense is giving.
All of that starts with preparation and repetition and like everyone else, NFL players are not experiencing anything like their usual routines because of the coronavirus pandemic. The uncertainty of not knowing when something will begin or end wreaks havoc on schedules, and, more importantly, on the psyche of the players' training routines. If players don't know when to be somewhere or how best to complete their preparation, it is immensely difficult to achieve their optimal level of performance.
Generally, heading into a season NFL teams plan Organized Team Activities (OTAs).  There is a detailed schedule of reporting, meeting and practice time. Repetitions are counted, film and evaluation takes place. Players learn new plays and concepts, and the goals for the upcoming season are set. The training routines of the past no longer apply.
Like all other sports leagues, the NFL has taken measures to combat the spread of Covid-19 such as modifying the NFL draft, closing team facilities, canceling OTAs and eliminating scheduled minicamps.  The next anticipated team activity is scheduled to be training camps, and they too are subject to adjustment.
During this period before OTAs, players are ramping up their physical training. Quarterbacks in particular are working on their bodies, building strength and quickness. Quarterbacks are throwing with teammates two to three times per week, developing their footwork and timing, and enhancing the consistency of  their techniques in preparation for the report date.
But what if there isn't a report date?
How does a professional quarterback like the Bills' Josh Allen prepare if he doesn't know what the timeline is? How can he prepare if he cannot utilize the same training methods that helped land him into the NFL?
The ultimate answer to these questions is this: train within the CDC guidelines and train as if reporting to training camp in July.
The to-do list
There are several areas that NFL quarterbacks such as Allen should be focusing on to develop themselves in the midst of the uncertainty. Begin with setting a goal to be ready by the next scheduled event. In the absence of a timeframe, create one. Set a course and a goal to be ready by a specific date, in this case training camp in July.
Separate the training into two distinct parts: mental and physical. Physical training must be achieved with safety and common sense in mind amidst the pandemic. General guidelines recommend weight training and physical conditioning four days a week in addition to at least two throwing days focusing on quick, rhythm, and play-action footwork. These throwing workouts should be filmed so that the quarterbacks can spend time in the film room making sure their mechanics are exactly where they need to be. Jordan Palmer, who works with Allen, recently said he has had his players throw only twice a week rather than four times a week as they would be to build up for OTAs.
Allen's focus must continue to be on passing efficiency, becoming a 62% completion percentage passer. He must also continue to refine his ability to throw with touch and trajectory.  This can only be accomplished through a "sagittal" philosophy, whereby he throws with a higher elbow and a shorter stride. Whether he is throwing into nets or to wide receivers, it is possible to improve technique, accuracy, footwork and ball handling with a disciplined regimen with or without active route runners.
Mental training should be Allen's primary focus and be performed five days per week.  This would include reviewing each throwing session and focusing on specific areas to improve cognitive recognition. An example of this would be defensive fronts and protection schemes. Marker boards, diagrams and film cuts of protections will make an enormous improvement to a quarterbacks' ability to think and operate in real situations on game day. Coverage recognition and how to specifically attack different techniques will go a long way to growing into a high-efficiency passer with a better than two-to-one touchdown-to-interception ratio.
Any quarterback's mental focus should be an area of massive importance at this peculiar time, and is primarily based on a player's ability to know, recognize and anticipate what is happening on the field. This means that every quarterback training for next season needs to memorize their playbook and every formation, motion, shift, protection, run play, pass play, play action and audible.
Creating a handwritten, working notebook from scratch is the best way to learn these processes, even with all of the electronic tools such as Hudl and NFL iPad playbooks. Having to repeatedly re-create the structures builds critical processes into your brain, and the evidence shows that the more times a player correctly executes on paper or on the marker board, the greater the chance he has of executing on the field.
The Diggs factor
Allen is returning into the best possible situation for any quarterback in the NFL. The Bills are returning virtually everyone from last season, including Offensive Coordinator Brian Daboll.  This means that he will not have to learn a new system or a new language following his strong sophomore season completing 58.8% of his passes for 3,089 yards and 20 passing touchdowns to nine interceptions. He returns with Daboll and with one goal: to improve on his performances from a year ago.
The Bills and Allen will not be adversely affected by the Covid-19 restrictions to the extent of their competition because of this continuity. They will be building and moving forward offensively while other teams in the league will be playing catch-up just trying to get their base plays in. Every offensive player returning for the Bills should be better than last season, especially among an offensive line that returns everyone after having four new starters last year. And not having to learn a new system, particularly in the midst of what appears to be a shortened preseason, is a huge advantage for the Bills.
The biggest addition to the Bills' offense is wide receiver Stefon Diggs, acquired in a trade with the Minnesota Vikings. Diggs and Allen have been in frequent contact, and even played Call of Duty together. Their hope was to get together at some point to start working on routes and timing. While the amount of reps he gets with Allen before training camp is important, but not more important than their health.
Honestly, I do not believe that it matters if Diggs and Allen meet each other before training camp. I am that confident in Daboll as a teacher and manager. No matter what the circumstances are or when the Bills report, Allen and Diggs will be prepared and they will be a force. You can count on that.