Matt Milano understands the value of a sure thing.
When it was his turn to pick an item from his position group's "Dirty Santa" gift exchange, the Buffalo Bills linebacker chose the Canon G3X camera opened by a teammate rather than one of the wrapped presents that remained.
"I didn't know what else was over there," Milano said this week, "so I just stuck with what I knew I was going to get. You pick wrong, you don't know. It might be something you might not like."
The Bills hit the jackpot when they selected Milano out of Boston College with a fifth-round pick in 2017. The former safety turned weakside linebacker earned a starting job by the end of his rookie year and in four seasons has established himself as a dynamic contributor in Buffalo's defensive scheme, developing into a fast, powerful and intelligent player capable of stopping the run, clogging passing lanes and pressuring the quarterback into mistakes. But it's been difficult, at times, to bank on his availability.
Milano has missed 11 games because of injuries, including at least one each year, with maladies ranging from a series of hamstring issues to a fractured fibula to a strained pectoral muscle that contributed to him sitting out six games this season. He's ramped up his production and snap count since returning from injured reserve in December, and his play will factor heavily into whether the Bills advance to the AFC Championship Game for the first time since the 1993 season or fall to Lamar Jackson and the Baltimore Ravens in the divisional round of the playoffs on Saturday night in Orchard Park.
"When you're a rookie it's a little overwhelming all the different things that go on in the professional game," Bills linebackers coach Bob Babich said, "from the season, how long it is, to how fast the game's played, to how physical the game's played, and to see (Milano) grow from that rookie year till now, in my mind, he's one of the best linebackers in the NFL.
"He fits what we ask our linebackers to do and he has just grown immensely."
Milano, however, knows each game with the Bills could be his last.
The 6-foot, 223-pound linebacker is in the final year of his rookie contract and scheduled to become an unrestricted free agent this offseason. And his injury history, the emergence of A.J. Klein – who is under contract for two more seasons and earned AFC Defensive Player of the Week honors after posting 14 tackles and 1½ sacks against the Los Angeles Chargers in Week 12 – along with Buffalo's tight salary cap situation make it easier to envision Milano out of the picture.
The analytics website Pro Football Focus, which ranks Milano as the 42nd-best free agent available this offseason, nevertheless projects the Bills will find a way to re-sign him to a four-year, $45 million contract with $15 million guaranteed.
Milano's teammates would consider his return a welcome development.
"Matt, he's a special player, man," safety Jordan Poyer said. "He's very instinctive. He's physical. He's downhill. He makes a lot of plays for us. And so when you've got a guy like him not in the lineup, I'm not saying there's a dropoff or anything, but it's not Matt Milano."
"I think the biggest thing with Matt is his preparation," linebacker Tremaine Edmunds said. "That's the key for a lot of successful players in this league, is how they prepare. Matt does a good job of taking care of his body. Unfortunately, he's dealt with some injuries, but that has nothing to do with his preparation. He's always here, always doing stuff to put him in the best position to be successful on game days, so whatever that may be, as far as watching film or if he's in the training room, making sure he's taking care of his body. He just does things the right way."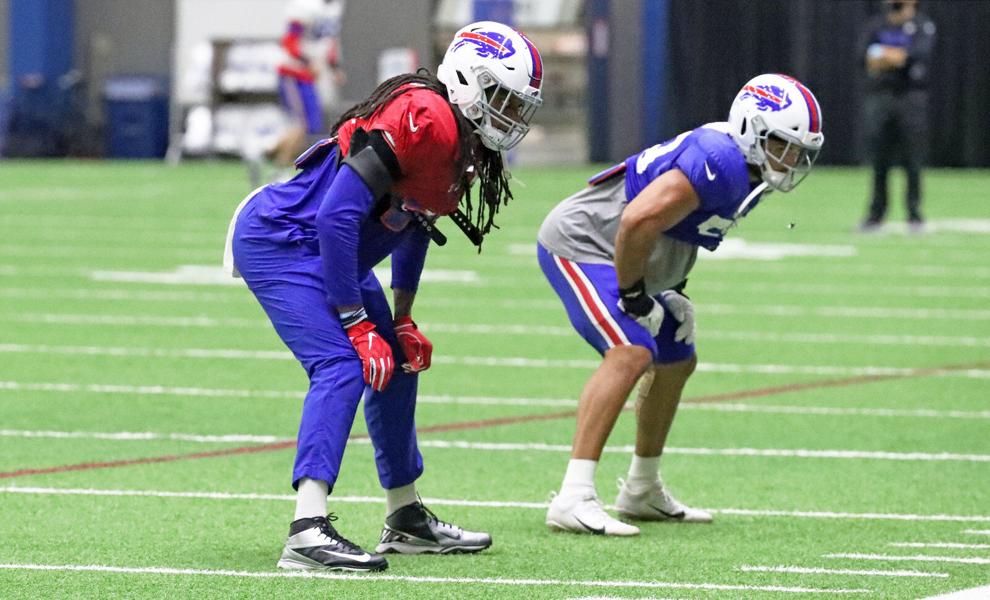 Milano said the contract situation neither added pressure nor extra incentive this season.
"I'm not really worried about it," Milano said. "Whatever happens, happens. I know what I can do when I'm healthy and I think everybody else does as well."
Less than 30 minutes into this season, Milano was injured again, forced from a victory against the New York Jets with another strained hamstring.
It was at least his fourth hamstring injury in four seasons, and fifth counting the one that sapped his speed and agility at the 2017 NFL Scouting Combine.
"A lot of guys I would say nutrition is a big reason why they get dinged up," said trainer Bert Whigham, who has worked with Milano every offseason since before he entered the league. "You really do have to put fuel in your body, not food. It's got to serve a purpose. But Matt does everything right, and I don't just say that to hype him up. He really does. He puts the best stuff in his body, he's doing physical therapy and yoga and Pilates and everything that you would want a starting linebacker, a starting player in the NFL to do. A leader to do.
"Matt's taking collagen peptides and turmeric and fish oils and vitamin D because the sun's not up there in Buffalo. He's eating clean and he's doing the right things, because he wants to play this game for a long time and at a high level, like he's doing. But sometimes you can't control it. Injuries happen and then you want to play through stuff as a competitor. And sometimes that'll set you back, too."
Milano missed the second half of the opener against the Jets and Week 2, then started Week 3 against the Los Angeles Rams and Week 4 against the Las Vegas Raiders, when he was injured again, partially tearing his left pectoral muscle while attempting to tackle running back Josh Jacobs.
Milano missed the next two games and played sparingly in two more before being placed on injured reserve.
"That's when it can get a little weird," Milano said, "because when you're not really with the team and you're kind of off to the side, doing your own thing, that's when you can kind of fall out of the loop and not believe in yourself anymore. Once that starts to creep into your mind, it's no good from there."
Milano missed three more games before being activated. But he had a training partner in fellow linebacker Tyrel Dodson, who was on IR with a hamstring injury and happened to purchase the camera Milano selected in the gift exchange. (Dodson received an iPad purchased by Milano.)
"Mentally he helped me a lot throughout that process," Dodson said. "And I think mentally I helped him a lot, too. Me and him were always side to side running and talking and stuff and we tried to keep our spirits high. It's kind of hard to keep your spirits high when you're not on the field with your brothers. But I think Matt and I did a good job of that and just staying in the film, too.
"I've never been injured like that in my life, so it was something new for me and I'm glad I had Matt Milano beside me to help me get through that."
The Bills began to ease Milano back into the lineup in December, then leaned on him hard in last week's wild-card victory against the Colts, when he played 99% of the defensive snaps and finished with a team-high 11 tackles and a pass breakup. (Klein played three defensive snaps.)
The performance made Milano, who had 12 tackles in last year's playoff loss at Houston, the fourth Bills player since 1974 with double-digit tackles in consecutive playoff games and the first since Cornelius Bennett did so in three consecutive playoff games from 1994 to '96.
Milano missed the Bills' 2018 wild-card loss at Jacksonville with a hamstring injury.
"I honestly don't have an opinion, as a coach, whether a guy could be injury prone or not," Babich said. "What you do is you drive to get the players that are there ready to play the next game. So when Matt was gone, as coaches, what we want is for the player to get healthy so he can come back and play at his highest level …
"It was awesome to get him back. I think that A.J. Klein played excellent while Matt was out, but I think that Matt takes us to another level."
ESPN analyst and former Bills safety Matt Bowen said Milano's film this season rates among the top "stack" linebackers in the NFL, and that he'll play a critical role in slowing Baltimore's top-ranked rushing offense, which has transitioned from a zone technique last season into more of a power attack.
"And with those power schemes they use so much misdirection," Bowen said. "What they're trying to do there is create content for the linebackers. Grab their eyes. Mess with their run keys. And if you take a false step against Lamar Jackson, you can't recover."
Mental processing speed translates into game speed, an area where Milano excels, and the Bills are relying on him and Edmunds to avoid misalignments and breakdowns in gap control.
Their experience playing together for three seasons provides an invaluable edge.
"We've played beside each other from day one," Edmunds said, "so we've just been growing more comfortable with each other, (we're) able to talk about anything and just communicate with one another. He pretty much knows what I'm thinking and I know what he's thinking and we play off of one another."
"He might shoot the gap and I might be over the top, or he might be over the top and I'm shooting the gap," Milano said, "so it's been pretty cool to form that relationship. Tremaine's a freak athlete. Just being out there with him, he brings so much energy to the team, and we're just continuing to grow with each other. He only came in a year behind me, so we're basically coming up together in this league trying to be the best linebacker duo in the NFL."
Bills defensive coordinator Leslie Frazier said Edmunds and Milano are "extremely important" this week.
"They're both very athletic guys with a lot of range and have the ability to tackle in space," Frazier said. "It's what you have to be able to do against Lamar. It's hard. He can make anybody miss in space. You saw the 48-yard run in the Titans game. He's a terrific player. But to have athletes like Tremaine and Matt on the field gives you some comfort."
Gap control is an area where Buffalo has struggled this season, leading to explosive running plays like in the fourth quarter of last weekend's victory against the Colts.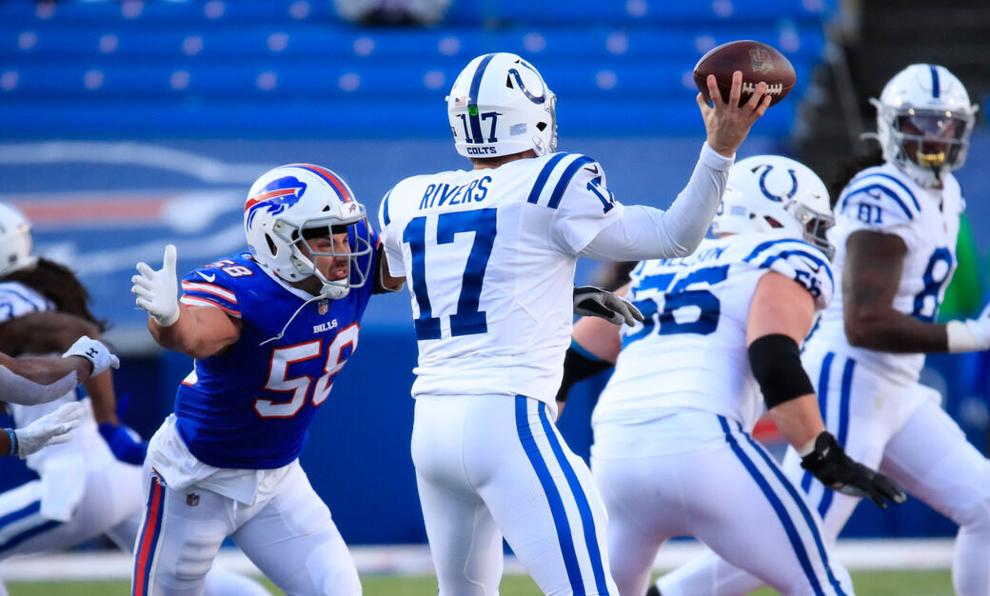 Milano has missed all three of Buffalo's losses this season, including against the Kansas City Chiefs and Arizona Cardinals, the only teams to rush for more than 200 yards against the Bills defense.
"The ability to play fast with your eyes, you see that consistently with Milano," Bowen said. "The toughness at the point of attack, you see it consistently on film. He does a really good job of reading his keys and I use the term 'running clear lines to the football.' That means he takes proper angles to either cut off the ball on the edge or create force on the ball inside."
Milano also routinely uses his arms and hands to defeat blockers and puts himself in position to make tackles. He plays with excellent strength and his experience playing safety in high school and early in his college career fits the Bills' zone-heavy defensive scheme, which makes linebackers critical in pass coverage.
The Bills are also blitzing more this season – their 35.8% blitz rate ranked eighth in the NFL, up from 31.1% last season – and Milano plays a key role in terms of his ability to hold his disguise, find open rush lanes and defeat one on ones, like when a running back slides into protection.
This helps explain why Milano, despite playing in only 10 games and starting five during the regular season, set career highs with 3½ sacks and nine quarterback hits.
"He has big playmaking ability, and I always say that is a priority," Babich said. "All linebackers make tackles. But Matt has the ability to make big plays, and he's instinctive. He's become much more physical, so to me, he has the whole package, everything that we're looking for. In space, he's an outstanding linebacker. He can cover anybody. He can play zone coverage in space. He can break on the ball. He has good hands.
"Matt is the ultimate pro. He is straight ball. Probably to a point where it interferes with any social life that he may have. But he is a pro. So when it comes to studying, when it comes to taking care of his body, when it comes to rehab when there's an injury, he does everything absolutely right. I have zero questions about his professionalism when it comes to those things. Zero. He's the consummate pro."
Milano's parents, who usually attend every game but couldn't this season because of the pandemic, haven't seen their son in person since he stayed at the family's home in Orlando during virtual offseason workouts.
They were at the Week 2 victory at Miami, which Milano  missed.
"It's been a crazy year," his father, Mike, said. "We're looking forward to another 'W' Saturday and for them to move on. That would be awesome. But you take it one day at a time, one play at a time, and hopefully it would be awesome to be able to see him (playing in the Super Bowl) in Tampa."