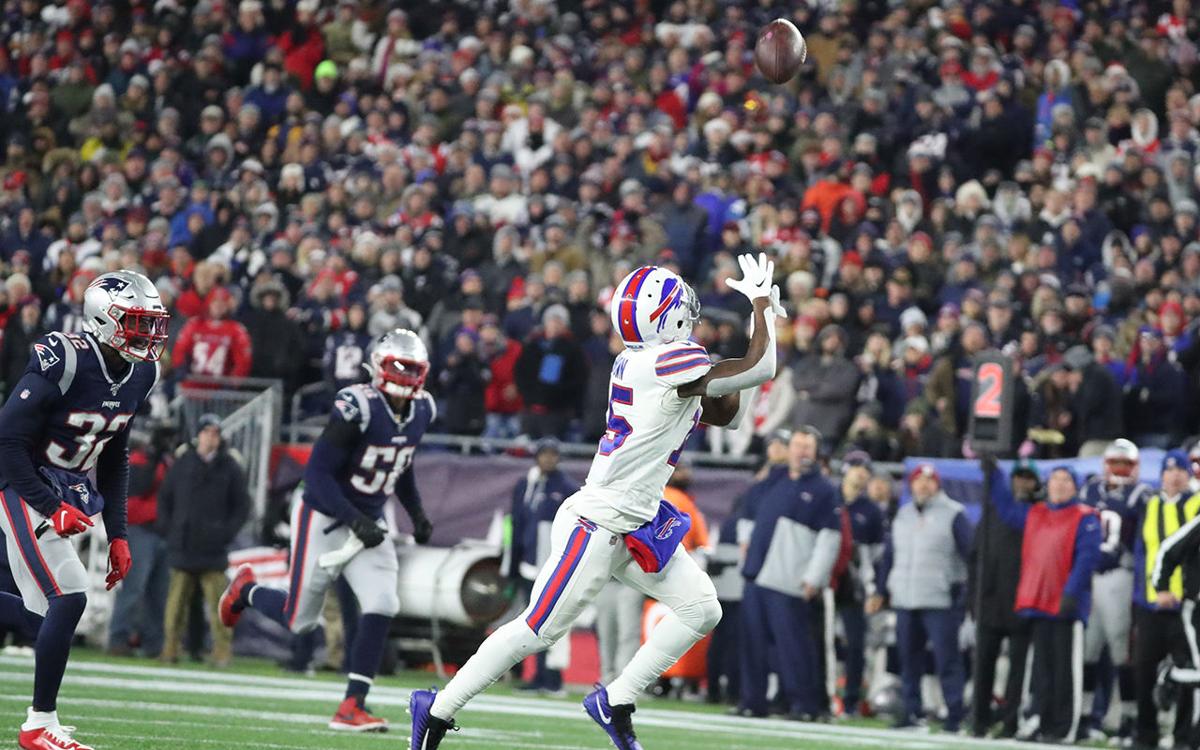 Buffalo Bills fans don't need any more evidence to realize the team's offense needed more explosiveness in 2019.
The Bills had the 29th-fastest offense in the league, according to the NFL's Next Gen Stats ranking of the average top speed of all of Buffalo's ball carriers during the season.
The fastest two offenses were the two Super Bowl teams: San Francisco at No. 1 and Kansas City at No. 2.
It shows that the Bills need to create more space on offense and get the ball to players more often in the open field. Players who get the ball in space – whether it's a deep ball, or a slant pass to a receiver or an accurate throw to a running back in the flat – tend to move faster.
The NFL's Next Gen Stats program uses chips in players' shoulder pads to capture real time location data, speed and acceleration for every player, every play, on every inch of the field.
A player doesn't need to be a track star to make a fast play, although it doesn't hurt. Quarterback Josh Allen logged the fastest speed of any ball-carrier in the wild-card playoff loss at Houston. He got up to 20.02 mph on the 42-yard quarterback sweep on the opening drive of the game.
Robert Foster caught only three passes all season, but he hit the top speed of any Bills player, 21.4 mph, in the Week 12 win over Denver. Foster caught a pass 1-yard past the line of scrimmage on a crossing route in the third quarter. He turned up field for a 24-yard gain down the right sideline. He was the 17th-fastest ball carrier of the season in the league, according to Next Gen Stats data.
Foster is fast. He ran the 40-yard dash in 4.41 seconds. John Brown is the Bills' fastest receiver, with a 40 time of 4.34 seconds. Brown hit 20.43 mph on his 53-yard TD catch at New England in Week 16.
One problem for the Bills last season was that Brown was the team's only downfield threat and the only dangerous outside receiving threat.
Furthermore, Allen wasn't effective at throwing downfield with accuracy.
In general, opposing defenses did not have to respect the Bills' deep ball and were able to press forward and force the Bills to incremental advances.
"Too many of our drives were having to be nine, 10, 11 plays," Bills General Manager Brandon Beane said recently on the NFL Network. "You want to control the ball, but you also want an easy score once in a while."
"Fastest" NFL teams 2019

Average top speed of all ball carriers

Rk

Team

Avg Max Speed

1
San Francisco
13.38
2
Kansas City
13.35
3
L.A. Rams
13.31
4
Minnesota
13.31
5
Baltimore
13.30
Bottom 5: 32. N.Y. Jets. 31. Tampa Bay. 30. Chicago. 29. Buffalo. 28. New England.

Source: NFL Next Gen Stats
Enter Stefon Diggs. The trade acquisition from the Minnesota Vikings has 4.46 speed, and his eight catches of 40 or more yards last year tied for the NFL lead.
Diggs averaged 17.3 yards per catch last season, fourth best in the NFL among starting wideouts. His top speed on a catch last season was 21.19 mph on a 66-yard TD against Detroit in Week 7.
It stands to reason that Diggs will increase the number of Bills speed plays with his ability to get open both underneath and deep – presuming Allen can connect on long balls. Diggs was eighth in the NFL in yards after the catch in 2018 and 23rd last season, according to Pro Football Focus.
Just as importantly, there should be more room underneath for other weapons.
The Bills ranked 28th last season in catches by running backs. Devin Singletary had 29 catches, which tied for 37th among NFL running backs.
More space underneath and more catches by Singletary should be another way for the Bills to get their ball carrier "speed score" up.
San Francisco led the league in average speed by ball carriers thanks to a precision offense with an accurate quarterback in Jimmy Garoppolo. Receiver Deebo Samuel was fifth in the NFL in yards after the catch. Running back Matt Breida, a 4.38 speedster, reached the fastest speed on a single play, 22.3 mph. Kansas City has perhaps the best skill-position talent in the league, led by quarterback Patrick Mahomes and receiver Tyreek Hill, who has 4.29 speed.
The New York Jets ranked last in the league in average top speed by ball carriers.
Bills' fastest ball carriers 2019
Top plays based on maximum speed
Rk
Player
mph
Opp
Play
1
Robert Foster
21.40
Den
24-yd pass
2
Robert Foster
20.76
Den
22-yd run
3
Isaiah McKenzie
20.70
NE
46-yd pass
3
Tre White
20.70
@Pit
49-yd INT
5
Micah Hyde
20.48
Mia
45-yd KO return
6
John Brown
20.43
@NE
53-yd TD pass
7
Isaiah McKenzie
20.33
Was
9-yd pass
8
Andre Roberts
20.27
NE
31-yd KO return
9
John Brown
20.25
@NYJ
28-yd pass
9
Isaiah McKenzie
20.25
Cin
8-yd run

Source: NFL Next Gen Stats