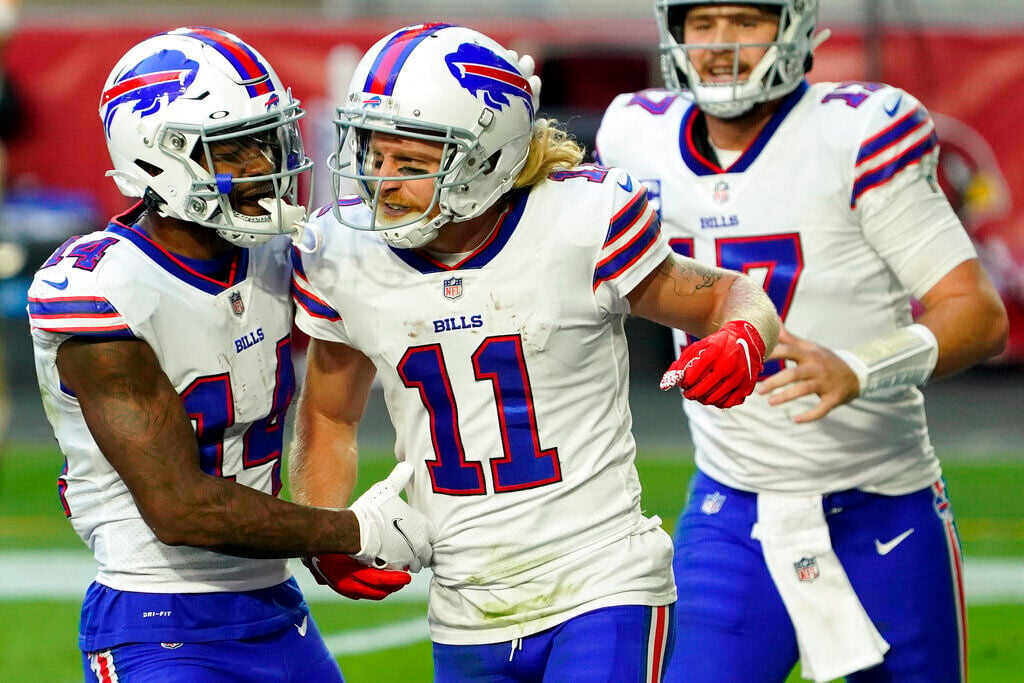 The way Brandon Beane saw it, his first-round pick was Stefon Diggs.
The Buffalo Bills' general manager could turn his 22nd overall selection in the 2020 NFL draft into a proven wide receiver with supernova potential. All he had to give up was fourth-, fifth- and sixth-round picks. He could add a bona fide No. 1 target to young quarterback Josh Allen's arsenal, just as the third-year pro was expected to enter his prime. And the Minnesota Vikings would toss in a seventh-round pick to grease the skids.
"If you give up a low first-round pick to get arguably a candidate for Offensive Player of the Year and an All-Pro, that's the right thing to do," Hall of Fame former Bills General Manager Bill Polian said this week as the Bills prepared to play the Kansas City Chiefs on Sunday in the AFC championship game at Arrowhead Stadium. "I've said it again and again and again, Brandon is the Executive of the Year. Sean (McDermott) is the Coach of the Year, in my opinion. They did a phenomenal job."
Beane was, in fact, named Executive of the Year by the Pro Football Writers of America and The Sporting News on Thursday after building a roster that won a franchise-record 13 games and scored a franchise-record 501 points – the most in the conference – during the regular season on the way to winning the AFC East for the first time in 25 years. Allen set single-season franchise records in a host of categories, including most passing yards (4,544), passing touchdowns (37), total touchdowns (46), completion percentage (69.2) and quarterback rating (107.2). He was named to his first Pro Bowl. Diggs led the NFL with 127 catches and 1,535 receiving yards. He scored a team-high eight touchdowns and was named a first-team All-Pro.
The trade, for Buffalo, couldn't have worked out much better. But while Beane's decision to acquire Diggs has proved a master stroke, it was also part of a larger portrait and in step with the GM's broader philosophy to surround Allen with established veteran wide receivers. The acquisitions, though, also were a bit of a departure for Beane, who has been steadfast about building through the draft, as evident throughout the roster. 
Both rookie wide receiver Gabriel Davis (ankle) and defensive tackle Vernon Butler (quad) were able to practice on a limited basis ahead of Sunday's AFC championship game.
"Not only do we have Stef, we've got John Brown and Cole Beasley and a couple of other guys that are just athletic freaks and can do different things that not many people can in this league," Allen said. "I trust our guys to go out there and do their job and they've constantly been performing. And the thing is, if you take a safety and double Stef and you're leaving another guy one-on-one or leaving the other side of the field pretty empty, it helps when you've got a bunch of guys that can go out there and make plays consistently."
Adding Diggs to the mix with Brown and Beasley, who signed with the Bills as free agents in 2019, created perhaps the most fearsome trio of receivers in the NFL.
Rookie fourth-round pick Gabriel Davis, afforded more playing time than anticipated with Brown missing half the season with injuries, has flourished.
And as a group, they reveal that when it came to building a wide receiving corps, Beane favored demonstrated ability and consistency at the NFL level, rather than using high draft picks on talented rookies and banking on potential.
"That's one of the worst things you can do to a young quarterback," Rich Gannon, the former Oakland Raiders quarterback and 2002 NFL MVP, said about saddling a signal caller with inexperienced and inconsistent receivers. "He's trying to figure out the speed of the game. He's trying to figure out coverages and concepts and protections and the last thing he needs to worry about is whether the guy's going to get the 12 yards instead of running the out cut at 10 or nine.
"The last thing he needs to worry about is whether the guy versus press man is going to make the adjustment in the route at the line of scrimmage and run the fade as opposed to the hook route. Those are things that can really get you in trouble."
Don't miss Mark Gaughan's four matchups to watch when the Buffalo Bills visit the Kansas City Chiefs Sunday in the AFC championship game.
Countless interceptions, Gannon explained, are not the result of a poor throw, but poor communication between a quarterback and receiver who aren't on the same page and lack proper anticipation.
Beane said as much back in April, only weeks into the Covid-19 pandemic and facing an uncertain offseason, explaining his rationale for leveraging four draft picks to acquire Diggs.
"It's just a more proven thing right now," Beane said. "I know this guy knows ball, will be able to understand the verbiage once he learns our system quicker than (a draft pick). A lot of the stuff in college is all signaled in. A lot of these guys aren't in huddles. So, the biggest transition for these receivers, beyond the routes, the physical stuff, is just hearing these long play calls in the huddle and processing it in their head, from as little as, 'Do I go left? Do I go right? Am I on the ball? Am I off the ball? Now I've got to start reading what coverage they're in to know what route I've got to do, whether I've got to convert.'
"All those things, the mental part is so hard. And that's why I think so many receivers, we talk about it all the time, probably one of the higher bust rates across the league. I think it's more mental than physical."
Thirteen receivers were selected in the first or second round of the 2020 NFL draft.
Justin Jefferson, drafted by the Vikings with the 22nd pick acquired from the Bills and the fifth receiver taken overall, was outstanding. He led NFL rookies with 88 catches and his 1,400 yards were fourth in the league. His seven touchdowns ranked second among newcomers.
Dallas' CeeDee Lamb, the 17th overall pick, ranked second among rookies with 74 catches and 935 yards.
Pittsburgh's Chase Claypool, the 49th overall pick in the second round, led all rookies with nine TD catches.
"But none of them were ready to duplicate what Stefon Diggs did for the Buffalo Bills," said Hall of Fame wide receiver James Lofton, the sixth overall pick in 1978, "and so if you wanted that immediate impact, you went out on a limb and you acquire veterans."
Diggs, Brown and Beasley each possess a wealth of highly-valued physical attributes, including speed, strength and agility, as well as intangibles such as soft hands and an advanced understanding of situational football.
Among the most important? Their route running is impeccable.
"Great pro scouting on their part," Polian said about the Bills. "That's how you build championship teams, is using draft choices on premier players like they did on Josh and (Ed) Oliver and others. But you build your championship depth through pro scouting. That's what they've done. They've done it exactly the right way and the results show."
Gannon offered a brief assessment of Buffalo's top three wide receivers.
"They're all different," Gannon said.
2020 season: Diggs, 27, led the league and set career highs with 127 catches and 1,535 yards, led the team with eight touchdowns and was named first-team All-Pro. He has a league-leading 14 catches for 234 yards and two touchdowns this postseason.
Signed: Five-year, $72 million deal in 2018. Under contract through 2023.
Gannon: "You look at the skillset and the attributes that he brings, the ability to create separation, the straight-line speed, the route-running ability, the hands, the playmaking ability, the yards after catch, his ability to win at the line of scrimmage. He's got the entire package. His ability to go up and high point the ball. His ability to toe tap the boundary in the back of the end zone. He's got great body control. That's really where you start, with a guy like that. Just one of the elite receivers in the league today."
2020 season: Beasley, 31, set career highs with 82 catches and 967 receiving yards in 15 games this season. He also caught four touchdowns. He was named second-team All-Pro.
Signed: Four-year, $29 million deal in 2019. He is under contract through 2022.
Gannon: "Cole Beasley, he's the Bills' version of what they've had in New England over the years, like Julian Edelman and Wes Welker and those guys. He's a guy that understands how to play inside. He understands leverage. He understands the type of coverage, whether it's man or zone, how to find the holes, how to get skinny. He's got very good hands, good concentration. He's tough as nails for a smaller guy, and you can tell the quarterback's got a real comfort level with him on third-down situations and those type things."
Don't miss Vic Carucci's five takes on the Buffalo Bills' AFC championship game Sunday at 6:40 p.m. against the Kansas City Chiefs at Arrowhead Stadium.
2020 season: Brown, 30, was hampered by injuries throughout the regular season and finished with 33 catches, 458 yards and three touchdowns while starting eight of nine games. He returned for the regular season finale and entered the playoffs healthy.
Signed: Three-year, $27 million deal in 2019. He is under contract through 2021.
Gannon: "John Brown, when he's healthy, he's another guy that can take the top off the defense. He's got rare and unusual straight-line speed (4.3-second 40 time at the 2014 Combine). He's not a guy that's going to be great necessarily working in the middle of the field because of his size. But he can run the deep routes, the post routes, the go routes, the deep corners, the angle outs, and that creates some concern from a defensive coordinator perspective, in terms of a double move, an explosive play, a quarterback that can chuck the ball 60 yards. It keeps you honest."
Brown's injury woes created opportunities for Davis, the rookie fourth-round pick, to earn significant playing time this season.
Davis (6-2, 216) caught 35 passes for 599 yards and seven touchdowns, second on the team. He started 11 of 16 games.
"So they've kind of got the best of both worlds right now" in terms of youth and experience, said former Bills wide receiver Stevie Johnson, a seventh-round pick in 2008 who developed into a perennial 1,000-yard receiver.
Johnson said it took until his third year in the league before he truly felt comfortable on the field and performing near his peak ability. He had three consecutive 1,000-yard seasons with Buffalo from 2010-12.
Diggs, Brown and Beasley, like Johnson and likely Davis, were draft gems who needed time to develop.
Diggs was a fifth-round pick out of Maryland by the Minnesota Vikings in 2015. He first surpassed 100 catches and 1,000 yards in his fourth pro season.
Brown was a third-round pick out of Division II Pittsburg State by the Arizona Cardinals in 2014. He played for the Baltimore Ravens in 2018. When he signed with the Bills in 2019, they were his third team in as many years.
Beasley was undrafted out of SMU in 2012. He made the Dallas Cowboys as a rookie but didn't become a regular starter until his first season with the Bills, his eighth in the NFL.
"The thing that makes them so effective is the off-the-field things that happened to them," Johnson said. "And it's the adversity that they've been through with the teams previous to joining the Buffalo Bills. That's why they're so good right now, because they understand what they've been through and they know what they have now. That's what makes them so dynamic."
The Bills had been unable to draft and develop productive wide receivers for years before the "McBeane" regime. And those selections who went on to find success did so with other teams.
Robert Woods, a second-round pick by Doug Whaley in 2013, didn't produce his first 1,000-yard season until his sixth year in the league, his second with the Los Angeles Rams.
Marquise Goodwin, a third-round pick that same year, had more catches in his first season with the San Francisco 49ers than he did in four years in Buffalo combined.
Sammy Watkins, selected fourth overall in the first round in 2014, has been sidetracked by injuries throughout his career and is with his third franchise, along for the ride with the Chiefs, though he did have 1,047 receiving yards and nine touchdowns in his second year with the Bills. 
Watkins is fifth on the Chiefs in catches (37), receiving yards (421) and touchdown receptions (2) this season.
"I'm sure there are always exceptions to the rule," Gannon said, "but you look at the guy in New England. How often does he use a first-round pick on a receiver?"
Bill Belichick has drafted one receiver in the first round in his two decades with the Patriots, selecting N'Keal Harry out of Arizona State with the 32nd overall pick in 2019. Harry has 45 catches for 414 yards and four touchdowns over two seasons.
The Patriots' previous first-round wide receiver was Terry Glenn, the seventh overall pick in 1996. He made the Pro Bowl once and played for three franchises over 12 seasons.
"You need the hands and the speed and the strength to be able to separate," Gannon said, "but you can really teach a guy at that level to become a better route-runner. You can teach a guy to really work on creating separation, using his hands at the line of scrimmage. Coaching can make a world of difference at that position. I'd prefer that route as opposed to trying to spend first-round picks on these receivers and then they don't work out."
Beane has not drafted a receiver in the first three rounds in his tenure with the Bills.
McDermott selected Zay Jones out of East Carolina with the 37th overall pick in the second round in 2017, two weeks before Beane was hired.
Jones, who had seven receiving touchdowns in his second season with the Bills, managed 14 catches for 154 yards and a touchdown this season with the Raiders.
"Buffalo has approached it correctly," Lofton said, "because you never know what you're going to get exactly in the draft with rookie receivers and how they're going to respond. Are you going to have a rookie receiver who comes in and he gets a hamstring pull in training camp and then pulls his hamstring again in the third week of the season just because he's not used to the pace of play and the pace of practice at the NFL level?"
The approach is far from foolproof.
Beane struck out on the first veteran wide receiver he brought into the fold.
Kelvin Benjamin, acquired in a trade with the Panthers in October 2017, was purged from the roster before the end of Allen's rookie season in 2018.
The Bills' top four wide receivers by production that year – Jones (56 catches, 652 yards), undrafted rookie Robert Foster (27, 541), Benjamin (23, 354) and Isaiah McKenzie (18, 179), a fifth-round pick claimed off waivers from the Denver Broncos – combined for 124 catches and 1,726 receiving yards.
That's three fewer catches and 187 more receiving yards than Diggs had this season.
McKenzie remains one of the few offensive holdovers from that team. He set career highs with 30 catches, 282 receiving yards and five touchdown catches this season.
"For Josh Allen coming out of Wyoming, I don't think anybody's really talking about the guys he had to throw to there. But he made them better," Lofton said. "And if you look at Cole Beasley and John Brown, he's made them better. You look at what Stefon Diggs did when he was at Minnesota, he had some pretty good years, but he's played better with Josh Allen than he ever had with anyone else before.
"So in a way you can say Josh Allen has been the straw that stirs the drink for the Buffalo Bills."
The wide receivers Beane acquired for his quarterback offer an elite blend of ingredients.