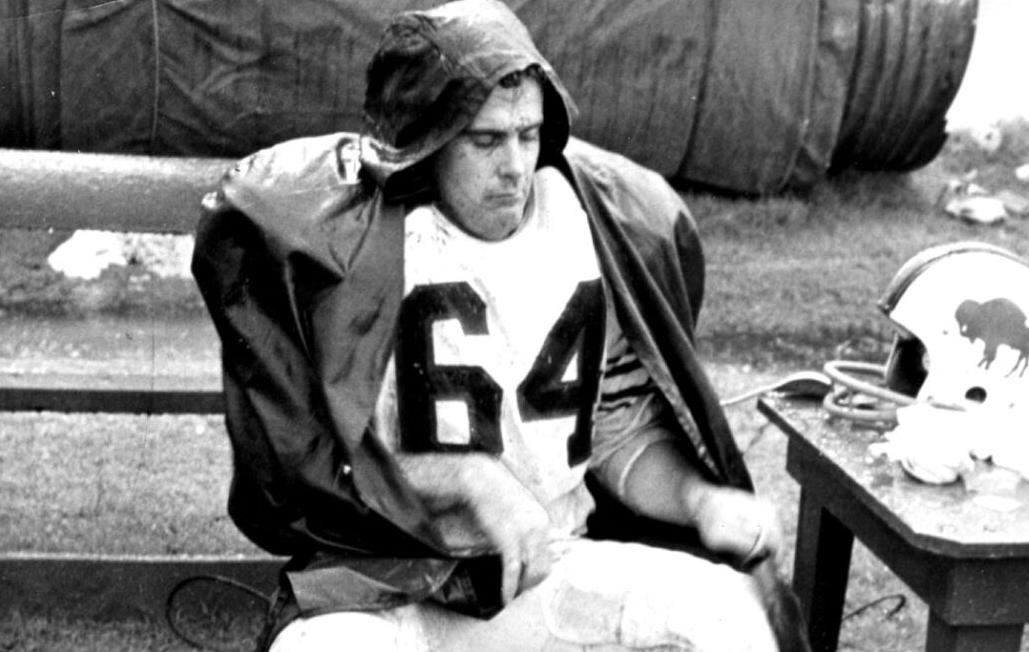 Feb. 4, 1937 – Dec. 17, 2021
The competitiveness, intelligence and leadership of Harry Jacobs set the tone for the great Buffalo Bills defenses of their American Football League glory days.
"He was such a competitor," recalled Ed Rutkowski, the former Bill and great friend of Jacobs. "I recall there were times we'd go in on offense and it'd be three and out, three and out, three and out. And the next time we'd come off the field as the defense was going in, Harry would be yelling at us, 'Don't worry you, guys. If you can't score on offense, we'll score on defense.' "
Jacobs, who helped the Bills win AFL championships in 1964 and '65, died Friday at age 84 in Hamburg after a lengthy health battle.
Jacobs was the quarterback of Bills' defenses. The AFL built its popularity on wide-open passing offenses. The Bills' biggest strength was a talent-laden, punishing defense. Buffalo allowed the fewest points in the league in 1964, '65 and '66. The Bills went 17 straight games without allowing a rushing touchdown, from the middle of the '64 season through the eighth game of '65. That still is the longest such streak in pro football since 1933.
The Bills' great linebacking corps of Jacobs, Mike Stratton and John Tracey started 67 consecutive games together from '63 to '67.
At 6-foot-1 and 226 pounds, Jacobs was a tad undersized for his position but made up for it with intelligence and tenacity. His nickname in the '60s was "The Baby-Faced Assassin."
"Joe Collier and Harry Jacobs got together during the week, and they decided what the strategy was going to be," Stratton recalled in an interview with The News in 2000, referring to the Bills' defensive coordinator. "I don't recall any of our defenses when Harry was the middle linebacker being called from the sideline. All of them were called from the plan they had made out ahead of time. Harry was really the one responsible for making the calls. He had a great understanding of the offense we were facing."
The crowning achievement for the Bills' defense was its 23-0 victory over the San Diego Chargers in the 1965 championship game. The Chargers were the highest-scoring team in the AFL, led by Hall of Fame head coach Sid Gilman and Hall of Fame wide receiver Lance Alworth.
Jacobs grew up in suburban Peoria, Ill., and graduated from Bradley University with a degree in mechanical engineering. He was an 11th-round draft choice of the NFL Detroit Lions in 1959, which is the equivalent of a fourth-rounder today. Jacobs played defensive end and tackle in college. He was a taxi-squad member of the Lions and St. Louis Cardinals in 1959.
But Jacobs had played for coach Lou Saban in a Chicago college all-star game and in 1960 joined Saban, who was coach of the Boston Patriots. Saban moved him to middle linebacker.
Despite only three days of preparation at the position, Jacobs started for Boston in the AFL's inaugural regular-season game, on Sept. 9, 1960, against the Denver Broncos.
Saban became Bills' head coach in 1962. A few days before Bills training camp in 1963, he traded for Jacobs, giving Boston cash in return.
Jacobs went on to play 91 games for the Bills and 134 total games in his 11-year career. He made the AFL all-star team in 1965 and 1969. Jacobs is one of what was known as "the 19 Originals," a group of 19 who played all 10 AFL seasons. (Bills' Jack Kemp and Paul Maguire also were among the 19.)
"Our two AFL championship teams had a couple of Rodney Dangerfield guys, who didn't get the respect they deserved," wrote Bills trainer Ed Abromoski in his book, "Tale of the Tape."  "One was Booker Edgerson. The other guy like that was Harry Jacobs, who was so steady and reliable. We never saw him in the training room. He just played every week."
Jacobs, Rutkowski and Kemp were known for sitting in the front row of the team airplane after games and talking business and politics. Upon his retirement in 1971, Jacobs went onto a business career based in Hamburg that arguably was just as successful as his athletic exploits.
He sold insurance and became a consultant, coaching businesses and doing estate and retirement planning. His company became the Jacobs Team in the early 1990s.
Along the way, he was a member of the Small Business Administration National Advisory Council, a vice chairman of the Greater Buffalo Chamber of Commerce and on the board of directors of Hilbert College. When Rutkowski was county executive, he named Jacobs to a leadership position on the Erie County Industrial Development Agency. In the mid-1980s, Gov. Mario Cuomo awarded him New York State Small Business Advocate of the Year. He was inducted to the Greater Buffalo Sports Hall of Fame in 2012.
"If he wasn't given or offered the leadership role, he took it," said Jacobs' son, David. "He wasn't one to really follow. . . . He would come up with these great ideas and things to do, and then hand it off to somebody else to do it. He was a creator, and he definitely was an encourager. Those are two descriptors of his leadership style."
Jacobs and his wife, Kay, were married for 63 years, and faith was a huge part of their lives. Jacobs was an active member of the Fellowship of Christian Athletes and a longtime member at Revive Wesleyan Church of Hamburg.
"He was what they would call the 'High Five guy' for all the kids coming into Sunday school," David Jacobs said. "He'd stand there even when he was 75 and give all the kids high fives going into class. That was a cool thing."
Jacobs had to retire from his business in 2008 due to the onset of Alzheimer's disease and to complications from chronic traumatic encephalopathy, the brain disease linked to repeated blows to the head from his playing days. Jacobs was the lead plaintiff in a 2011 suit that claimed the NFL committed fraud and conspiracy in handling head trauma cases. The NFL settled suits against it in January 2017.
"It was brutal," David Jacobs said of his father's health struggles the past dozen years.
"We were all around his bedside (Friday), and he had not opened his eyes for three days," David said. "We knew he was going. Within the last two minutes, my mom told him she loved him, and he opened his eyes for a minute and stared at her and essentially said goodbye and closed his eyes and took his last breath. It showed the strength of the man he is."
In addition to his wife and David, he is survived by children Lori and Mark, along with eight grandchildren and four great grandchildren. Funeral arrangements were incomplete.