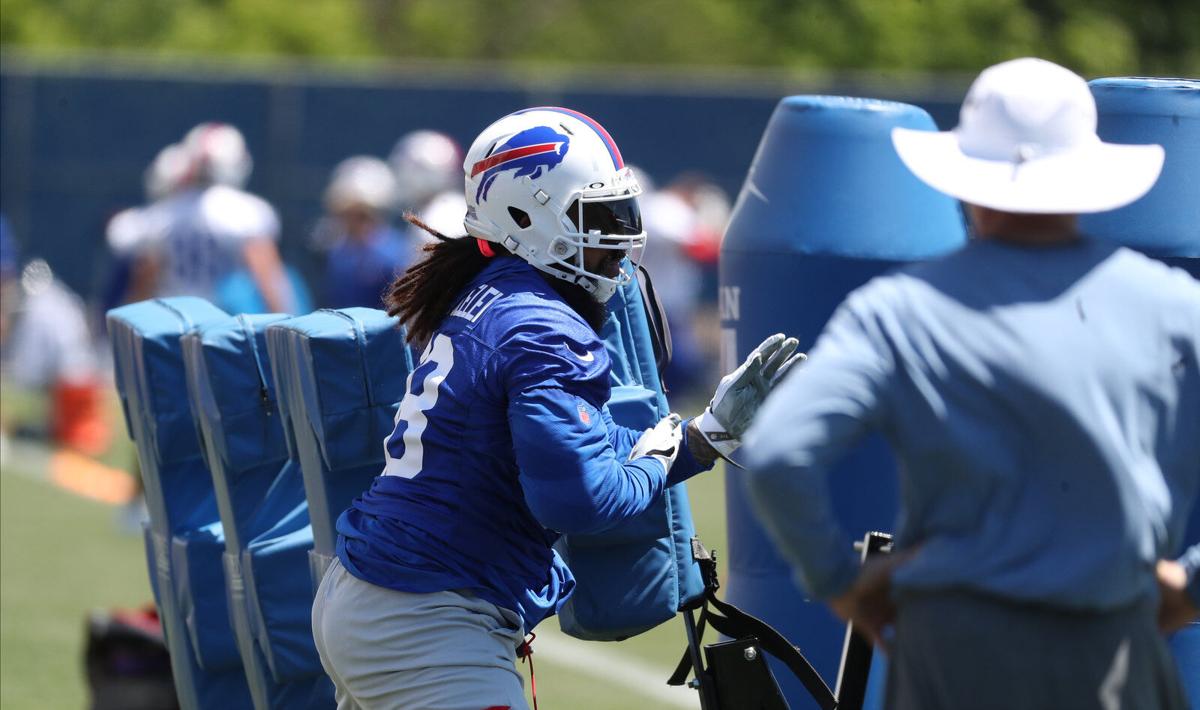 Star Lotulelei was downright chipper Tuesday.
Both by the nature of his position and his personality, the veteran Buffalo Bills' defensive tackle usually keeps a low profile.
It is expected that Lotulelei's return should help improve the Bills' run defense, which was 26th in the NFL in yards per rush allowed (4.62) in the 2020 regular season.
Lotulelei, though, was in high demand after the team's first practice of a mandatory, three-day minicamp.
"You guys just don't talk to me a whole lot," Lotulelei said on a video conference call. "I think this is like the first time you guys actually get to see who I am. It's just good to be back. It was good to be out there running around with the guys."
Monday's session with the media was Lotulelei's first in more than a year. It came after he opted out of the 2020 season due to the Covid-19 pandemic. Lotulelei also chose not to attend any of the Bills' voluntary organized team activities, so there was a great interest in what he had to say about a variety of topics.
The Bills return all but one starter from a team that finished one victory short of the Super Bowl and an offense that shattered numerous franchise records.
Naturally, the first question dealt with that decision to opt out.
"With all the uncertainty that was going around at that time, not knowing exactly what was going to happen and what protocols were going to be, I felt like the best decision for myself and my wife and my kids was what I decided to do," he said. "When I had made my decision, the team was supportive. They just expected me to be a pro, to keep myself in shape and be ready when time came. That's exactly what I did."
Lotulelei admitted that watching his team last year from back home in Utah was not easy. In fact, he didn't even watch every game.
"It was tough, especially because of the kind of camaraderie and how close we are as a group, as players, as a team," he said. "It was tough to see the guys out there and me not being able to have any impact on the game and help my guys out, but like I said, I was happy for the outcome that they had last year. Looking forward to this season."
Lotulelei's contact with his teammates when he was away last year consisted mostly of text messages. He did not take part in any official capacity, like participating in team meetings.
Mark Gaughan shares his observations from the Bills' minicamp practice Tuesday at the team's training complex in Orchard Park.
"Pretty much everything I had was just texting the guys and encouraging them throughout the season," he said. "There were some tough stretches throughout the season. Just talking to some of the guys and just trying to get a feel for where their heads were at and seeing if I can help in any way."
Lotulelei said he's currently between 300 and 305 pounds, not far off his playing weight of 307 to 310 pounds. He generally goes into the season on the lighter side because he gains weight as the year goes on. His condition shows that he's been putting in some serious time in the gym, even if he has been away. Lotulelei took about a month off after opting out, but has been lifting and running to stay in shape ever since – at the urging of his wife.
"She was getting sick of me," Lotulelei said. "That's when I found out that maybe my wife isn't ready for me to call it yet. I was ready to come back as soon as I saw that."
Lotulelei, 31, spent his year away from football being a husband and enjoying time with his four kids, getting to watch them play sports for the first time since he entered the NFL as a first-round draft pick of the Carolina Panthers in 2013. Lotulelei, though, never entertained the idea of making his one-year sabbatical a permanent retirement. That was mentioned as a possibility by Bills fans on social media, but Lotulelei was direct in saying that he'll be back in 2021.
"I knew when I was watching the team, and when I watched last season that I wasn't done," he said.
"Noise is noise," Singletary said. "I don't pay attention to it. There's always going to be noise if you do good, if you do bad. That's just what it is."
That means the Bills will have a big part of their defense back. Coach Sean McDermott prioritized bringing Lotulelei in after his first season with Buffalo, knowing what the veteran defensive tackle meant to his defenses in Carolina, where McDermott served as the Panthers' defensive coordinator from 2011-16.
"Overall, size, there's a leadership component he brings to our team – more by example than verbally," McDermott said. "The early-down ability to give us a point of attack up front is what I remember the most."
McDermott, though, knows that it's a long road back after more than a year away from the game.
"There's definitely been a gap in terms of his playing of late, just in terms of him being here," the coach said. "So there's going to be some catching up to do. It is good to have him here and participate. I'm sure his teammates feel the same way. And so he can help us, we all know that. It's just he's going to have to continue to put the work in to get himself back, acclimated, comfortable, if you will, and ready to go."
Lotulelei returns to a roster that has added even more familiar faces. Bills defensive line coach Eric Washington, who joined the team last season, served as Lotulelei's defensive line coach with the Panthers. Additionally, the Bills added former Panthers defensive linemen Mario Addison, Vernon Butler Jr. and Efe Obada over the past two years – all of whom played with Lotulelei.
"A lot of comfort knowing him, him knowing me, knowing I can trust him," Lotulelei said of Washington. "I don't think there's a more perfect guy that I could have to get me reacclimated back into the system, back into the football schedule and things like that. I'm happy. I couldn't ask for anybody better."