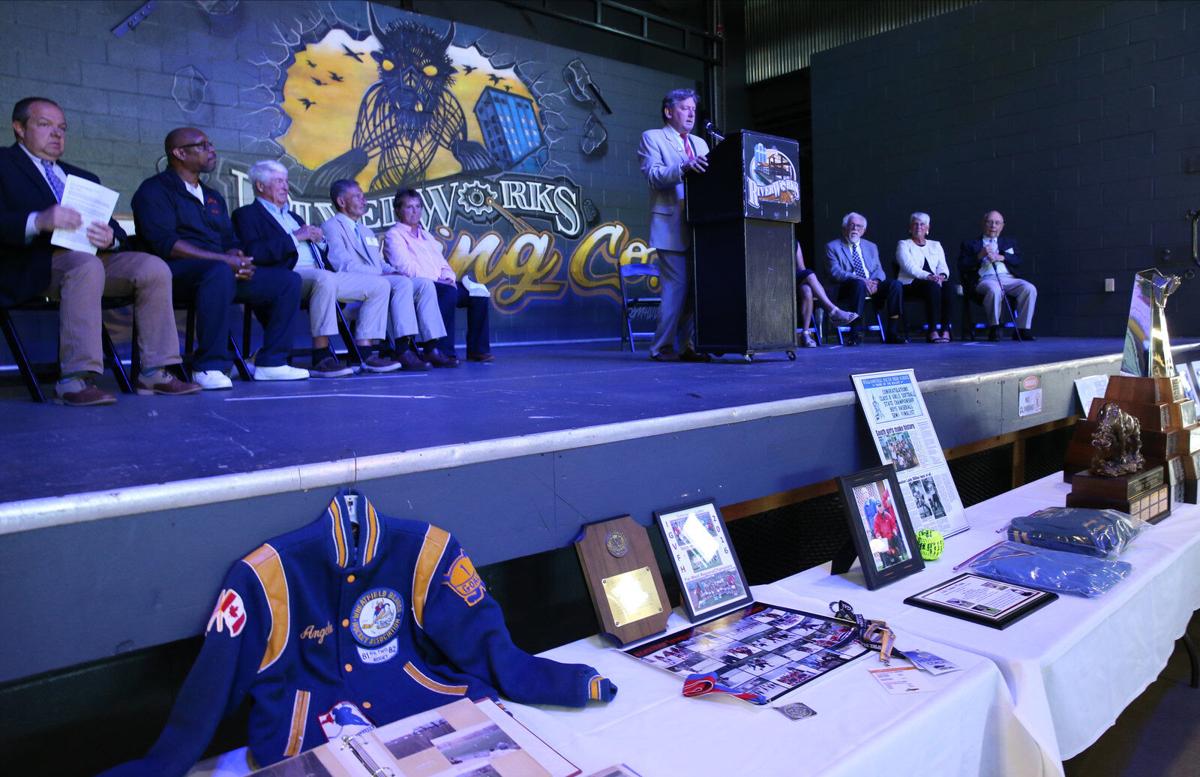 During an energetic afternoon inside Buffalo RiverWorks, Mike Robitaille paused to take inventory of this year's class of inductees into the Greater Buffalo Sports Hall of Fame.
Robitaille, a former Buffalo Sabres defenseman, is easily the most identifiable name among the group. But he's part of a class that is well-known in local sports, particularly at the high school and college levels.
The GBSHOF introduced this year's class Wednesday afternoon at RiverWorks. Among the group of 12 individuals and one team are a local pioneer in women's sports from Amherst High School, an All-American sprinter at the University of Alabama, and a group of college football players from the University at Buffalo, who turned down an invitation to the Tangerine Bowl when the bowl's committee did not allow Willie Evans and Mike Wilson, who were Black, to compete in the game in Orlando, Fla.
Robitaille considered the sweat equity that each of the inductees had invested in local sports, whether it was as an athlete, as a coach or as an administrator.
"It's so overdue, especially for the amateur people," Robitaille said of this year's inductees. "The pros get enough coverage and gratification, but I think of all the kids that these people have supported and helped and raised, and made better people, because of their work.
"It's not much fun working eight hours a day, then going out another three to four hours, and to have two or three parents have something to say about how you're coaching, what you should do and what you're not doing right. Over the years that has to add up. But I'm really proud to be part of this group, especially the group with the Buffalo Bulls (football program). Were they way ahead of their time, or what?"
This year's class will be officially inducted at the annual GBSHOF dinner and awards ceremony Oct. 14 at the Buffalo Niagara Convention Center.
"It's pretty incredible to be part of this group," said Julie Gentner Murphy, a Division III All-American in field hockey and softball at SUNY Cortland and the Williamsville South softball coach, who will be inducted with her father, Gerry Gentner. "I feel very humbled, and, to be honest, a little emotional about it, going in with my father. This is something I'll always have, with him, but it's an incredible experience. The inductees, you have to congratulate them on a great honor and an achievement."
In addition to Robitaille, Murphy, Gentner and the 1958 UB football team, the GBSHOF will induct John Beilein, a Burt native who has more than 800 wins as a college basketball coach and currently is a senior adviser for player development with the Detroit Pistons; Deborah Dourlain, the Hutch-Tech swimming coach who was a champion swimmer at Orchard Park and at Bowling Green and Rochester Institute of Technology; and Ron Moscati, a longtime photojournalist at The Buffalo News, Buffalo Courier Express and Niagara Gazette who took some of the most iconic Buffalo sports photos, including pictures from the "Fog Game" between the Sabres and the Philadelphia Flyers in the 1975 Stanley Cup Final.
The 2021 class also includes Lamar Smith, a Bennett High graduate who was an All-American in track and field at Alabama and at Buffalo State; Peter Tonsoline, a longtime Iroquois field hockey, softball and ice hockey coach; and Kyle Williams, who was a six-time Pro Bowl selection during his 13-year career with the Buffalo Bills.
The GBSHOF will make four posthumous inductions: John Butler, a former Bills vice president and general manager; Angela Coniglio, a four-sport athlete at Amherst High School who played goalie on Amherst's boys club hockey team; Gerry Gentner, who won three state high school softball championships at Williamsville South; and William Russell, a youth hockey founder and coach who was an administrator at Bennett High.
The GBSHOF will now have 364 members since its inception in 1991.
The GBSHOF did not have an in-person induction in 2020 due to the Covid-19 pandemic, and its 2020 class was made up of historic figures in Western New York sports who had died.
This year's class was the first live induction since 2019, and several 2019 inductees were in attendance for Wednesday's announcement, including former Lancaster football coach and athletic director Len Jankiewicz, and Barb Wachowiak, an All-American in field hockey at Ithaca College who taught in Western New York schools for more than 30 years.
As members of the 1958 UB football team moved to the stage to take a group photo, Robitaille stopped the group and offered his congratulations.
"You guys were ahead of your time," he told several of them.
"I don't think we thought it was historic, at the time," said Joe Oliverio, who was a quarterback of the 1958 UB football team. "Years later, we began to realize what it meant, what we did, standing up for what was right. It's not hard to do."