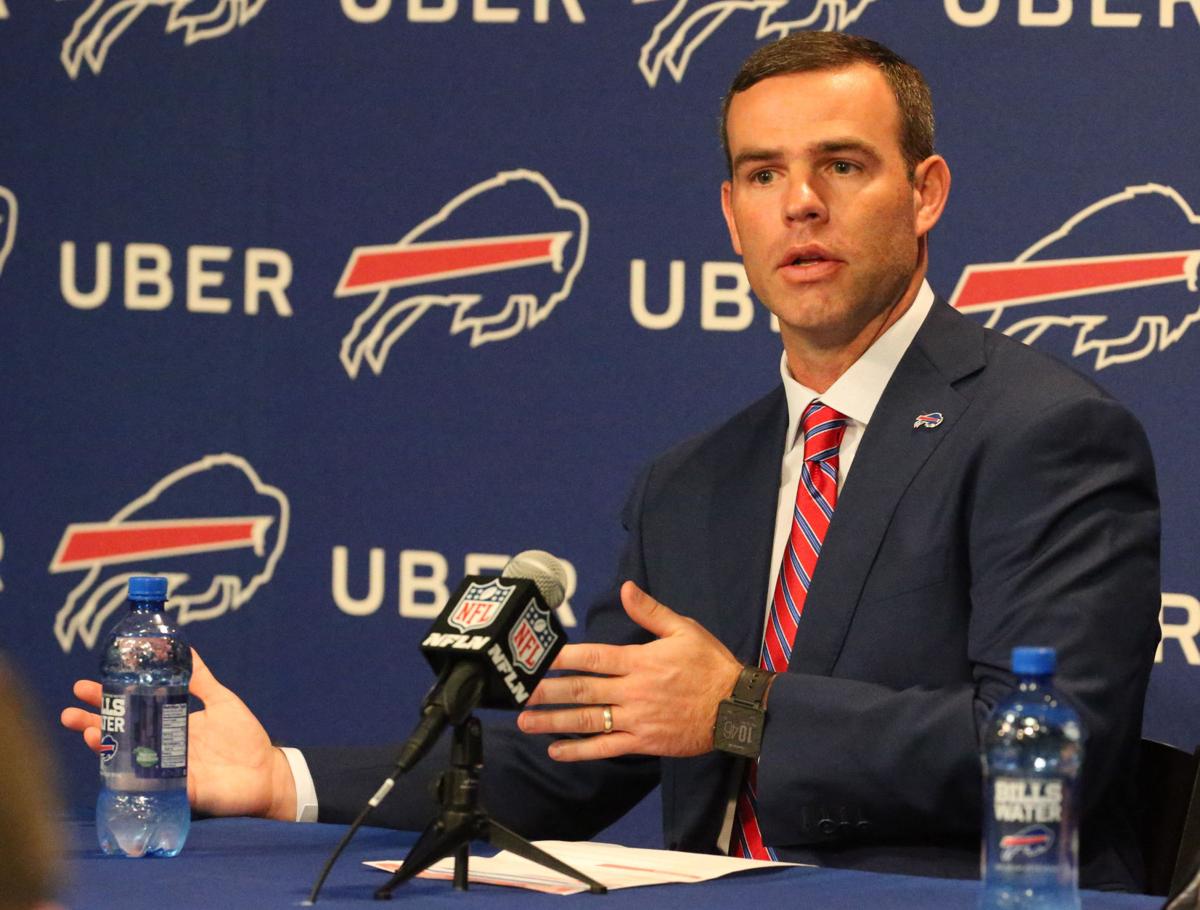 There's no minimum number of drafts an NFL general manager should expect to get to prove he can build a consistently competitive team.
Club owners make that determination. As more than a few GMs and a whole lot of coaches have discovered, the people signing the checks don't always have an abundance of patience.
Brandon Beane has rightfully believed that he needed at least three drafts, in addition to other roster moves, to demonstrate he had what it took to help assemble enough of the talent necessary to position the Buffalo Bills for sustained success. Although Beane has been the Bills' GM for three seasons, he wasn't hired until after the 2017 draft, which coach Sean McDermott mainly oversaw while Doug Whaley was in his final days as GM.
That means Beane has only overseen the last two. His third with the Bills will be held Thursday through Saturday.
It's fair to say that Beane already has made a significantly positive impact with the work he and his player-personnel staff have done in the 2018 and 2019 drafts. His handiwork played a major role in the Bills reaching the playoffs last year, for the second time in three seasons, and already having a strong enough team to be the presumptive favorite to win the Tom Brady-less AFC East.
"I see steady improvement in the roster, and they've built a very talented roster in a number of ways," former NFL GM and current NFL Network analyst Charley Casserley said by phone. "I think (Beane) has done a good job of mixing, whether it's free agency, the draft, bargain shopping and in a trade."
Beane's aggressive wheeling and dealing earned him the nickname "Trader Beane," with some of his boldest moves coming during the last two drafts.
At the top of his resume are two upward moves he made in '18 for what the Bills believe will be transformative players for many years to come: quarterback Josh Allen and linebacker Tremaine Edmunds.
"(Beane) took care of really the most important thing in the first draft, getting the quarterback," former Chicago Bears director of college scouting Greg Gabriel said by phone. "Now, it's fill in the parts. If you hit on the quarterback and then you fill in around the quarterback, you're always going to have a chance. I think they've done a pretty good job."
Beane gave up this year's first-round choice as part of the trade to acquire wide receiver Stefon Diggs from the Minnesota Vikings, but still has seven picks. Although the Bills' first is in Friday night's second round, No. 54 overall, that doesn't mean Beane or others on his staff or within the team's hierarchy will be napping at their respective homes Thursday night.
"Yeah, Day One will be hard," he told reporters during a Zoom press conference on April 2. "We just got to play some videos of Stefon Diggs when (the Bills' former No.1 pick at) 22 comes up. But beyond that, we'll just be patient and go through it and watch it all and then the big thing will be when Day One is over – which we do whether we have a pick or not – we'll stay there for a little bit and stare at the board and start looking over, 'OK, what's on the board that we like here? Is there anybody left in our guys we gave first round grades to?' Obviously, those are targets. How long before a guy stays there before we make a move like (trading up for offensive tackle) Cody Ford last year?
"And then, secondly, is start looking at all the teams in front of us and what their needs are. Let's just say we were looking at receiver and let's say we have three receivers there in the second round. And how many teams that didn't take a receiver in the first that we have penciled as a team that we see a receiver need for, maybe they reach here in the second round for that guy and will the third guy get to us? Maybe we love to have any of these three. If two of them go, do we want to be aggressive and go get that other one? Or do we want to be patient, maybe we get one in the third round and focus on another position?"
With virtually no starting spots available, most of what the Bills are expected to do is fortify depth in the short term while also finding eventual long-term starters.
That creates an opportunity for Beane's third draft to go a long way toward enhancing the Bills' chances of not only fulfilling expectations of taking over the division, but also advancing beyond the wild-card round. A playoff-caliber defense is already in place and an offense that – provided Allen makes the strides he's expected to make in his third season – should benefit from the addition of a top-flight receiver and greater cohesion of an offensive line returning intact. The Bills have plenty of salary cap room, and more picks will help keep it that way.
"Even though the salary cap's gone up the way it has, more of the money's going to fewer of the players, so you really need to backfill at least half your roster on guys on first-year contracts that are still contributing," former NFL GM and current ESPN analyst Mike Tannenbaum said by phone.
As Beane prepares for his third draft, the Bills also will get a clearer picture of what they have from his first.
"I know he wasn't there (in the 2017 draft) for (cornerback) Tre'Davious White or (former Bills receiver) Zay Jones," Tannenbaum said. "But you've got guys like Josh Allen, Tremaine Edmunds, (defensive tackle) Harrison Phillips, (defensive back) Taron Johnson going into the third year. That's where you want to see if they're ready to be foundational players or they won't be."
The Bills place a high premium on players with high character. They look for leadership and target former captains of college and/or high school teams.
This is the standard, established with heavy input from McDermott, that guides the way Beane and his player-personnel staff evaluate draft prospects. Since 2017, the Bills have generally managed to select such players. They are likely to add more in the coming week.
"The draft is a cumulative thing, and they've done a good job of having a vision, getting the right kind of players, character and talent, to fit their system," Casserley said. "Now, it does take multiple drafts to build the kind of character you want, but that's where they've done a good job, I think, of vetting as far as having the right kind of guys there.
"But, remember, the draft is (a slower process). In the draft, you build a few parts every year. If you build (only) through the draft, you won't be there very long because the draft has only a 30% rate of success. If you think about that, in three years, you have three number ones. That's (projected as) a 75% (success rate). The second round's only 50%, third round's only 30%. That's not very many players, so you need to be able to build in many ways."
For the Bills, one way was the blockbuster trade for Diggs, who despite entering his sixth NFL season is considered by Beane to be his first-round pick this year. The move gives the Bills a highly productive and game-changing No. 1 receiver they desperately needed. It also gives them a player with a reputation for being moody who wanted out of Minnesota because he didn't want to catch passes from quarterback Kirk Cousins.
To the rest of the NFL, the trade made an unmistakable statement.
"I think it says, 'Hey, we think we have a chance to win this division this year,'" Tannenbaum said. "I think it creates a sense of urgency. While they may not say it, they certainly feel it. 'Why not us? Why can't we win this division this year? If we have to slightly overpay to get a player of Diggs' accomplishments and pedigree compared to the risk we would have to take, that's a risk worth taking. We're slightly overpaying, but we've earned the right to do that. With Brady going to Tampa Bay, why not us?'"
It underscores the Bills' confidence that they're ready to supplant the Patriots at the top of the AFC East.
"If you're looking at putting a grade on Brandon, that Diggs trade is going to play a big part of that because of what they gave up," said Gabriel of the first-round pick, fifth-round pick, sixth-round pick in 2020 and fourth-round choice in 2021 the Bills sent to the Vikings. "Go back to (2014) when Doug (Whaley) was there and he trades up to get Sammy (Watkins). Was that the ideal move work for where the team was at that time? It probably wasn't.
"Going after the receiver now, it's a little bit different because you've got the quarterback in place. You went heavy in free agency on the offensive line a year ago and you're hoping (left tackle Dion) Dawkins continues to improve."
Now that the Bills have so many core pieces in place, Tannenbaum said Beane can afford to take some risks in the draft. That is, beyond those that could very well be forced by reduced interaction with prospects because of the elimination of individual workouts, pro days and visits to the team facility due to the coronavirus pandemic.
"They've done a nice job of putting the foundation there that they can take a calculated risk, when and if appropriate," Tannenbaum said. "So, the player that you may be drafting in, let's say, year three, could certainly be different than the player you're drafting in year one, where you go for that heightened sense of character, in terms of an emphasis of the draft process. I think, where they are now is certainly different than when they got there."
For Beane, running a third draft for the Bills was the opportunity he hoped, but wasn't necessarily guaranteed, to receive. Given the results so far, he has plenty of reason to expect that number to keep growing.
Be the first to know
Get local news delivered to your inbox!