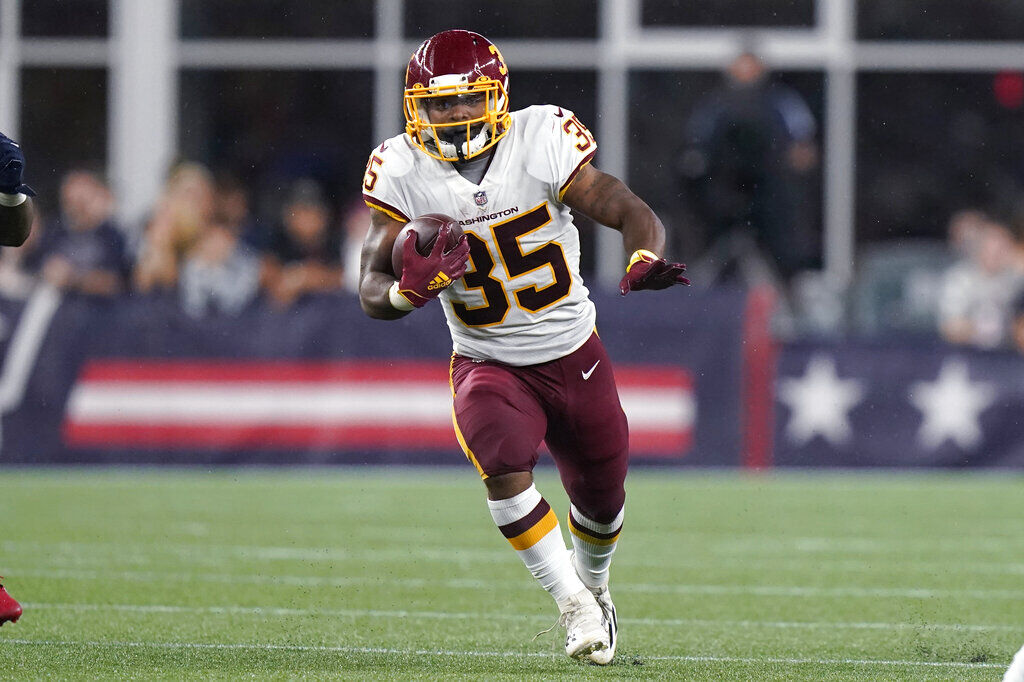 A snub still motivates Jaret Patterson.
As the Washington Football Team running back and former All-American at the University at Buffalo continues his transition into professional football, it isn't anger that drives Patterson to be better each day.
Jaret Patterson will always have a foot – or at least a pair of cleats – on the ground with…
It's determination. Going undrafted has become the stimulus to prove that he belongs in the NFL.
"Like we say in the running back room here, 'Every day is a job interview,' "Patterson told The News on Wednesday. "That's how you have to take that approach. That chip is still there, that I'm trying to prove to all 32 teams why they were wrong about me. Each practice is preparing for games, and waiting for my opportunity, and wanting to get better, each and every day."
Less than a month after he made Washington's 53-man roster as an undrafted free agent, Patterson returns to Western New York when Washington faces the Buffalo Bills at 1 p.m. Sunday at Highmark Stadium. Patterson has gone from standout college football running back to an NFL rookie playing for his hometown team. He grew up in Glenn Dale, Md., less than 10 miles from Washington's home stadium in Landover, Md.
Jaret Patterson endeared himself to Western New York by becoming one of the most prodigious and productive running backs in recent history with the University at Buffalo football program. He also became a chicken wing connoisseur, of sorts, during his three years in the area.
"It's definitely unreal," Patterson said of playing for Washington. "You kind of sit back and reflect on the journey. Coming back home, and now going back to the university I played for? It's a blessing. I just can't wait to play Sunday in Buffalo, and I'm looking forward to the journey."
He left UB after three years as its second all-time leading rusher (3,884 yards) and as its leader in rushing touchdowns (52). He led the nation in rushing yards per game (178.67 over six games) in 2020.
He signed with Washington in May, and he began his professional career knowing he would have to adjust to and thrive in any role he had to take on, especially given that NFL running backs generally have a short shelf life.
"Right now, I'm on a lot of special-teams units, and right now I'm running back three, but (Washington running backs coach Randy) Jordan always tells me I'm responsible for knowing the game, knowing the game plan, knowing every play, because you just never know," said Patterson, who has two carries for nine yards in two games. "It's a physical game where injuries happen, and it's kind of déjà vu for me.
"I did the same thing at Buffalo. A spot wasn't given to me. I had to work to get a role, and that's what I plan to do here at Washington. You have to be ready for the opportunities so that you don't have to get ready. It's going to come. We play 17 games, and I have to be ready for every opportunity."
Whitcomb was Old Dominion's quarterbacks coach and assistant head coach for offense from 2007 to 2019, and Heinicke was one of his star pupils.
'You just never know what might happen'
Less than five months after Patterson signed with Washington, he is transitioning into life as a professional football player. His days at UB were structured between meetings, classes, treatment, practices and completing coursework, and there was always an assistant coach or an advisor to keep him on task.
He quickly learned to plan his own days as a professional to include film work, studying Washington's playbook, reviewing his own notes and incorporating rest, recovery and treatment.
"The NFL, it's your job," he said. "You are preparing for the games and your upcoming opponents. Once you're done with practices and meetings, that's your time, to do what you want, whether it's take care of your body or watching film. It's figuring out that routine and sticking to that routine."
It also means preparing yourself to pivot.
Wednesday afternoon, Washington running back Antonio Gibson was listed on Washington's injury report as a limited participant due to a shoulder injury, and Washington worked out running backs Ryquell Armstead and D'Onta Foreman on Monday, according to multiple reports. If Gibson, Washington's top back, is limited in his role Sunday against the Bills, J.D. McKissic would be elevated, and Patterson's role could change.
"You have to stay ready, because you just never know what might happen," Patterson said. "I kind of just worry about my daily improvement and take care of my body and get better each and every day, and stay ready for whenever my number is called."
Still, at the start of his transition from college to the NFL, Patterson was champing at the bit to begin his professional career. Washington coach Ron Rivera said that after Patterson signed with the team, he arrived a day or two later at the team facility. Patterson had to be turned away, as the NFL's collective bargaining agreement stipulates that post-draft rookie minicamps are held either the first or second weekend after the NFL draft.
"He couldn't come back until it was time, which he did, and he's been there ever since," Rivera said.
"I love the fact that he played and he played at such a high level as an individual. He played on a good Buffalo football team. He played hard. He's got great tape. When you put it on, you watch him and you watch how productive he is, I had flashes, honestly, watching him, and he reminded me so much of Darren Sproles when he had the ball in his hands."
Patterson also made an impression on one of his future teammates. UB tight ends coach Ron Whitcomb recalled a conversation he had with Washington quarterback Taylor Heinicke during Memorial Day weekend and Heinicke gushed to him about a running back from UB. 
"I'm talking to him and he says, 'Your running back, Patterson, he's really great!' " said Whitcomb, who was Heinicke's quarterbacks coach at Old Dominion.
The feeling, ultimately, was mutual.
"Mo (Linguist) is hired as head coach and I'm up here, and (Washington) gets done with OTAs," Whitcomb said. "I'm here, and Jaret very rarely speaks up, but he comes on campus, runs up to me and says, 'Your boy Heinicke is really good too!' Yep, you guys are both good!"
The former University at Buffalo standout is one of three running backs the Washington Football Team will keep on its 53-man roster, according to the Washington Post.
'It's a home away from home'
Patterson will make his second visit in less than 10 days to Western New York; he was on the UB sidelines Saturday at UB Stadium when the Bulls hosted No. 17 Coastal Carolina, and was honored by the athletic department during the second half of the game.
"There were a lot of different emotions, being there," Patterson said. "I was happy for the guys that were playing, but I definitely wanted to be out there with them. It felt good just to be around, seeing people you know, people like the support staff and fans that supported me those years. It was a great, great feeling. It's a home away from home. I'm so glad I went, and I can't wait to get back to Buffalo this week."
It was also the first time since the Camellia Bowl in December that he'd been on a sideline with his twin brother, James.
"He's in his process of his career, I'm doing my thing and he's doing his," James Patterson said after UB's 28-25 loss to Coastal Carolina. "But it felt good, hearing him say, 'Do this' or 'Do that.' "
But for the first time in years, James Patterson eventually had to tune out his brother, who was no longer on the same roster.
"I didn't want my emotions and my feelings to get too high or too low, with him there," James Patterson said.
What's most surprising about Jaret Patterson's return to Western New York this weekend is that this will be his first time at Highmark Stadium. He and the Bulls practiced in the ADPRO Sports Training Center, the Bills' indoor facility, during his first season at UB in 2018, but Patterson had never attended a Bills home game.
"That's one thing I kind of regret, in my time at the University at Buffalo, I definitely should have caught a game there," Patterson said. "That's one thing I kind of beat myself up about, but I get to play. I get to play in that atmosphere now, and I think that will be a great experience."