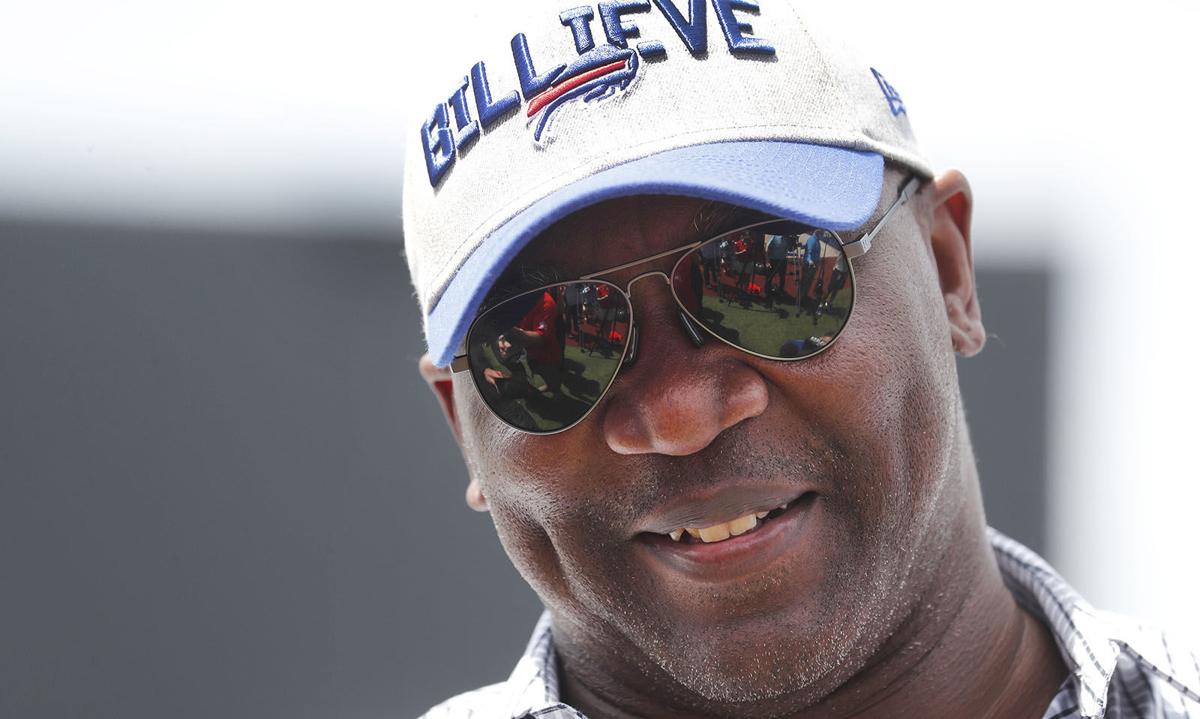 The numbers ultimately led to the retirement of the number.
Thurman Thomas generated amazing statistics during 13 NFL seasons, all but one spent with the Buffalo Bills. There were his 12,074 rushing yards, his 4.2 yards per carry, his 65 rushing touchdowns, his 472 receptions, his 4,458 receiving yards and his 23 receiving touchdowns.
Thanks to that production, the Bills have taken another number – the 34 Thomas wore on his jersey – permanently out of service.
It will become official during a ceremony at halftime of Monday night's game against the New England Patriots. Thomas becomes one of only three players in franchise history with retired numbers. The others are Jim Kelly's No. 12 and Bruce Smith's No. 78, which were retired in 2001 and 2016, respectively.
How big of a deal is this for the 52-year-old Thomas, who is a member of the Pro Football Hall of Fame, the NFL 1990s All-Decade Team and the Bills Wall of Fame?
"Oh, it's right up there," he said. "I could put it over the Hall of Fame. I mean, it's that big of an honor knowing that, even though nobody has worn my jersey after 18 years, it's officially written in stone that it will never be issued again as long as the Buffalo Bills are around.
"I'm not going to say it's on the same level with Jackie Robinson's (42), which every MLB team has retired, but when I think of that number (34) being retired, it's not just me. It's Booker Moore and Cookie Gilchrist, who a lot of people in this town think could have been or is the greatest ever, even ahead of Jim Brown. And to see, a couple of years ago, him get put up on the Wall of Fame was very special. But now, not even having a (No. 34) practice jersey issued ... that's it, no more."
In this week's "One-on-One Coverage," Thomas sat down with The Buffalo News to talk about his career, his childhood and what Western New York has meant to him since he joined the Bills in 1988 as a second-round draft pick from Oklahoma State, where he earned a spot in the College Football Hall of Fame.
Buffalo News: It's hard to think of another player in Bills history more driven by his emotions than you were. What are they like for you now?
Thurman Thomas: It's excitement, I think, for my kids a little bit more than me. I think mine is a little bit different because this is my career, everything that I put into it, and they're just kind of like, "What time is the party? Can we go on the field? Do I have to do another interview?" They haven't really been involved with anything like this before, because the Hall of Fame was kind of my individual thing. But for this, it's all of them.
Little Thurman is really enjoying it, because he never got to see me play. So he's been doing a lot of interviews this week. I think it's a little bit more special for him, at 17, because he didn't get to see me play. But my three daughters are kind of like, "Yeah, we've kind of been through this before with the Hall of Fame, you going back to Oklahoma State or whatever."
BN: Still, it's hard to imagine you being anything but as fully charged as you always seemed to be in those 12 years with the Bills and even that final season with the Miami Dolphins.
TT: I was that high-maintenance, emotional guy in high school, college, pros, because I wanted to win really bad. But I also wanted to have a conversation and be a part of other teammates' lives, and I think that was why I was so emotional playing with a chip on my shoulder. I know a lot of other players did it, also, but didn't really say anything about it like I did.
I think that definitely helped me along the way, with not having a father figure growing up for a lot of years. It made me a stronger person. And being an only child, I had a lot on my plate, growing up early as far as mom not being at home, having to work at the post office, and me as a young kid of 8 to 10 or 8 to 11 staying at home by myself.
I had to grow up real quickly, and I think that's kind of made me the tough person that I am today. When you grew up in a neighborhood where it's OK for a neighbor to spank you, that's pretty tough, but I found out, at a young age, that I could channel all this into sports. When your uncles, your aunts, your friends, whatever, tell you you're pretty damn good, you take that and you just go with it.
BN: Nobody got his game face on sooner or more emphatically than you. When the media walked into the locker room during the middle of a game week, you went to great lengths to make yourself unapproachable.
TT: I wish I could have gone the Steve Carlton way and not to talk to any media at all (as the former Philadelphia Phillies pitching great did during his career).
TT: I think it was because I know how hard it was to get to where I got and I didn't like the fact that a media guy would try to tell me how to play my game, all the mistakes that I made. That ticked me off more than anything, to hear, "Well, why didn't you have a good game?"
BN: Could anyone else tell you that, like a coach?
TT: Oh, yeah, absolutely. But there was only one person that really did, and that was (former Bills running backs coach) Elijah Pitts. Elijah Pitts and I used to have meetings all the time, one-on-ones, about what I could have done better. And I was fine with that.
BN: Was he your greatest influence in football?
TT: By far. Sad that he passed away, because I do think, to this day, Eli probably could have been a head coach somewhere. I think he would have gotten his opportunity. When Marv (Levy) left for those three games (in 1995, after undergoing prostate surgery), Eli took over as the interim coach. I can remember him walking into that room for his first team meeting like he owned it. And those are the type of qualities that you have to have as a head coach.
BN: How do you look back on a career with all of those great individual accomplishments but no Super Bowl ring after four tries?
TT: Oh, man, it was awesome. It was an unbelievable ride, with all the guys that I've ever played with. I had the best teammates in the world, and I think, obviously today, you still know that we're very, very close. And it wasn't just the guys that I played with, but I used to talk to the people that would clean the stadium after games and throughout the week.
And it's not just the Buffalo Bills; it's the City of Buffalo. We were all involved with what we tried to accomplish. To do it in this city that gets talked about a lot for a lot of different reasons, it's for them. When you had fans back then that knew that we were going to win every time we walked in that stadium, that felt just as confident as we did, when you have those type of people behind you, it gave us a little bit more energy.
BN: You're from Houston, but you embraced Western New York like very few current for former Bills have. Where does that come from beyond the fact your wife, Patti, and her family are from here?
TT: This is a community that I grew up in as a man. I know all parts of this entire community. Three out of my four kids were born here, and they love it here. I've got family here. This is just a perfect fit for me.
I like being involved in the community. I like doing things, outside of football, in the community – with the mayor, when the governor comes to town. They call me to come to things and I like that because it gives me an opportunity to see what's going on and be a little bit more involved in the community here and watch the teams turn around. Hopefully, I'll be here one of these days when the Bills and the Sabres win the championship.
BN: How long did they give you for your speech?
TT: Anywhere between four or five minutes. I'm at about 4:15 right now.
BN: What's the main thrust?
TT: Pretty much thanking all the people that have helped me all the way through. I just want to show my appreciation to family, friends. Ralph Wilson's in the speech.
BN: How often do you think about him?
TT: All the time. We just celebrated his hundredth birthday the other day. Every time you talk about the Buffalo Bills, it doesn't go back to me, it doesn't go back to Jim, it doesn't go back to Bruce. It always goes back to Mr. Wilson.
We were tight. Of all the players that came through here, I was the only one he called his "stepson." I mean, I had it to a point where, when he used to come to practice at Fredonia, Eli would say, "Hey, there's your buddy." And I'd go over and sit down in the (golf) cart with him and talk to him for a couple of minutes. Yes, he was a businessman, but he knew a bunch of stuff about football. He really did.
He was just a great guy that you felt like you could just walk up to and say anything and talk to. Being kind of how I was, I didn't do that with everybody. But I did it with him all the time and he appreciated it, too, I think.