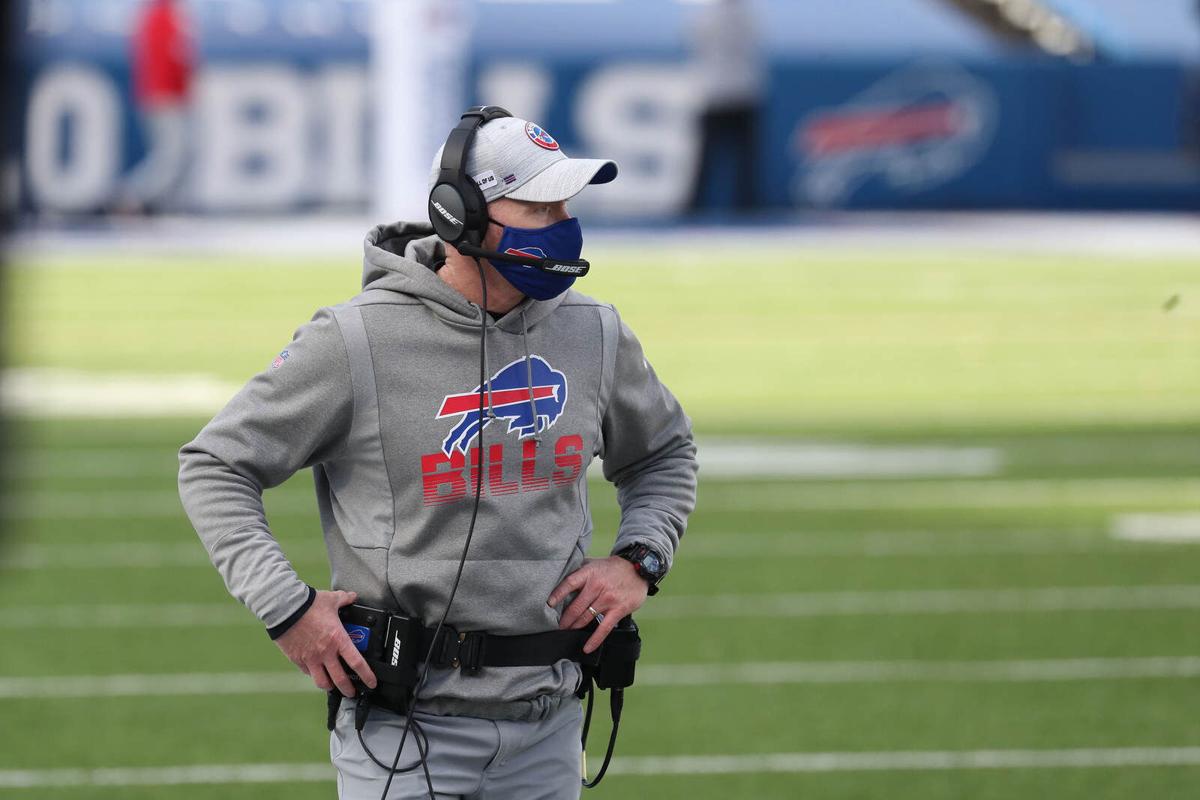 Sean McDermott knows that his coaching staff might not look exactly the same in 2021.
That's what happens when a team goes 15-4 and makes it to the AFC championship game.
Bills defensive coordinator Leslie Frazier was scheduled to have an in-person interview with the Houston Texans for their head coaching vacancy, after previously doing a virtual interview during the playoffs. Additionally, quarterbacks coach Ken Dorsey is reportedly a candidate to become the Seattle Seahawks' offensive coordinator.
"There's always people that want to look at your team and maybe pull people off of your team, off your staff," McDermott said. "That's to be expected. I think both of those two (Frazier and Dorsey) are highly qualified and I have a lot of confidence in both of those two men. We'll see what the future holds for both of them and we'll go from there."
Frazier has been with McDermott for all four seasons in Buffalo. Notwithstanding a disappointing 38-24 loss to the Kansas City Chiefs on Sunday, the Bills have played plenty of good defense during that stretch.
"Feeling inspired, feeling motivated," Diggs wrote on Instagram Tuesday.
"I don't like that idea at all," Bills cornerback Tre'Davious White said Monday. "Happy for him, happy that he's getting an opportunity because he's an amazing coach. He's been a great, great asset for myself, I can speak from my personal experience with him, playing the position that I play and to have a defensive coordinator to have played that position, won a Super Bowl playing that position. That type of expertise, you don't get that every day from a defensive coordinator in an organization, a guy that won the Super Bowl in your position.
"He's the type of guy that takes the time to develop the player every day. I'm going into my fifth year, every day after practice, he made me catch deep balls, putting them on the JUGS and shooting them and I'm running full speed down the field. Anytime you have a coach like that, that you can definitely relate to and knows the ins and outs of this position and how things go, it's definitely a plus. I'll be definitely an endorsee for him to get a job, but hopefully he'll be back with us next year because he's definitely a big part of our success on defense."
Here are four more takeaways from McDermott's season-ending news conference Tuesday:
1. There were no meaningful injury updates. McDermott said he had received "very little information yet" from head athletic trainer Nate Breske about players who made need offseason surgery.
"We just have, kind of, some early thoughts on that," McDermott said.
Four players ended the season on injured reserve – running back Zack Moss (ankle), wide receiver Isaiah Hodgins (shoulder), guard Cody Ford (knee) and cornerback Cam Lewis (wrist) – all of whom have already had surgery and are expected to be ready for the 2021 season.
See who Kiper has the Bills selecting with 30th pick in his mock NFL draft.
2. He was impressed by Cole Beasley's toughness. The Bills' slot receiver revealed Monday that he played through a broken fibula suffered in Week 16 against the New England Patriots.
"It's up by the knee, the upper fibula, the knee area. I thought Cole is a warrior," McDermott said. "It didn't surprise me that he got himself ready to go since that injury. I think he's a shining example to our team of being able to work through that, the mental toughness it takes. Not only the physical toughness, that's obvious, but the mental toughness it takes to play in this league and what it meant to him to play down the stretch and how important it was to him."
3. The possibility of a "virtual" spring exists. With the ongoing Covid-19 pandemic showing no signs of being over any time soon, it's wishful thinking to believe the league will have anything close to a "normal" offseason. The annual NFL Scouting Combine has already been canceled, and the expectation is that free agency and the draft will largely be conducted remotely, as they were last season. As for whether teams will be able to hold any type of practices in the spring, McDermott said he's taking a wait-and-see approach as he awaits concrete directions from the league.
"I think it's realistic to think it's not going to be totally back to normal yet, but hopefully may be a blend," he said. "I think we've shown we can manage working through the course of a season or, in this case, what you're referencing, an offseason at some point together and obviously still being safe. So those decisions are made above me, obviously, but in my mind that's kind of what would be a balance of the two."
The Buffalo Bills have put a bull's eye on a new gold standard: the Kansas City Chiefs.
4. Getting more pressure with a four-man pass rush is a priority in 2021. While McDermott largely spoke in generalities about how the team needs to go about improving its roster, he did cite one specific example when it came to the defensive line. The Bills had plenty of changes up front in 2020, replacing departed free agents Shaq Lawson and Jordan Phillips with Mario Addison and Vernon Butler Jr., seeing Star Lotulelei opt out and drafting A.J. Epenesa in the second round.
"I thought that they did some really good things. They really grew during the season, and that's a credit to the players and their mindset and being coachable and also giving credit to Eric Washington and Jacques Cesaire, our two defensive line coaches, as well," McDermott said. "That's the impact of coaching. And what you can see at the end of the season was they were playing really good football. Having said that, there's still ... that's a critical area for our football team to improve. We have to be able to affect the quarterback with a four-man rush. I thought at times we did that, and other times we could have been better just like our entire defense or entire football team, so there's still meat on the bone there.
"I think, more than anything, what coach Washington was able to do was lay a foundation of techniques and understanding, and that's the growth we made during the season. The exciting piece is when the guys come back, they understand now what's expected in terms of the techniques and the fundamentals that go with playing at a high level at that position."