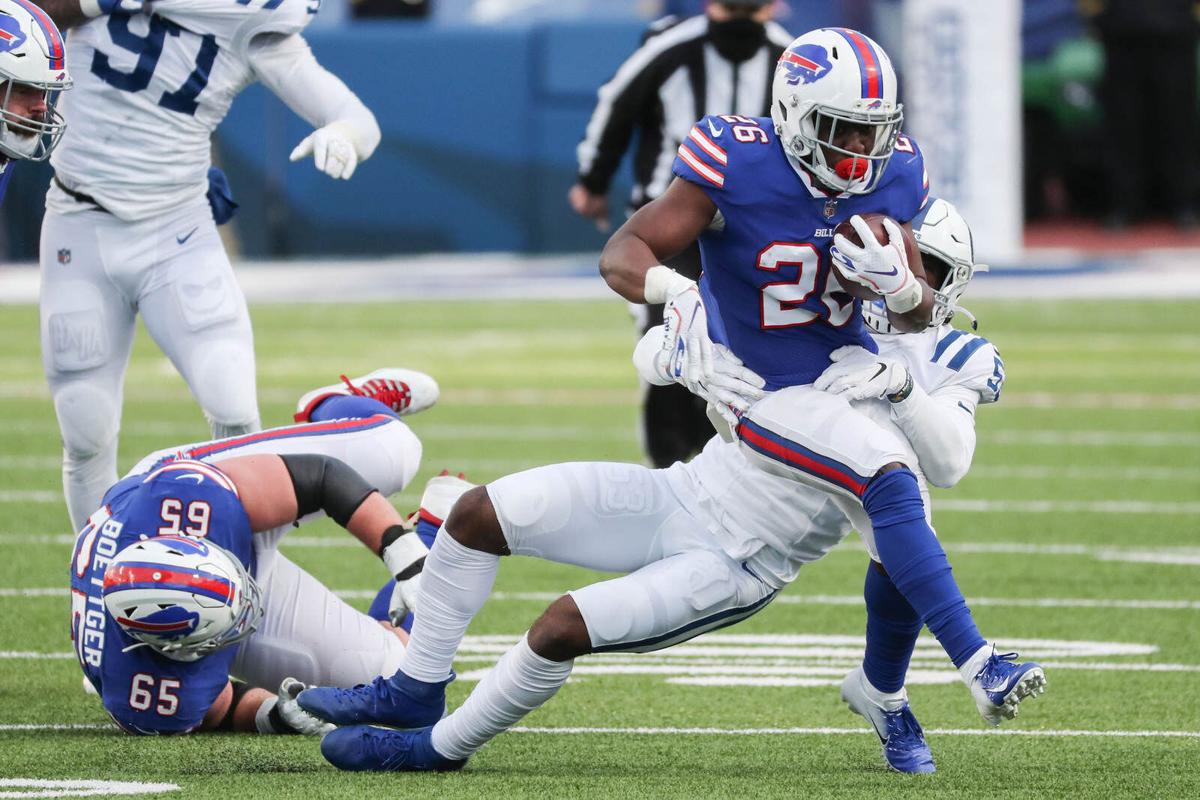 The Buffalo Bills will be without rookie running back Zack Moss for the remainder of the postseason.
Head coach Sean McDermott confirmed Monday that Moss will be out after suffering an ankle injury in Saturday's wild-card win over the Indianapolis Colts at Bills Stadium.
"Zack being out, we'll look at guys on our roster that we have a lot of confidence in," McDermott said.
That list starts with veteran T.J. Yeldon, who stepped in when Moss missed three games during the regular season because of a toe injury. Yeldon, who recently tested positive for Covid-19, but has since been taken off the NFL's reserve list, was a healthy inactive against the Colts.
Another option for the Bills may be rookie undrafted free agent Antonio Williams. Called up from the practice squad in Week 17, Williams impressed in running for 63 yards and a pair of touchdowns on 12 carries.
Though he is out for the season, Moss' agent, Jamal Tooson, said Moss "avoided major injury" and "in is in good spirits."
"It doesn't always work out like that, but we're fortunate that it did so we could take a look at Antonio," McDermott said of being able to get Yeldon some playing time. "He certainly popped when you looked at the film and felt it down there on game day. Great experience for a young man who had really worked hard. I thought that was one of the cool pieces about that week is we were able to get some guys who had worked their tails off all season long a chance to go out there and show us what they got."
No matter who it is, they are expected to take a back seat to Devin Singletary. The Bills' second-year player had a somewhat disappointing regular season, rushing for 687 yards and just two touchdowns on 156 carries, but will surely be the Bills' first option in the running game.
"I just told him it's his time to step up and this is what he's worked all his life for," McDermott said of his message to Singletary. "Devin's a guy that has worked extremely hard over the course of his career, even before he got to the NFL. He's no stranger to hard work and he's no stranger to having to carry the load and I know this team is 100% confident in Devin Singletary."
Here are four more takeaways from Monday's press conferences with McDermott, offensive coordinator Brian Daboll and defensive coordinator Leslie Frazier:
1. Frazier confirmed the Houston Texans have requested an interview with him for their head coaching vacancy. That comes after Daboll completed interviews with both the Jets and Chargers on Sunday for their head coaching jobs.
Both of the Buffalo Bills' coordinators could be in line for promotions elsewhere.
Frazier, 61, was one of McDermott's first hires and has overseen the team's defense for the past four years. He previously worked as the Vikings' head coach for three-plus years, taking over on an interim basis after Brad Childress was fired during the 2010 season before having the tag removed after the year. The Vikings went 10-6 in 2012, a seven-win improvement from Frazier's first full season, leading to him finishing fourth in the NFL's Coach of the Year voting.
The Vikings, however, slumped to 5-10-1 the following season, and Frazier was let go.
He then worked for two years as the Tampa Bay Buccaneers' defensive coordinator and spent the 2016 season as the Baltimore Ravens' secondary coach before coming to Buffalo.
The Texans hired Nick Caserio as their general manager last week, luring him away from the New England Patriots.
"I'm really thrilled with what we're doing here in Buffalo with so much left to be accomplished in this season," Frazier said. "That would thrill me as much as anything, to see us continue to play. For us to get our first playoff win here in 25 years, to be a part of that. To be a part of the staff that broke the 17-year drought, I mean then winning the AFC East and there is so much more to be done with this team and this season that it's hard to think about a lot of other things. We've got so much to prepare for with this offense because it's so unique. You really have to stay focused on what you have to get done. There will be a time where I think a little bit about some of the things that may be out there, but for now, really have my hands full with what we're trying to get accomplished this week."
2. Cole Beasley came out of the Colts' game ok. After making seven catches for 57 yards, the Bills' slot receiver said there was never any doubt he was going to play. As for how he was feeling after the win, Beasley said he was "good enough."
The same general rules will be in place along with the same cap on attendance, roughly 6,700 people, at the playoff game versus the Baltimore Ravens.
"He's a stud, man," McDermott said. "He's tough as nails. He loves to compete and he did a great job with our training staff getting himself ready to play last week. And so we come back this week and get ready to go again. I mean, like all players, he's sore, but he'll be ready to go."
3. Beasley's return meant a lot less playing time for Isaiah McKenzie. The Bills used McKenzie on just four offensive plays against the Colts a week after he had three total touchdowns (two receiving, one on a punt return) against the Dolphins in Week 17.
"We had some different personnel packages. Each week – you know this, I've told you – each week can be a little bit different," Daboll said. "Last week is what it was. We have confidence in Isaiah. When his number's called, we expect him to be ready to go whether it's three plays, 20 plays. But you can only put five skill players out there and (we used) those four receivers a bunch – Gabe (Davis), Cole, (Stefon) Diggs, and 'Smoke' (John Brown) and then, you know, running backs filled in, tight ends filled in. What it is this week, we're working on that right now."
The Baltimore Ravens' defense finally is back to full strength and it's finding its mojo.
4. Right tackle Daryl Williams was an unsung hero against the Colts. Williams alertly jumped on a Josh Allen fumble with less than 4 minutes left in the fourth quarter against the Colts. That retained possession for the Bills at their 43-yard line, allowing the team to run more time off the clock. Even though the Bills ended up punting on the possession, Williams' recovery meant the Colts had to start their final drive on their own 14-yard line, as opposed to being in Buffalo territory while trailing by just three points.
"I thought that was a huge play," McDermott said. "Not sure how much that got written about the day after the game, but if he doesn't recover that fumble, maybe there's a different ending to that game based on where they would have gotten that ball. Huge play in the game and a big-time hustle play, which is great."