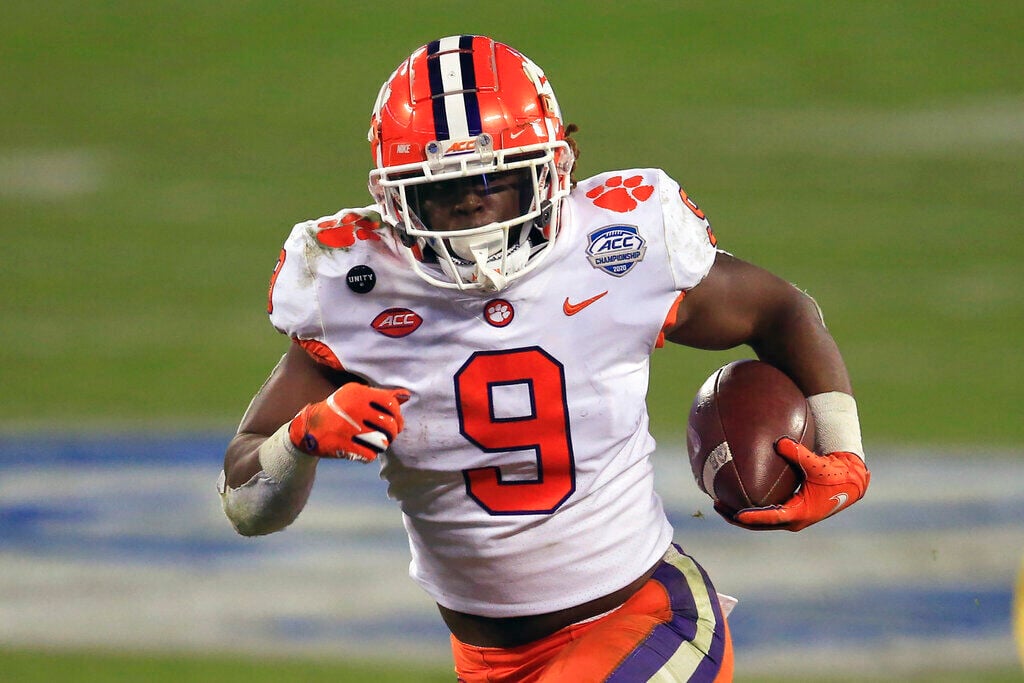 NFL decision-makers – most of the time – do not think it is wise to draft running backs in the first round.
Only 14 running backs have been picked in the first round in the past 10 NFL drafts, much less than most positions.
Compare that to 41 defensive ends taken in that span, 39 cornerbacks and 38 wide receivers. If you consider guard and center as "interior offensive line," the only position taken less often than running back is tight end (eight in the past 10 years).
Yet a running back for the Buffalo Bills with the 30th overall pick has been much debated this offseason. Plenty of fans love the idea of adding a home-run-hitting speed element such as Clemson running back Travis Etienne to the Buffalo attack.
ESPN analyst Todd McShay gave Clemson's Etienne to the Bills in his mock draft earlier this month. ESPN analyst Mel Kiper Jr. projected Alabama workhorse back Najee Harris to Buffalo in his latest mock draft. NFL Media analyst Bucky Brooks, the former Bills receiver, likes Etienne for Buffalo.
C.J. Spiller, a former Bills first-round pick and now Clemson's running backs coach, said Etienne is worthy of a first-round selection.
"He's the total package," Spiller told The News this week after a Clemson spring practice. "To me, he's the best running back coming out in the draft. He can do it all. He can catch the ball, he can run between the tackles. If you need him in the return game, he can do that. He's just one of those individuals that when he gets the ball in his hands, something special is going to happen.
"And the thing that you like about him is he's very durable. He's going to be available on Sunday. That won't be a question mark. I'm excited to see where he lands."
The perception that a back is near the top of the Bills' list of needs probably is an overreaction, given the Bills already have invested two third-round picks in the position the past two years. Bills General Manager Brandon Beane expressed his support for Devin Singletary and Zack Moss last week.
"We believe in Devin; we believe in Zack," Beane said. "Again, we'll continue to look for competition, whether it's free agency or the draft."
Beane did just that Thursday by signing a veteran backup with good speed, Matt Breida, from the Miami Dolphins. He takes the No. 3 spot of T.J. Yeldon and could push Singletary or Moss for snaps.
It's a typical Beane move. Address every position of need to some degree before the draft so there is no glaring need anywhere and the team is free to take the best player available.
Let's say there's a run on edge rusher or cornerback – two logical targets for the Bills at No. 30.
Would Beane be wise to go against analytics and take a breakaway threat such as Etienne?
Even analytics guru Warren Sharp buys the idea. Sharp picked Etienne at No. 30 in his latest mock draft.
"They could use a home-run threat at the position," Sharp wrote of the Bills, "as Devin Singletary and Zack Moss, who were their two top RB's last year, combined for only seven runs of 20 yards or more. Compare that to Derrick Henry, who had 16 such runs on his own last year."
Of the top 10 rushers in the NFL last season, only three were first-round picks. Of the current 32 starting running backs in the NFL, only seven were first-round picks, and three of those players were not drafted by their current team.
Every football fan understands: There is great value to be found every year at running back outside of the first round.
"Personally, I'm a meat and potatoes guy," said former Bears personnel chief Greg Gabriel, the Buffalo native. "I'd rather take beef than skill with the first pick."
That's the way most NFL draft decision-makers operate.
"I'm not a believer in running backs in the top half of the first round, because the way the game is now they've got to be really special," Gabriel says. "And who's to say who is special?"
"I'm not a big fan of taking a running back high," says Kiper.
The Bills, of course, are not drafting "high" this year, at No. 30.
NFL Network analyst Daniel Jeremiah drew a distinction on the first-round conventional wisdom on a call with reporters earlier this month.
"I've always been in the camp that I'm OK with drafting running backs in the first round," Jeremiah said. "Re-signing them is a whole different conversation. To me, just run them till the wheels fall off on that first contract, then off you go.
"To me, it makes more sense to take these guys if you have a team that's ready to win. If you say it's going to be a five-year window and we're going to get the most out of this guy and move on, I don't want to waste those carries on a bad football team."
There were 19 running backs taken in the first half of the first round from 2000 to 2017. Only four provided any kind of value on their second contracts with the team that drafted them (LaDanian Tomlinson, Adrian Peterson, Jonathan Stewart and Ezekiel Elliott).
"That's the thing with running backs, the average shelf life is so short," Gabriel said.
The Bills, of course, are part of that bad track record. They took Marshawn Lynch 12th in 2007 and Spiller ninth in 2010. Spiller was good, Lynch turned out great, but neither made it to his second contract in Buffalo.
"Taking a running back in the top five doesn't really make sense because by the time your team's any good, you'll have already wasted all the good mileage on the back," Jeremiah said.
The latest top-five running back pick was Saquon Barkley to the New York Giants second overall in 2018.
Said Giants GM Dave Gettleman at the time: "The bottom line is, is the guy a football player? This whole myth of devaluing running backs, I find it kind of comical. At the end of the day, if he's a great player he's a great player."
The Giants, however, seem to be proving Jeremiah's point.
Barkley is outstanding, but the Giants have gone 5-11, 4-12 and 6-10 in his three seasons. He missed almost all of last season with a knee injury. And his value from a contract perspective already has been used up. His cap hit in 2021 is $10 million, third highest in the league at the position, and he will have to play on a new deal or an expensive fifth-year option in 2022.
The Bills went 13-3 in 2020. If they opt for a running back, that player presumably won't be wasting carries in a losing effort.
"If you've got a team that's a playoff-caliber team that you feel like can be in the playoffs right now and you want to drop in a big-time back, I don't have any problem with it at all," Jeremiah says.
Kansas City coach Andy Reid followed that logic last season, picking LSU's Clyde Edwards-Helaire at No. 32. Reid never had drafted a running back higher than 53rd in his prior 20-plus years in the NFL.
Said Reid at the time: "In the pass game, it's that stop-start thing. As many times as you get single coverage with linebackers on that back side, we do so much three-by-one, as much single coverage as you get back there, it gives you some nice matchups potentially. His ability to run routes and catch the football. I think those are all pluses."
Edwards-Helaire produced 1,100 yards from scrimmage for the Chiefs as a rookie.
New England, maybe the most analytics-savvy franchise in the league, did the same thing in 2018, drafting Sony Michel at 31st overall. He produced 981 yards from scrimmage as a rookie and helped the Pats win a Super Bowl. He produced 1,006 yards from scrimmage in 2019 and 563 yards in an injury-shortened season in 2020. It's looking doubtful that Michel will earn a significant second contract from New England.
Etienne is faster than Michel or Edwards-Helaire. The Clemson star ran the 40-yard dash in 4.44 seconds at Clemson's pro day, according to reports from Senior Bowl director Jim Nagy.
Etienne is one of only 12 players in Football Bowl Subdivision history with 4,000 rushing yards and 1,000 receiving yards. He has the Atlantic Coast Conference record for total touchdowns (78) and rushing TDs (70).
"Given Etienne's big-play potential as a pass catcher on screens, swings and check downs, the Bills' offense could explode with this guy as the RB1," Brooks wrote on NFL.com.
Spiller is familiar with the debate over drafting running backs early.
"That question always comes up every year in the Buffalo area," Spiller said. "Do they need to take another guy? The thing I always learned from Buddy Nix, the GM there when I was in Buffalo, is you take the best guy available. I love that mindset he had.
"I'm pretty sure a lot of people probably didn't agree with the pick when Buffalo chose me, when you had Marshawn Lynch and Fred Jackson there," Spiller said. "But I was the best guy when it came time for Buffalo to pick, and that's why they turned in the card. I'm going to be forever grateful for that."
Spiller made the Pro Bowl for the Bills in 2012. But even if he helped the Bills become winners, he probably would have been a one-contract player. Use him for five years, move to someone else.
The fact Spiller, who played 70 games with Buffalo, did not turn around the Bills' fortunes wasn't his fault, either. The Bills did not have a good enough defense during his tenure and they did not have a franchise quarterback.
The Bills have a franchise quarterback now.
Could they use a one-contract, impact running back for the next four years?