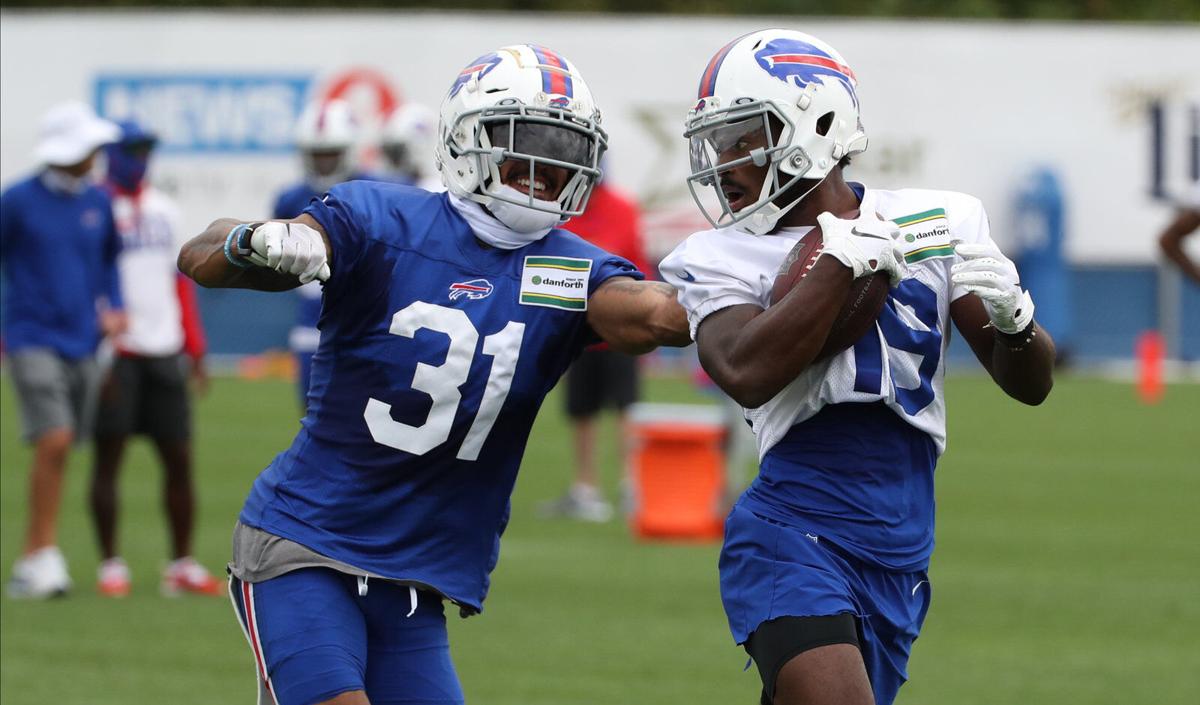 Brandon Beane faces a predicament of his own making soon.
The Buffalo Bills' general manager has built a deep roster in his fourth year on the job. So deep, in fact, that he's going to have to part with some players worthy of a spot on an NFL roster when the league is mandated to cut down to 53 players by 4 p.m. Saturday.
Perhaps Beane can swing a trade or two before then to recoup some value for players who otherwise might be cut, but there will still be difficult decisions to make after that.
With training camp over and the Bills zeroing in on their Sept. 13 season opener against the New York Jets, here is The Buffalo News' final 53-man roster projection:
Quarterbacks (3): Josh Allen, Matt Barkley, Jake Fromm.
Analysis: Fromm never mounted much of a challenge to Barkley for the backup job. In fact, the real competition has been between Fromm and Webb for the No. 3 quarterback job. Webb might even be slightly ahead in that race, but cutting Fromm – a fifth-round draft pick – wouldn't be a real good look, even if his performance this summer might warrant it. Given the need for quarterback depth this season during the ongoing Covid-19 pandemic, it makes sense for the Bills to carry three at the position on the active roster. If the Bills expose Fromm to waivers, it seems likely that a rebuilding team would jump at the opportunity to add another rookie for free. With that in mind, he makes the cut and the Bills hope Webb makes it through so they can add him to the practice squad.
Running backs/fullback (5): Devin Singletary, Zack Moss, T.J. Yeldon, Taiwan Jones, Patrick DiMarco.
Analysis: The Bills officially moved rookie undrafted free agent Reggie Gilliam from fullback to tight end, which ends any competition there was with DiMarco. A quad injury has kept Wade out of practice recently, likely ending any push he was making for the active roster. With an exempt spot awaiting him on the practice squad, the Bills can keep Wade in their system for another year. Jones' spot is safe based on special teams.
Wide receivers (6): Stefon Diggs, John Brown, Cole Beasley, Gabriel Davis, Andre Roberts, Isaiah McKenzie.
Cuts (3): Isaiah Hodgins, Duke Williams, Robert Foster.
Analysis: This is a prime position to look at Beane potentially swinging a deal. It was a battle of Isaiahs for the final spot here, with McKenzie winning out based on his versatility as a gadget player on offense and a backup return man behind Roberts. Offensive coordinator Brian Daboll likely has certain game plans in mind to make use of McKenzie. The Bills drafted over Williams by taking Davis and Hodgins in the draft. Williams hasn't had a bad training camp by any means, but the message was clear in April in regards to where he stood. While they'd love to keep both rookies, Beane will have to cross his fingers that Hodgins gets through waivers and onto the team's practice squad. The reality is, as long as the top three receivers stay healthy, the sixth receiver on the roster is likely headed to inactive status every week. Fans will have a strong opinion either way on McKenzie or Hodgins making the cut, but it shouldn't be a huge determining factor to the team's success or failure in 2020.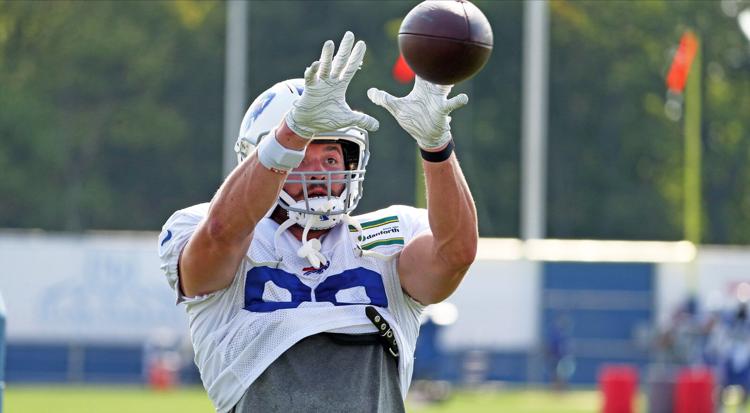 Tight ends (3): Dawson Knox, Tyler Kroft, Lee Smith.
PUP list (1): Tommy Sweeney.
Cuts (3): Jason Croom, Nate Becker, Reggie Gilliam.
Analysis: Sweeney has yet to see the practice field as he deals with a foot injury from the offseason. He was at least working off to the side Tuesday, so perhaps his return is close. He'll need plenty of practice time, though, so starting the season on the injured list is logical. The biggest beneficiary of that is Smith, since there is no real challenger to his job as the blocking tight end. A hamstring injury kept Croom out of practice Tuesday, which is the last thing he needed coming off a season spent on injured reserve.
Offensive line (8): Dion Dawkins, Quinton Spain, Mitch Morse, Cody Ford, Ty Nsekhe, Daryl Williams, Ryan Bates, Evan Boehm.
PUP list (1): Jon Feliciano.
Cuts (6): Brian Winters, Ike Boettger, Marquel Harrell, Trey Adams, Victor Salako, Brandon Walton.
Analysis: Eight offensive linemen may seem light, but all of them will be active on game day with the league's rule change that will be implemented this year that allows teams to keep 48 players active on game day, provided that eight of them are offensive linemen. In years past, it was typical to keep only seven offensive linemen active on game day, so this would be an increase. Feliciano targeted a Week 4 return against the Las Vegas Raiders, but that could be optimistic coming off a torn pectoral muscle that required surgery. He won't count against the 53-man roster by starting the season on the physically-unable-to-perform list, which would keep him out for at least the first six games of the season. Coach Sean McDermott said Monday that no decisions have been made yet on the right side, where Feliciano has to be replaced at right guard. Ford, Williams and Bates all have positional flexibility, which offensive coordinator Brian Daboll values. Given that Feliciano shifted to center last year when Mitch Morse was out, Boehm gets the final spot as the backup center over Winters, who has primarily played guard throughout his NFL career.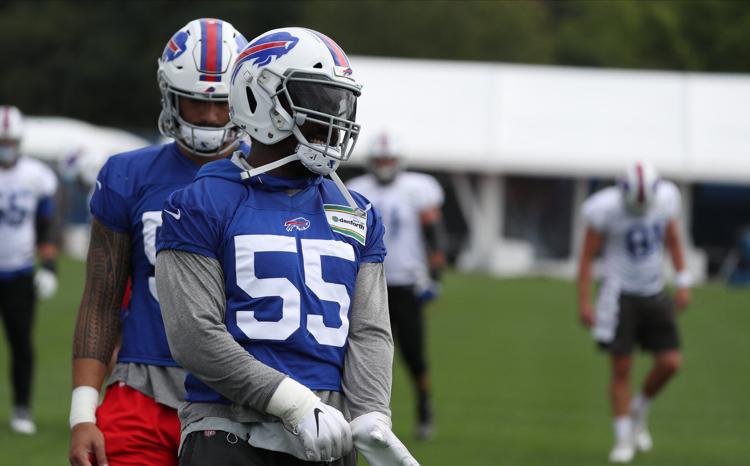 Defensive line (10): Trent Murphy, Ed Oliver, Harrison Phillips, Vernon Butler, Jerry Hughes, Mario Addison, A.J. Epenesa, Quinton Jefferson, Darryl Johnson Jr., Vincent Taylor.
Cuts (4): Justin Zimmer, Tanzel Smart, Mike Love, Bryan Cox Jr.
Analysis: Along with receiver, this is another position Beane may look to engineer a trade. The $64,000 question is what happens with Murphy? By now, you know the cap implications if he were to be released. There is a significant savings involved. I'd be surprised to see it, though. McDermott had high praise for the veteran defensive end this week. Murphy makes the Bills better in 2020 – which is what every decision Beane makes this weekend should be about. Taylor sneaks onto the roster as run defense insurance – a question mark after Star Lotulelei opted out this season. At 311 pounds, Taylor is the second-biggest defensive tackle on the roster behind Butler. Johnson also makes it as a fifth defensive end. He's an under-the-radar contributor on special teams who has pass-rush potential – exposing a player like that to waivers is risky.  
Linebackers (5): Tremaine Edmunds, Matt Milano, A.J. Klein, Tyler Matakevich, Andre Smith.
Cuts (4): Vosean Joseph, Tyrel Dodson, Corey Thompson, Del'Shawn Phillips.
Analysis: The Bills traded for Smith on Monday, so it seems unlikely they would turn around and cut him less than a week later – even if the reported compensation of a conditional 2023 seventh-round draft pick is next to nothing. Joseph didn't do much to stand out during training camp and coaches didn't give a real ringing endorsement of him when given the chance. Smith is 240 pounds, which seems big if the plan is to have him be Milano's backup, but he did a lot of work on special teams in Carolina, which indicates he's got the athleticism to do so. Given that Milano and Edmunds play in all situations, the Bills can afford to go light at linebacker and stash backups on the practice squad. Joseph, Dodson and Thompson all make sense there.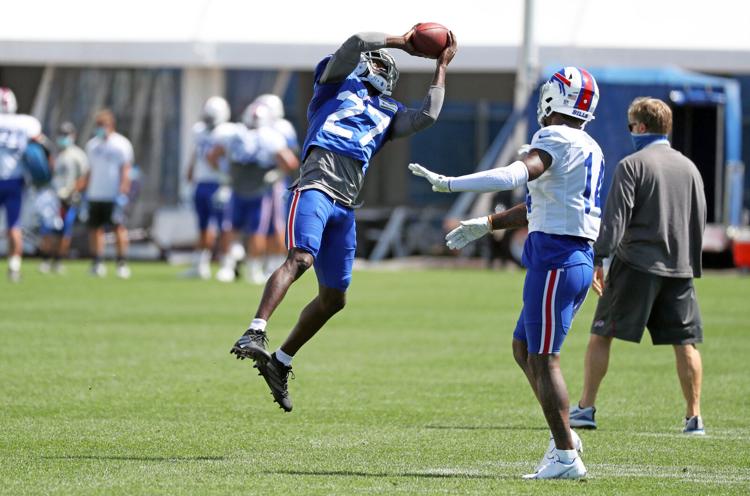 Cornerbacks (6): Tre'Davious White, Levi Wallace, Josh Norman, Dane Jackson, Taron Johnson, Siran Neal.
Cuts (2): Cam Lewis, Brian Allen.
Analysis: Norman's injury status is worth watching as the regular season approaches. He's been watching practice from the sidelines, which is usually an indication a player is at least close to returning. That means the Bills probably won't need to consider starting the season with Norman on an injury list. That's good news, because depth at boundary cornerback is rather thin without him. The real question here: Who starts opposite White in Week 1? Rookie undrafted free agent Ike Brown retired last week, and the Bills moved quickly to sign Allen to take his place. The most vulnerable cornerback on the roster is Jackson, a rookie seventh-round draft pick, but there's probably not enough time for Allen to unseat him.
Safeties (4): Jordan Poyer, Micah Hyde, Jaquan Johnson, Dean Marlowe.
Analysis: Just like in the last projection, nothing to see here. Thomas, an undrafted free agent from Appalachian State, is stuck behind one of the best starting safety duos in the NFL. Marlowe and Johnson, meanwhile, have experience in the system and will be the top reserves.
Special teams (3): Tyler Bass, Corey Bojorquez, Reid Ferguson.
Analysis: The Bills already took care of business here, releasing veteran kicker Stephen Hauschka and punter Lachlan Edwards last week. Bass, a rookie sixth-round draft pick, will be in the spotlight early in the season.
Buffalo Bills practice
See photos from Buffalo Bills practice on Wednesday, Sept. 1, 2020, in Orchard Park.
Be the first to know
Get local news delivered to your inbox!